Stuffed acorn squash recipe vegan made with freshly roasted acorn, wild rice blend, apples, cranberries and walnuts. This wild rice stuffed acorn squash recipe is perfect vegan Thanksgiving side dish.
Disclaimer: This recipe from Julie's Hostess at Heart Blog and shared as part of Fall 2019 Freaky Friday Shares
What is your favorite fall squash?
This is the first time I am posting acorn squash recipe, but, it is now my favorite squash.
(Carnival squash is a very close second).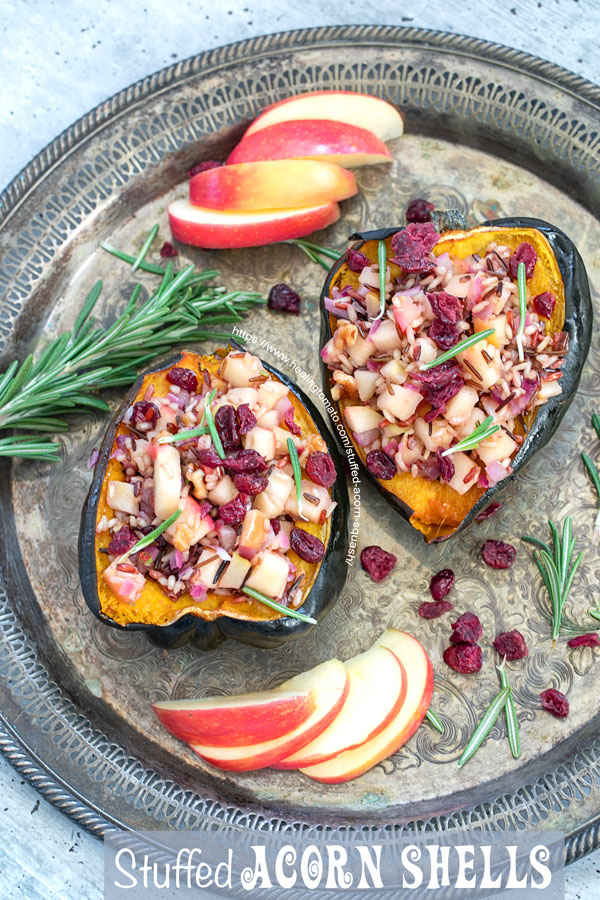 Tips for making this vegan stuffed acorn squash recipe
– Be sure to wash the acorn squash thoroughly before beginning to cook it. I found dust and sand in the grooves of my acorn. Your stuffed acorn squash should taste sweet and crunchy, not dusty. 🙂
– Microwave the acorn squash first because it makes it easier to cut into it.
– Don't throw away the acorn seeds that you scoop out of the acorn squash. They are packed with nutrition and make for a healthy snack.
– Use wild rice blend instead of only wild rice in this stuffed acorn squash recipe because it will make for a more hearty meal
– Don't add the dried cranberries and walnuts until a minute before you are ready to serve it. The walnuts will get mushy
– The wild rice stuffing for this acorn squash is enough for 2 acorns (cut into 4 pieces).
– Keep the apple skin on because they add texture to the recipe. Also, they cook better with the skin on.
– I found sparkling apple juice in the supermarket the other day and thought to use it in this stuffed acorn squash recipe, instead of regular apple juice. It was a delicious substitute, so, use that if you can find it. If not, you can use regular apple juice
Why I love Hostess at Heart's blog

If you have been following my blog for a while, you know that I am very baking challenged. I have just a few desserts on my blog like an easy mug cake, olive oil cake and pear tart.
I choose her stuffed acorn squash recipe because I loved it as a side dish. But, its her desserts that really make me love her blog.
Hostess at Heart, on the other hand, has so many many desserts that I can never get bored. Julie is the author behind the blog and she can make desserts like nobody else I know.
Julie is an entertainer at heart and that's one of the reasons she called her blog, "Hostess at Heart". She loves seeing the joy people feel when they share a meal and good conversation.
Her recipes are always affordable, easy to make and they always touch your soul. She knows how to put a smile on your face with just one bite of her recipes.
Whenever I am looking for a dessert recipe or my friends are looking for one, I will direct them to her site. Many of my friends have become regular readers of her blog because they absolutely love her recipes.
Julie has a way of telling a story about the recipe that just hooks you in from the first sentence. You will never feel like you walked away with more questions than answers.
Read her entire posts for each recipe because she gives out amazing tips and tricks for making it better.
Here is a tip I know I am borrowing the next time I bake muffins. Her trick is to use ice cream scoop to put batter into the muffin tray. This way, all the muffins are the same size! What an awesome tip, right?
Julie's blog is all about an authentic connection with her readers. So, stop by her Hostess at Heart blog today and have a look around. Check out her stuffed acorn squash recipe and may other recipes. I promise you that you won't be disappointed.
My favorite desserts from Hostess at Heart

Here are some desserts from Hostess at heart that I absolutely love:
After you tried this stuffed acorn squash recipe, try her desserts and send her pics of your recipe. She is going to love seeing your take on her recipes.
My favorite dessert from her blog is the Rustic Apple Pie recipe. I have made a vegan version of her recipe and will be posting it soon, so, you can enjoy it too.
Quick side note. While making her desserts and you come across eggs in the recipe, don't worry. I have compiled a list of the common egg substitute you can use to make her delicious recipes:
Common Egg Substitute

Chia Egg – (1 Tbsp chia seeds mixed with 3 Tbsp of water).
Flax Seed egg – (1 Tbsp ground flax seeds mixed with 3 Tbsp of water).
Almond Milk – (Mostly for basting, but, you can also use it in batters)
Apple sauce – (perfect for use in baking cakes).
Mashed bananas – They are my go-to egg substitute.
Follow Your Heart's VeganEgg – I haven't personally used it, so, I can't can't say that it works. However, I know many vegan bakers who swear by it. Try it and let me know what you think.
Aquafaba – This is vegan version of egg whites. Its the liquid that is found in chickpea cans. Save the liquid and whip it up before adding it to any batter.
Silken tofu – That's what I used in my butternut squash pie. It gives filling a creamy and silky texture.
Vegan Yogurt – Any dessert recipe that calls for yogurt can be substituted with vegan yogurt.
Vegan butter – I love using vegan butter in dessert recipes because it tastes just like the real butter.
Vegan Cream Cheese – this is great way to make donut frostings or other frostings that call for cream cheese.
Stuffed Acorn Squash Recipe FAQs

Can I use Quinoa?
You can absolutely make this a quinoa stuffed acorn squash recipe because quinoa will taste just as delicious. I recommend organic tri-color quinoa for this recipe
How can I make vegetarian stuffed acorn squash?
First, let's take the easy substitutes. You can use regular butter instead of vegan butter and this will be vegetarian stuffed acorn recipe. If you don't have maple syrup, use honey instead.
My favorite thing to add would be feta cheese. Feta would add a tanginess and saltiness to this recipe that will really take this squash to a whole new level.
Be sure to grate the feta or make it extremely crumbled before adding it to the recipe. Also, add it when you add the walnuts and cranberries.
Why make this stuffed acorn squash with apples?
I was overjoyed when I tasted this recipe for the first time. The apples add flavor, crunch and tang that really make this recipe.
This recipe is made great because of the apples. So, I don't skip on the apples at all.
Can I freeze stuffed acorn squash?
Freeze the roasted acorn squash separately from the stuffing. This will make sure that both will taste fresh when reheated.
Wrap the roasted acorn squash in (Affiliate Link) freezer paper and then place it in a zip-lock bag. Write the date you roasted it and freeze for no more than six months.
The stuffing can be frozen using freezer friendly containers. If possible, write the date you made it on the container. Do not add the dried cranberries or walnuts until you are ready to serve the stuffed acorn squash
How to reheat stuffed acorn squash
– Place the frozen and roasted acorn squash in a 200° preheated oven. Do NOT thaw
– Microwave the stuffing just to the point where you can spoon it into the acorn. Don't worry if parts of it are still frozen
– After 5 minutes, remove the acorn from the oven and spoon in the frozen stuffing.
– Place the stuffed acorns into the oven and heat for about 7-10 minutes.
– Remove from the oven and let them cool to touch. Top with dried cranberries and walnuts before serving
– Serve immediately
How to make stuffed acorn squash
Preheat oven to 400°F
Microwave the acorn squash for 3 minutes and 30 seconds. Wait for it to cool before cutting it into half
2. Scoop out all the insides, including the threads and seeds
3. Rub the insides of the squash with butter and place any remaining butter in the squash
4. Brush the inside of the acorn squash with maple syrup
5. Place the baking tray in the oven and bake for 45-50 minutes, until its fork tender. Remove and let them cool before stuffing them.
6. While acorn is cooking prepare the wild rice according to the packaging.
7. When the rice is done cooking, dice the apples and onions
8. Melt the butter in a stainless steel pan
9. Add the onions and apples to the pan. Keep the heat at medium to low
10. After 5 minutes, add the cooked wild rice blend to the pan
11. Chop 2 rosemary branches and add them to the pan
12. If you are serving the squash immediately, add the walnuts and cranberries to the pan
13. Add the sparkling apple juice and pepper to the pan. Mix all the stuffing well and add to the roasted acorn. Serve immediately
When you make this stuffed acorn squash recipe, be sure to send me and Julie your pics. We are always happy to hear from our readers.
If you like stuffing veggies, try stuffing poblanos with lentil. They taste AMAZING.
If you have a minute, please leave me a comment telling me what you thought of the recipe.
Related Recipes
What is Freaky Friday?
Freaky Friday is a old fashioned tradition of introducing other bloggers to different audiences. Every fall, a group of food bloggers get together to participate in this wonderful campaign to help other bloggers get a different kind of audience.
Last year, I was fortunate to participate in the same campaign. My recipe was for Greek Dipping Oil. Check it out and read more about these campaigns. These group of highly talented food bloggers love to make recipes and are savvy business women.
These are the women participating in the 2019 Freaky Friday Blog Hop. Visit them and get ideas for creative dinner recipes, snacks, desserts and so much more.
Side note: Check out Mildly Meandering's take on my saffron rice recipe.