Stuffed Acorn Squash Recipe
Stuffed acorn squash recipe vegan made with freshly roasted acorn, wild rice blend, apples, cranberries and walnuts. This wild rice stuffed acorn squash recipe is perfect vegan Thanksgiving side dish.
Disclaimer: This recipe from Julie's Hostess at Heart Blog and shared as part of Fall 2019 Freaky Friday Shares
What is your favorite fall squash?
This is the first time I am posting acorn squash recipe, but, it is now my favorite squash.
(Carnival squash is a very close second).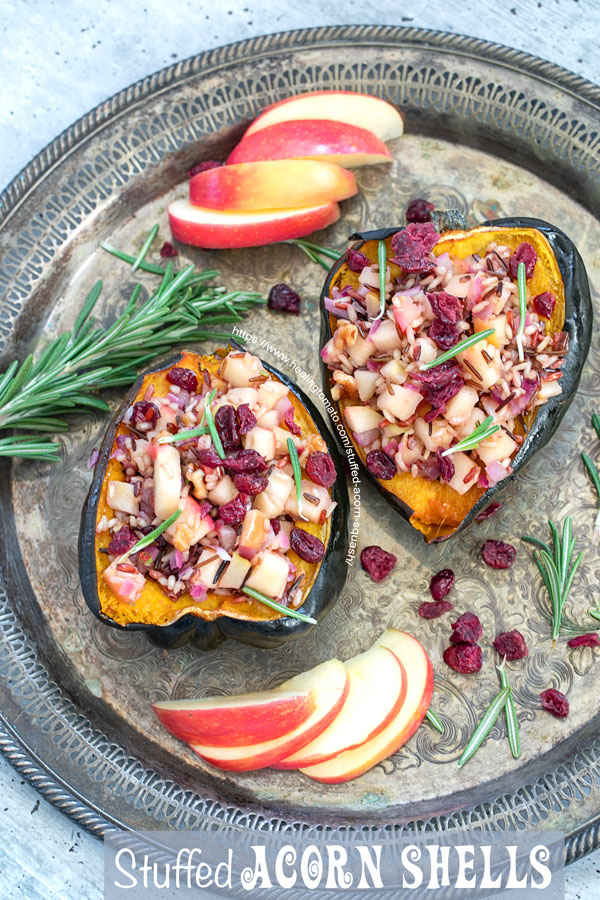 Tips for making this recipe
– Be sure to wash the acorn squash thoroughly before beginning to cook it. I found dust and sand in the grooves of my acorn. Your stuffed acorn squash should taste sweet and crunchy, not dusty. 🙂
– Microwave the acorn squash first because it makes it easier to cut into it.
– Don't throw away the acorn seeds that you scoop out of the acorn squash. They are packed with nutrition and make for a healthy snack.
– Use wild rice blend instead of only wild rice in this stuffed acorn squash recipe because it will make for a more hearty meal
– Don't add the dried cranberries and walnuts until a minute before you are ready to serve it. The walnuts will get mushy
– The wild rice stuffing for this acorn squash is enough for 2 acorns (cut into 4 pieces).
– Keep the apple skin on because they add texture to the recipe. Also, they cook better with the skin on.
– I found sparkling apple juice in the supermarket the other day and thought to use it in this stuffed acorn squash recipe, instead of regular apple juice. It was a delicious substitute, so, use that if you can find it. If not, you can use regular apple juice
What goes with stuffed acorn?
My favorite thing to serve with stuffed acorn is a spinach salad and a dumpling soup or a butternut squash soup
If you have a favorite green beans recipe, it would go great with this acorn recipe. I have a green beans recipe that you will love with this recipe.
Roast some of your favorite vegetables and serve it as a side dish. I have a roasted vegetables recipe that is a recent favorite. Or, how about a Brussels sprouts pilaf?
Common questions about making this recipe
Can I use quinoa?
You can absolutely make this a quinoa stuffed acorn squash recipe because quinoa will taste just as delicious. I recommend organic tri-color quinoa for this recipe
How can I make this a vegetarian recipe?
First, let's take the easy substitutes. You can use regular butter instead of vegan butter and this will be vegetarian stuffed acorn recipe. If you don't have maple syrup, use honey instead.
My favorite thing to add would be feta cheese. Feta would add a tanginess and saltiness to this recipe that will really take this squash to a whole new level.
Be sure to grate the feta or make it extremely crumbled before adding it to the recipe. Also, add it when you add the walnuts and cranberries.
Why add apples to it?
I was overjoyed when I tasted this recipe for the first time. The apples add flavor, crunch and tang that really make this recipe.
This recipe is made great because of the apples. So, I don't skip on the apples at all.
Can I freeze it?
Freeze the roasted acorn squash separately from the stuffing. This will make sure that both will taste fresh when reheated.
Wrap the roasted acorn squash in (Affiliate Link) freezer paper and then place it in a zip-lock bag. Write the date you roasted it and freeze for no more than six months.
The stuffing can be frozen using freezer friendly containers. If possible, write the date you made it on the container. Do not add the dried cranberries or walnuts until you are ready to serve the stuffed acorn squash
How to reheat a frozen stuffed squash
– Place the frozen and roasted acorn squash in a 200° preheated oven. Do NOT thaw
– Microwave the stuffing just to the point where you can spoon it into the acorn. Don't worry if parts of it are still frozen
– After 5 minutes, remove the acorn from the oven and spoon in the frozen stuffing.
– Place the stuffed acorns into the oven and heat for about 7-10 minutes.
– Remove from the oven and let them cool to touch. Top with dried cranberries and walnuts before serving
– Serve immediately
How to make this stuffed squash recipe
Preheat oven to 400°F
Microwave the acorn squash for 3 minutes and 30 seconds. Wait for it to cool before cutting it into half
2. Scoop out all the insides, including the threads and seeds
3. Rub the insides of the squash with butter and place any remaining butter in the squash
4. Brush the inside of the acorn squash with maple syrup
5. Place the baking tray in the oven and bake for 45-50 minutes, until its fork tender. Remove and let them cool before stuffing them.
6. While acorn is cooking prepare the wild rice according to the packaging.
7. When the rice is done cooking, dice the apples and onions
8. Melt the butter in a stainless steel pan
9. Add the onions and apples to the pan. Keep the heat at medium to low
10. After 5 minutes, add the cooked wild rice blend to the pan
11. Chop 2 rosemary branches and add them to the pan
12. If you are serving the squash immediately, add the walnuts and cranberries to the pan
13. Add the sparkling apple juice and pepper to the pan. Mix all the stuffing well and add to the roasted acorn. Serve immediately
When you make this stuffed acorn squash recipe, be sure to send me and Julie your pics. We are always happy to hear from our readers.
If you like stuffing veggies, try stuffing poblanos with lentil. They taste AMAZING.
If you have a minute, please leave me a comment telling me what you thought of the recipe.
Other recipes you may like
This post was updated on April 26, 2020 at 7:50pm. The updates included adding more information for the recipe and removing the focus from Freaky Friday.
Side note: Mildly Meandering made my saffron rice recipe as part of the Freaky Friday roundup