Skinny Souvlaki Recipe (Vegetarian) Like You've Never Tasted. Made with Grilled Zoodles, Butternut Squash Zoodles and Mushrooms. Drizzled with Tahini and Served in a Tortilla Instead of Pita Bread
Have you tried grilling zoodles?
How about butternut squash zoodles?
I had so much fun making and grilling them….
….and eating them too!!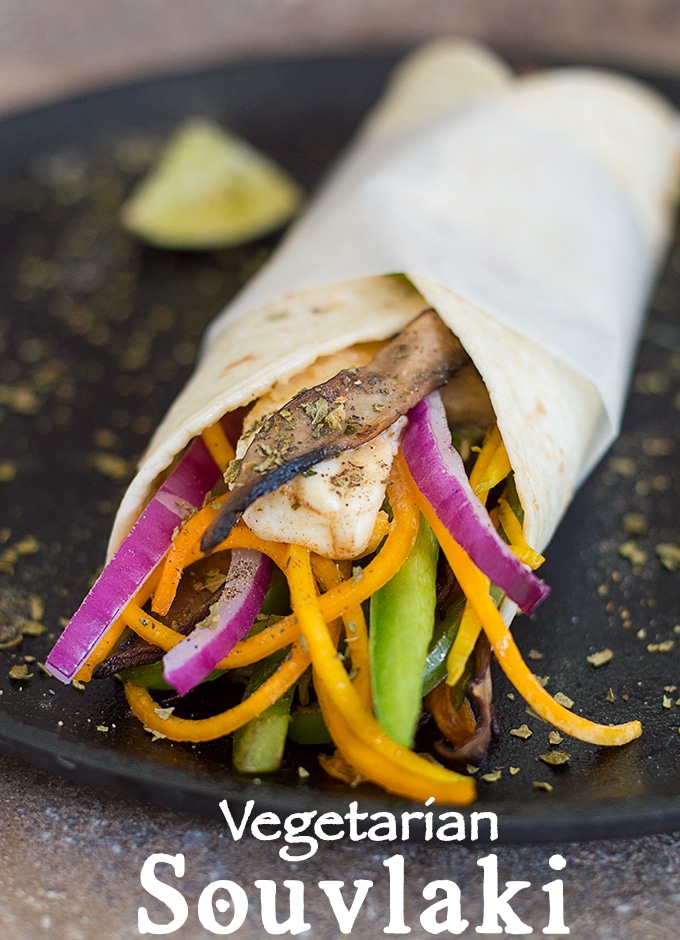 In this recipe, I put Tahini as a topping. The souvlaki has a nutty flavor which is exactly what my taste buds wanted.
Traditionally, souvlakis are served with Tzatziki which is a yogurt based sauce. However, I find that yogurt and feta combination to be too much dairy products. Instead, Tahini keeps this recipe light and delicious. You can also add some Greek salad dressing, but, I like it without it.
My favorite part about Greek food is the feta cheese! I love it salty and tangy flavor. I love how my mouth totally awakens with just one crumble of feta cheese!
This time around, I grilled the feta cheese for 15 seconds before adding it to the recipe. Oh yeah! You heard me right!!
Grilled feta cheese has a whole new flavor to it. There is a little smokiness to the salty flavor of the cheese and it turns just a little crispy. Yet, it melts in your mouth!
I am not doing it justice! You HAVE to try grilled feta for yourself.
If you are a vegan, I have a vegan feta recipe for you! The only thing to do differently is to cut it into finger like shapes instead of cubes
Some of the butternut squash noodles were left un-grilled before wrapping it up. Also, I left the onions raw and together they added a nice crunch!
Have you tried grilled feta before?
Vegetarian Souvlaki
Grilled Mushrooms, Grilled Zoodles and Grilled Feta help make up this delicious vegetarian souvlaki! Top with Tahini. **Contains Affiliate Links

Ingredients
1

Zucchini, medium sized

Spiralized and divided into 2 equal parts

1/2

Butternut Squash, small

Spiralized and divided

2

Portobello Mushrooms

Cut into long strips

1

Green Bell Pepper

Cut into long strips

1/2

block

Feta

Cut into finger shapes

4

Tbsp

Tahini

homemade, divided

1/4

Red onion

julienne, divided

1

tsp

oregano

divided

1

tsp

black pepper

optional, divided

2

Tortilla

Organic

1.5

tsp

Extra Virgin Olive Oil
Instructions
Warm up a stove top grill


Spread the olive oil on the grill


Set a few butternut squash zoodles aside (about 4 strands per souvlaki)


Place remaining spiralized vegegies on the grill. Keep them far apart


Place the mushrooms and bell pepper strips on the grill


On a griddle, place a tortilla and set the heat to low


Cook the zoodles for only 45 seconds or less.


When the zoodles start to brown, layer them on the tortilla


When the mushrooms have browned, place on top


Top with the green bell peppers when they start to brown


Take 4 pieces of feta per souvlaki and grill it for no more than 15 seconds


Top the grilled feta on the souvlaki


Drizzle the tahini on the souvlaki


Spinkle oregano and black pepper


Wrap it up using parchment paper

Notes
I spiralized a whole butternut squash and refrigerated the remaining
Most of my ingredients were pre-cut from the store. If you are cutting the veggies yourself, it will take a little longer than 30min to prepare this recipe. But, it will be worth it!