Quick 5-minute vegan pesto with basil, cashews and scallions

Homemade Vegan Pesto made with basil, cashews and scallions. This pesto is deliciously simple because it takes only 5 minutes to make and needs very few ingredients.  Use in pasta or noodles. Version 2

If I could eat pesto everyday, I would be happy.
Pesto turns a "blah" dish into "wow" dish instantly.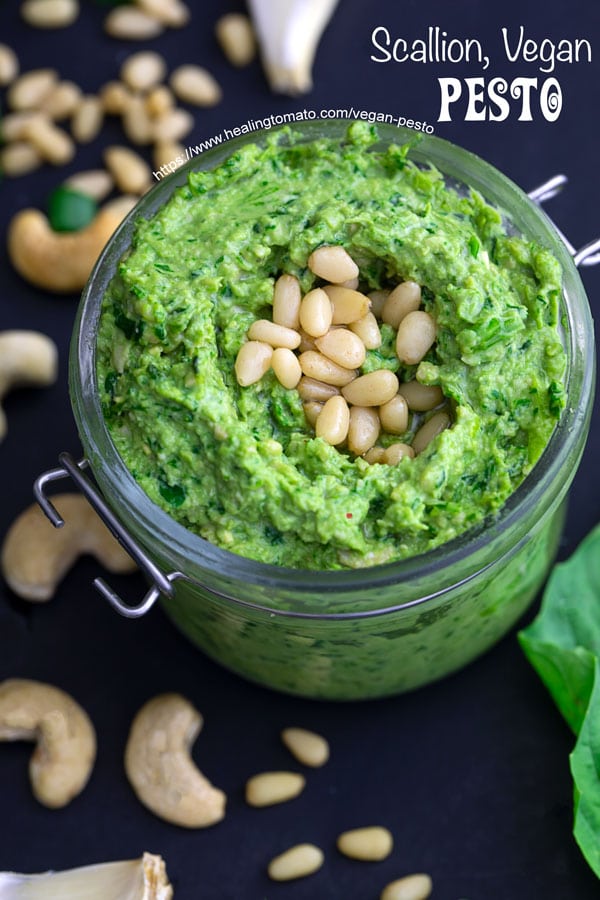 Tips for making this scallion pesto
– If you have time, soak the cashews overnight
– The scallions can be roughly chopped before being added to the blender
– I used a little extra garlic in this recipe, but, you can adjust it to your taste
– Store this vegan pesto in a glass jar and it will last longer.  I store mine in this (affiliate link) air-tight mason jar container
– Refrigerate it after making the pesto and it will have a longer shelf life.  It should taste fresh for 3 weeks
Is Pesto Vegan?
No, the traditional basil pesto recipe is not vegan because it uses Parmesan cheese.  So, I used cashews and nutritional yeast in this recipe to make it vegan friendly.
Can Vegan Pesto be refrigerated?
Yes, you can easily refrigerate this homemade vegan basil pesto.  Put it in a sealed mason jar and refrigerate it
How long does vegan pesto last?
This vegan pesto will be good for three weeks when refrigerated
Can I make this vegan pesto without pine nuts?
Yes, you can make this basil pesto without pine nuts.  The cashews will be sufficient, just add about 1 Tbsp extra cashews
What to make with vegan pesto?
This pesto can be good in so many wonderful dishes.  My favorite is with gnocchi, but, here are so many other recipes that are perfect.
– Flatbread Pizza with Cherries
Other quick pesto recipes
Just like my chocolate smoothie bowl, this vegan pesto recipe came to me as a late night inspiration on a Saturday.   I often tease coming recipes on my instagram stories.  Here are some of my past "coming soon" stories and there is always more to come.
If you have scallions left over, how about turning them into a scallion pancake recipe?  Extra basil makes for a perfect vegan basil butter.
Version 1 of this recipe
Occasionally, I will go back into older recipes and update them for SEO purposes and just to refresh them, especially the images. Today, I got to do a complete overhaul of my old vegan pesto recipe
This recipe was originally published on January 27th, 2017 at 11:04pm.  The original recipe was very different from version 2 recipe.  It was made with chives and strawberries.  This recipe received no traction from my readers, so, I thought I should re-do it completely.
I will let you go now, so, you can make this vegan pesto recipe.  Send me pics of it and be sure to rate the recipe below after you make it.  I love to hear from you.
Note about the Version 2 image: I am not a fan of dark food photography, but, I thought I would give it a try.  I have only done a few dark food photos (Like this Mexican Hot Chocolate Popsicles), but, its not in my wheelhouse.  I think food should be bright and vibrant.  So, what do you think of the dark food images?  Would you like to see more of them?
How to make vegan pesto using scallions
Quick 5-minute vegan pesto with basil, cashews and scallions

Print
Pin
Rate
Instructions
Cut of the 'thready' end of the scallion


Roughly chop the scallions and place in the food processor


Place the remaining ingredients into the food processor


Blend the mixture on slow until everything is well blended


Transfer to glass mason jar and refrigerate until ready to use

Notes
Nutrition info is approximate
Nutrition
Calories:
180
kcal
|
Carbohydrates:
2
g
|
Protein:
1
g
|
Fat:
18
g
|
Saturated Fat:
2
g
|
Sodium:
390
mg
|
Potassium:
79
mg
|
Vitamin A:
500
IU
|
Vitamin C:
4.5
mg
|
Calcium:
29
mg
|
Iron:
0.6
mg