This potato gnocchi recipe is very easy to make from scratch. It is a perfect idea for dinner idea because there are egg-less gnocchi. Topped with marinara sauce.
This Potato Gnocchi Recipe is sponsored by Ragu. All opinions are mine. This post contains affiliate links
My first taste of gnocchi was at a hole-in-the-wall Italian restaurant in Greenwich village, NYC circa 2001.
Until that time, I had never heard of it and after the first bite, I couldn't believe that I had missed out on this delicious comfort food!!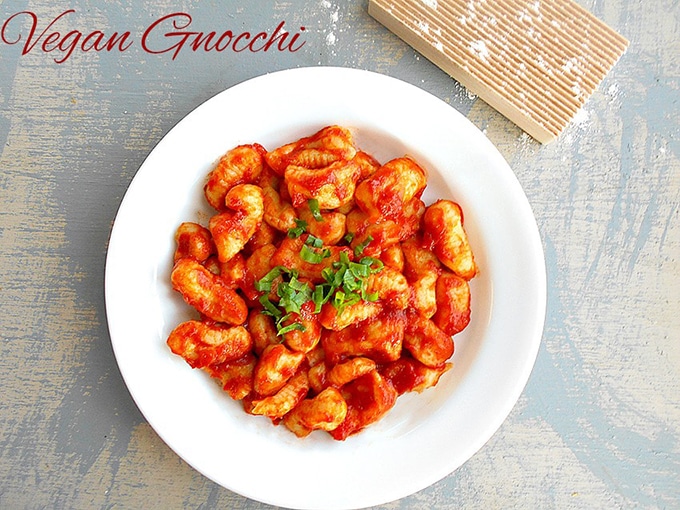 I think there may even be a photo of me licking the plate!
This was Gnocchi with pesto sauce which is frequently found on Italian dinner tables, from what I hear. It is a tradition I can totally get behind.
This gnocchi is perfect with any type of sauce. I love serving it with Ragu's marinara sauce, or my homemade marinara sauce.
Serve it with a side of my cheesy garlic bread and sweet kale salad.
Tasting it was one thing, but, making gnocchi is a completely different thing. It is one of those skills that took me a while to master and I think I am still trying to master it.
I have tried making it using the fork method, but, that never worked. So, I went out and bought a gnocchi paddle. I am here to tell you that it makes the gnocchi making process really easy.
It is one of my favorite (affiliate link) inexpensive investment! It makes the perfectly shaped gnocchi.
Update: The gnocchi itself is all vegan. There are no eggs or cheese in it. I went with Ragu sauce which is very delicious with this Gnocchi. The sauce is not considered vegan because they do use cheese in their sauces.
Potato Gnocchi Recipe
1) Boil about 5 cups of water. Do not put any salt or oil in the water. Ragu sauce will provide all the necessary flavors
2) Wash 2 medium sized Russet potatoes thoroughly. Place them in the boiling water and boil them for 40 minutes
3) Boil them for about 40 minutes and move them to a plate. Use tongs to make it easier
4) Peel the potatoes. Work quickly because gnocchi is best when it is made with hot potatoes. If it is hot, use tongs to remove the skin
5) Use a potato ricer to crush the potato. I don't have a potato ricer, so, I went with a cheese grater. It is just as effective
6) Sieve 1/2 cup of unbleached self rising flour on the rice. I added 1 Tbsp more of sieved, unbleached self rising flour
7) Mix the dough and potato slowly. Do not over work the dough because you want to keep the gnocchi soft and airy
8) I added 1/2 Tbsp of almond milk to make it more fluffy. It is not necessary.
9) Roll it into a cylindrical shape. It will feel sticky and that is normal
10) Cover the dough with a dish cloth for about 10 minutes. While the dough is covered, boil about 8 cups of water
11) Cut the dough into about 4 inch pieces and roll them into cigar shapes. Keep the diameter as small as you can get it
12) Cut about 0.5 inch pieces from this cigar shape.
13) Roll them on a gnocchi board to get their trademark grooves.

14) Place the gnocchi in the boiling water
15) While the gnocchi are waiting to rise (I like to use my Darth Vader voice while saying, "Rise of the Gnocchi"), heat a medium saucepan. Add 2 cups of Ragu sauce to it and heat at medium heat until the Gnocchi are ready. I let my sauce thicken a little.
16) When the gnocchi begin to rise, take them out using a strainer
17) Place them directly into the Ragu sauce and stir. Stir immediately. See how simple it is to make this potato gnocchi recipe?
Potato Gnocchi Recipe (Vegan)
Quick and easy vegan gnocchi made with only 3 ingredients

Ingredients
2

Russert potatoes

medium sized, washed thoroughly

½

cup

unbleached self rising flour

+ 1 Tbsp more

1

Tbsp

almond milk

(optional)

2

Cups

Old World Style Traditional Ragu Sauce
Instructions
Boil about 5 cups of water. Do not put any salt or oil in the water.


Add the potatoes to the boiling water


Boil them for about 40 minutes and remove them from the water

Work quickly to peel potatoes because gnocchi is best when made with hot potatoes.

Use a potato ricer or cheese grater to crush the potato into a bowl


Sieve flour on the potato


Mix the dough and potato slowly, not overworking it.


I added 1 Tbsp of almond milk to make it more fluffy (optional)


Roll it into a cylindrical shape and then cover with a damp dish cloth for 10 minutes


While the dough is covered, boil about 8 cups of water

Cut the dough into about 4 inch pieces and roll them into cigar shapes. Keep the diameter as small as you can get it

Cut about 0.5 inch pieces from this cigar shape.

Roll them on a gnocchi board to get their trademark grooves.

Place the gnocchi in the boiling water

While the gnocchi are waiting to rise, heat a medium saucepan.


Add 2 cups of Ragu sauce to it and heat at low heat until the Gnocchi are ready

When the gnocchi begin to rise, take them out using a strainer

Place them directly into the Ragu sauce and stir


Serve immediately