This Whole Wheat Mango Bread shop has been compensated by Collective Bias, Inc. and its advertiser. All opinions are mine alone. #DairyFreeGoodness #CollectiveBias
Whole Wheat Mango Bread is Very Easy to Make. Use Dairy Free Yogurt to Make a Very Soft and Moist Bread. Turn Ripe Mangoes into Pulp and This Bread Will Have an Amazing Aroma
"Look Ma, I made bread!"
When it comes to baking, I have to work harder because it doesn't come naturally to me. But, when I do bake successfully, the results are DELICIOUS!
That's why I love just fell in love with this mango bread recipe because it took only 4 tries to make it!
I love home made bread because I know exactly what is in it. All the ingredients are pronounceable which is how I like my bread. PB&J on this bread is, hands-down, the best after school snack ever!
To keep it dairy-free, I used vegan yogurt made from soy! I have always used Silk's Almond Milk in recipes like my matcha pancakes or in my green smoothie.
But, this is the first time I got to sample their yogurt. My new favorite yogurt is Silk® Peach & Mango Dairy-Free Yogurt Alternative that I found at Walmart! Oh my gosh! I can't tell you how delicious it tasted.
First thing your taste buds will be greeted with are tiny pieces of mangoes and peaches in the yogurt itself. Those pieces taste so good in the yogurt and in the bread too. Overall, this dairy-free yogurt has a very smooth and silky texture. It is creamy just like regular yogurts and its so much better than I could have imagined.
This bread works as an afternoon snack, but, I think it would be great in the lunch box. I had some of my slow cooker blackberry jam left over, so, I tried it in this bread! Any left over mangoes can be used in a mango taco recipe or vegan summer rolls.
Talk about the perfect snack in every way!
There are so many other delicious benefits of Silk. Which one is your favorite?
1) It has 6g of protein that is plant-based. That makes me happy!
2) It has live and active cultures
3) No artificial colors, flavors and absolutely no "funny business". Funny business just means that they don't put bad-for-you types of products in their yogurt! Simply put, its vegan-friendly!
4) There is no cholesterol, dairy, lactose or gluten
5) It has no saturated fats or high-fructose corn syrup! None!
To make the mango pulp, all I did was to take fresh mangoes and ground them in a food processor. For best results, strain this pulp to get a smooth texture in the bread
What after-school snack are you going to make with this mango bread?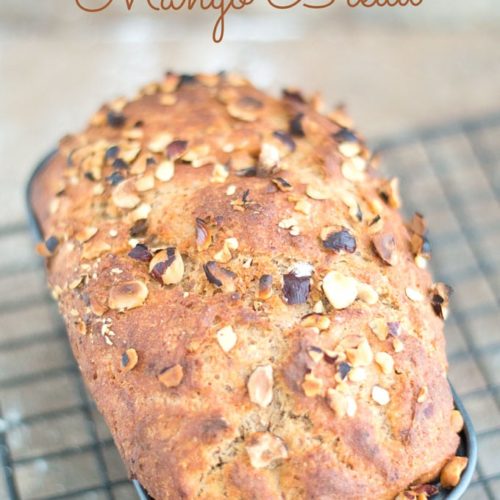 Dairy-Free Mango Bread
Homemade Dairy-Free Bread Made Using Vegan Yogurt

Ingredients
1

container

Silk® Peach & Mango Dairy-Free Yogurt Alternative

1.5

cup

water

1

packet

fast-acting yeast

1

Tbsp

agave

2

tsp

flax seed meal

¼

tsp

sea salt

optional

1

cup

whole wheat pastry flour

¾

cup

all purpose flour, unbleached

1.5

Tbsp

rolled oats

freshly ground

¼

cup

mango pulp

see note

2

tsp

coconut palm sugar

½

tsp

baking powder

2

Tbsp

mixed nuts

I used walnut and pecan bits
Instructions
In a large bowl, add all the ingredients


Mix well using your hands


When all the ingredients are mixed, it will be a sticky dough which is perfect. No need to knead the dough. 🙂


Cover with plastic wrap and set aside for about 2 hours


Preheat oven to 425°


Grease a mini loaf pan (I used a 5″ by 3″ bread pan)


Place the dough gently in the pan and gently tap the pan on a flat surface. This will even it out and remove any air bubbles


Poke some holes on the top of the load and drop the nut mixture.


Grease the top of the loaf with coconut oil and place it in the oven


I put it in the middle rack and let it bake for about 30 minutes or until the top starts to brown


Turn off the oven, but, leave the bread inside for about 15 minutes


Remove and let it cool for 30 minutes before cutting into it.


To store, wrap in parchment paper and store in a bread box or at room temperature.

Notes
* To make the mango pulp, remove the skin from one small, ripe mango. Roughly chop it and discard the husk. Grind the mango chunks until it has a pulp consistency. Strain the pulp and discard all the threads left on top of the strainer. Use the strained pulp in the bread. You can use store-bought pulp, but, I don't recommend it.
* This bread will be fresh for only a week (actually, I think 5 days is the optimum time by which to use the bread before it starts to dry out)