10 Gag gifts are so much fun to give and receive, but, take it up a notch by giving these tomato gifts. Its exactly what tomato lovers need, but, don't know it. These gifts are adorable, cute and creative! Which one is your favorite?
Do you love giving gag gifts?
How about getting gag gifts?
More importantly, do you like giving /getting tomato related gifts?
If you answered "yes" to one of those questions or a "YESSS" to all three, this gift guide is exactly what you need!
I found 10 gag gifts that no tomato lover should be without! Each one is surprising and creative!
All links to Amazon in this post are my affiliate links.
10 Gag Gifts to give the tomato lover in your life
1) Enesco Veggie Tales Bob Tomato Plush Toy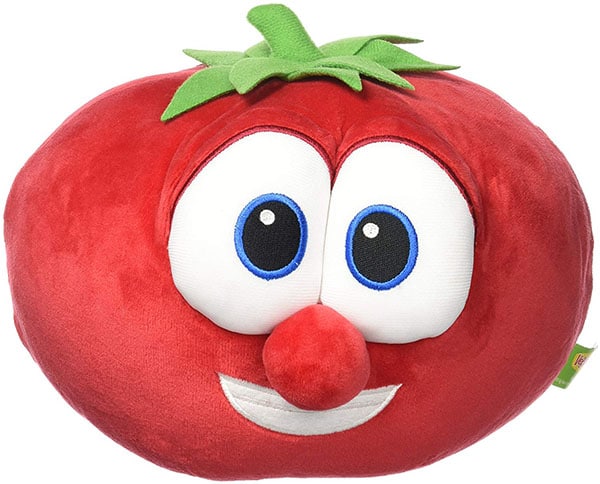 Ok, you can't deny that this is the cutest plush toy you have ever seen! Those eyes are just so cute! Its made of polyester fiber which makes it really easy to clean.
Just throw it in the washer with your dark color clothes and dry it on the fluffy cycle.
2) Fashion Earrings Acrylic Earrings for Women Yellow Fruit Earrings
How can you NOT wear these earrings?? They are so cute and they look exactly like a tomato! Don't be surprised when people come up to you and try to eat them. The earrings are really affordable and make for the perfect gag gift.
Or even a stocking stuffer….?
3) Brandobay Stainless Steel Tomato Slicer Knives Set
I refuse to cut tomatoes with knives that don't have "TOMATO" not written on the blade! Ok, I don't do that, but, I really should be doing it. A tomato deserves to be cut by a knife with its name on it.
Do you have a tomato knife? Know someone who would like these knives?
4) Forum Novelties Tomato Costume
Looking for a costume for Halloween? Or you need a costume just because you like walking around the house because you want to be a tomato? No judgements here! Tomato has a way of getting into your psyche, so, go ahead and give in to that temptation!
Its ok to want to be like the tomato!
5) Sangria Herb and Tomato Dish Towel, Set of 2
The best compliment I ever got was being called a hot tomato!
(Ok, it might not have been a compliment because I was told that I look like a hot tomato when I am angry! But, I took it as a compliment!!)
Know someone who is a "Hot Tomato"? Give them this gag gift and watch their face light up!
6) Gresorth 6pcs Artificial Lifelike Simulation Red Tomato Fake Fruit Home Decoration
Picture a bowl of real tomatoes that you have sitting on your kitchen counter. They are all real, except for one! Or two? The chef in your family goes to take a tomato and slice into it.
Instead of getting delicious slices of tomatoes from slicing into it, the chef sees a whole bunch of cotton stuffing flying out of the "fakemato"!
How is that for a gag gift?
7) 2.5″ Splat Tomato Ball (Package of 12)
Ever throw a tomato at a wall? What happens?
It stains the wall or the fridge or the clothes of the person you threw it at! Why would you waste a perfectly good tomato!
It's such a horrible thing to do to a tomato, am I right?
Instead, throw this splat ball! It doesn't stain, smash or break! Infact, it get its shape back almost immediately!
So, stop wasting a perfectly good real tomato and use this splat tomato ball!
8) Jonathan Adler Pop Candle, Tomato
You had to have known that there is a candle that has the aroma of a tomato. You just never searched for it, right? Well, I found one and it smells like PURE HEAVEN! This is my kind of candle and it absolutely belongs on this 10 gag gifts.
It's perfect for any day of the week, but, I like lighting it up on Sunday brunch. It just gives the whole house a feeling of being in a tomato farm where the air smells like ripe tomatoes!
If you don't have this candle in your home right now, you need to get it. ASAP!
9) Unisex Gardening Is Cheaper Than Therapy And You Get Tomatoes Kitchen Aprons
There are so many tomato aprons on Amazon, but, none of them are as good as this one. I love the idea of growing my own tomatoes. Tomatoes and cooking have been therapeutic for me, hence the healing tomato name. Creating this blog has been much more fruitful than any therapy.
So, if you are looking for a creative outlet, grow a tomato and wear it on your apron!
10) Hooded Blanket
A hooded blanket with salad and tomatoes?? Sign me up! I love LOVE this idea and the blanket looks so comforting. I have to agree that it looks awful, but, its warm and useful.
Seriously, try it before you knock it.
Honorably mention: Ikevan Novelty Tomato Shaped Squeeze Toys Stress Relief Squeeze Venting Ball Funny Gift (Red)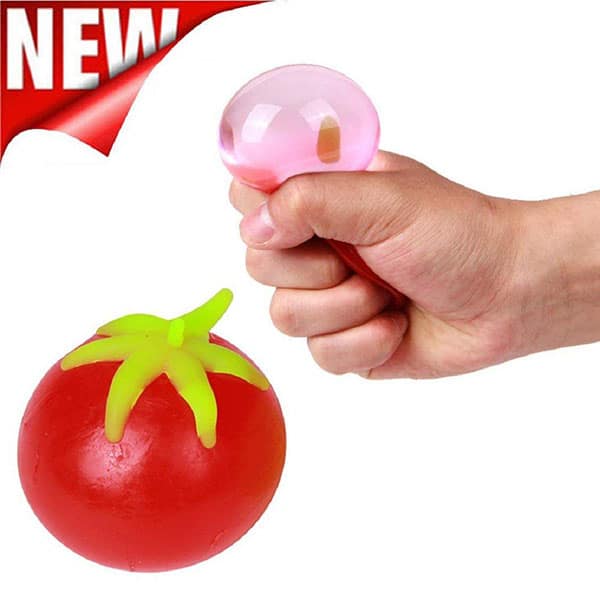 We all get stressed out and we just want to squeeze something. For me, being on hold on the telephone is stressful and I like keeping this ball on hand. Its cleaner than squeezing an actual tomato.
Its made with TPR Rubber-Soft and elastic TPR material, safe and non-toxic. Its also made with special memory rubber which means that it will get back into shape.
So, go ahead and give it a huge squeeze!!
Now tell me your favorite from this list of 10 Gag Gifts to give tomato lovers?
P/S: I have so many wonderful tomato recipes that you can try. Everything from breakfast to dessert is on this list. Tell me your favorite!