Not-quite dhaba style Indian Kadai Paneer. This is my take on the very popular kadai paneer recipe made with a rich tomato sauce and coriander seeds. This is an epic Indian comfort food recipe that is irresistible.
This recipe is for all you paneer lovers out there!
I am a paneer aficionado and can never get enough of it! So, I am only too happy to make a recipe centered around it.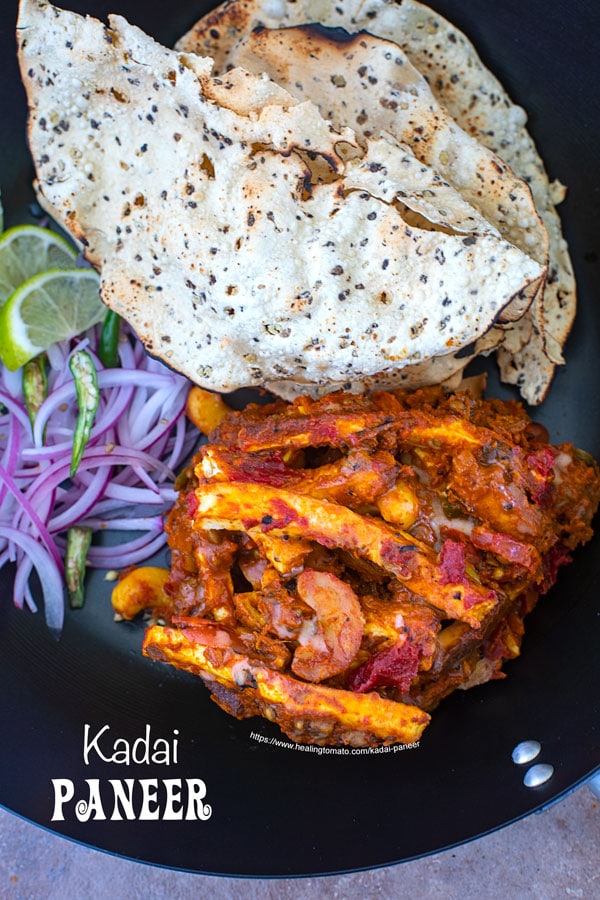 What is "kadai"?
Kadai means "wok" or "pan". Its used in so many recipes from breakfast to dinner and everything in between. It is the single most important kitchen utensil in an Indian household.
Infact, its so important that its passed down from mother to daughter for generations. There are some kadais that have been in a family for over 5 generations.
The good ones are sturdy in build and do not stain easily.
We had a stainless steel kadai growing up and it still works like the first day it was put into circulation. Most Indian kadais are low maintenance and stores easily.
Is kadai paneer the same as shahi paneer?
Kadai paneer tends to be on the drier side where as shahi paneer is in a gravy form. Kadai paneer usually has bell peppers and onions visible alongside the paneer.
Shahi paneer (also known as paneer makhani or butter paneer) is made with a thick tomato sauce with very few other ingredients. P/S: "Makhani" is Hindi for "Butter". Pretty cool, right?
Shahi paneer is served as the main course in restaurants. However, in some restaurants, kadai paneer is served as an appetizer with papad.
How to make paneer
Making paneer is the easiest Indian ingredient to make at home. All you need is whole milk and lemon juice!
Early on, when I started this blog, I posted a step-by-step post on making paneer. As you can see, its very easy to make.
It was only my second recipe on the blog, so, the images are not good at all. But, that shouldn't stop you from going to it and learning how to make paneer.
What to serve with kadai paneer?
Coriander seeds are the most important spice in this recipe. Be sure to include it.
This is now my favorite Indian recipe to make at home! What is your favorite Indian recipe to make at home?
More paneer recipes
This pizza is a fusion of Greek and Indian flavors
Paneer Pizza with Greek Flavors
Paneer Pizza with Indian and Greek Spices. Served over Hummus-layered Naan
Check out this recipe
This restaurant classic is so easy to make at home
Marinated paneer wrapped in rice paper and served with an apricot sauce.
You can substitute tofu with paneer in my tofu skewers recipe and even add a little paneer to my Bombay potatoes.
Homemade Kadai Paneer
My take on making kadai paneer at home

Ingredients
To roast the paneer
1.5

tsp

vegetable oil

1/4

cup

cashews

halved or whole

8

oz

paneer

About half a block. Julienned or cubed
To make the tomato base
2

tsp

vegetable oil

1/8

tsp

fenugreek seeds

1/4

tsp

black mustard seeds

1/2

tsp

cumin seeds

1

Tbsp

coriander seeds

2

dried chili

4

Thai green chili

Optional, slit into half

1/4

cup

tomato paste

1

cup

tomato sauce

2

Tbsp

crushed ginger

1

Tbsp

crushed garlic

1

cup

water
To stir fry bell peppers
1

tsp

vegetable oil

1/4

yellow onion

1/2

red bell pepper

julienned

1/2

yellow bell pepper

julienned

1/2

green bell pepper

julienned

1

Tbsp

turmeric

1

Tbsp

red chili powder

adjust to your taste

1/2

cup

water

1

tsp

salt

1

cube

jaggery

see notes
Instructions
To roast the paneer
Heat the kadai for 30 seconds on medium heat before adding the oil


Add the cashews and paneer


Roast on low heat for about 2 minutes or until the paneer has browned


Remove the paneer from kadai and set it aside

To make the tomato base
Heat kadai for 30 seconds on medium heat before adding the oil


Add the fenugreek seeds and black mustard seed


When the black mustard seeds start popping, add the cumin


Add the coriander seeds, dried chili and thai chili


After 90 seconds, add the tomato paste and tomato sauce


Make a well and add the ginger + garlic in it


Mix well before adding the water


Cook the sauce for about 7-10 minutes until the water evaporates


When the sauce is paste consistency, add the water


Cook for about 5 minutes until it thickens slightly


Move sauce to a bowl and set aside

To stir fry the bell peppers
Heat the same kadai for 30 seconds and add the oil


Add the onions and saute them for about 2 minutes until they are lightly browned


Add the bell peppers


Stir fry for about 8-12 minutes or until they are soft


Move the bell peppers to one side of the kadai


Add the turmeric and red chili powder


Only roast the turmeric and chili powder for about 1 minute. Don't touch the bell peppers


Now, mix all the ingredients in the kadai and let it cook for 2 minutes


Add the tomato base and mix well


Add the water, salt and jaggery


Reduce it to an almost paste consistency (about 6 minutes)


Add the roasted paneer and cashews


Very gently mix everything together


Cook for 2 minutes


Serve it after that. Best served hot

Notes
– Jaggery comes in powder form too. You can get it from (affiliate link) Amazon. If using powder jaggery, use about 1 Tbsp.
Nutrition info is approximate