My take on making kadai paneer at home

Not-quite dhaba style Indian Kadai Paneer. This is my take on the very popular kadai paneer recipe made with a rich tomato sauce and coriander seeds. This is an epic Indian comfort food recipe that is irresistible.
Every time I go to an Indian restaurant, I have to order either paneer makhani or kadai paneer. Its my favorite recipe in Indian restaurant and I judge the restaurant solely based on how they make it
I am a paneer aficionado and can never get enough of it! Its one of those ingredients that only makes a recipe better. It adds a layer of comfort food that no other ingredient can add.

What is "Kadai"
Kadai means "wok" or "pan". Its used in so many recipes from breakfast to dinner and everything in between. It is the single most important kitchen utensil in an Indian household.
Infact, its so important that its passed down from mother to daughter for generations. There are some kadais that have been in a family for over 5 generations.
The good ones are sturdy in build and do not stain easily.
We had a stainless steel kadai growing up and it still works like the first day it was put into circulation. Most Indian kadais are low maintenance and stores easily.
Is it "Kadai", "Karai", "Kadhai" or "Karahi"?
The general accepted spelling and pronunciation is "Kadai" (kuh-dye). However, different parts of India and different dialects write or pronounce it differently
"Kadai" is Hindi word for it which is the national language of India. In my home, we pronounce it closer to "Karai"
The pronunciations and spellings of it are as different as there are paneer recipes. Pick the name you are most comfortable. Bottom line is that there is no wrong way to say it
What is the difference between Kadai Paneer and Shahi Paneer?
Kadai paneer tends to be on the drier side where as shahi paneer is in a gravy form. Kadai paneer usually has bell peppers and onions visible alongside the paneer.
Shahi paneer (also known as paneer makhani or butter paneer) is made with a thick tomato sauce with very few other ingredients. P/S: "Makhani" is Hindi for "Butter". Pretty cool, right?
Shahi paneer is served as the main course in restaurants. However, in some restaurants, kadai paneer is served as an appetizer with papad.
Hey, talking about papad, have you tried my masala papad recipe? Its a delicious appetizer that takes a dull papad to a colorful and delicious level
The Evolution of Kadai
So, at the risk of dating myself, I have seen kadai go from simple clay pans to the modern scientifically engineered woks they have become.
Vintage Aluminum Kadai
In my childhood, we had the very earthen kadai or the aluminum kadai which looked something like this one. If you are feeling nostalgic like me, you can buy it from (affiliate link) Amazon.
It is one of the best ways to cook vegetables because it cooks them evenly. We used to make samosa stuffing in this kadai and it was delicious.
Modern Aluminium Kadai
This kadai looks good, doesn't it? It does a great job too and it cooks evenly. What I like about it is that it is really to toss the ingredients. I love tossing veggies in this kadai. Available for purchase at (affiliate link) Amazon.
Vintage Clay Kadai / Tawa
So, I scoured the internet, but, I can't find the clay kadai that I grew up using. This kadai is as close to it as I can get. Clay pots are hard to clean and they break easily. But, when it comes to cooking rotis or other flatbreads, there is no better kitchen gadget. The flatbreads fluff up evenly!
Modern Clay kadai / tawa
Check out how great this (affiliate link) modern clay kadai!! Its perfect in every way and it was very carefully engineered!
This is my favorite kadai
I have used this for a few years only, but, its my favorite way to cook anything. You may have seen me use it in many recipes like my vegan pot pie recipe.
It has clearly seen better days, but, I love cooking in it! Lucky for us, its available for sale on (affiliate link) amazon!
My Modern Kadai
So, I finally broke down and bought a wok of my own. Its really nice and I love cooking in it. But, I think I prefer cooking in a clay or aluminum kadai. This kadai is perfect for making kadai paneer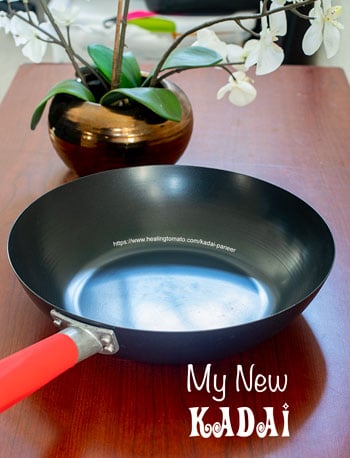 How To Make Paneer?
Making paneer is the easiest Indian ingredient to make at home. All you need is whole milk and lemon juice!
Early on, when I started this blog, I posted a step-by-step post on making paneer. As you can see, its very easy to make. It was only my second recipe on the blog, so, the images are not good at all. But, that shouldn't stop you from going to it and learning how to make paneer.
More Paneer Recipes
1) Paneer Pizza with Greek Flavors
If you love pizza, then you will love my paneer pizza recipe. It has Greek flavors and Indian flavors working in perfect harmony
2) Matar Paneer
This is another Indian restaurant classic that you can easily make at home. I kept this Matar Paneer light on spices, so, anyone can enjoy it.
3) Vegetarian Rolls with Apricot Sauce
These vegetarian rolls would be so bland without the marinated paneer. I made them very early in my blogging career, but, I still love them.
You can substitute tofu with paneer in my tofu skewers recipe and even add a little paneer to my Bombay potatoes.
What to serve with kadai paneer?
1) Papad (aka Papaddum)
If you are using this kadai paneer as an appetizer, serve it with papad. I made masala papad, but, you can keep it plain too.
2) Basmati Rice
If you are serving this recipe as the main course, it works really great with basmati rice. Check out my post on how to cook the perfect basmati rice.
3) Naan
Paneer and naan go together like peanut butter and jelly! Naan is really easy to make at home. My fellow food blogger Christie who blogs at A Kitchen Hoor's Adventures has a knock-your-socks-off smoked garlic naan recipe that is better than what you get at restaurants!
4) Restaurant Style Lassi
This salted lassi is an odd choice, but, its perfect for paneer. The reason is because you may find your mouth on fire when you eat this SPICY kadai paneer!
Dairy products like yogurt, milk and even melted cheese can help. The dairy product helps cool the mouth and the stomach.
You can also try aloe vera juice or raita (without chili) to help deal with any spicy feeling in the stomach.
Coriander Seeds in Kadai Paneer
Kadai paneer can be made in a hundred different ways. It can be roasted, baked, strange ingredients added to it, spiced and not-so-spiced, tofu as a replacement…..
The list is long!
But, the one ingredient that really makes kadai paneer is (affiliate link) coriander seeds! They give kadai paneer its trademark aroma which really makes the recipe stand out.
Side note: This particular image of Coriander seeds is not available for sale (just like any images on this blog). However, I have images that are available for sale on Adobe Stock. I just started the portfolio, so, it is a little light! In my portfolio, I have a series of these coriander seeds images that are for sale. Check out my my adobe stock portfolio. I do take custom request, so, feel free to contact me.
Kadai paneer is now my favorite Indian recipe to make at home! What is your favorite Indian recipe to make at home?
Kadai Paneer Recipe Video
Kadai Paneer Recipe
Homemade Kadai Paneer
My take on making kadai paneer at home

Print
Pin
Rate
Ingredients
To roast the paneer
1.5

tsp

vegetable oil

1/4

cup

cashews

halved or whole

8

oz

paneer

About half a block. Julienned or cubed
To stir fry bell peppers
1

tsp

vegetable oil

1/4

yellow onion

1/2

red bell pepper

julienned

1/2

yellow bell pepper

julienned

1/2

green bell pepper

julienned

1

Tbsp

turmeric

1

Tbsp

red chili powder

adjust to your taste

1/2

cup

water

1

tsp

salt

1

cube

jaggery

see notes
Instructions
To roast the paneer
Heat the kadai for 30 seconds on medium heat before adding the oil


Add the cashews and paneer


Roast on low heat for about 2 minutes or until the paneer has browned


Remove the paneer from kadai and set it aside

To make the tomato base
Heat kadai for 30 seconds on medium heat before adding the oil


Add the fenugreek seeds and black mustard seed


When the black mustard seeds start popping, add the cumin


Add the coriander seeds, dried chili and thai chili


After 90 seconds, add the tomato paste and tomato sauce


Make a well and add the ginger + garlic in it


Mix well before adding the water


Cook the sauce for about 7-10 minutes until the water evaporates


When the sauce is paste consistency, add the water


Cook for about 5 minutes until it thickens slightly


Move sauce to a bowl and set aside

To stir fry the bell peppers
Heat the same kadai for 30 seconds and add the oil


Add the onions and saute them for about 2 minutes until they are lightly browned


Add the bell peppers


Stir fry for about 8-12 minutes or until they are soft


Move the bell peppers to one side of the kadai


Add the turmeric and red chili powder


Only roast the turmeric and chili powder for about 1 minute. Don't touch the bell peppers


Now, mix all the ingredients in the kadai and let it cook for 2 minutes


Add the tomato base and mix well


Add the water, salt and jaggery


Reduce it to an almost paste consistency (about 6 minutes)


Add the roasted paneer and cashews


Very gently mix everything together


Cook for 2 minutes


Serve it after that. Best served hot

Notes
- Jaggery comes in powder form too.  You can get it from (affiliate link) Amazon.  If using powder jaggery, use about 1 Tbsp.
Nutrition
Serving:
1
cup
|
Calories:
435
kcal
|
Carbohydrates:
27
g
|
Protein:
16
g
|
Fat:
31
g
|
Saturated Fat:
17
g
|
Cholesterol:
49
mg
|
Sodium:
1651
mg
|
Potassium:
844
mg
|
Fiber:
7
g
|
Sugar:
11
g
|
Vitamin A:
2300
IU
|
Vitamin C:
97.8
mg
|
Calcium:
415
mg
|
Iron:
4.4
mg