Quick Sheet Pan Ratatouille Dinner Recipe for the whole family to enjoy. Its a hearty and low calorie summer recipe made with garden fresh vegetables.
I think my local grocery store knows me all too well!
Does anyone else feel that way?
Somehow they know when I will be visiting and they make sure they have foods that will get my attention!  They make sure that its going to be pre-prepared to make my life easier!  But, just in case I am not tempted enough, they put a "On-Sale" label on it and they have me hooked!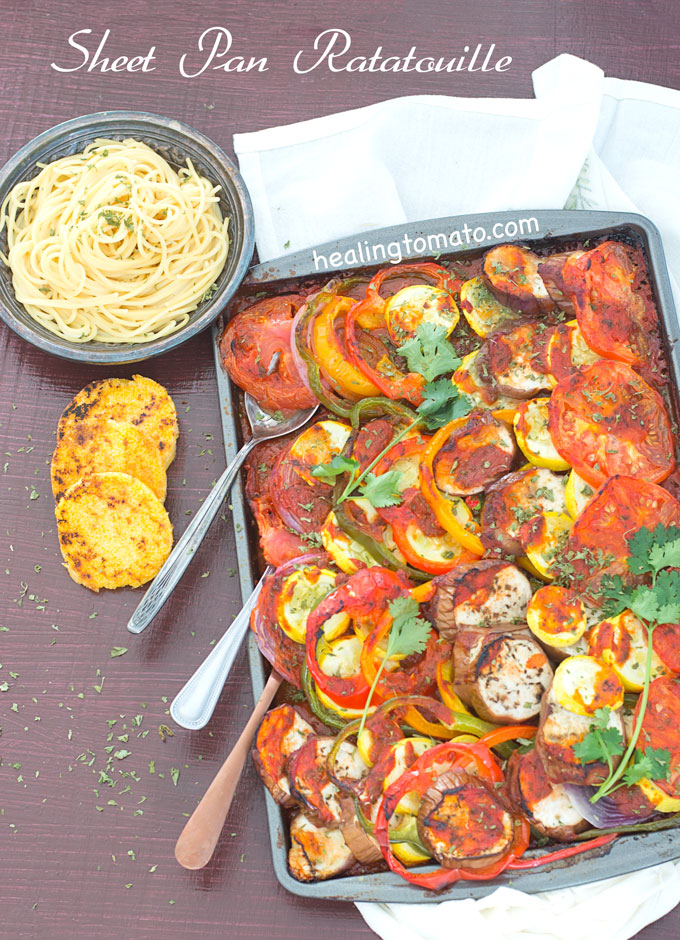 So, what was the item that got my attention this time?
Bell peppers!!
These are no ordinary bell peppers!
They are colorful (to please my eyes), pre-cut (so that I don't have to deal with those pesky seeds) and on-sale ($2 off!) yummy bell peppers!
See what I mean??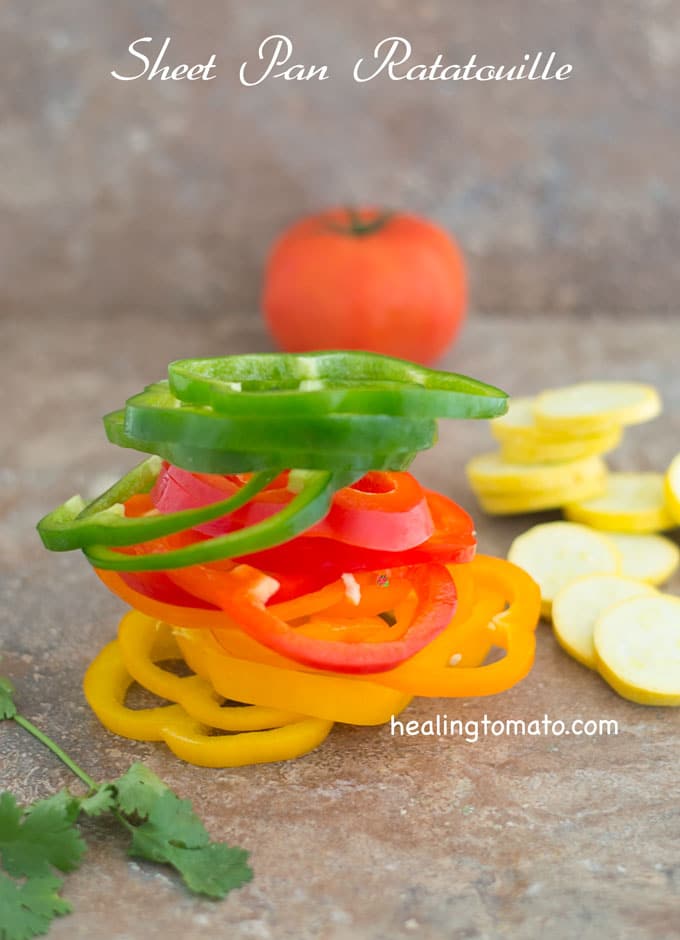 How could  I resist putting these beauties into my shopping cart.  Its a wonder why I didn't leave with an entire shelfful of these bell peppers!
I knew I had to get home and make ratatouille and eat it while watching the movie with the same name!
I decided to go with a sheet pan ratatouille because I wanted it to be easy to make.  All the veggies would cook together and I would have my dinner ready in 30 minutes!
Sheet pan dinners and one pot dinners are my favorite.  Its quick to make, the ingredients cook evenly and the cleanup is easy.
I have made ratatouille before, but, I put it in a white sauce.  The recipe was so delicious, but, pictures are not good.  That was in my early days of food photography.
If you are looking for my family friendly meals, check out my Bombay potatoes or my Mushroom Stroganoff.   Just so you know, they are going to be have you and your family hooked on it.  I have made these recipes a dozen times over and I am totally addicted
What's your favorite sheet pan recipe?


Sheet Pan Ratatouille
Sheet Pan Ratatouille
Quick Sheet Pan Ratatouille Dinner Recipe made with fresh vegetables

Ingredients
2

Beef Steak Tomatoes

Cut into rounds

2

Yellow Squash

Cut into rounds

1/2

Red Onion

Cut into rounds

1

Japanese Eggplant

Cut into rounds

1/2

Green Bell Peppers

Deseeded, Cut into Rings

1/2

Orange Bell Peppers

Deseeded, Cut into Rings

1/2

Yellow Bell Peppers

Deseeded, Cut into Rings

1/2

Red Bell Peppers

Deseeded, Cut into Rings

2

Tbsp

Coconut Oil

2

Cups

Pasta Sauce

1

Tbsp

Oregano, Dried

Optional

1

Tbsp

Basil, Dried

Optional

Cilantro

For Garnish
Instructions
Spray a sheet pan with oil spray (optional)


Layer the sheet pan with a layer of pasta sauce


Arrange the veggies on the sheet pan. I arranged them in this order: Tomatoes, Onions, bell peppers, eggplant, squash


Brush coconut oil on top of the veggies


Top with any remaining pasta sauce


Place in the oven and bake for 25 minutes or until the veggies have browned on top


Serve with Polenta or Pasta

Recipe Notes
Nutrition Facts

Sheet Pan Ratatouille

Amount Per Serving (1.5 cup)

Calories 232 Calories from Fat 90

% Daily Value*

Total Fat 10g 15%

Saturated Fat 8g 40%

Cholesterol 0mg 0%

Sodium 875mg 36%

Potassium 1819mg 52%

Total Carbohydrates 34g 11%

Dietary Fiber 11g 44%

Sugars 21g

Protein 7g 14%

Vitamin A 85.1%

Vitamin C 206.9%

Calcium 11.7%

Iron 24.9%

* Percent Daily Values are based on a 2000 calorie diet.