Who said Popsicle are for kids only?!?! This quick and delicious version bloody Mary Popsicle. Perfect Adult summer time treat. A new take on the traditional bloody Mary recipe.
Just because you are an adult now doesn't mean that you can never enjoy a Popsicle.
This bloody Mary Popsicle recipe is perfect for any adult to enjoy.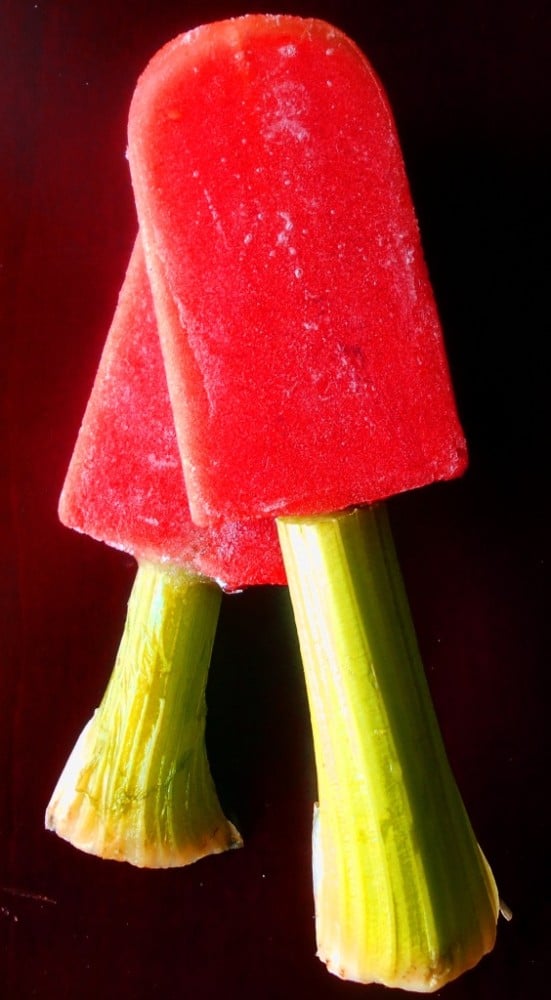 I bet you remember the lazy days of summer, especially the Indian summers! The long days playing by the lake, the lounging around in hammocks all day and running to get ice pops from the local Mom-and-Pop store around the corner!
Summer time in Florida started a month ago. The heat index was already at 90 degrees even before May had a chance to start. If you visited any one of my local grocery stores, you would notice that they cannot keep their ice-cream section stocked. All their Ice-creams and ice pops sell out faster than the lottery tickets during the dog days of summer.
Memorial Day is the unofficial start to summer and this Bloody Mary ice pop recipe is perfect for all adults.
I want to emphasize the Adult part in this Bloody Mary Ice Pops Recipe. It has Vodka!
Keep the little ones away from these ice pops!!
My first taste of a Bloody Mary drink was actually the non-alcoholic version. It was completely disgusting and I was put off the drink forever! To this day, I am sure I can taste it every time I see someone drinking a Bloody Mary.
This recipe will work great without the alcohol too. Just double the amount of V8 Tomato Juice in this recipe.
If you are a regular reader to my blog, you know how much I LOVE Campari tomatoes. I use them in everything I can think of. This Bloody Mary Ice Pops recipe was a perfect for Campari tomato.
For this bloody Mary Popsicle recipe, I don't just use canned tomato sauces and juices. The fresh Campari tomatoes in this recipe add a slight sweetness and tanginess to the Bloody Mary Ice Pops.
So, what is your favorite summer time treat?
How to make Bloody Mary Popsicle
Bloody Mary Ice Pops
Bloody Mary in Ice Pops form

Instructions
In a blender, blend Campari tomatoes and chopped celery


Using a sieve, separate the liquid from the pulp.


Add the remaining ingredients to the sieved tomato juice (except the 4 celery stalks)

Fill Ice Pops molds 3/4 of the way with this Bloody Mary Liquid

Cover the molds with aluminum foil and pierce a small hole in each mold


Place the celery stick in the hole


Wrap the other end of the Celery stick with foil to prevent celery from freezing

Place the Bloody Mary ice pops in the freezer


Freeze overnight before serving

Notes
- 15 Minutes to make, but, freeze overnight
- Don't discard the pulp after sieving. You can use it for various recipes in place of vegetable stock.
- The number of popsicles you get will depend on the type of mold you use
- Nutritional info is approximate
Nutrition
Serving:
4
g
Calories:
82
kcal
Carbohydrates:
2
g
Sodium:
755
mg
Potassium:
180
mg
Sugar:
2
g
Vitamin A:
295
IU
Vitamin C:
7.3
mg
Calcium:
9
mg
Iron:
0.5
mg