Pickled tomatoes is a very easy recipe to make. You can preserve cherry tomatoes, heirloom tomatoes and even tomatoes on the vine. You only need 5 ingredients to preserve tomatoes those beautiful summer tomatoes you grew!
What to do with tomatoes?
Those summer tomatoes deserve to be put in a delicious recipe.
How often do you hear "tomato" and "pickle" in the same sentence?
Not often!
That makes me sad! So, I am bringing you my favorite way of preserving summer tomatoes.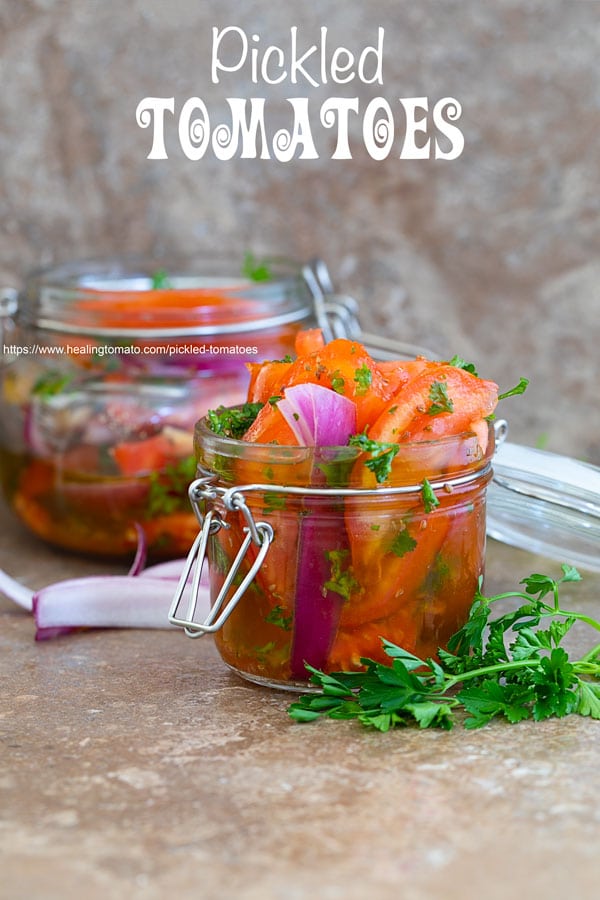 Every summer, when you grow tomatoes, what do you end up doing with them?
Give it to friends? Can them? Let them spoil?
Instead, pickling them is a much better idea and they will be good in so many different recipes.
Before preserving tomatoes, I pickled vegetables like cauliflower, carrots, bell pepper and pearl onions. This is a great way to save veggies that don't get used.
Its such a bummer when you paid so much for cauliflower only to put it in a compost bin, right?
Pickling them makes me not feel guilty. I used Extra Virgin Olive Oil that I used in my Pumpkin Olive Oil Bread. You can also use Greek Extra Virgin Olive Oil to pickle tomatoes.
If oil is not your thing, try it with vinegar or spiced infused water
What kind of tomatoes can be pickled?
Heirloom Tomatoes
Cherry Tomatoes
Roma Tomatoes
San Marzano Tomatoes
Green Tomatoes
Beef Steak Tomatoes
Campari Tomatoes
Jubilee Tomatoes
Grape Tomatoes
Tomatoes on the vine
Benefits of preserving tomatoes
1. You get to enjoy them anytime
A good tomato should never be missed. In the cold, harsh winter months, your preserved tomatoes are going to remind you of a fun afternoon spent on the beach in the summer.
2. It tastes great when preserved
All the spices and herbs added during the preserving process enhances the flavor of tomatoes. It adds spice, sweetness and tang to the tomatoes.
Are you drooling yet?
3. Its a very therapeutic process.
Seriously! Take a few tomatoes and preserve them right now. You will know exactly what I mean. Its like when you see people working on the Nature Japanese Garden with the tiny rakes and sand. Until you try it yourself, you don't understand why they get so much peace out of it.
The same thing happens when you preserve tomatoes. Adding the ginger, carom seeds, onions and parsley to the tomatoes will light up your eyes because of the colorful medley. The best part is lazily adding the oil to the bowl and mixing it.
Its a very Zen experience!
Have you checked out the history of tomatoes?
How to use these tomatoes?
8 Ways of preserving tomatoes
1. Make Ketchup
Making ketchup at home is so easy and healthier. You get to control the salt and other ingredients. Plus, you get to use fresh tomatoes
2. Make Cuban sofrito
Cuban sofrito is so versatile because you can use it in so many different recipes. You can put them in so many different meals like burritos and enchiladas.
Plus, a sofrito recipe can last a really long time. You can even freeze them in ice cubes and keep it for months.
3. Make tomato relish
My friend Deb at Bowl Me Over is seriously talented. She posted this Tomato Relish recipe on my blog a while back and it has received so many, many compliments.
Its such an easy recipe and you get to use nothing but fresh tomatoes in it.
4. Oven roasted cherry tomatoes
Oven roasted cherry tomatoes are so good! You can eat them like candy! When roasted, the cherry tomatoes releases their juices and turns it into a sweet, yummy snack or topping.
If you have a tomato lover in your life, here are 10 gag gifts that you can give tomato lovers.
Preserving tomatoes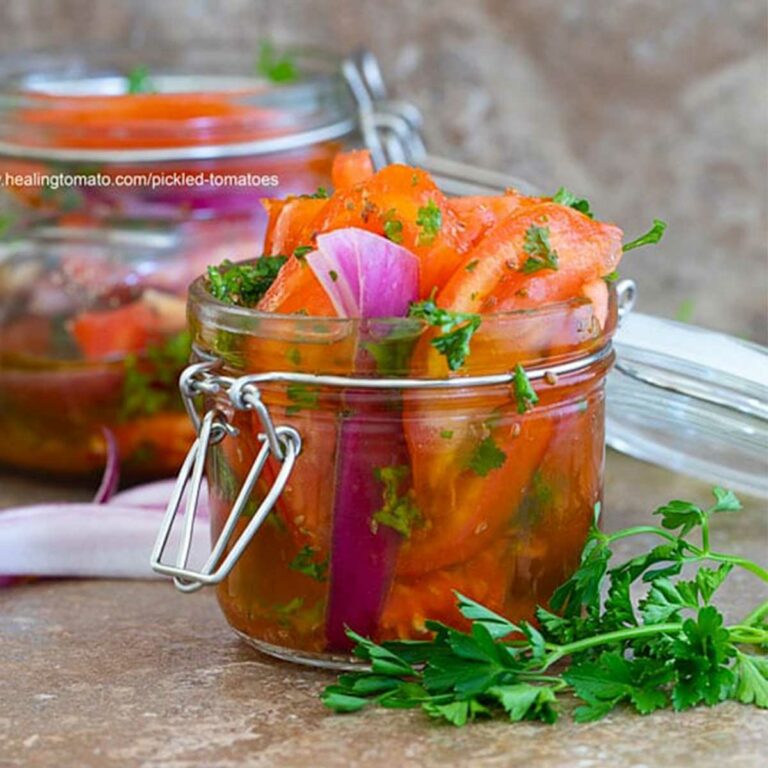 Summer Pickled Tomatoes
How to preserve summer tomatoes

Ingredients
3

tomatoes on the vine

cut into wedges

4

slices

ginger

thinly sliced, with skin on

1½

Tbsp

carom seeds

AKA Ajwain Seeds

¼

red onion

julienned

½

cup

curly parsley

finely diced

1½

cup

extra virgin olive oil

or adjust according to your taste
Instructions
Place the tomato wedges in a large bowl


Add the ginger slices


Top with carom seeds


Add the red onion


Add the curly parsley


Drizzle with the extra virgin olive oil


Mix very well


Place the tomatoes in a glass mason jar


Place glass jar in a cool, dry and dark place


Use after about 5 hours of marination

Notes
– Use the pickled tomatoes within 2 weeks
– You can refrigerate the jar. It will turn the olive oil into a solid mass. To thaw, let it stay outside for about 2 hours. Do not microwave the frozen olive oil
– If refrigerated, the pickled tomato can last about a month before they start to have fungus growing on them.
– Nutrition info is approximate
Nutrition
Calories:
241
kcal
Carbohydrates:
14
g
Protein:
4
g
Fat:
19
g
Saturated Fat:
2
g
Sodium:
20
mg
Potassium:
540
mg
Fiber:
7
g
Sugar:
5
g
Vitamin A:
2800
IU
Vitamin C:
46.3
mg
Calcium:
39
mg
Iron:
1.5
mg