Frozen caramel macchiato is so easy to make. Almond milk, flax seed meal, 2 shots of espresso and dark maple syrup. Topped with whipped cream and caramel.
"This post is part of a social shopper marketing insight campaign with Pollinate Media Group® and The J.M. Smucker Company, but all my opinions are my own. #pmedia #DunkinDonutsPublix "
Summer is coming, y'all! Those long, sticky, hot and pavement scorching days are only a few days away!
If you are like me, you will need a drink that will keep you cool and blissful despite the sun's desperate attempt to crush you with its relentless heat!
Think how awesome it would be to be sipping these macchiatos while sitting on the porch swing? It is the perfect drink for me-time, especially after a day of staring at your monitors, phone screens and other gadgets!
The sun can be brutal if you find yourself in Florida, especially if the calendar month starts with "Ju". Iced drinks and desserts are in huge demand by everyone around these parts.
Oh, and by everyone, I mean me!! I can't stand the heat and humidity, so, I fight it with every cold, icy drink I can find.
So, when I found out about Dunkin Donuts® has a $1 off coupon offer for their coffee products, I started experimenting with different drinks.
Since I love anything caramel, especially in summer, my first thought was a caramel drink. Dunkin Donuts always makes delicious caramel grounds and are a perfect fit for a caramel macchiato. I dashed over to Publix and bought a couple of packets. It will be a long, hot summer.
The aroma is unmistakable. My entire home was enveloped in its wonderful aroma even before I opened any of the packets. It was a deliciously intoxicating aroma and I stood in my kitchen and inhaled the aroma for a few minutes
After I brewed the coffee, I opened the windows hoping that the aroma would waft over to my neighbors home. Sure enough, my neighbors came knocking on my door a few minutes later wanting to know if I had opened a Dunkin Donuts in my home. "Sadly, no" I replied. But, I have the next best thing.
Dunkin Donuts makes it easy for you and me to brew their coffees at home. That includes K-cups of which my neighbor is a huge fan! Or, you can get whole coffee beans that you can grind at home for those coffee connoisseurs . My personal favorites are the coffee grounds because all the hard work has been done for me.
Then, I gave her the link where she can take advantage of $1.00 off any ONE (1) Dunkin' Donuts varieties now through 5/6/17 at any local Publix, while supplies last.
She laughed and then ran to the Publix next door.
Guess what? You can take advantage of the SAME deal. These coupon can make a huge difference for those who drink large amounts of coffee. I know many of you who can easily drink 8 cups of coffee. I am excited to see how much you can save with this deal!
What is your coffee flavor?
Frozen Caramel Macchiato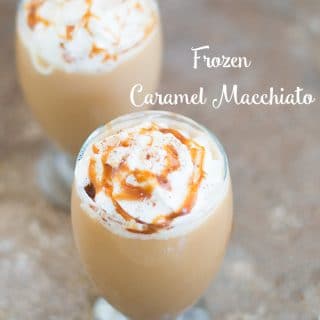 Frozen Caramel Macchiato
Frozen caramel macchiato is so easy to make. blended Almond milk, flax seed meal, double strong coffee and dark maple syrup
Ingredients
1

cup

Dunkin Donuts Caramel Coffee Cake Coffee

strongly brewed

1

cup

Almond milk

or milk of your choice

1

Tbsp

Pure dark maple syrup

2

cups

ice cubes

1

tsp

Flax Seed Meal
For the garnish
Whipped cream

optional

Caramel Sauce

optional

1

tsp

cinnamon powder

optional

1

tsp

sugar

optional

1/4

tsp

sea salt

optional
Instructions
In a small bowl, mix the sugar, cinnamon and salt. Set aside


In a blender, add the coffee, almond milk, maple syrup, ice cubes and flax seed meal


Blend on low speed until the ice is crushed


Transfer to 2 glasses

Assemble the drink
Top the drinks with whipped cream


Drizzle the caramel sauce


Top with the cinnamon sugar mixture

Notes
Nutrition information is approximate