A simple, yet, delicious healing tomato soup made with roasted campari tomatoes, bell peppers and other healing ingredients.  This vegan tomato soup is perfect for those cold winter days.
Today, my tiny little blog turns 5!
I can't believe that the last five years have flown by and how much this blog has helped me in its short life.
I am so excited to bring you this namesake soup recipe on my blog's birthday, because it stands for everything I have achieved.
And, I wouldn't have had a healing tomato soup recipe, were it not for the wonderful readers like you!
Thank you!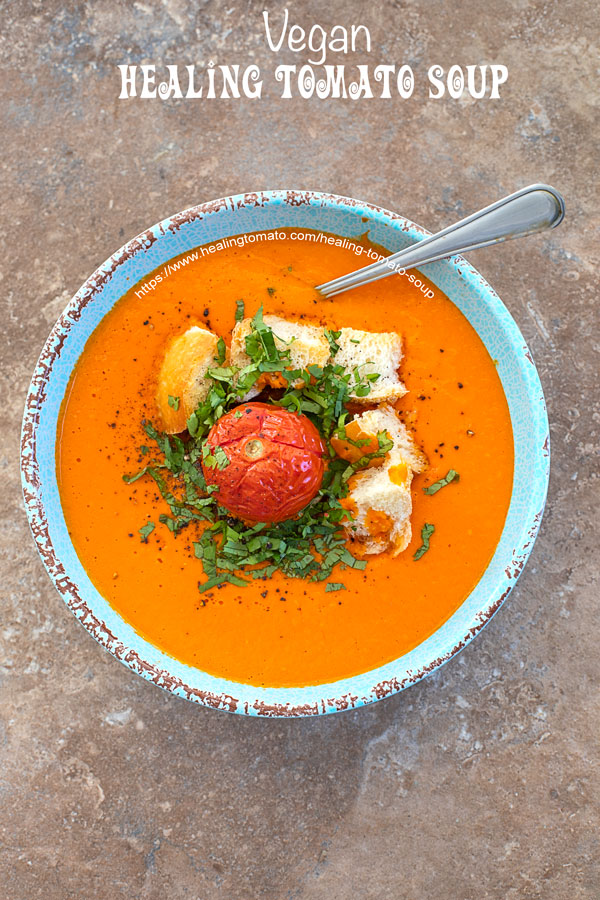 How did this blog get started?
The days and months leading up to my posting the very first recipe were agonizing, dark and painful.  I was in a bad state and there were days when I couldn't even get out of bed.
You see, I had experienced the worst betrayal and abuse from my so-called family members.  I lived in Long Branch, NJ before and moved to Florida to help my "sister" setup her new business.  I use quotes because she may be related by blood, but, she is the a disgrace to the institution of sister hood.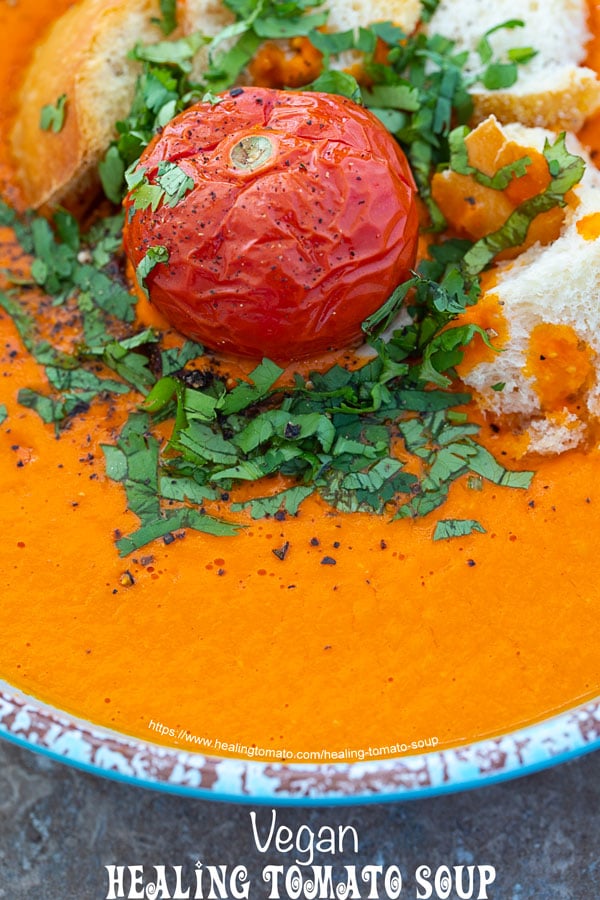 So, after suffering one last abuse by her and her husband, I moved out of their home two months after moving here.  I threw myself into my freelance work for the next 7 months.
When I lost that job, I also found out that about the lies that her and her family had told me.  It was a very rough time in my life and I couldn't get past it.  I was sick most of the time, couldn't keep a job and was generally miserable for months after that.
It didn't help to know that my "family" thought of me as a loser who was only going to leech off them for the rest of their life.  For them, my "wasted" life was a license for them to be even more abusive towards me.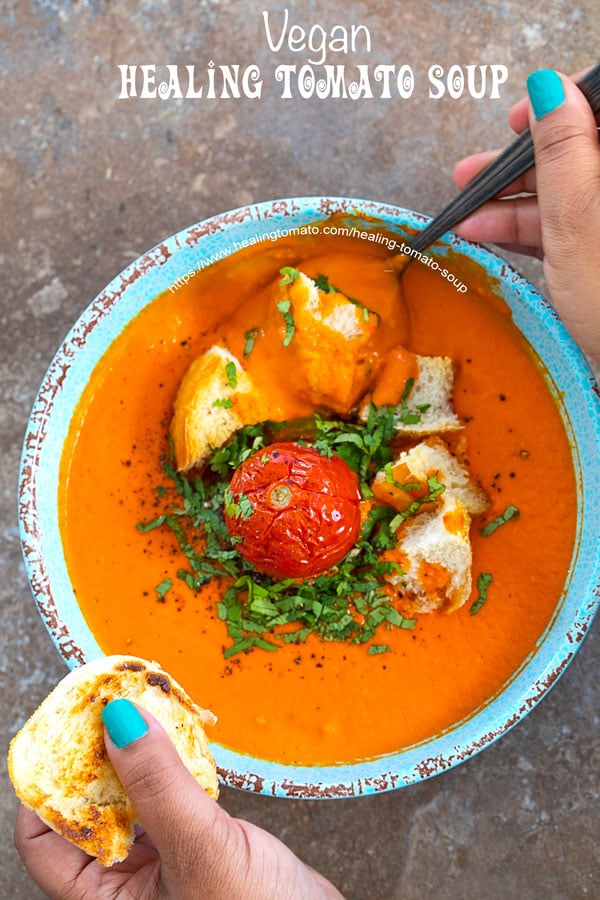 Finally, on October 30th, 2013, I had enough.  I didn't like who I was and I told myself to rise up.  It was time for me to do something productive.  Or, I would have to just call it quits.
Before moving to Florida, I had been seriously considering starting a food blog.  Just days before the she-devil knocked on my door, I was going to start a food blog.  I thought that now is the perfect time to start working my dream of starting this blog.
I spent the day trying to come up with a name of the blog and finally settled on "Healing Tomato" and quickly bought that domain name.
The rest is delicious history!
What is the "Healing" in Healing Tomato?
Its always warms my heart to see that so many of my readers have a different view on what the "healing" refers to in the name of the blog.  Most of the time, people think that it refers to the recipe or meal itself.
Many readers think that the recipes I make and post are supposed to be healing based on the name of the blog.
In some ways that is true.  My recipes have had that warm, comforting feeling (like this healing tomato soup).
However, the real meaning behind "healing" is something completely different.
Healing, for me, has always been about the process of pulling yourself up, dusting yourself after a traumatic experience and becoming a better version of you.
It is about being in that deepest, darkest place in your life where everything has an air of despair and hopelessness.  Yet, its about finding that one thing that you have always wanted to do or the one thing that you have always admired in your heroes.
Healing is about finding that courage by digging deep, deep, deep down inside of you and using it to go for the brass ring.  Its about clinging to that one good thing with dear life and making it your lifesaver!
Blogging and food photography have been my lifesavers in many ways.  They have helped me heal from the inside by showing me that I can do it!  I look at the mess that was me on November 1st, 2013 and I look at the confident, self-respecting person I have become on November 1st, 2018.
Its a good feeling to know that I didn't let hate and pain win.
That is the essence of HEALING!
Getting to Publish a Post
Don't get me wrong.  There are still some rough, tough and dark days.  Its something I grapple with regularly.  But, I always find myself getting out of bed and looking forward to doing blog-related tasks.
Over the years, I have taught myself about food photography and food styling techniques.  I have found that I get immense pleasure out of photographing food.
To this day, hitting that "Publish" button on my blog has been my favorite part! All the research, experimenting, making the recipe, photographing and editing the photos, writing a blog post, optimizing it for SEO and finally getting to the point where I am ready to hit "Publish" is a very satisfying task!
So, I hope you find something that will help you heal after going through a traumatic experience by grabbing that one thing in your life that matters the most to you.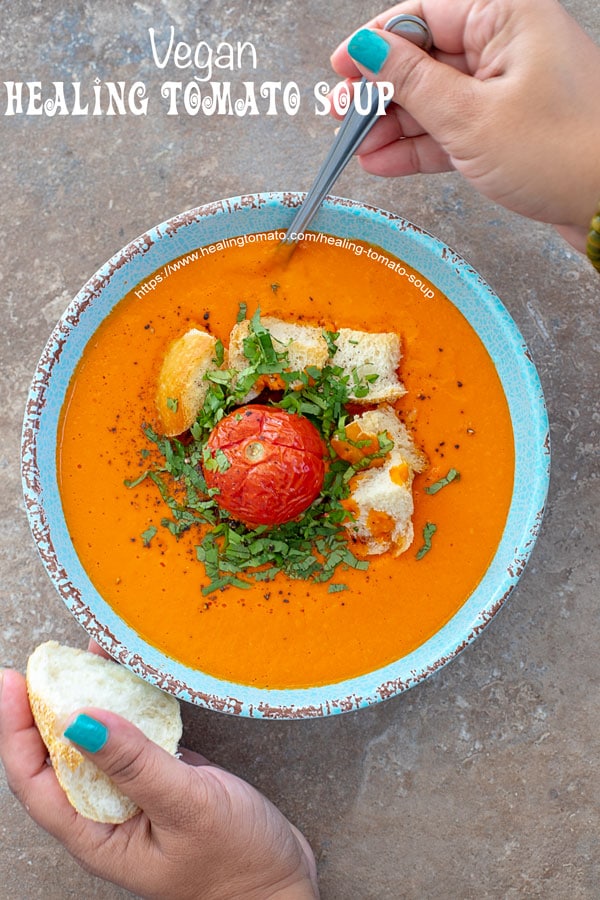 Why "Tomato"?
Tomato is the base in so many cuisines, including Indian food. Italian cuisine uses it in pasta sauces, Mexican recipes use it in their salsa, its the most used hamburger topping and the list is endless.
Tomatoes can literally take a recipe from yum to lip-smackingly good!!
Also, coming from NJ, I KNOW what a good tomato tastes like! Its no secret that NJ has the best tasting tomatoes.  Our tomatoes are juicy, plump and sweet!
Back in NJ, I used to eat the tiny tomatoes almost everyday.  They were the perfect snack to eat while sitting at the computer.
My eyes always light up at the sight of any tomato.  From plum tomatoes to Ananas Noire and everything in between, a tomato is the most beautiful ingredient!
I have to admit that I do have a favorite tomato!  It has to be the Campari Tomato! I couldn't think of any other type to use in my healing tomato soup, lol!
Camparis are slightly on the sweeter side and roasting them brings out all their sweetness.
Check out my 5 most colorful types of tomatoes and a brief history of tomatoes
What are Campari Tomatoes?
– They are often sold as "tomatoes on the vine" in supermarket
– Campari tomatoes are sweeter, have less acid and don't have a lot of pulp making them perfect for a healing tomato soup
– They have the deepest red color of many tomatoes
– Its a member of the Solanum family and its botanical name is Solanum Lycopersicum Campari
– Campari is a hybrid tomato developed in the late 20th century
– They are very easy to grow in your home garden.  The seeds can be purchased via (affiliate link) Amazon.
– They can grow year round, so, you will never be out of them.
Source: Wikipedia, Speciality Produce and my own personal experience.
Healing Ingredients in this Healing Tomato Soup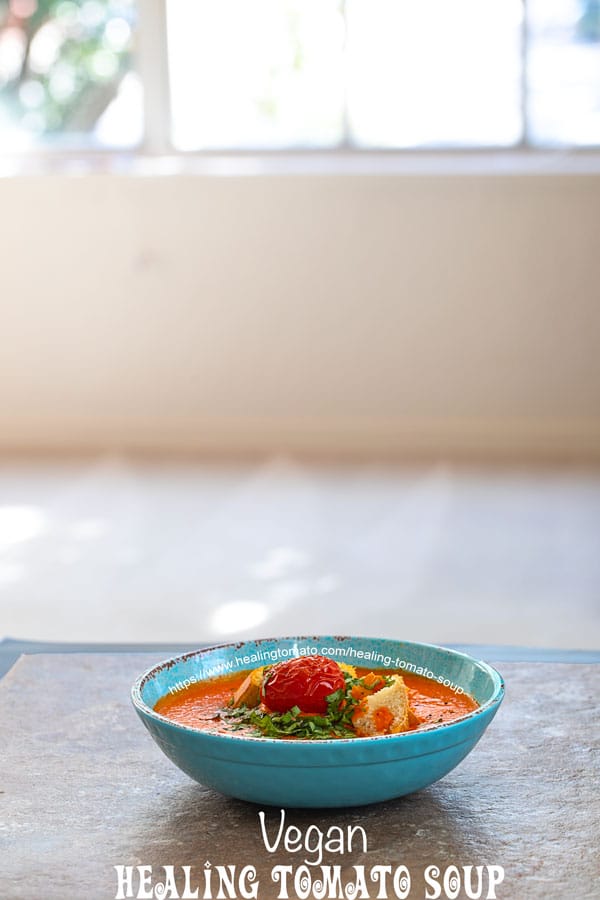 – Turmeric – Turmeric has so many many benefits.  From fighting cancer to joint pain relief and so much more.
– Ginger – Its the go-to anti-inflammatory ingredient, treat nausea and reduce muscle soreness.  Here is what Dr. Axe has to say about ginger.
– Thyme – Thyme is very useful for those with respiratory problems, especially for those who suffer from coughing, bronchitis, etc.  Source WHFoods.com
– Tomatoes – Tomatoes are good for every inch of your body.  That includes your hair, skin, nails and teeth.  OrganicFacts.net has a list of 11 very impressive benefits of tomatoes.
– Red Bell Peppers – They are important to healthy night vision, pack a huge punch with its antioxidant properties, and have tons of potassium in them.
My Favorite Tomato Recipes
Over the years, I have cooked with so many tomatoes!  If I were to gather all the tomatoes, I am sure it could easily fill five football fields.
Other than this healing tomato soup, I have some more favorite tomato recipes.  Here are just a few of my favorite!
1) Pickled Tomatoes
This recipe is very recent, but, it remains my favorite photograph of all time.  It showcases all the vibrancy that is the tomato! You will want to eat the whole jar of pickled tomatoes.
2) Bombay Potatoes
I love this recipe because tomatoes and potatoes work so well together.  Bombay Potatoes my favorite Indian food recipe of all time.
3) Roasted Fingerling Potatoes
Once again, potatoes and tomatoes come together in a creamy butter sauce to make a perfect comfort food recipe.  Sun-dried tomatoes are exactly what these fingerling potatoes needed.
4) Tomato Granola
Ok, I have to admit that this recipe wasn't as well received by my readers.  Its a tough recipe to wrap your mind around a tomato granola recipe.  But, I loved it because its so unique and oh so delicious!
5) Green Tomato Pie
If you think tomato in granola is odd, then, you might think the same of this green tomato pie.  But, its a really good recipe that tastes amazing! (the pic doesn't do it justice!)
These are just 5 of my tomato recipes.  Get more tomato recipes like guacamole bruschetta, sheet-pan ratatouille or my favorite pizza sauce recipe.
What is your favorite tomato recipe?


Healing Tomato Soup Recipe (Printable)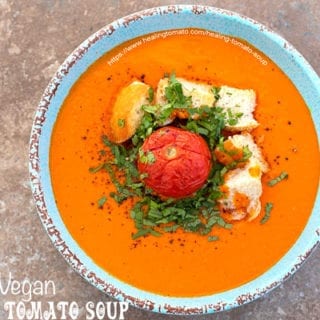 Healing Tomato Soup
A hearty tomato soup made with roasted campari tomatoes and roasted red bell pepper

Print
Pin
Rate
Ingredients
For roasting the tomatoes
For roasting the bell peppers
Instructions
Preheat oven to 375°


In a square casserole dish, add the tomatoes (cut into wedges)


Top with the olive oil and salt


Mix well using your hands or wooden spoon


Place in the oven and roast for 28 minutes (or until the skin can be peeled off easily)


Oil the outside of the bell pepper


Wrap the bell pepper, garlic and ginger in an aluminum foil (not too tightly)


Place the wrapped bell pepper in the oven and roast for 20 minutes (or until it passes the knife test)


Remove both the tomatoes and bell pepper from the oven and let them cool (about 5 min)


Peel skin from the tomatoes and bell pepper. It should peel away very easily


Place the peeled tomatoes and bell pepper in an emulsifying blender


Optional: Add the roasted ginger and garlic to the blender


Optional: you can add the coconut milk (if using) into the blender or use it to garnish


Blend on low until its smooth

Heat it for about 5 minutes in a stainless steel soup pan


Transfer to soup bowls and garnish before serving

Notes
Nutrition info is approximate
Nutrition
Calories:
222
kcal
|
Carbohydrates:
13
g
|
Protein:
2
g
|
Fat:
18
g
|
Saturated Fat:
3
g
|
Sodium:
1196
mg
|
Potassium:
446
mg
|
Fiber:
2
g
|
Sugar:
6
g
|
Vitamin A:
2530
IU
|
Vitamin C:
108.9
mg
|
Calcium:
26
mg
|
Iron:
1.5
mg