A simple homemade healing tomato soup made with roasted tomatoes and bell peppers. This creamy vegan tomato soup is perfect comfort food for those cold winter days.
This comforting healing tomato soup is made with roasted tomatoes and roasted bell peppers. It makes this soup very unique and delicious.
You won't have to make it using exotic ingredients. All the ingredients in this soup are already in your pantry.
Get your grilled cheeses ready!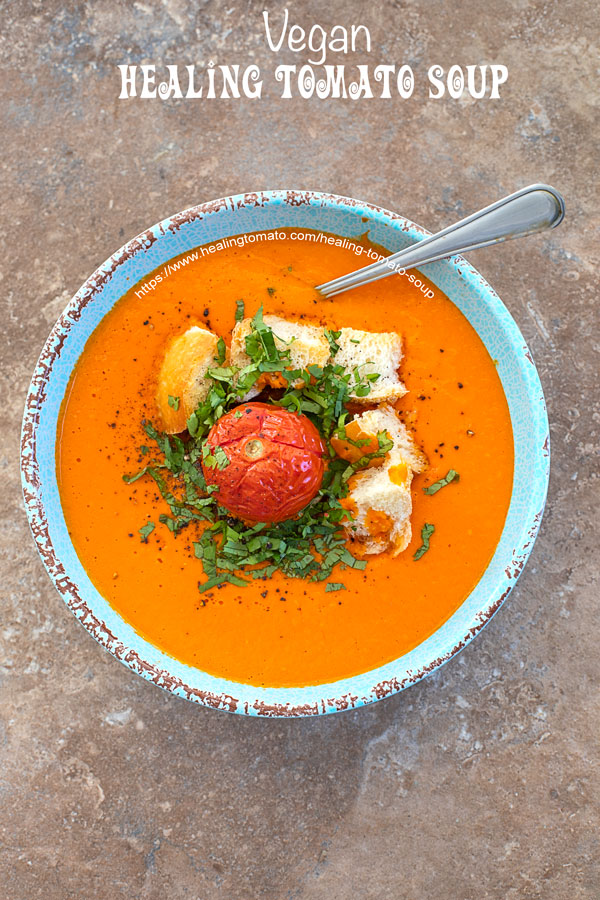 Tips for making this tomato
I made this vegan tomato soup using fresh tomatoes. Don't use tomatoes from a can. I absolutely forbid it, lol. This soup is best with freshly roasted tomatoes
I highly recommend using campari tomatoes (AKA tomatoes on the vine).
Don't skip the red bell pepper because it adds a different texture and flavor to the tomato sauce.
You can roast the veggies and freeze them until you are ready to make the soup.
I don't use vegetable broth in this recipe. It's not necessary because roasting the tomatoes + bell peppers brings out their natural juices.
Add olive oil, salt and pepper to the tomatoes and bell pepper before roasting. It will flavor both from the inside out.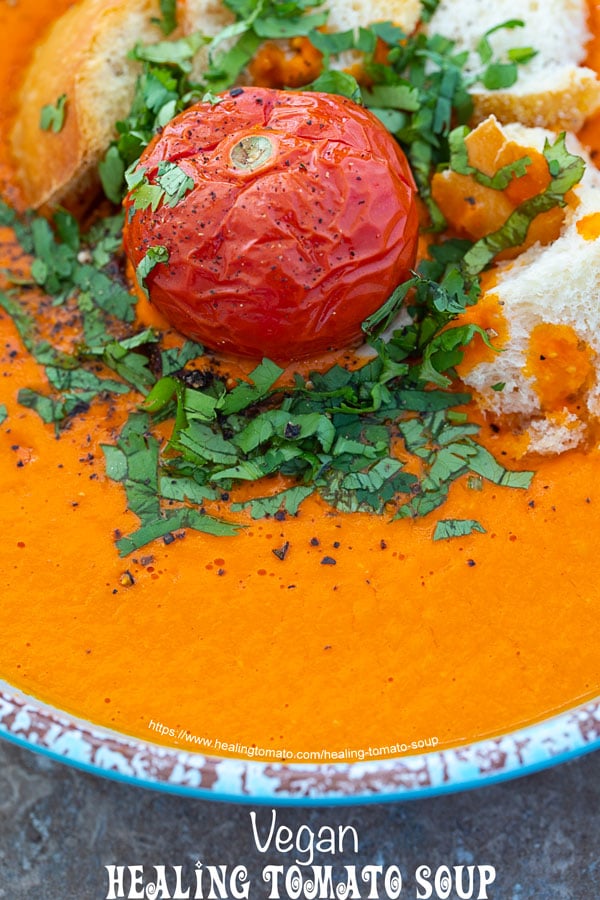 What are Campari tomatoes?
– They are often sold as "tomatoes on the vine" in supermarket
– Campari tomatoes are sweeter in taste, have less acid and pulp, making them perfect for a healing tomato soup
– They have the deepest red color of many tomatoes
– Its a member of the Solanum family and its botanical name is Solanum Lycopersicum Campari
– Campari is a hybrid tomato developed in the late 20th century
– They are very easy to grow in your home garden. The seeds can be purchased via (affiliate link) Amazon.
– They can grow year round, so, you will never be out of them.
Source: Wikipedia, Speciality Produce and my own personal experience.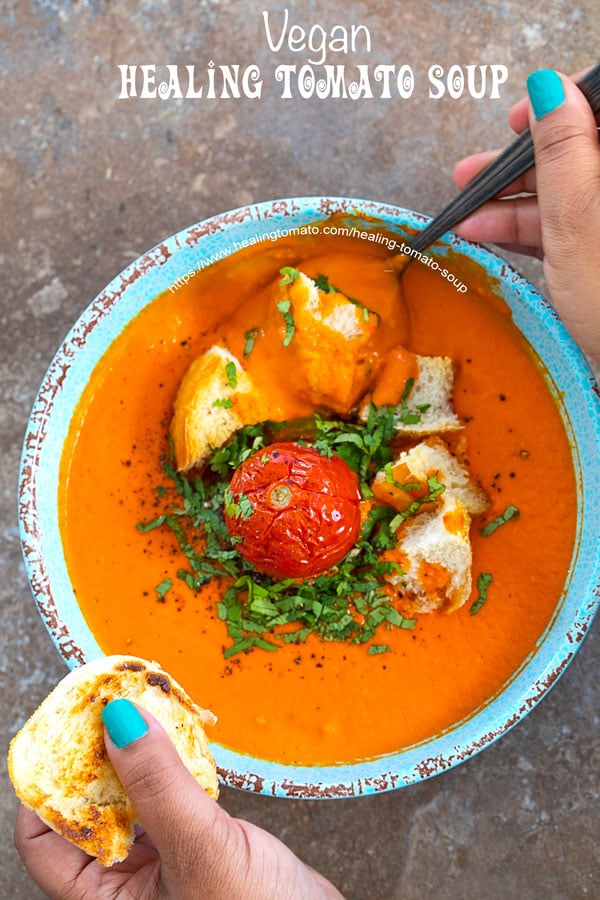 Questions about making this healing tomato soup?
Can vegans eat tomato soup?
Yes, they can eat tomato soup if it is not made with heavy cream, dairy or chicken stock. Plant based soups are vegan friendly.
For my recipe, I used coconut milk and juices from the roasting. If stock is needed, I always go with coconut water first before using stock.
Canned tomato soups are not vegan friendly because many use dried milk powder and/or other dairy products. Also, some will mention that they use chicken stock which is not vegan friendly
How do you thicken tomato soup?
– Full fat coconut milk will thicken tomato soup. For best results, whip up the coconut milk using an immersion blender or hand blender before adding it to the soup
– You can also make roux which is basically a flour and vegan butter mixture. Mix equal parts of both in a small sauce pan. The oven heat should be very low When they have mixed well together and have a light brown color, slowly pour the tomato soup into the pan.
Can I add pasta to tomato soup?
Yes, absolutely! I love adding cooked elbow macaroni to tomato soup.
Make sure you have drained all the water from the macaroni completely before adding it to this healing tomato soup. It might be soggy otherwise.
If making roux is confusing, watch me make it in my jackfruit corn chowder. To make your life easier, I queued it up to the exact moment in the video where I make the roux. 🙂
I always read the ingredients before opening a can of tomato sauce. This way, I can judge if it's vegan, vegetarian or meat-related. If you are confused about what products are vegan, consult my "what vegans don't eat" guide.
Alternatives to Coconut Milk
Almond milk, hazelnut milk or any nut milk
Blend about 1 Tbsp of silken tofu with 1/2 tsp of nutritional yeast. Pour the mixture into your tomato soup
Mix 1/2 tsp of chick pea flour with 1 Tbsp of vegan yogurt. Blend until there are no lumps. Pour into the tomato soup. This is assuming that you are making 2 cups of tomato soup.
The liquid you get in a can of chickpeas. Whip it up until you get peaks. This is called aquafaba and it's the perfect base for many soups.
Spice not, the soup is fine!
This recipe has only a little bit of black pepper in it. If you want to go the spicy route, here are some of my favorite spices to add to it. Add them at the end when you have the soup heating on medium heat and 1 minute before you turn off the stove.
Smoked paprika
Red Pepper
Chili pepper
Red pepper flakes
When I served this healing tomato soup, I added a few red pepper flakes for garnish with fresh basil. It adds to the presentation and makes the soup look so much more appetizing.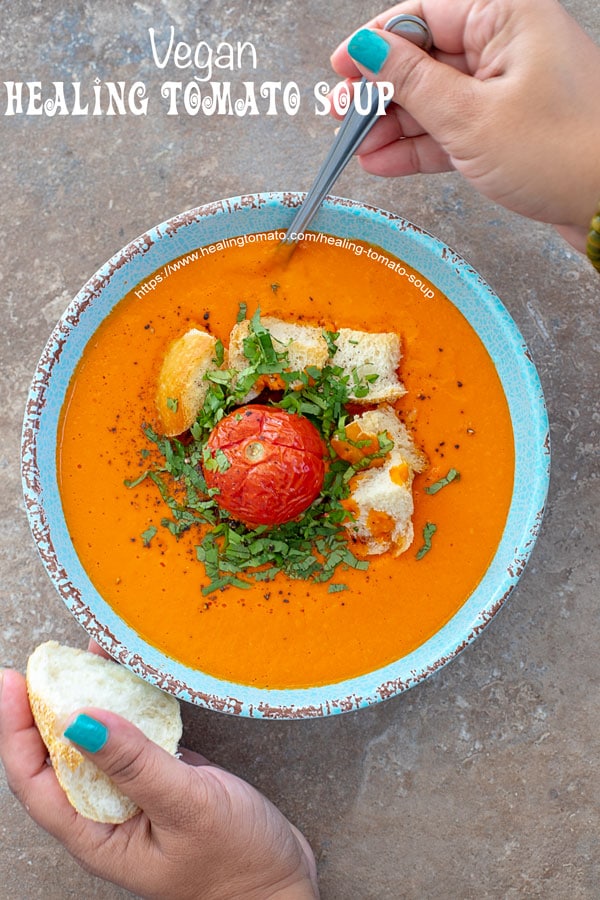 What's good in it
Turmeric
Turmeric has so many many benefits. From fighting cancer to joint pain relief and so much more.
Ginger
Its the go-to anti-inflammatory ingredient, treat nausea and reduce muscle soreness. Here is what Dr. Axe has to say about ginger.
Thyme
Thyme is very good for those with respiratory problems like chronic coughing, bronchitis, etc. Source Dr. Axe
Tomatoes
Tomatoes are good for every inch of your body. That includes your hair, skin, nails and teeth. OrganicFacts.net has a list of 11 very impressive benefits of tomatoes.
Red Bell Peppers
Red bell peppers are good for healthy night vision and are packed with antioxidant properties. Plus, they have a ton of potassium in them.
Fresh Basil
Make this a tomato basil soup by adding fresh basil. Basil has anti-inflammatory properties and its good for digestion! Those are just 2 of the many benefits of basil. Source: Healthline.com
What to serve with homemade tomato soup
My favorite way to eat this healing tomato soup is with pasta. What is your favorite way of eating this soup?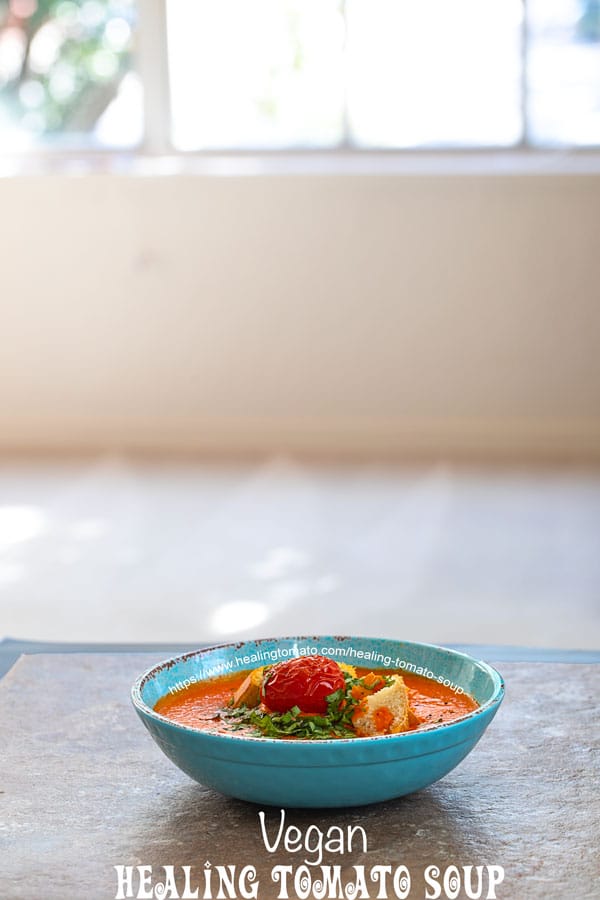 How to make it
1) Preheat oven to 375°
2) Roast the 10 campari tomatoes and bell pepper separately. Cut the tomatoes into wedges first and flavor with olive oil and salt
3) Place the tomatoes in the oven and roast for 30 minutes
4) While the tomatoes are roasting, wrap one bell pepper (washed and whole), garlic, olive oil and garlic in aluminum foil. Don't wrap to tightly.
5) Roast the bell pepper for 20 Minutes and then remove. Allow to cool before opening the foil
6) Remove, discard the skin from the tomatoes and the bell pepper. It's a very easy process, trust me.
7) Place the tomatoes and bell pepper in a blender (including the ginger, garlic and any juices from the roasting). Blend until smooth.
8) In a small saucepan, gently add the tomato mixture and let it on low heat
9) Add 1/2 coconut milk, pepper (if you want to spice it up) and 1/2 tsp of salt.
10) Heat on medium to low heat for 15 minutes.
11) Right before serving, chop fresh basil and add them to the tomato soup.
Serve this healing tomato soup immediately.
More vegan soup recipes
If you like this healing tomato soup, I have a few more vegan soup recipes that are easy to make
Vegan Roasted Acorn Squash Soup
Acorn Squash Soup Recipe
Copycat Panera's Acorn Squash soup recipe that is so easy to make. This soup is a very comforting bowl of soup on a cold winter night.
Check out this recipe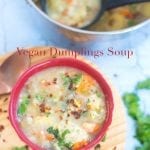 Make-Ahead Butternut Sqaush Soup
Southwestern flavored butternut squash soup made with butternut squash zoodles. Add black beans, corn, onions and spices
Check out this recipe
Pumpkin Soup with Butter Beans
Vegan Pumpkin Soup with Butter Beans
Vegan Pumpkin Soup with Butter Beans is flavored with Cinnamon + Nutmeg and Simmered to Perfection
Check out this recipe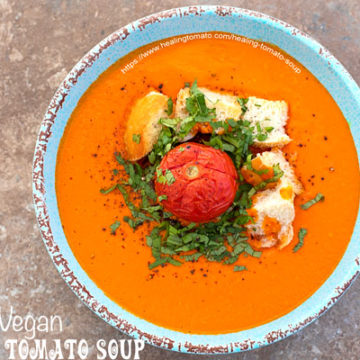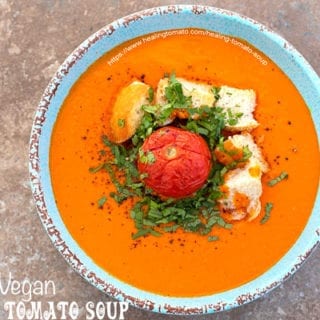 Healing Tomato Soup
Creamy vegan tomato soup with coconut milk is made by using roasted tomatoes and roasted bell peppers.
Equipment
Immersion Blender

Soup pan
Ingredients
For roasting the tomatoes
10

Campari tomatoes

Each cut into 4 wedges

1

tsp

salt

I used pink salt

2

Tbsp

extra virgin olive oil
For roasting the bell peppers
1

red bell pepper

4

cloves

garlic

2

slices

ginger

thinly sliced rounds

1

tsp

extra virgin olive oil
For the Soup
1/2

cup

coconut milk

optional

1/2

tsp

black pepper

1/2

tsp

salt
Fresh basil and croutons for garnish (optional)
Instructions
Preheat oven to 375°


In a square casserole dish, add the tomatoes (cut into wedges)


Top with the olive oil and salt


Mix well using your hands or wooden spoon


Place in the oven and roast for 30 minutes (or until the skin can be peeled off easily)


Oil the outside of the bell pepper


Wrap the bell pepper, garlic and ginger in an aluminum foil (not too tightly)


Place the wrapped bell pepper in the oven and roast for 20 minutes (or until it passes the knife test)


Remove both the tomatoes and bell pepper from the oven and let them cool (about 5 min)


Peel skin from the tomatoes and bell pepper. It should peel away very easily


Place the peeled tomatoes, red pepper, ginger, garlic and any juices from the roasting into a saucepan


Use an immersion blender to blend everything together until its silky smooth

Place the pan on medium to low heat

Add the coconut milk, salt and black pepper to the soup


Mix well and let it heat for about 15 minutes

Transfer to soup bowls and garnish before serving

Notes
Nutrition info is approximate
This healing tomato soup post was edited from the original November 1st, 2018. The edits done on 10-26-19 and 7-28-22 were to focus on the recipe itself, not, the 5 year anniversary
5 Year anniversary
Today, my tiny little blog turns 5!
I can't believe that the last five years have flown by and how much this blog has helped me.
I am really excited to bring you this namesake soup recipe on my blog's birthday. It shows all that I have achieved so far.
And, I wouldn't have had a healing tomato soup recipe, were it not for the wonderful readers like you!
Thank you!
My favorite tomato recipes
Over the years, I have cooked with so many tomatoes! If I were to gather all the tomatoes, I am sure it could easily fill five football fields.
Other than this healing tomato soup, I have some more favorite tomato recipes. Here are just a few of my favorite!
This recipe is very recent, but, it remains my favorite photograph of all time. It showcases all the vibrancy that is the tomato! You will want to eat the whole jar of pickled tomatoes.
I love this recipe because tomatoes and potatoes work so well together. Bombay Potatoes my favorite Indian food recipe of all time.
Once again, potatoes and tomatoes come together in a creamy butter sauce to make a perfect comfort food recipe. Sun-dried tomatoes are exactly what these fingerling potatoes needed.
If you think tomato in granola is odd, then, you might think the same of this green tomato pie. But, its a really good recipe that tastes amazing! (the pic doesn't do it justice!)
These are just a few of my favorite tomato recipes. Get more tomato recipes like guacamole bruschetta, sheet-pan ratatouille or my favorite pizza sauce recipe.
What is your favorite tomato recipe?