Go beyond the cilantro lime rice! A collection of the best recipes using cilantro lime for flavoring. The recipes are quick, easy and so very delicious.
What is it about cilantro and lime? That combination brings out the best flavors of any recipe!
I love the aroma that comes with bringing together these two ingredients. The fresh smell of cilantro combined with the unique tang of lime will make anyone fall in love with this recipe.
When corn and cilantro lime meet
When corn and cilantro lime meet, it's like a party! Your taste buds will fall in love with the flavors.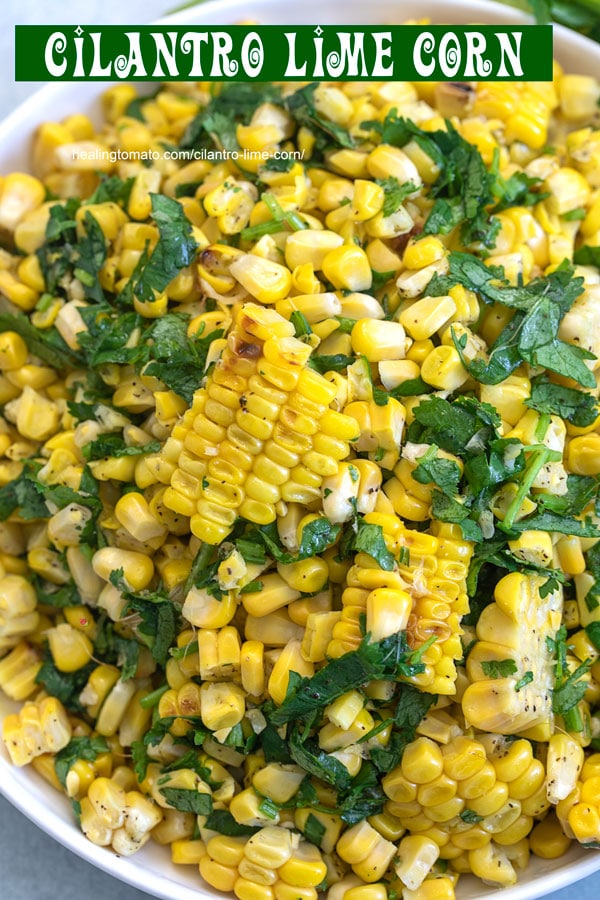 Grill the corn which will bring out it's smoky and sweet flavors! Then, add cilantro and lime flavors to it! You will never eat corn any other way!
Cilantro Lime Corn
Make this quick and easy cilantro lime corn using just 5 ingredients. The grilled corn brings out all the best flavors in this vegan corn salad.
Check out this recipe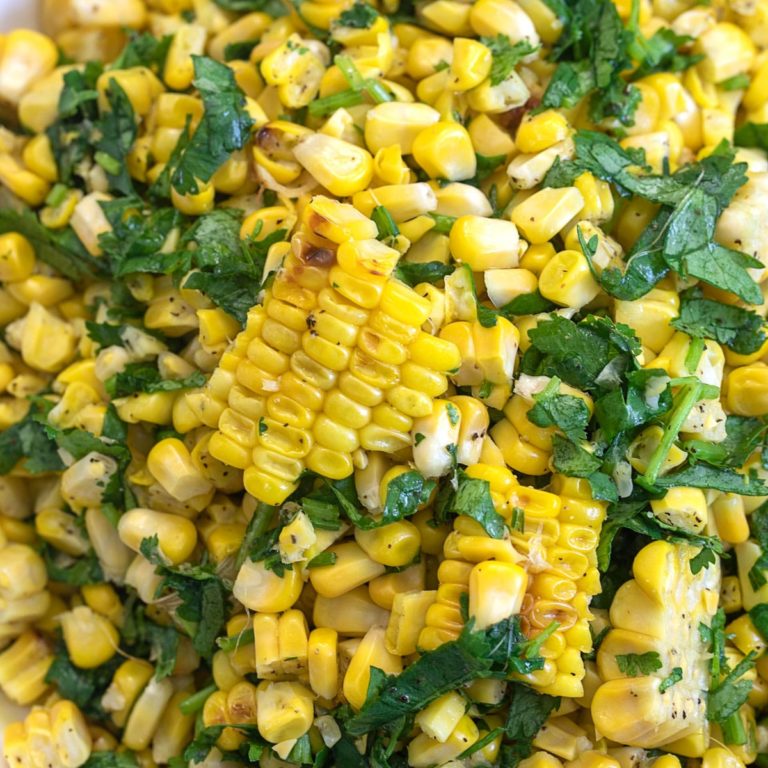 ---
Cilantro lime corn on the cob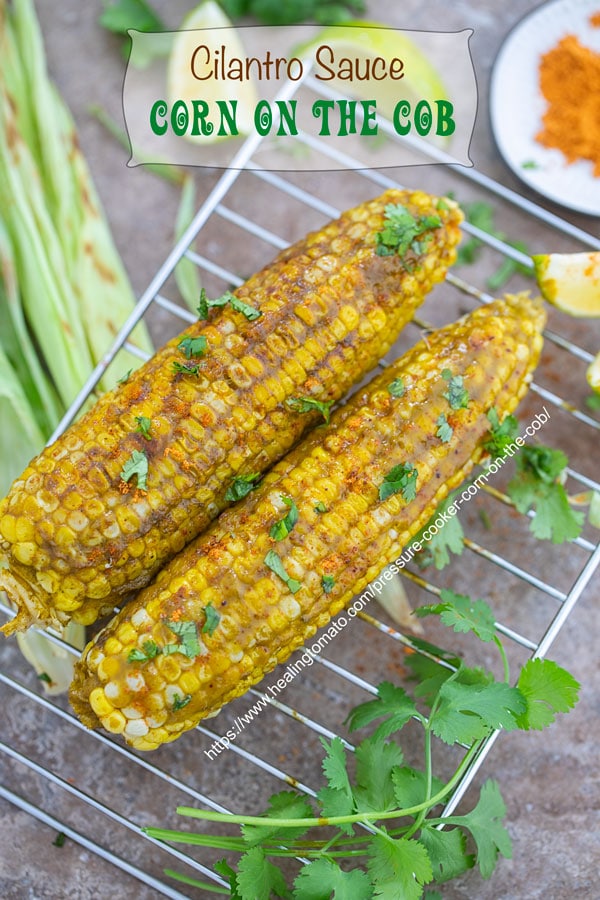 This time, I cooked corn in the instant pot! They cooked so perfectly and evenly with very little effort.
Then, I slathered it with a slightly spicy and tangy cilantro lime sauce.
BEST way to eat corn on the cob!
Corn on the cob with cilantro lime sauce
Cooking corn on the cob in the pressure cooker with an easy cilantro lime sauce
Check out this recipe
---
Grilled corn is mixed with lime and then flavored with cilantro lime dressing! It sounds delicious.
I used grilled corn to make this delicious Mexican street corn salad.
Summer Grilled Corn Salad w/ Cilantro Lime Dressing
Fire up the grill, because you won't want to miss this flavorful summertime favorite. This Grilled Corn Salad is colorful, refreshing and satisfying.
Check out this recipe
---
Dips and Sides!
I had no idea how delicious a dip tasted until I tried cilantro lime in a dip! The taste was like nothing I ever tasted. There was tang and a herby flavor!
Dipping a tortilla chip in these dips and taking a bite was the most satisfying taste experience! I easily ate a whole bowl of chips with it.
Which dip is your favorite?
This is a creamy, easy and tangy dip that is made just for your favorite chip! Dizzy Busy and Hungry knows how to treat our chip!
Cilantro Lime Dip
Cilantro Lime Dip – Delicious served with tortilla chips and margaritas, or use as a flavorful topping on fish, chicken, or burgers!
Check out this recipe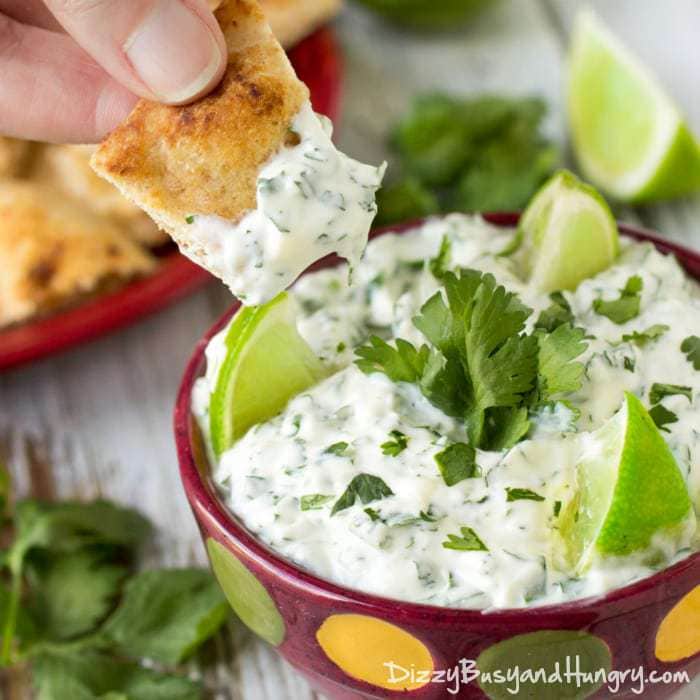 Creamy dips are a favorite around here. I made a cowboy vegan queso dip and it has become a fan favorite!
---
Hint of Healthy took the garlic aioli to a whole new level. She made this AMAZING cilantro lime aioli.
It works as a dip or as a side dish too. I plan to flavor my tofu with it because it looks so good as a marinade.
She suggest using vegan mayo or you can also use sour cream
Cilantro Lime Aioli (Easy Dip Recipe) | Hint of Healthy
This simple but delicious cilantro lime aioli is the perfect quick and easy dip to serve with potato wedges, chicken wings and more.
Check out this recipe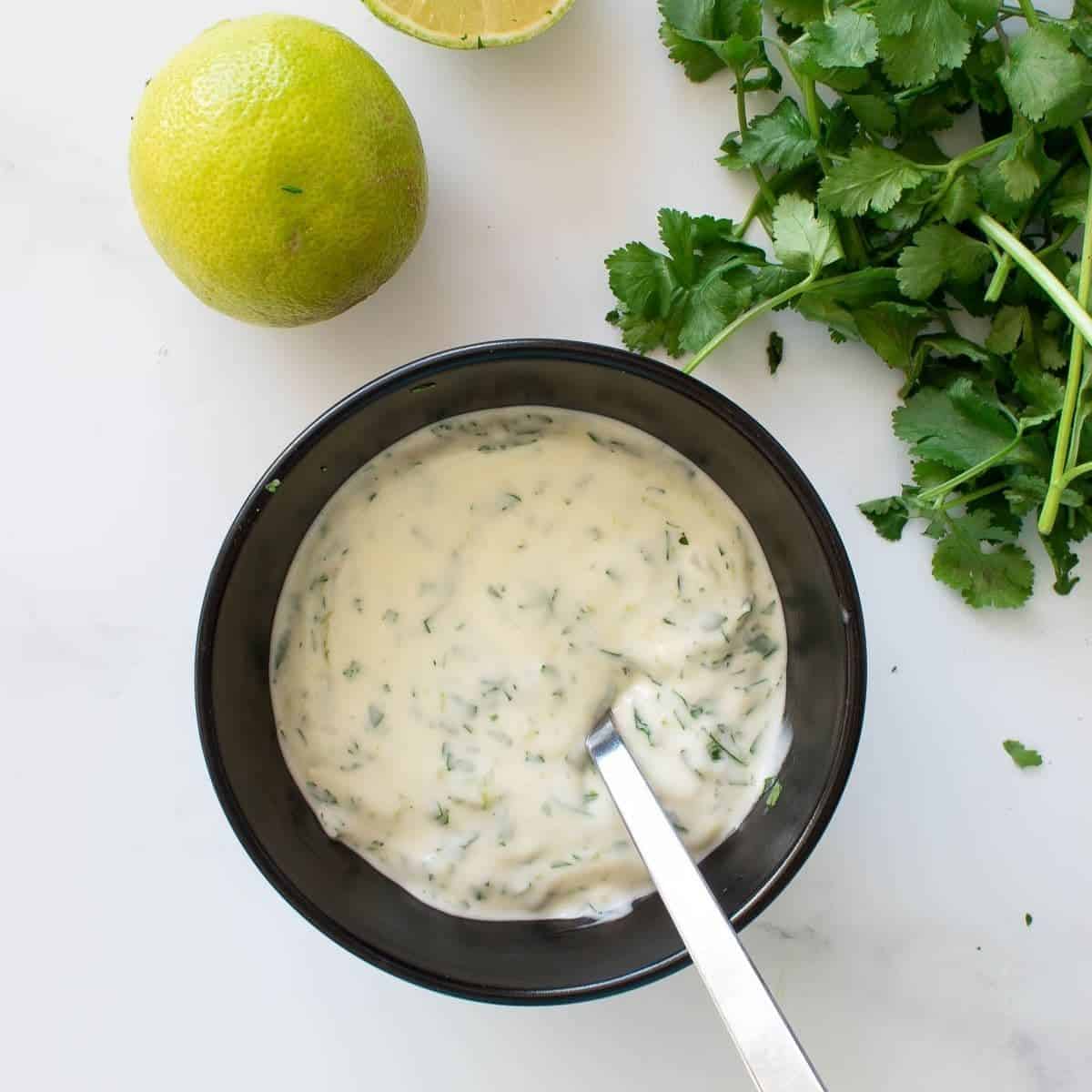 ---
Slaw is boring by itself, but, Kalyn's Kitchen shows us a very interesting way of making it delicious!
Blend it with Mexican flavors and top it with a cilantro lime flavors for the ideal summer food.
Spicy Mexican Slaw with Lime and Cilantro (Video) – Kalyn's Kitchen
Spicy Mexican Slaw with Lime and Cilantro is a perfect low-carb side dish for Mexican food, and this is salad I make over and over.
Check out this recipe
---
This cilantro lime slaw is made especially for your tacos! Wholesome Yum made this colorful slaw to enhance your taco taste experience!
Every taco should be topped with this slaw!
Cilantro Lime Taco Slaw Recipe | Wholesome Yum
This creamy taco slaw recipe makes the perfect side dish or cabbage slaw for tacos! The best part: Mexican cilantro lime slaw takes just 5 minutes to make.
Check out this recipe
---
Flavor your main course
These recipes are perfect for your dinner table. They are wholly satisfying and you won't believe they are vegan / vegetarian friendly.
A black bean burger with cilantro lime flavors and made spicy!! I am sure this is my new favorite way to eat a veggie burger!
Lemon and Zest brings this amazing burger recipe to the masses are we are better because of it!
---
You know you love your stuffed peppers! I know I love them so much!
Home Cooked Roots stuffed her peppers with lentils and rice! This is a very filling and hearty recipe.
If you like stuffed recipe, I stuffed mine with farfalle!
---
You know how you are supposed to eat the rainbow? Delicious on a Dime makes it so easy to eat every colorful food!
She made this quick Mexican Buddha Bowl with amazing ingredients that are already in your kitchen!
Mexican Buddha Bowl with Cilantro Lime Sauce
READY IN 30 MINUTES! Taco-seasoned sweet potatoes, corn, avocado, red peppers and red onion, with a garlicky, creamy cilantro lime sauce. Mexican-inspired!
Check out this recipe
---
With a twist!
Cilantro lime rice is the ultimate comfort food recipe! These recipes take your traditional recipe and put their own unique (and TASTY!) twist to it!
If you are staying away from rice, then quinoa is your choice! This bowl is making me drool!!!
Veggies Save The Day gives us this protein-packed dinner recipe that will please any palate.
---
Asparagus makes every dish much more interesting! Dizzy, Busy and Hungry knows this all too well, so, she put it in her rice.
Asparagus adds taste and texture to plain rice!
Cilantro Lime Asparagus and Rice
Chipotle Lime Asparagus is a perfect side dish for those busy evening where you need a quick and easy meal. You will love this tender asparagus cooked in a butter-lime sauce
Check out this recipe
---
Ever wonder how Chipotle makes their distinguished cilantro lime rice? Bowl Me Over reverse engineered it and brings you an easy way to make it at home.
I think I am going to use it in a homemade burrito bowl! How are you going to use it?
Copycat Chipotle Cilantro Lime Rice Recipe
Chipotle Cilantro Lime Rice Recipe – better than takeout and easy to make with white or brown rice! This rice is packed with fresh herbs and zesty flavors!
Check out this recipe
---
Let's get saucy!
We love to add a sauce to any recipe. Why not make a cilantro lime sauce and use it in almost every recipe!
These recipes are intriguing because they use cilantro lime and make an extra special sauce.
This is one of my very old recipes! The pics may not be eye candy material, but, the sauce is out-of-this-world delicious!
Put this sauce on tacos, nachos and so much more!
---
Avocado, cilantro and lime feel right being put into a recipe. They compliment each other and bring out the best flavors.
Being Nutritious made a spicy sauce using these 3 and the sauce came out so good!
Cilantro Lime Sauce (dairy free) – Being Nutritious
Simple, healthy cilantro lime sauce for tacos, enchiladas, salads, grilled meats and seafood. Perfectly complements any Mexican dish!
Check out this recipe
---
Don't eat plain Greek yogurt again! Add avocado, cilantro and lime to it for a truly unique sauce experience.
Amanda Wilens has truly wowed me with this very fun sauce recipe. I will love this sauce in a zucchini zoodles recipe.
Spicy Cilantro Lime Avocado Sauce | Amanda Wilens
This spicy cilantro lime avocado sauce is perfect for dressing salad, on top of tacos, or even dipping french fries.
Check out this recipe
---
Thank you for reading this best cilantro lime recipes to the end. Please let me know what recipe you love from the above and share your thoughts below.