Pickled vegetables are easy way to save leftover vegetables. I made them using cauliflower, peppers, fennel, onions, garlic and carrots. Put any veggies in a simple vinegar and oil brine.
How many times has this happened to you? You buy vegetables for a recipe and don't end up using all of it? For me, there is always a couple cauliflower florets left over after making my Cauliflower soup or Red Lentil Soup.
More often than not, my recipes call for using only half of a bell pepper like my vegan pot pie or my Bombay potatoes recipe. What to do with the other half?
Last week for thanksgiving, I made glazed baby carrots and didn't end up using all of the carrots. I find it incredibly funny that I had 4 baby carrots leftover.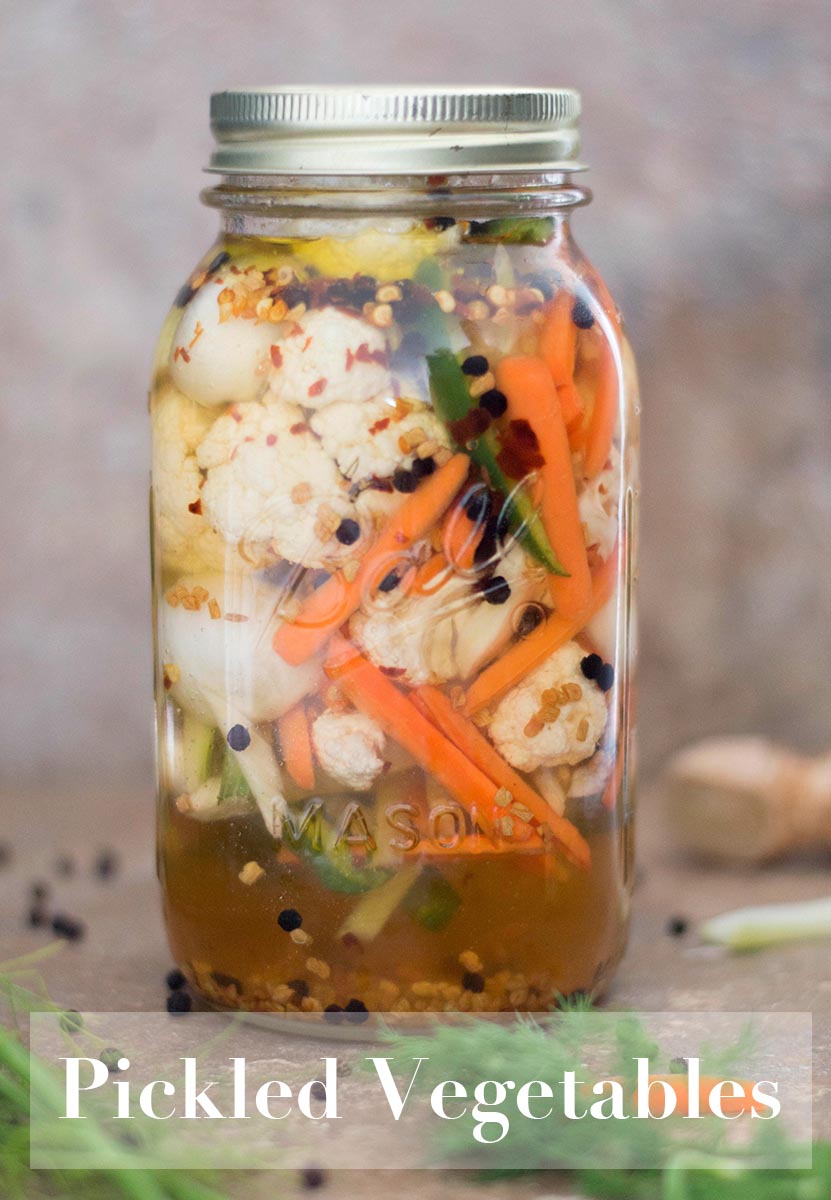 I do love and often make a homemade dill pickle. But, I also love mixing up my pickles . All of the leftover veggies add up and I would just end up putting them into curry recipes. It's nice to change it up once in a while.
This time, I decided to make quick pickles out of these leftover veggies. Boy, am I glad I did that! Not only was the pickling process so much fun, the veggies turned out to be sooooo delicious.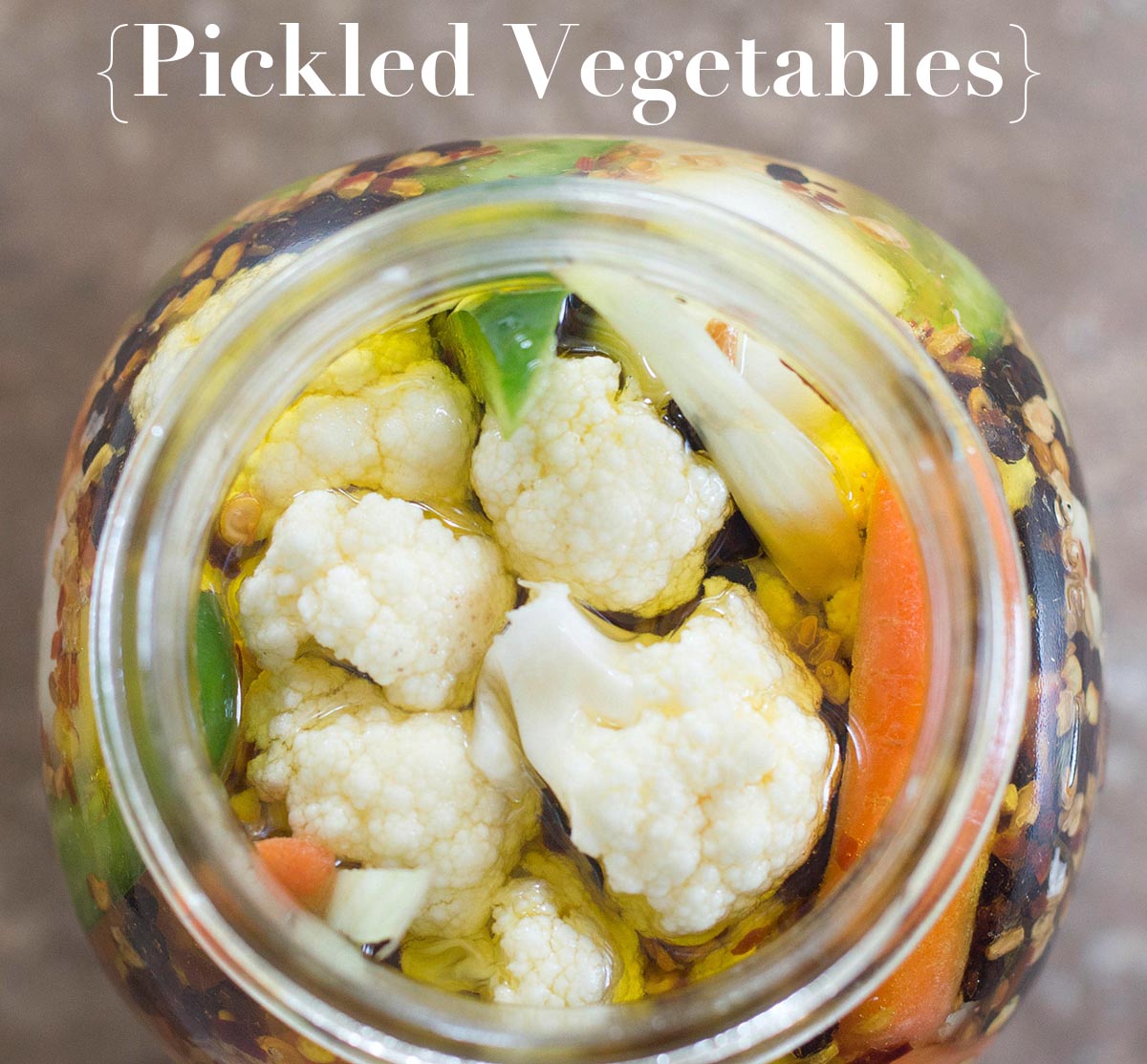 I figured that pickling the veggies would be a delicious way to use them and they would come in handy for other recipes. I see myself putting them on sandwiches, burgers, pasta and even as pizza toppings.
The best part of this recipe is that you can add any kind of veggies using my liquid recipe as the base. Have asparagus lying around? Then, you should definitely make a super easy pickled asparagus recipe!
Throw them into your version of pickled vegetables.
And if you are a cauliflower lover like me, you are going to love this cauliflower rice biryani recipe that I just made. Its aromatic and delicious for any time of the year.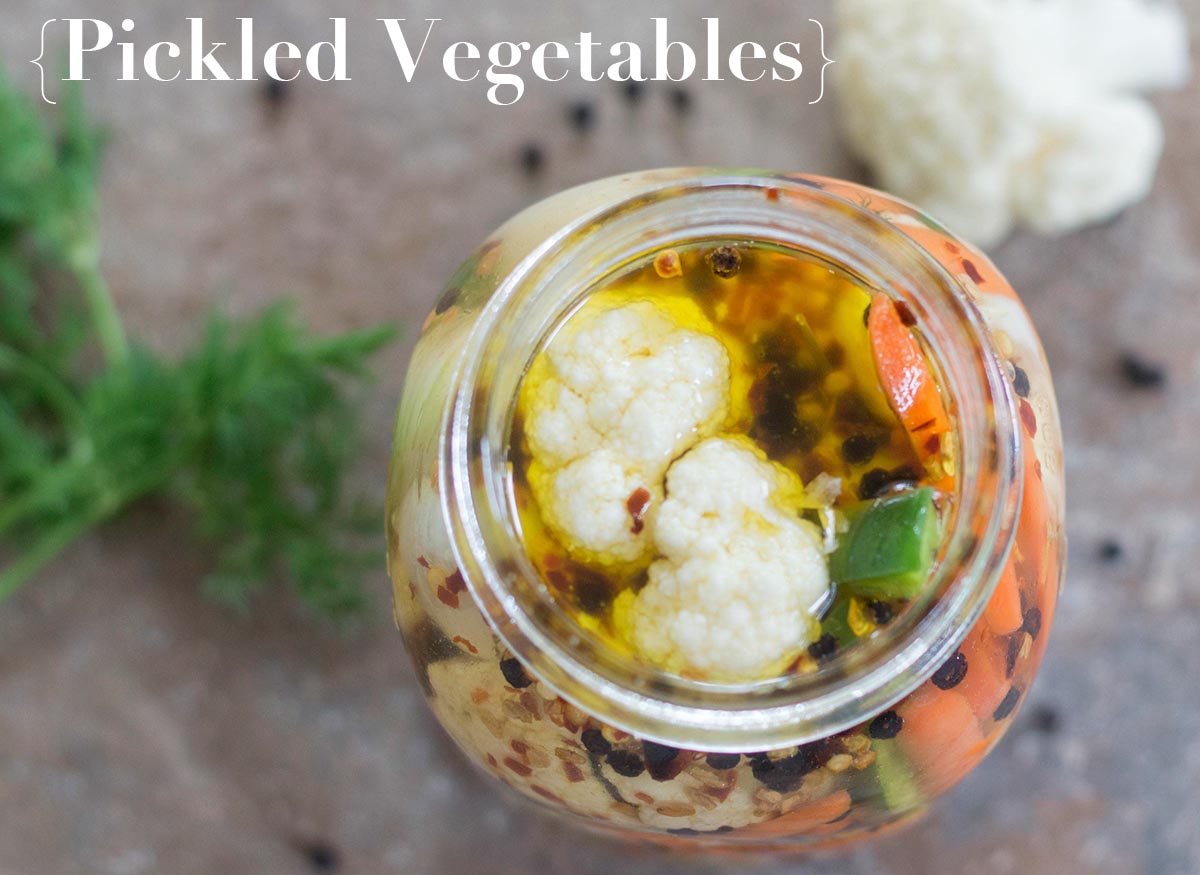 The pickling process has proven to be a lot of fun. I have been experimenting with pickling beets and even made this Middle Eastern pickled turnips. You won't believe how delicious they taste.
Now that you know how to pickle any vegetable, you will never waste another veggie again! This pickling process will work for any veggie and its a great way to preserve your summer harvest for use in the fall or winter.
If you have tomatoes leftover, do what my friend Debra does. She makes a mean tomato relish out of them and it is sooooo good!
You can also use the left over veggies to make a simple miso glazed vegetables recipe in your air fryer.
Tell me about your ideas. How do you preserve leftover veggies like tomatoes, cauliflower and carrots?
Rel: My favorite way to preserve pumpkin puree and use it all year round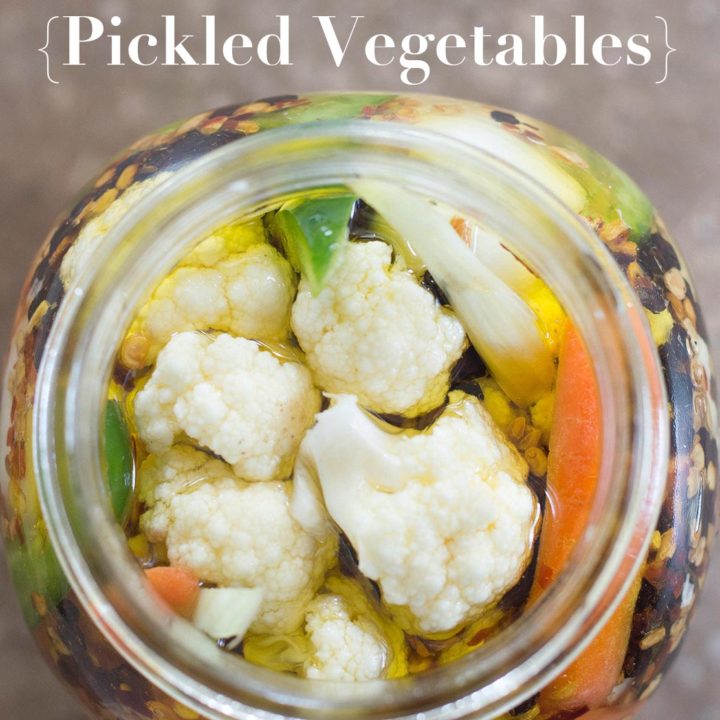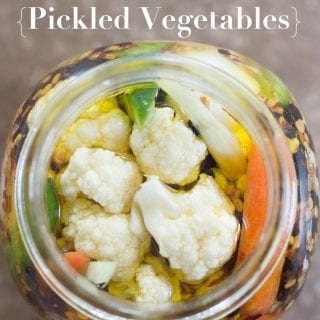 Pickled Vegetables Using Leftover Veggies
Pickled vegetables are easy to make using cauliflower, peppers, fennel, onions, garlic and carrots. Put any veggies in a simple vinegar and oil brine
Ingredients
For the Liquid
1

cup

distilled white vinegar

1

cup

water

1

Tbsp

sea salt

1

cup

sugar

1

Tbsp

yellow mustard seeds

1

Tbsp

whole peppercorns

1

Tbsp

red pepper flakes

3

sprigs

dill
For the Veggies
5

cauliflower florets

cut into smaller pieces

½

green bell pepper

cut into long strips

3

baby carrots

cut into long strips

4

pearl onions

cut into halves

½

fennel bulb

cut into long strips

4

cloves

garlic

cut into halves

3

ginger

cut into thin rounds
Instructions
Add 1 cup of water

Add 1 Tbsp of sea salt

Add 1 cup of sugar

Bring it to a boil on medium heat and then turn off the heat.


Add yellow mustard seeds, peppercorns, red pepper flakes and dill

Set it aside to cool to room temperature

Place the remaining veggies in a 1 quart (32oz) wide mouth mason jar


When the liquid has cooled, slowly pour it over the veggies in the mason jar.


Top the jar with about ½ cup of vegetable oil.

Seal it and shake it well. Set it aside for about 24 hours

Refrigerate it and it will last for about 6 months in the fridge.
Notes
Nutrition Info is approximate
– When stirring the hot liquid, make sure you use a non-reactive spoon