Arugula Pesto Spread is made with cashews and nutritional yeast. Use this vegan pesto recipe in a pasta dinner or as a sandwich spread. It is a lighter version with less oil
Pesto Presto!
That is what my friend used to like calling pesto that can be made in ten minutes.
That alliterative phrase always comes to mind when I see pesto anywhere. Anything that takes less than 10 minutes deserves an alliterative phrase of its own, right?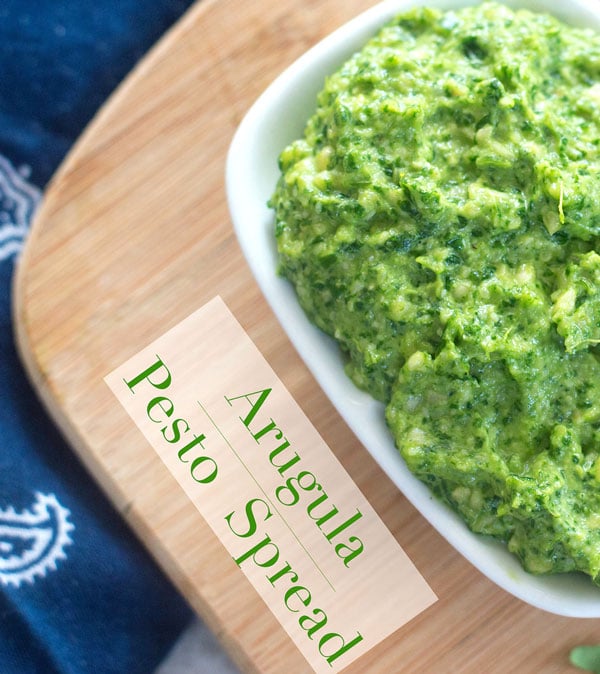 Making pesto without basil
Pesto recipes made without basil as the core of the recipe have always captured my imagination. Examples of what came out of my imagination:
Sure, basil is the perfect base for any basil pesto recipe, but, that's never enough. Using other greens or ingredients will make for a delicious base. Its a good way to use up any leftover herbs, veggies or even fruits
P/S: Put leftover basil into a compound butter recipe. It tastes amazing and lasts for months.
I have found that there are very few herbs or vegetables that cannot be turned into pesto.
Why is traditional pesto not vegan?
Traditional pesto, delicious as it is, has Parmesan in it. It really adds a nice taste to the pesto, but sadly, vegans cannot eat Parmesan. Check out my comprehensive list of ingredients that vegans can't eat and some useful substitutions.
So, to make up for the taste and texture, I use cashews and nutritional yeast in this arugula pesto spread. Cashews add a creamy texture and yeast adds a little sour flavor.
I didn't add any panko breadcrumbs in this arugula, but, they are my favorite vegan substitute for Parmesan. As witnessed in my casarecce pasta recipe, you can see that they make a wonderful replacement.
Adding about 2 Tbsp of panko breadcrumbs will be perfect in this arugula pesto spread recipe.
Since I intend to use this in as a sandwich spread, I decided to make it on the spicy side. I added Thai chili to the recipe because it would enhance the flavor of the sandwich. If you intend to use it in a pasta recipe, then decrease the chili amount or not use it altogether.
You can always substitute pine nuts instead of cashews in this arugula pesto, but, why would you? 🙂 The cashews are a good way to add texture to it and it tasted amazing in my Mozzarella Cheese Sandwich Recipe
What to serve with arugula pesto spread
I substitute different pesto recipes in the above list. But, my favorite is mozzarella cheese sandwich.
Can arugula pesto be frozen?
Yes, arugula pesto spread can easily be frozen. It stores well in a freezer safe container. I have actually put it in a frosting kind of cone and froze it that way. Its stays good that way too. And how long will arugula pesto keep? It will be good for about 6 months when frozen. However, I make sure I use it up long before the six months.
If you don't want to freeze it, refrigeration works just as well. I recommend that you use it within a week of making it. The pesto stays fresh for 1 week and then, the nutritional yeast starts to break it down.
What is your favorite pesto ingredient?
Leftover arugula can be turned into this easy keto arugula salad recipe.
Author's Note
This post was updated on 2-16-19 with size-optimized images, useful tips and answered some questions that I hear often. The images are exactly the same, just reduced in size and compressed for the web. The recipe is also the same
Arugula Pesto Spread Recipe With Cashews
This vegan arugula pesto recipe is made with cashews and nutritional yeast.

Ingredients
½

cup

split cashews

(unsalted)

2

tsp

nutritional yeast

2

cups

arugula

divided into 4 equal portions

1

tsp

salt

2

Tbsp

extra virgin olive oil

1

Thai chili

(optional)
Instructions
In a food processor, add split cashews.


Add nutritional yeast and process on low speed until it is roughly chopped

Add one portion of arugula and process until its blended


Continue adding each portion of arugula until it well blended


Add salt, extra virgin olive oil and Thai chili. Blend everything until it is smooth.

Transfer to a glass bottle and store
Notes
*** Nutrition info is approximate
Refrigerate for about 2 weeks.
Use unsalted cashews which are easy to find in Indian grocery stores or Warehouse stores