Try this Creamy Yogurt Dressing as a quick snack idea. Works great on Salads, Baked potatoes, French Fries and even as a Marinade. Healthy Substitute.
Do you know the comic depictions of someone walking around with a cloud over their head and rain pouring down?
Yet, everyone around them is bone dry?
This weekend, I felt like that was me in the cartoon There was so much rain in Florida this weekend, it caused severe flooding in most of the state.
We hadn't had any rain for a long time, so, it felt like nature was making up for lost time.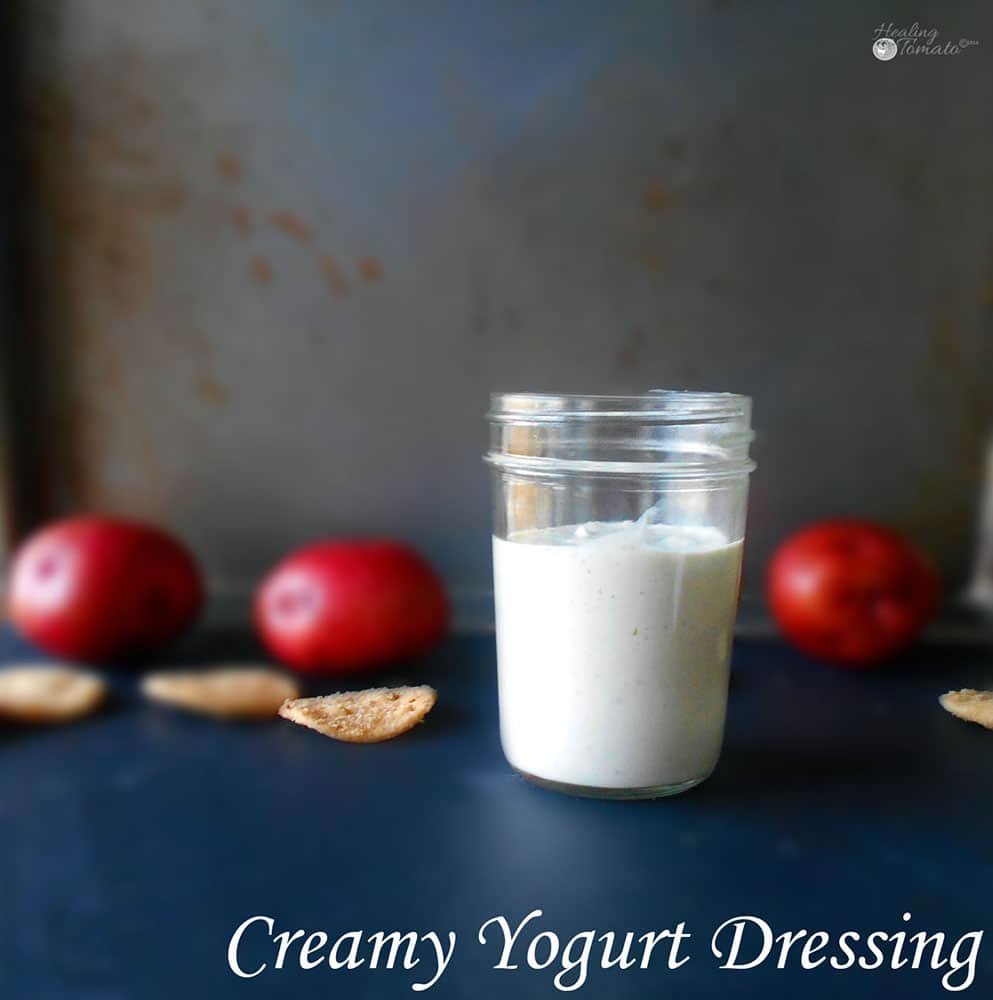 I spent the day running around in Downtown Orlando and the rain was merciless. My umbrella was a coward and gave up almost immediately!
It left me soaked through and through. Not to mention, everything in my bag turned wet and useless.
The funniest part was that the rain stopped the INSTANT I unlocked my front door!!
I laughed and Alanis Morissette's, "Isn't it Ironic, Don't you think?" started playing in my head. I thought to myself that, once in a while, it is good to get soaked. My soul needed to experience this level of drenching.
It has made me humble today and reminded me that, at the very least, nature likes me enough to shower (pun intended) me with attention.
I made myself a nice hot toddy and plopped in front of my iPad for the rest of the night.
Yes, I tend to have very exciting Saturday nights.
Today's creamy yogurt recipe was actually a prelude to my hearty & loaded baked potato recipe. It is perfect topping for it.
The creamy yogurt dressing is going to be a topping on a baked potato that is just to die for!
However, this yogurt dressing works great in any meal or snack. If you have a spinach salad recipe, use this as the dressing.
Or, if you don't like heavy sour cream in your nachos, top it with this creamy yogurt dressing.
Any variety of vegan yogurt will work great in this recipe. I went with Greek Yogurt because it is denser than regular yogurt.
Do you have an interesting Ironic story that you want to share? Tell me about it in the comments below.
P/S: I also topped this creamy yogurt dressing on my Lean Cuisine Tostada recipe.
How to make a delicious Creamy Yogurt Dressing
Creamy Yogurt Dressing
Creamy yogurt dressing recipe that is so quick and simple to make. Made with simple ingredients. Use vegan yogurt
Ingredients
1

Cup

Vegan Yogurt

2

tsp

Dijon Mustard

1

tsp

agave

¼

cup

water

1

tsp

sea salt

1

tsp

basil

dried

1

tsp

parsely

dried

1

tsp

red pepper flakes

1

tsp

extra virgin olive oil

Lemon Zest
Instructions
In a blender, add all the ingredients

Blend until all the ingredients have blended well

Transfer to a glass jar and store overnight.
Serve this Creamy Yogurt Dressing on Salads, Potatoes, Nachos, Marinade or as a dip.
Notes
Nutrition info is approximate