Loaded sweet potato should really be LOADED. This sweet potato recipe is really easy to make. Sweet potato toppings include Corn, Black Beans, Tomatoes and Spinach. Version 2

This sweet potato is truly LOADED!
If you are going to eat a loaded sweet potato, I say why not go all out!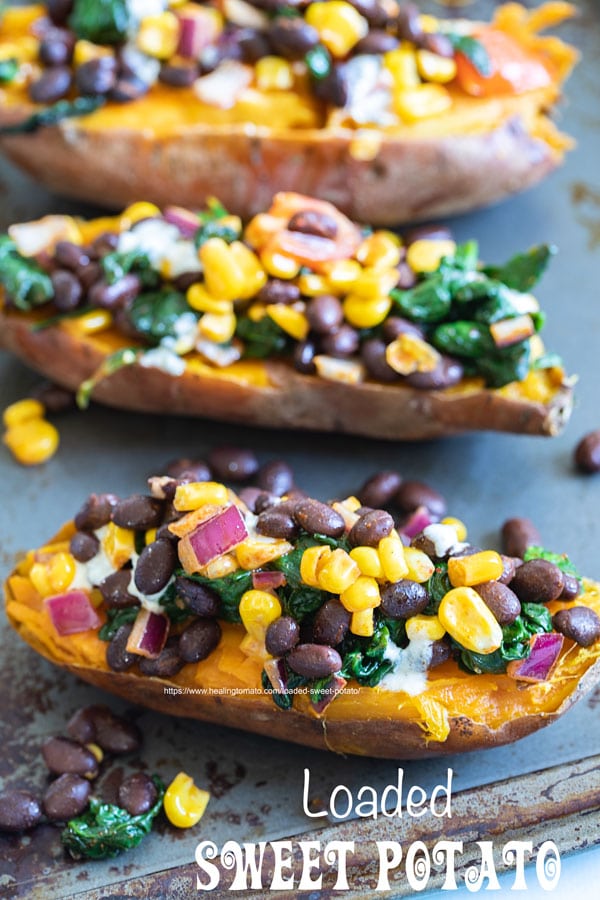 Tips for making it
Serve this sweet potato right out of the oven. Its best when served hot.
If you use frozen corn, do not thaw it before adding to the pan. Add the frozen corn and the cooking process will keep it crispy
You can add jalapeno to this recipe to make it hot. I didn't make it spicy (shocking, right?)
After you top the baked sweet potato with the black bean mixture, you can put it into the oven for about 5 minutes to bake the toppings. Remove and top with yogurt dressing
I used fresh spinach in this and all sweet potato recipes, but, you can also use frozen. Be sure to thaw it and squeeze out all the liquid from it.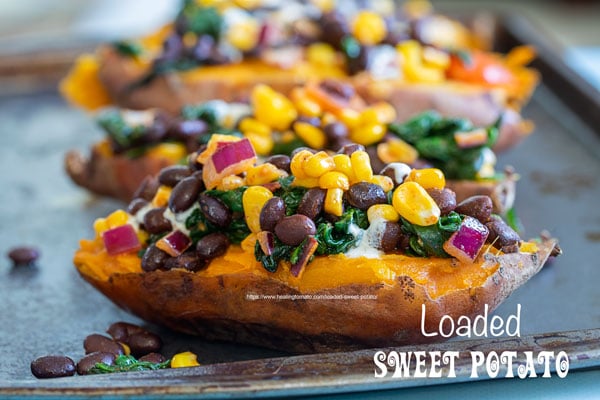 There is an art to baking a sweet potato. A sweet potato has to be baked evenly and just right. If you don't have a good baked potato, it ruins the whole taste experience.
That's why I came up with 5 tips on how to bake the perfect sweet potato. Let me know what you think.
This also works as a black bean salad, if you choose to not use the sweet potato.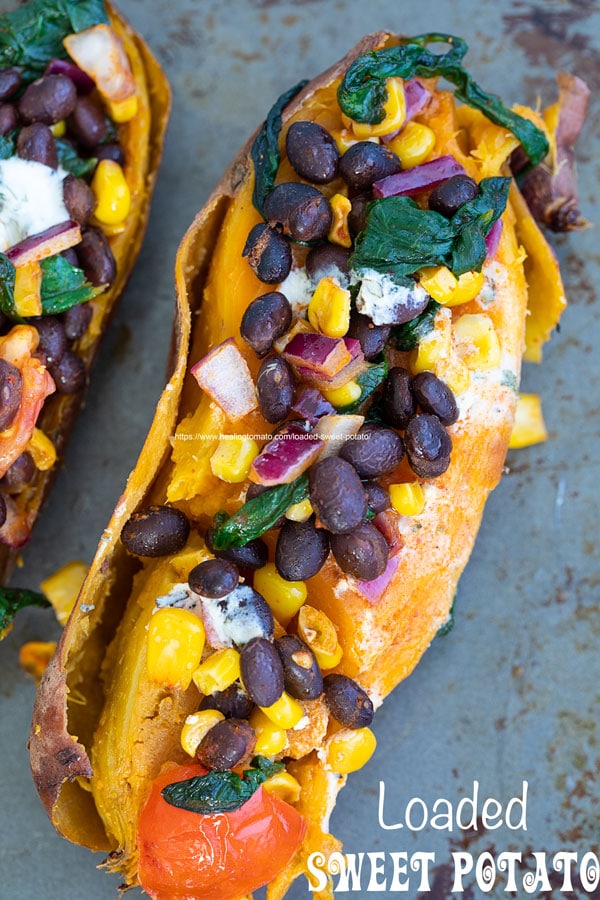 There is a slight taste of lemony in this loaded potato. I added lemon pepper to it because it just adds a quick tang to it.
Ever since I put this lemon pepper in Greek seasoning, I haven't been able to putting it on everything. Someone should have told me about it!
The final topping on this loaded potato was my favorite creamy yogurt dressing. It was a perfect anecdote to the a delicious potato recipe.
More toppings
If you want an even more loaded sweet potato, add these ingredients
– Kale
– Zucchini
– Jalapeno
– Butternut squash
– Bell Peppers
– Scallions
– Cranberries
Can a sweet potato be frozen?
No, it doesn't freeze well. I wasn't thrilled by how the frozen sweet potato tasted after thawing it in the oven. It seemed to me that it lost some of its sweet flavoring.
They refrigerate well, but, should be consumed within a week.
Yesterday, I baked the sweet potato, loaded it with the black bean mixture and then wrapped it individually.
Today, I placed the wrapped and loaded sweet potato into a preheated oven of 425° and let it roast for about 15 minutes. Once it was heated, I unwrapped it and topped it with the yogurt dressing before devouring it.
All I can say is, "YUMMO!"
Want more sweet potato recipes? You will love my Tuscan flavored skillet sweet potatoes, vegan mashed sweet potatoes and my all time favorite is the sweet potato hash.
Or, try the purple sweet potato! It will become your new obsession.
Can I serve it for Thanksgiving?
Yes, you can! Vegans love their potatoes and they love it when its loaded up with these delicious ingredients.
Its a delicious side dish and its just the easiest recipe to make. I try to suggest easy vegan sides to serve for Thanksgiving, like my Navy Beans Salad.
Check out my list of recipes to serve for a vegan Thanksgiving. And, if you have any questions about vegan ingredients, check out my handy vegan guide.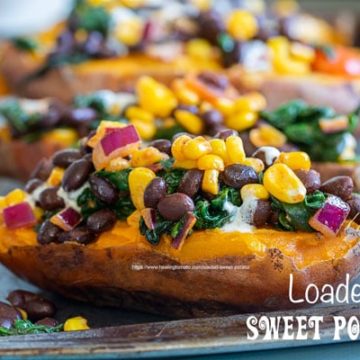 Loaded Sweet Potato
A baked sweet potato loaded with beans and veggies

Ingredients
2

Sweet Potatoes

baked

3

cup

Spinach

fresh

1/4

cup

Sweet Corn

2

tsp

Extra virgin olive oil

1

can

Black beans

drained and washed

1

Campari tomato

cut into cubes

1/4

cup

Red onions

finely chopped

1

Tbsp

Taco seasoning

1

tsp

Cayenne Pepper

optional

1/8

tsp

Salt

optional

2

tsp

Lemon

optional
For The Vegan Creamy Yogurt Dressing
1

cup

Vegan Yogurt

See notes

2

tsp

Dijon Mustard

1/4

cup

Water

1

tsp

Pink salt

1

tsp

Dried basil

1

tsp

Dried parsely

1

tsp

Lemon pepper
For the Garnish (optional)
1

Tbsp

Red onion

finely diced

Parsley

Lemon zest
Instructions
After the sweet potato has been baking for 50 min, start making the toppings

In a medium pan, add the oil and heat for 15 seconds


Gently add the spinach to the oil and let it wilt to half its size. Don't stir


Add the corn, black beans, tomatoes, seasonings and salt.

Cook for about 7 minutes on medium heat


Turn off the heat and set it aside


Mix the ingredients of the yogurt dressing and set it aside

Assembling the Loaded Sweet Potato
Cut the sweet potato into halves. Cut lengthwise


Gently open it and top with the black bean mixture


Top with the yogurt dressing and garnish


Serve the loaded sweet potato immediately
Notes
– If you can't find plain vegan yogurt, go with vanilla vegan yogurt, regular yogurt, vegan cream cheese or sour cream.
Version 1
Version 1 was originally published on March 3rd, 2015 (At 3:20 PM, ????). As I start to learn more photography and better my recipes, I will go back in time to change the previous recipes and refresh them for the present time.
In version one, I used quinoa in the recipe. It was really good, but, I didn't thing it worked well with the yogurt dressing. So, for version 2 of this recipe, I kept the cooked quinoa out and it was the best decision!
If you use cream cheese in the dressing, experiment with the quinoa and let me know what you think.
When you try this and other sweet potato recipes on my blog, please give me a rating. I am always happy to see how you made my recipe.
What are some of your favorite sweet potato toppings?