A light no-oil pear salad dressing with poppy seeds, mint and marjoram. Its a very light salad dressing that can be used in almost any salad recipe
Here I am, posting yet ANOTHER Salad dressing recipe!
Somebody STOP me!!
On second thoughts, don't stop me because I want to continue creating delicious, healthy salad dressings for all of you!
This post was originally published on March 30, 2019 at 4:32pm. I added new images and recipe video before re-publishing it.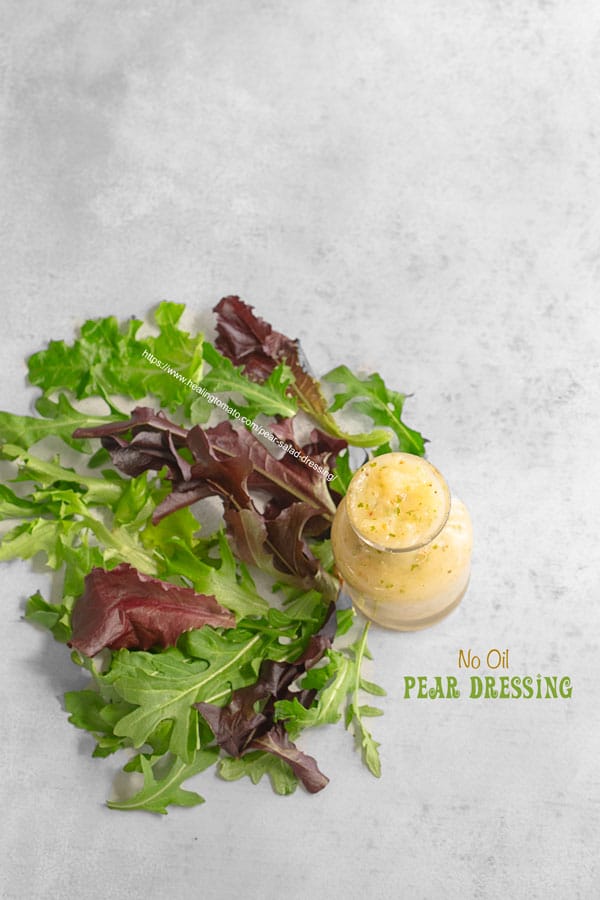 Tips for making this dressing
– Use a ripe red anjou pear for this dressing. It will be at the peak of it sweetness which means you won't have to add extra sugar
– Store the salad dressing in a well-sealed glass bottle and refrigerate immediately after making it
– Use a food processor on the slowest cycle to blend the dressing
– There is no oil in this dressing because I don't like pears and oil in the same recipe. Plus, its healthier to skip the oil in this recipe
– Make sure you use up the pear salad dressing within 2 weeks of making it
Types of pears
Pears come in all shapes, sizes and flavors. My favorite has always been Anjou pears because they are so sweet
Here are some of the common pear varieties. Source: USAPears and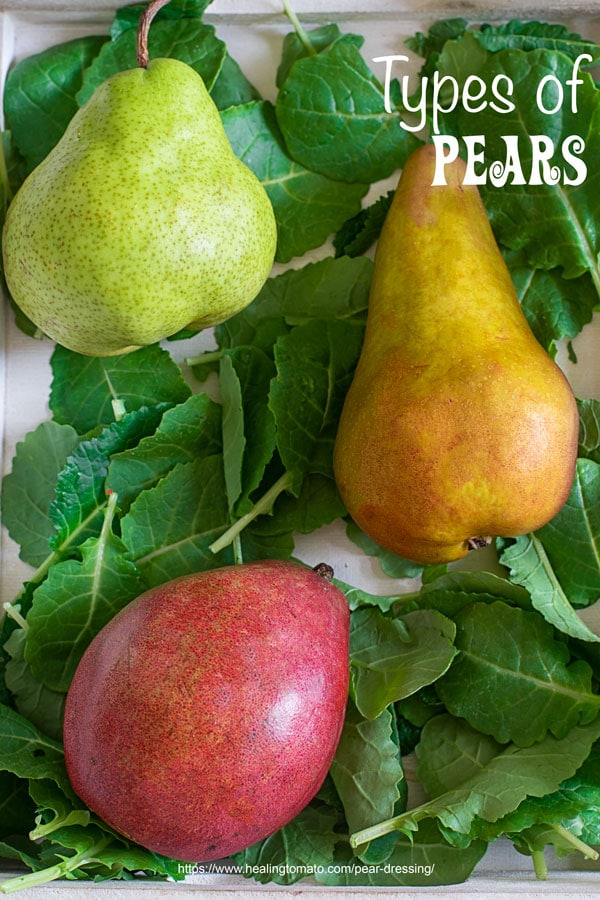 Red anjou pears
They are the most common types of pears in the US and they happen to be my favorite
Red Anjou pears are very distinguished because they have a vibrant red color and they have a bell shape. They are in season from September to June
Their level of sweetness is perfect for this salad dressing recipe. I found that I put just a little bit of maple syrup to even out the taste of this dressing
I made a pear tart using anjou and green Bartlett pears. Check it out and let me know what you think of it.
Green anjou
These pears have a the very recognizable almost neon green color. They have a very similar shape to anjou pears.
Their sweetness level is also similar to anjou pears, so, you can easily substitute with this green anjou pears in this pear dressing
Bartlett pear (red and green)
They have a greenish-brownish skin that is easily distinguishable when you see it in the grocery store
It shape is weird, don't you think? I find its smaller top and larger, rounder bottom to be very unique in shape. When I was a kid, a teacher joked that the top was the head of the pear where its brain was kept
I never saw Bartlett pear in the same way again, and to this day, I am always skirmish at the site of a Bartlett pear.
They are very crispy when they ripen, so, I don't recommend using them in this pear salad recipe
Bosc pears
These are the most common type of pears, at least in my home when we were growing up. These pears have very little sweetness and are generally not very crispy when they ripen.
For this pear salad dressing, these Bosc pears don't have a good texture and I found that I had to put extra maple syrup in it. Adding extra maple syrup just defeats the purpose of having a healthier dressing.
So, I don't recommend using Bosc in this pear salad dressing
Vegan salad dressing, ginger salad dressing, low carb salad dressing, low sodium salad dressing
The good about this salad dressing
Its a low carb salad dressing
Its a fully vegan salad dressing
This pear salad dressing is a low sodium dressing
This dressing has a little ginger in it, which has so many benefits
There is ZERO oil in this dressing
Takes less than 5 minutes to make
Can be put in almost any recipe. I put it into a really delicious and portable watermelon and arugula salad recipe
The poppy seed in this salad dressing add more nutritional benefit. Poppy seeds are rich in calcium, phosphorus, manganese and so much more. Read more about its nutritional benefits on LiveStrong.
The bad about this dressing
Frankly, I can't seem to find anything bad about this recipe. 🙂 I dare you to find something bad about it!
Common questions when making this dressing
Do I leave the skin on when making this dressing?
No, I don't recommend leaving the skin on when making it. The pear is blended in a food processor which doesn't do a good job of chopping up the skin.
Also, it ruins the taste and texture of the salad dressing, so, peel skin before adding it to the processor
What to do with the skin?
You can put the pear skin in a compost bin or put it around a new tree you are growing. It will become a natural fertilizer
Alternatively, you can put it in a veggie broth recipe with other leftover veggies
Can pears be frozen
Cut the pears into small pieces and place them in ziplock bags. Remove as much of the air as you can and seal it. Write the date you sealed it and then, freeze it
Use it up within 6 months of freezing it
How do you stop pears from turning brown
After you chop the pears, coat them with a little bit lemon or lime juice. By little bit, I mean about a 1/2 tsp of lemon juice for 1 pear
How to ripen pears
Place the unripe pears in a brown bag and store them in a cool, dry place. They will ripen within a day or two. Make sure you keep the bag away from direct sunlight
Can this salad dressing be frozen
Yes, it can be frozen. The best way to freeze it is to pour the pear salad dressing in ice cubes and cover the top of the ice cubes. When you are ready to use it, thaw out the number of cubes you need. Thaw the ice cubes at room temperature.
More salad dressing recipes
I have a love for salad dressings, as you may have guessed. Below, are some of my favorite dressings made with fresh ingredients. Additionally, I also happen to have a roundup where I collected 4 dressings that take less than a minute to make.
Orange dressing with salad anise
Homemade dressing made with fresh oranges and star anise.
Homemade blueberry vinaigrette made with fresh blueberries and balsamic. This dressing is a must-make for my family.
Blueberry Vinaigrette
Blueberry Vinaigrette – Quick and simple vinaigrette for any salad. Perfect dressing for any Mediterranean salad
Check out this recipe
Its your turn to tell me all about your love of pears and tell me about your favorite pear recipe that you have been making ever since you can remember!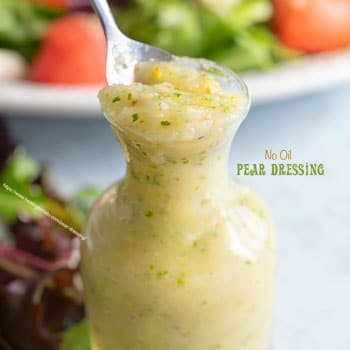 Pear Salad Dressing Recipe
A no-oil pear salad dressing recipe made with all natural ingredients. Serve it on salads, fruits or used for marination
Ingredients
1

Anjou red pear

Peeled, roughly chopped, seeds discarded

1/2

tsp

lemon juice

3

leaves

fresh mint

remove the stem

1/2

tsp

marjoram

1/2

tsp

maple syrup

1/2

tsp

ginger

minced

1/2

tsp

salt

optional

1

tsp

water

optional

1/2

tsp

poppy seeds
Instructions
In a blender, place all the ingredients, EXCEPT THE POPPY SEEDS

Blend on low speed until everything is fully blended

Add the poppy seeds and mix with a spoon

Transfer to a glass dressing bottle

Refrigerate for about 30 minutes before putting it in salads
Notes
Budget for this recipe is based on my purchases from Walmart. I had most of the ingredients from previous purchases, so, the price was low.