A twist on the traditional Gujrati Kachumber salad. This is a cucumber salad with mangoes and Indian spices

A simple Indian cucumber salad with onions, radishes, mangoes in a spicy lime sauce known as Kachumber – Version 2
Continuing my ode to Indian food, today, I am bringing you a salad I grew up eating, but, I make it with a twist
I made this with Mangoes which are in season now and I can't wait to make several recipes using these delicious fruits!
Click here to check out info on Version 1 of this recipe.

Tips For Making Kachumber Salad
Don't make this salad in advance. Make it about 30 minutes or less before you are ready to serve. It will get soggy
I used the "Honey" mango variety of mangoes, but, you can use any mango type
Choose a slightly ripe mango. When you press on the outside of the mango, it makes a slight dent, but, re-gains its shape immediately
Traditionally, the onions are diced, but, I highly recommend cutting them in Julienne style
I use both Thai green chili and red chili powder because I am a spice freak! But, you can use as much or as little spice as you can handle. If you can't handle spicy food, choose either the Thai chili or the red chili powder
This recipe calls for only one radish, but, if you can easily add one more
If your mango is not sweet enough, you can add 1 tsp of maple syrup to the lime juice before mixing it with the salad
Don't skip on the cilantro in this recipe. It adds so much flavor to the kachumber
Serve it with the main course meal and not as a pre-meal salad. That's how we normally eat this salad.
Kachumber FAQs

How do you pronounce Kachumber (AKA Cachumber)
Break it into 3 syllables – "KA" – is pronounced as "ka" like in company, "Chum" – is pronounced as "chum" as in "chummy" and finally, ber is pronounced as "burr" as in "BURR, its cold out there!
So, that's how you say Kachumber! Hope this helps!
Can you make kachumber salad with yogurt
Yes, you can add yogurt to the recipe. However, don't add any lime or lemon juice to it. For this recipe, add about 1/4 cup of yogurt, and about 1 Tbsp of water. Mix it before adding to the cucumber salad
Is this a traditional Gujrati Kachumber
This is a twist on the traditional Gujrati kacumber. Mango is not commonly added to the salad, but, I added it because I love the sweet and spice flavors in it
Can I make this Kachumber salad in advance
No, don't make this kachumber salad more than 30 minutes before you are ready to eat it. The reason is that it will get soggy. If you want to make it ahead, chop all the ingredients and store them separately. When you are ready to make it, assemble all the ingredients and serve
What is the meaning of Kachumber
Kachumber is basically a haphazard chopping of ingredients, which is how its normally made. All the ingredients are chopped roughly and mixed together with very little fuss
What other ingredients can I add to Kachumber
– Carrots, chaat masala, zucchini, roasted butternut squash, peaches, bananas, beets, bell pepper, olives, corn and even cauliflower
What to serve with this cucumber salad

This salad is normally eaten alongside main course Indian meals. Here are some of my favorites to serve alongside this cucumber salad
Types of Mangoes

The best mango to use in this recipe is one that is not too "thready". This means that you can get cubes when you chop it and not many strands. Here are some of my favorite to use with this recipe.
For even more mango information, check out National Mango Board's Official Website.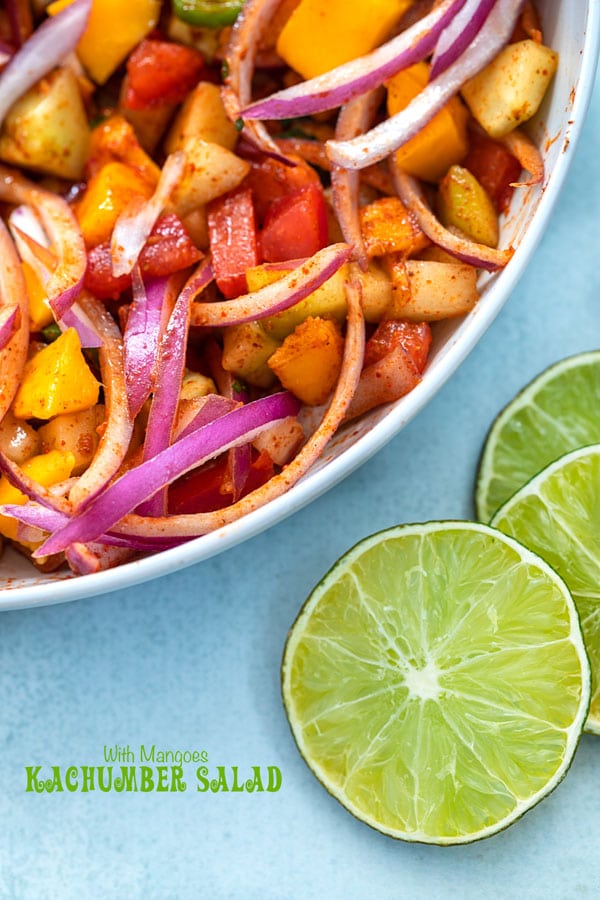 Honey Mango AKA Ataulfo
This mango is very distinctive and you will instantly recognize it when you see it in grocery stores. It has a thick, yellow skin and it mostly from Mexico.
The reason they make a good fit for this recipe is that they have a good level of sweetness when its at peak ripeness.
Read more about this mango on Wikipedia
Haden Mangoes
I have seen these mangoes in abundance here in Florida. Not sure how widely its availble, but, if you have it in your area definitely use it in this Kachumber salad. It is dense, thick and very aromatic.
Learn more about Haden Mango on Wikipedia
Tommy Atkins
This is probably what you are are used to seeing in Grocery stores. Its outer skin has the characteristic deep red color when its ripe and a bright green color when its still maturing. For this kachumber recipe, choose the mango with an all red outer skin
Learn more about Tommy Atkins Mangoes
Version One of this Kachumber Salad (Radish Salsa)

This was one of my very early recipes that I made for my blog way back in 2013! Originally published on December 3rd, 2013 at 12:55pm. Link to my original recipe on Wayback Machine
As you can see from the image, it was in desperate need of an update!! The images are just too embarrassing to be shown anymore!
Also, in those early days, I was adamant to not call it an "Indian Recipe" because I really wanted to focus on non-Indian recipes. So, I called it a radish salsa recipe, lol!!
I kept all the main ingredients the same, but, added a mango to the refreshed version.
What do you think of the new recipe?
If you try this recipe, be sure to rate it below and send me pics. I am always happy to hear from my readers.

How to Make Kachumber
A twist on the traditional Gujrati Kachumber salad. This is a cucumber salad with mangoes and Indian spices

Print
Pin
Rate
Ingredients
1

mango

diced

1

cucumber

diced, skin removed

1/4

red onion

julienne

1

Thai green chili

chopped

1

tomatoes on the vine

diced

1.5

Tbsp

cumin-coriander powder

1/2

tsp

salt

adjust to taste

1.5

tsp

red chili powder

I used the extra hot red chili powder.

1.5

Tbsp

lime

adjutst to taste

Cilantro

for garnish
Instructions
Take a fresh, clean bowl


Place all the ingredients in the bowl and mix well


Set aside for no more than 30 minutes


Serve with the main course meal

Notes
– Make sure you use fresh mangoes and not frozen
– This kachumber salad is on the spicy side, so, be sure to adjust to your taste
– For the cucumber, this salad is better with the skin peeled off
Nutrition
Calories:
57
kcal
|
Carbohydrates:
12
g
|
Protein:
1
g
|
Sodium:
352
mg
|
Potassium:
314
mg
|
Fiber:
2
g
|
Sugar:
8
g
|
Vitamin A:
1085
IU
|
Vitamin C:
24.2
mg
|
Calcium:
42
mg
|
Iron:
2
mg