Angel Hair Pomodoro Made with fresh campari tomatoes. It is a very quick and easy one-pot summer weeknight recipe. Made in under 30 minutes
Tomatoes and pasta together!
That brings together 2 of my favorite foods in the world!
Best part is that it's vegan, one-pot pasta recipe made with fresh tomatoes on the vine!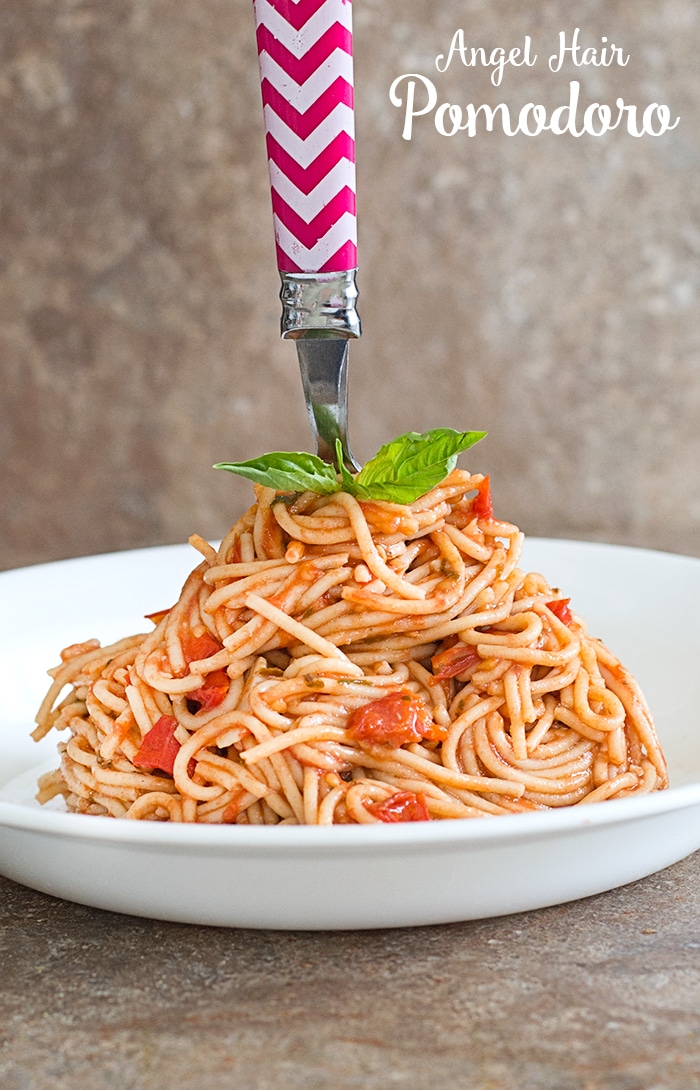 Tips for making this pomodoro
Use fresh tomatoes on the vine instead of canned tomatoes. They make a whole lot of difference in the taste
Get fresh garlic for this recipe because it is going to add more flavor than garlic powder
I always use a stainless steel pan for making this pomodoro because it's much easier to clean and also cooks evenly
If you can't find angel hair pasta, use regular spaghetti or even linguine noodles.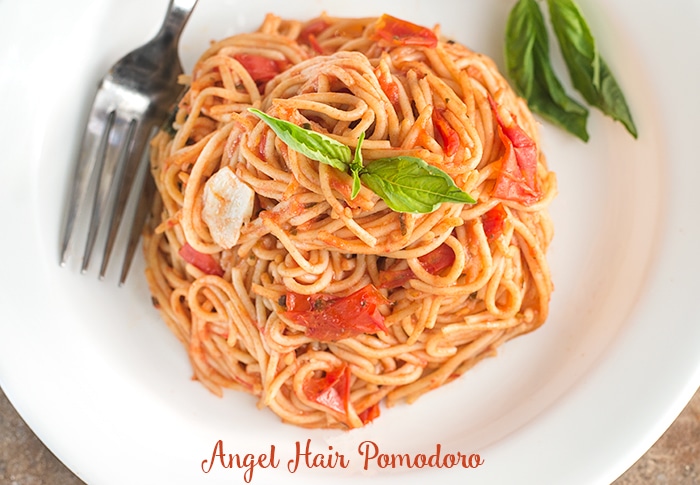 What you will need to make this pasta
Fine pasta like angel hair pasta
Tomatoes on the vine, AKA campari tomatoes
Fresh Garlic
Fresh Basil
Oregano (Fresh or dried, optional)
Lime juice (Fresh, optional)
Best tomatoes for pasta pomodoro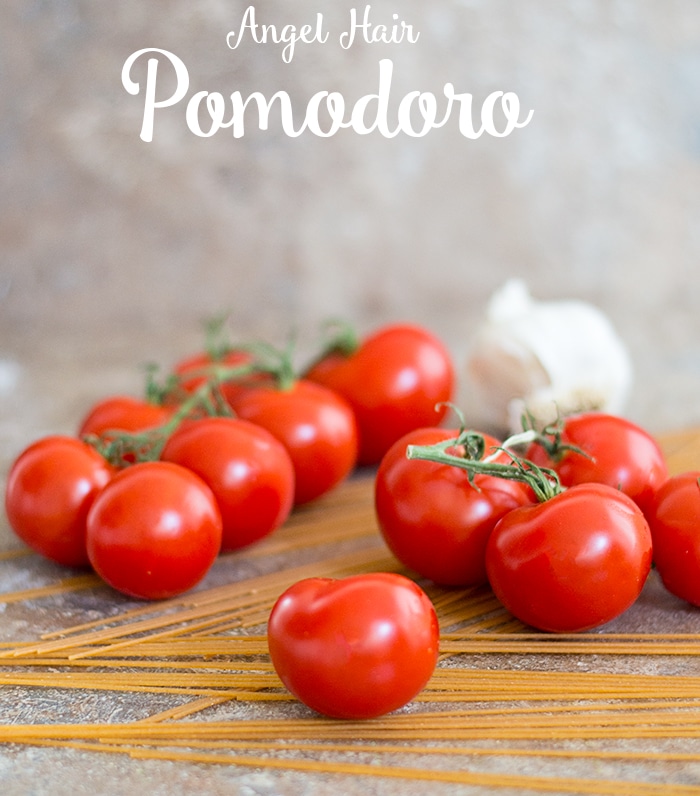 Tomatoes on the vine (AKA Campari Tomatoes)
Cherry Tomatoes
Sungold tomatoes
Fahrenheit Blues Tomato (hard to find, but, would be perfect for pomodoro)
Basically, any small tomato that you can cook whole would be perfect in this vegan pasta recipe.
You have over 7,500 varieties at your feet!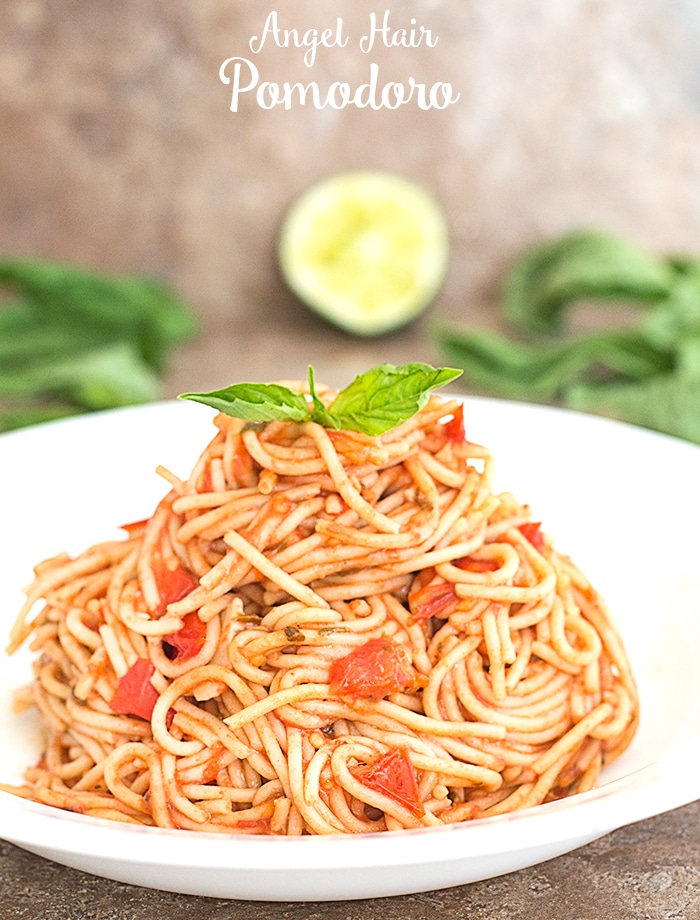 So, celebrate tomatoes and Sunday supper with your family today! They both need to be loved!
Try my roasted tomato and mushroom spaghetti today.
How to make this pasta
1) Boil about 4 quarts of water and add 2 oz of thin spaghetti (about 1.75″). Check out WikiHow's tutorial on how to measure spaghetti. Cook for about 8 minutes. Save 1/2 cup of the water and drain the rest. Set it aside
2) While the water is boiling, chop 12 campari tomatoes (firm) into 4 pieces each. Set aside
3) Take 5 cloves of garlic and slice them thinly. There is no such thing as too much garlic
4) The pasta should be in the water now, so, start the cooking the tomatoes. In a pan, add 2 tsp of extra virgin olive oil and heat at medium heat
5) Add the garlic and let it brown
6) Add the tomatoes and let them cook for about 10 minutes or until all the liquid has dissipated
7) Add 3 roughly chopped basil leaves, 1/2 tsp of salt, 1 tsp of oregano, 2 tsp of sugar and 1 tsp of freshly squeezed lime juice
8) Add the spaghetti and pasta water and mix well
Serve the angel hair pomodoro immediately with cheesy garlic bread
A quick recipe with simple ingredients that you can pull out of your pantry are exactly what you are looking for!
How about a simple pasta recipe that takes less than 30 minutes to make?
A few more campari tomato recipes
Tomatoes and mozzarella cheese on a phyllo dough!
Caprese Tart
Quick Caprese tart made with Mozzarella cheese, cherry tomatoes on the vine, basil pesto and balsamic reduction
Check out this recipe
Beans, dried cranberries and navy beans brought together by parsley!
Navy Beans Salad Recipe
A Super Simple Navy Beans Salad Made With Fresh Ingredients

Check out this recipe
Campari tomatoes roasted in the oven and turned into a soul-warming soup!
Healing Tomato Soup
Creamy vegan tomato soup with coconut milk is made by using roasted tomatoes and roasted bell peppers.
Check out this recipe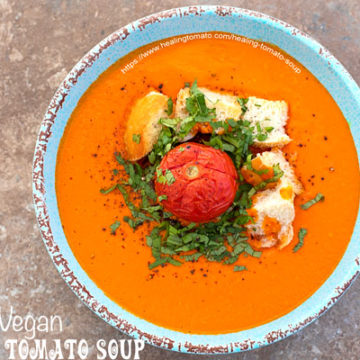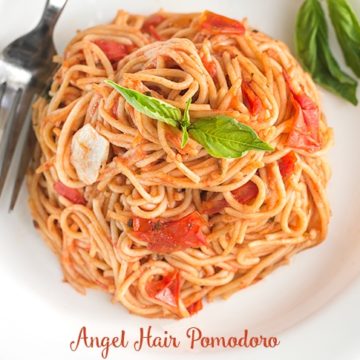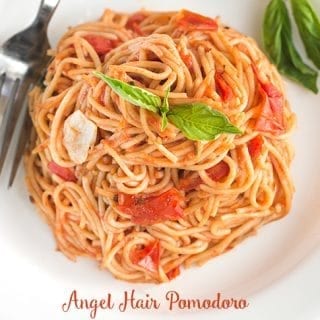 Angel Hair Pomodoro
Quick and Easy Angel Hair Pomodoro Made with Fresh Campari Tomatoes.

Ingredients
To Boil The Pasta
4

quarts

water

to boil the thin spaghetti

2

oz

angel hair pasta

about 1.75″ think

1

tsp

salt

for boiling the pasta
To Cook The Tomatoes
12

pieces

Campari tomatoes

Each tomato chopped into 4 pieces

5

cloves

garlic

finely diced

2

tsp

extra virgin olive oil

3

leaves

basil

1/2

tsp

salt

for the tomatoes

1

tsp

oregano

2

tsp

sugar

1

tsp

lime juice

freshly squeezed
Instructions
Boil water and add the spaghetti

Cook for about 8 minutes. Save 1/2 cup of the water and drain the rest. Set it aside

In a pan, add extra virgin olive oil and heat at medium heat

Add the garlic and let it brown

Add the tomatoes and let them cook for about 10 minutes or until all the liquid has dissipated

Add basil, salt, oregano, sugar and lime juice

Add the spaghetti and pasta water and mix well

Serve the angel hair pomodoro immediately
Notes
Nutrition info is approximate