Quick and Easy Angel Hair Pomodoro Made with Fresh Campari Tomatoes.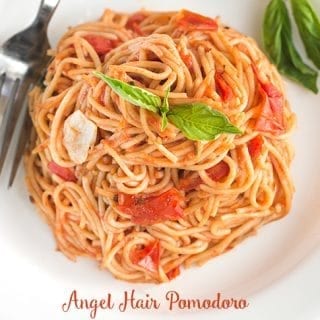 Angel Hair Pomodoro Made with fresh campari tomatoes. It is a very quick and easy Sunday supper or weeknight recipe. Made in 30 minutes or less
April is my favorite month of the year because it belongs to fresh Florida tomatoes! A whole month dedicated to everything tomato!
Look at my first recipe dedicated to celebrate tomatoes….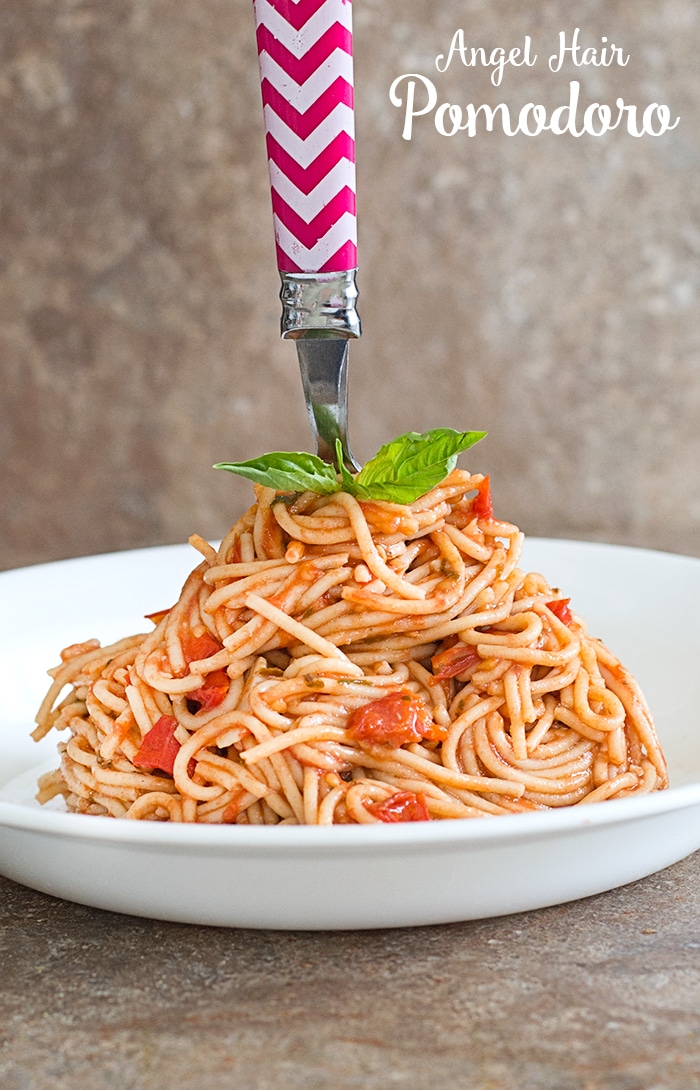 There are some Sundays where you just want to make a quick meal. You want to spend as little time in the kitchen as possible and soak up every minute with your family
A quick recipe with simple ingredients that you can pull out of your pantry are exactly what you are looking for!
How about a simple pasta recipe that takes less than 30 minutes to make?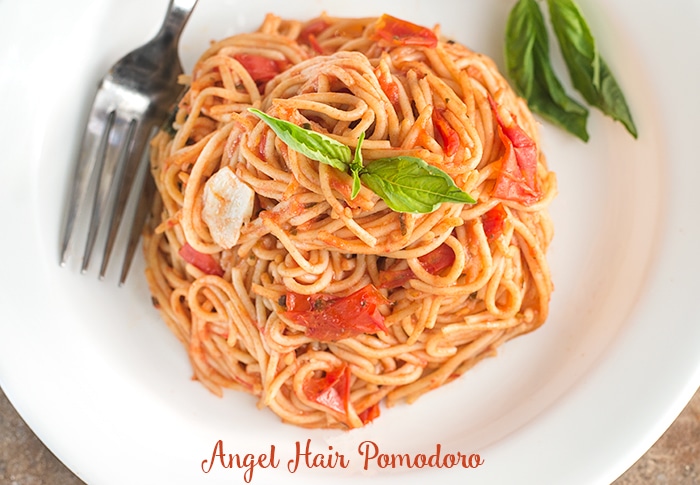 That's why I came up with the simple angel hair pomodoro recipe that you can make quickly and easily. No effort required!
Thin spaghetti, basil, garlic, campari tomatoes are the 4 main ingredients in this recipe. You don't have to add anything else, if you don't want to.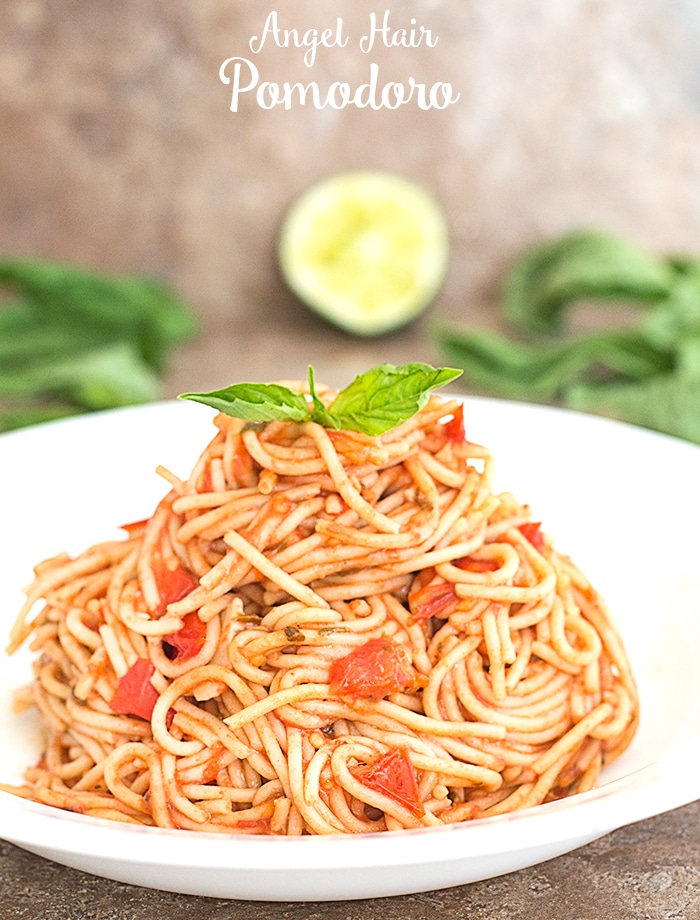 To enhance the flavor of the pomodoro, I added salt, lime juice, oregano and sugar.
So, why Campari tomatoes? They are my favorite and I just had to start the month with it. You can choose plum tomatoes, cherry tomatoes or heirloom tomatoes.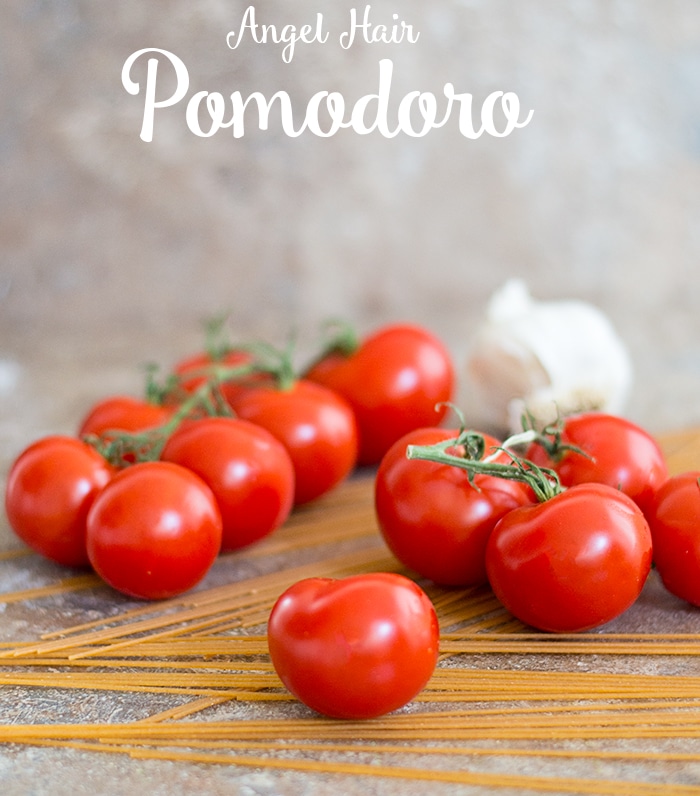 You have over 7,500 varieties at your feet!
So, celebrate tomatoes and Sunday supper with your family today! They both need to be loved!
Try my roasted tomato and mushroom spaghetti today.
What is your favorite tomato?
Angel Hair Pomodoro
1) Boil about 4 quarts of water and add 2 oz of thin spaghetti (about 1.75″). Check out WikiHow's tutorial on how to measure spaghetti. Cook for about 8 minutes. Save 1/2 cup of the water and drain the rest. Set it aside
2) While the water is boiling, chop 12 campari tomatoes (firm) into 4 pieces each. Set aside
3) Take 5 cloves of garlic and slice them thinly. There is no such thing as too much garlic
4) The pasta should be in the water now, so, start the cooking the tomatoes. In a pan, add 2 tsp of extra virgin olive oil and heat at medium heat
5) Add the garlic and let it brown
6) Add the tomatoes and let them cook for about 10 minutes or until all the liquid has dissipated
7) Add 3 roughly chopped basil leaves, 1/2 tsp of salt, 1 tsp of oregano, 2 tsp of sugar and 1 tsp of freshly squeezed lime juice
8) Add the spaghetti and pasta water and mix well
Serve the angel hair pomodoro immediately with cheesy garlic bread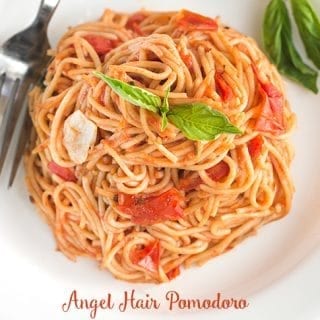 Angel Hair Pomodoro
Quick and Easy Angel Hair Pomodoro Made with Fresh Campari Tomatoes.

Print
Pin
Rate
Ingredients
To Boil The Pasta
4

quarts

water

to boil the thin spaghetti

2

oz

angel hair pasta

about 1.75″ think

1

tsp

salt

for boiling the pasta
Instructions
Boil about 4 quarts of water and add 2 oz of thin spaghetti (about 1.75″). Check out WikiHow's tutorial on how to measure spaghetti. Cook for about 8 minutes. Save 1/2 cup of the water and drain the rest. Set it aside

While the water is boiling, chop 12 campari tomatoes (firm) into 4 pieces each. Set aside

Take 5 cloves of garlic and slice them thinly. There is no such thing as too much garlic

The pasta should be in the water now, so, start the cooking the tomatoes. In a pan, add 2 tsp of extra virgin olive oil and heat at medium heat

Add the garlic and let it brown

Add the tomatoes and let them cook for about 10 minutes or until all the liquid has dissipated

Add 3 roughly chopped basil leaves, 1/2 tsp of salt, 1 tsp of oregano, 2 tsp of sugar and 1 tsp of freshly squeezed lime juice

Add the spaghetti and pasta water and mix well

Serve the angel hair pomodoro immediately with cheesy garlic bread
Serve this angel hair pasta with cheesy garlic bread
Nutrition
Calories:
175
kcal
|
Carbohydrates:
28
g
|
Protein:
4
g
|
Fat:
4
g
|
Sodium:
1842
mg
|
Potassium:
93
mg
|
Fiber:
1
g
|
Sugar:
5
g
|
Vitamin A:
70
IU
|
Vitamin C:
4.5
mg
|
Calcium:
84
mg
|
Iron:
0.7
mg