A hearty and spicy vegan Bombay Potatoes recipe. These restaurant style potatoes are very easy to make and require very few ingredients. Serve with naan and rice
I haven't seen many Indian restaurants serve this Indian Potatoes here in the USA. However, they are common in England and other western countries.
If you like spicy Indian food, you are in for a treat like no other. These potatoes are soft and buttery, making them easy to spice up!
Tips for making them
I have tried so many different potatoes with this recipe, but, there is only one variety that works best in this recipe. Its the Honey Gold Potatoes. I found that they cook evenly and don't turn into mush when parboiled. These honey gold potatoes can also be great in my tofu scramble recipe.
The red bell peppers provide a delicious texture to this recipe. I grated them before putting them in with the onions. The trick is to let them soften a little before adding the sauce.
These Bombay potatoes are on the spicier side. Adjust the spice to your liking. That said, they are best served spicy, so, stop being a sissy and eat them up! 😁
This recipe uses simple spices. The traditional version calls for complicated spices that are only found in traditional Indian homes (like asofetida, black cardamom or Panch Poran). But, if you have traditional spices, feel free to add them.
Ingredients to add to these potatoes
Peas
Paneer
Peanuts
Almonds
Spinach
Chickpeas
What to serve with it
Answering your questions
Can they be frozen
These Bombay potatoes recipe freezes really well. I like to put them in glass containers and freeze them. As always, I try to use them within 1-6 months.
Can they be reheated?
Yes, they can be reheated. In fact, I insist on it. If you froze them or put them in the refrigerator, please reheat them before eating.
I like to heat them stove top because they taste just like the day they were made. Place them frozen or cold Bombay potatoes in a sauce pan (without thawing) and heat them on medium.
Add 1/2 cup of tomato sauce and 1/4 cup water to them and heat on medium heat for about 10 minutes or until the potatoes have thawed out
Are they gluten free?
Yes, they are almost always gluten free. No flour is used in them or any kind of wheat product. I can guarantee you that my Bombay potatoes are gluten free because I didn't use any gluten products in them. So, feel free to devour a whole bowl of them.
Are Bombay potatoes considered vegan?
Yes, the traditional Bombay potatoes never use any meat or dairy products. They are mostly spices, potatoes and tomato sauce. If a recipe calls for dairy products, you can easily substitute coconut milk.
So, what's your favorite Indian recipe?
Related: Serve these masala papad as appetizers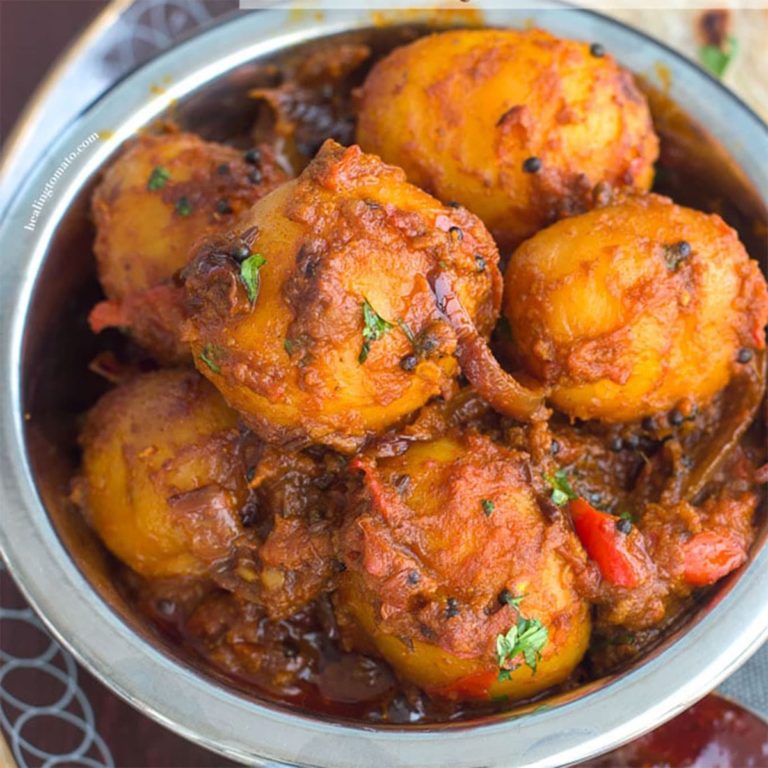 Bombay Potatoes Recipe
Simple and Spicy Bombay Potatoes made with honey gold potatoes

Ingredients
For Boiling The Potatoes
340

g

Honey Gold Potatoes

About 13 pieces, washed

1

tsp

Salt

Water

For boiling the potatoes
For Making The Base
1

Tbsp

Vegetable Oil

1

tsp

Fenugreek Seeds

1

Tbsp

Brown Mustard Seeds

1

Tbsp

Cumin Seeds

¼

Red Onion

Julienned

1

Tbsp

Garlic

Grated

3

Thai Chili Pepper

Optional, Cut into half and remove seeds

2

Tbsp

Ginger

Grated

½

Red Bell Pepper

1½

tsp

Turmeric Powder

1½

tsp

Red Chili Powder

Use half for milder flavor

½

cup

Tomato Sauce

Use unsalted

½

tsp

Salt

Optional

1

Tbsp

Cumin-Coriander Powder

1

tsp

Garam Masala

1

tsp

Coconut Palm Sugar
For Garnish
1

tsp

Lime Juice

Freshly Juiced

Cilantro

Finely Chopped
Instructions
To Parboil The Potatoes
Bring about 6 cups of water to a boil and add the salt


While the water is boiling, cut the onions and grate the ginger and garlic


Grate the red bell pepper


Make shallow cuts in the honey gold potatoes and add them to the water


Cook for about 30-35 minutes on medium heat. When they pass the knife test, turn of the heat


Save about 2/3 cup of the water and drain the rest


When the potatoes are cool to the touch, remove the skin


In a pan, add the oil and let it warm for 30 seconds


Add the fenugreek seeds and let them cook for 30 seconds


Add the brown mustard seeds and wait for them to start popping


Add the Thai chili, if using


Add the onions and let them brown. Add the garlic and ginger after the onions have browned


Add the grated bell pepper, mix well and let them soften


Make a well in the pan and add the turmeric and red chili powder


Add the tomato sauce and mix well


Cook for 30 seconds


Add the parboiled potatoes


Add the cumin-coriander powder, red chili powder, coconut palm sugar and salt. Mix well


Add the water saved from the boiling process


Cook on medium heat for about 5 minutes until some of the water has dissipated


Add the lime juice and mix well


Transfer to a serving bowl, garnish with cilantro and enjoy!

Seriously, how great are these Bombay potatoes for a Diwali feast, right?! Or, for a celebratory dinner any day of the year. You are going to have people fighting to lick the bowl!
I did make this a little on the spicy side. However, if you prefer a mild version, I give you options in the recipe. But, this recipe is best consumed spicy, so, stop being a baby and dive in with your taste buds wide open!
As you can see, I am very passionate about spicy food. Indian potato recipes and spicy food are at the heart of my cooking and I do get excited when I talk about them.