Quick 5 minute Mint vinaigrette with Za'atar spice, lemon juice, maple syrup, oil and fresh mint. Serve on fruits, vegan salads or use as a marinade
My name is Rini and I am addicted to Za'atar!!
While I am in the admitting mood, "My name is Rini and I am addicted to homemade dressings!!"
This mint vinaigrette is what happens when I bring my 2 favorite addictions together!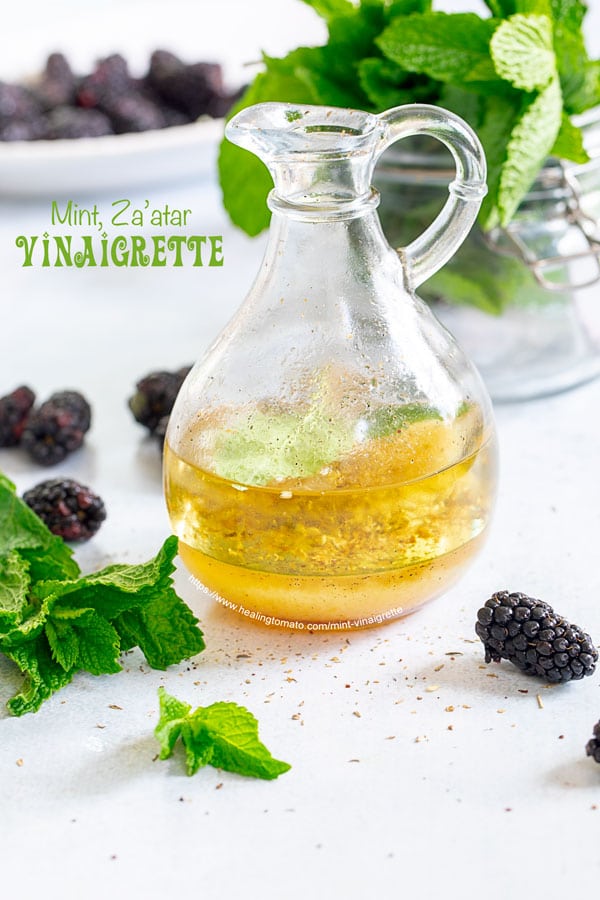 Tips for making this vinaigrette
Finely chop up the mint before adding to the vinaigrette. I kept it whole for the sake of photography
Make this recipe the night before you want to use it which will make sure all the ingredients have had time to come together
Ginger and / or cloves can be added to this vinaigrette, depending on what recipe you are putting it into. I am planning on using it in a sweet recipe, so, I skipped ginger and garlic
I used extra maple syrup in it because it is going into a sweet recipe. Adjust the sweetness based on the recipe you will be using it in
You can marinate tofu in it and use it in a different recipes. I marinated and grilled the tofu before using it in a pasta recipe (coming in the near future)
Keep this mint vinaigrette refrigerated and use it up within one week of making it
Check out some of my tips and tricks on how to keep mint fresher longer.
Why use za'atar?
Za'atar is my favorite spice of all time. I love, LOVE its versatility and love how it can instantly change the flavor of any recipe
Change it for the better!
I have used it in snacks, energy bites, salads and dips. This mint vinaigrette recipe is front and center in my summer fruit salad recipe .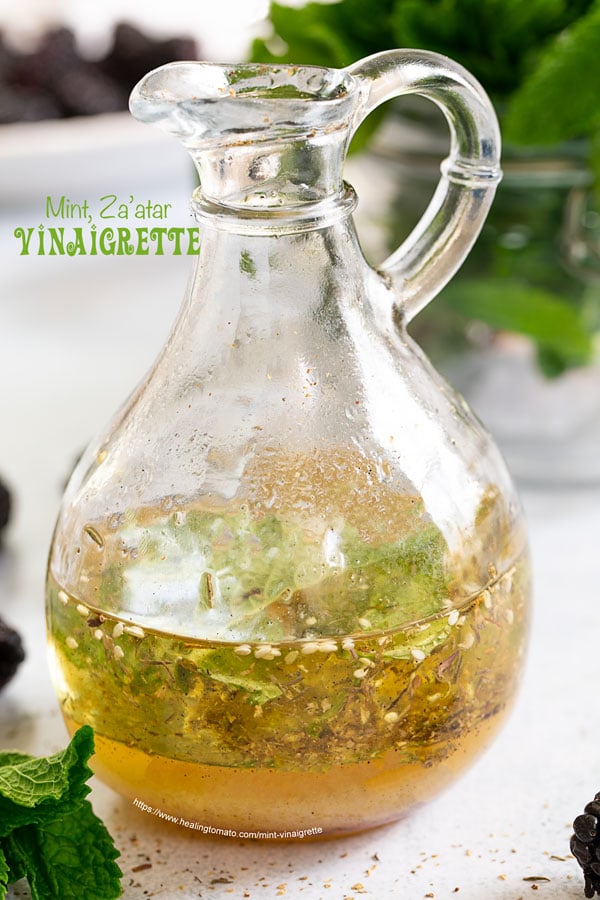 I also have my very own za'atar spice recipe made using sumac and dried herbs. I use it in so many recipes now, so it makes sense to make it at home.
Learn more about Za'atar from Wikipedia.
How to store it
This dressing, just like all dressings and vinaigrette, should be stored in a glass bottle. Glass is not reactive with the acid components in this mint vinaigrette and all vinaigrettes
I know plastic bottles are convenient to store and carry around, but, personally I am not a fan of them
Also, use a mini funnel like this one from (affiliate link) Amazon. These mini funnels are a game changer. I bought 5 of them from amazon and can't be without them anymore.
These mini funnels perfect for filling ketchup bottles, spice bottles, salt shakers and so much more.
How to use it
The possibilities are endless, so, put it in any recipe you like and comment below with how you used it. I would love to hear from you about it.
This dressing is inspired in part by Jamie Oliver's Principles of Superb Salads
More za'atar recipes
Other than this mint vinaigrette, za'atar is delicious in these recipes too. I am also building a list of my best za'atar recipes, so, check it out
How to Make Mint Vinaigrette
Quick 5 minute mint vinaigrette dressing with Za'atar
Ingredients
½

cup

Extra Virgin Olive Oil

1

Lemon

juiced

1.5

Tbsp

Za'atar

¼

cup

Agave

see notes

½

tsp

Salt

adjust to taste

3

Mint Leaves

finely chopped
Optional Ingredients
1

Tbsp

Ginger

see notes

2

cloves

Garlic

see notes
Instructions
In a salad bottle, add all the ingredients

Refrigerate for 4 hours to overnight

Serve over favorite recipe
Notes
– I added a little extra agave based on the recipe I am going to be using it in. Feel free to adjust it based on your recipe.
– Add Garlic and ginger depending on the recipe you are using this mint vinaigrette in. If it is a sweet recipe, omit the ginger and garlic.
– Nutrition info is approximate