Vegan Orecchiette Pasta is made with only 5 Ingredients! Its the perfect Pasta recipe that works as a side dish or quick lunch recipe. I stuffed pearl onions with basil pesto and oven-roasted them with cherry tomatoes.
How much do you love pearl onions?
I wasn't really a fan of them until I made this light lunch salad recipe last year. When pearl onions are roasted, they become slightly caramelized and have a slightly sweet flavor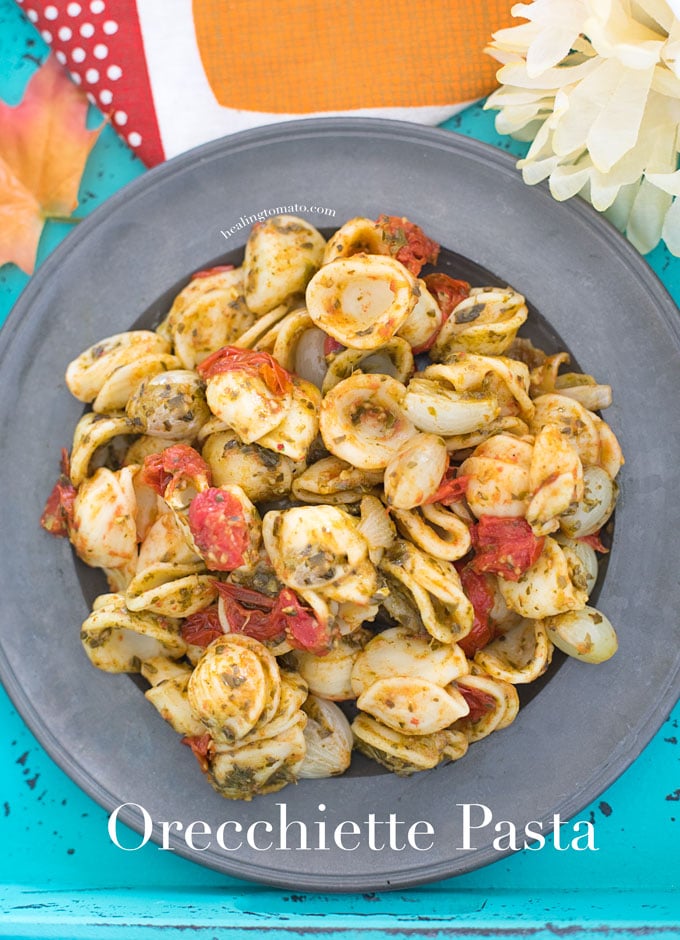 I stuffed the pearl onions with basil pesto and oven roasted them. Full disclosure, the task is a little tedious, but, I made it fun. I caught up on some of my TV shows while I stuffed them. Before I knew it, I had easily stuffed 2 cups of this pearl onions!
At first, I tried it with frozen pearl onions and I am saddened to say that it didn't turn out delicious. Frozen pearl onions are hard to stuff.
If you are really pressed for time, You can cut the pearl onions into halves, mix with basil pesto and roast them along with the tomatoes. Personally, I prefer stuffing them because the pesto gets into all the crevasses.
In the past, I have oven roasted tomatoes and they are my favorite snack to eat while working at my desk. Cherry tomatoes are so easy to roast, so, they make a great addition to any recipe.
Making their debut on my blog are these orecchiette Pasta. They have a very funky shape and I have always loved them. Before I know what they were called, I used to call them helmet pasta because of their shape. I know its not very creative, but, I love that nickname.
I love researching names and origins of foods! So, when I decided to use them in a recipe, I had to look up everything about orecchiette pasta. Did you know that their name means "small ear"? I had no idea and it completely makes sense to me. They look like tiny ears when cooked!
To keep this vegan orecchiette pasta as simple as possible, I only used a total of 5 ingredients. You can get fancy and add lemon with rinds during the roasting process. Also, add bell peppers, onions, or other veggies to make it more delicious.
Check out my vegan pesto recipe with scallions. I think it will be perfect for this recipe, right?
Personally, I preferred the simple ingredients in this pasta recipe. The next time I have pasta night in my home, I am definitely making this again.
If you like this pasta recipe, try my Gnocchi Pasta with Asparagus or my Fettuccine Pasta with Red Bell Peppers.
What is your favorite way to use pearl onions?

Vegan Orecchiette Pasta With Basil Pesto
A quick 5-ingredient Vegan Orecchiette Pasta With Basil Pesto.

Ingredients
2

cups

Pearl Onions

Peeled

¼

cup

Basil Pesto

For Stuffing The Pearl Onions

2

cups

Cherry Tomatoes

2

cups

Orecchiette Pasta

3

Tbsp

Basil Pesto

For The Pasta

Water

To cook the pasta. Save ¼ cup before you drain the pasta
Instructions
Preheat oven to 400


Make a cross cut on the onions, making sure that you keep them intact


Using a espresso spoon (or any tiny spoon) to stuff the onions with the basil pesto.


When all the onions have been stuffed, add them to a bowl


Add the tomatoes and any remaining pesto from the ¼ cup used to stuff the onions

Very gently mix the onions and tomatoes


Spread them out on a baking sheet and place in the oven


Roast them for 25 minutes


While they are roasting, cook the pasta, if not previously cooked (About 2 cups of uncooked Orecchiette)


Drain the pasta but save about a ¼ cup of the water


When the onions and tomatoes have finished roasting, remove from the oven and let them cool to touch


Add them to the pasta and include any roasting juices in the baking tray


Add the saved water and 3 Tbsp of basil pesto


Mix well, but, be gentle when mixing


Serve immediately

Notes
– This recipe works great with really al-dente orecchiette pasta.
– You can get fancy with this pasta by adding lemon rinds during the roasting process. Try adding onions, red bell peppers, or zucchini.