This veggie pasta dish made from red lentil noodles is the perfect base for a grilled vegetables pasta dinner. Mixed with a simple vegan butter sauce and herbs, this pasta is a fun recipe to make for weeknight dinner.
Disclosure – This post was originally sponsored by Barilla but the content and opinions expressed here are my own. This post was originally published on January 30th, 2019 and updated on April 14th, 2021.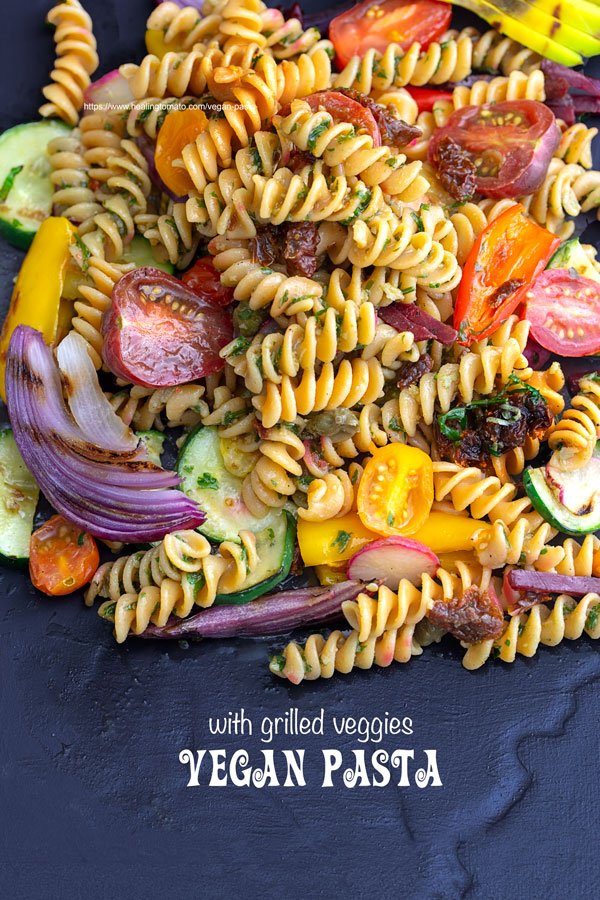 Tips for Making This Pasta
Use cooking spray to grill the veggies. It will grill them perfectly without an oily taste.
This pasta doesn't freeze well, so, make it on the day you are going to consume it. The grilled veggies will retain their fresh taste.
Add the buttery sauce about 30 minutes before you are going to serve it. This will give it a chance to marinate all the ingredients.
You can use any fresh veggies that you have in you refrigerator. The vegan pasta will blend well with any veggie.
Don't forget the capers! They add a delicious tang to the is recipe and it really brings out the flavors of the red lentil pasta itself.
Use dry packed sun-dried tomatoes instead of in-oil type of tomatoes.
Why You'll Love this Pasta Recipe
As vegetarian pasta dishes go, this is an extremely delicious and satisfying option! The best way to showcase this pasta is with a whole bunch of grilled veggies. Together, the pasta and veggies make for a very colorful and flavorful veggie pasta recipe.
This veggie pasta dish is a great way to add protein to my vegan diet and its also a great way to get my veggies for the day.
I went with cucumbers, mini sweet peppers, julienne beets, colorful cherry tomatoes, avocado, red onions, radishes and topped with tangy capers!
Whew! That's a lot of ingredients, but, I assure you that they are all worth the grilling.
What About the Sauce?
I am glad you asked that question. 🙂
The sauce I used is a combination of my fresh herb vegan butter sauce from my casarecce pasta and the rich vegan buttery sun-dried tomatoes from my fingerling potatoes recipe.
Vegan butter with fresh herbs and sun-dried tomatoes drizzled over red lentil pasta and grilled vegetables! Need I say more?
Occasionally, I do like a creamy sauce with pasta. One of my favorites is this sun dried tomato pasta recipe by Iheartvegetables.com.
Frequently Asked Questions
What veggies can I add to pasta?
For this recipe, I suggest using cucumbers, peppers, onions, beets, tomatoes, radishes, and some avocado, but there are a number of other veggies that would be great in this veggie pasta dish! Broccoli, carrots, mushrooms, artichokes, or any kind of squash would taste absolutely fantastic!
What can I add to pasta if I have no sauce?
Something simple like butter or oil with some grated or shredded cheese is a great and easy option! You could also toss in some herbs for a burst of flavor, or even make a quick sauce by heating some butter and cream in a saucepan. Of course, you could also chop up some veggies and stir them into your pasta as well!
Is pasta made with vegetables healthy?
Absolutely! Especially if you use a lower-carb pasta, like something whole grain or a pasta like this red lentil rotini. All of the delicious vegetables provide great nutrients, and in moderation the carbs from pasta help give you great energy!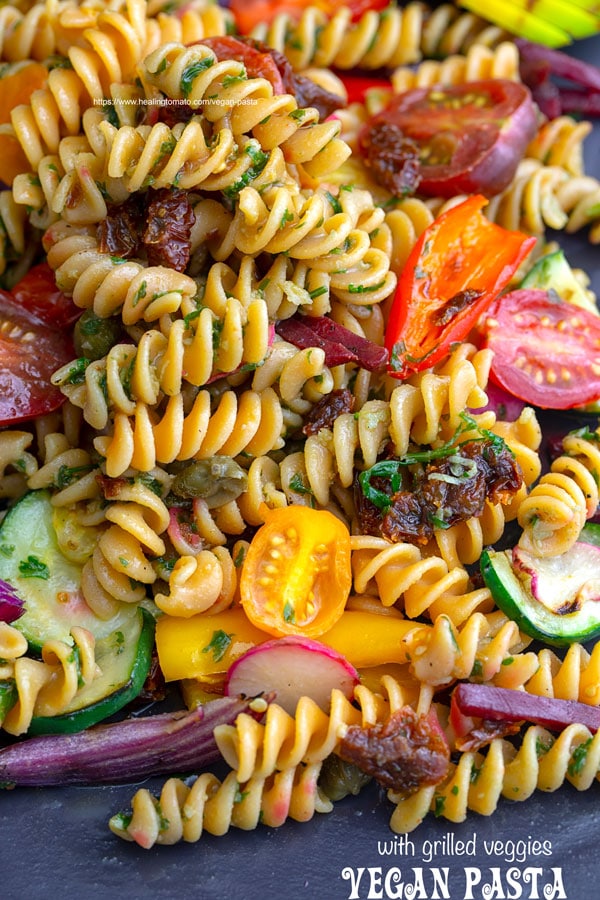 I have another butter that you can use in this recipe. Try my lemon balm butter with garlic to enhance your taste experience.
This pasta is also delicious in a cold pasta recipe, or in a delicious 9 tomato marinara sauce.
More Vegetarian Pasta Dishes
If this veggie pasta dish has you craving even more vegetarian pasta dishes, take a look at some of these tasty options!
What are your thoughts on vegan/vegetarian pasta? I would love to hear your thoughts about it, so please comment below!
You can also mix in this olive salad in dish. Adds a natural tang and saltiness to the pasta.
How To Make this Veggie Pasta Dish with Grilled Veggies
⭐️ If you tried and enjoyed this vegan pasta dish, please rate it 5 stars! Thanks for stopping by Healing Tomato! ⭐️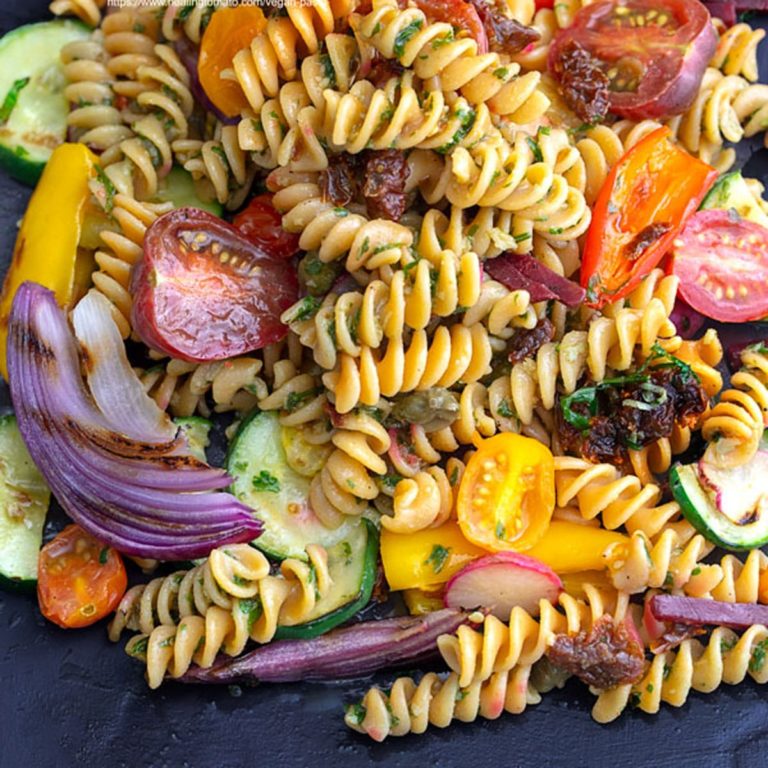 Vegan Pasta With Grilled Veggies
A nutritious and colorful vegan pasta recipe made with red lentil pasta

Ingredients
For the Pasta
1

cup

red lentil pasta

uncooked

1/4

tsp

salt

water

to boil the pasta
For The Grilled Veggies
1/2

cucumber

cut into half rounds

4

mini sweet peppers

de-seeded and cut into halves

1/4

red onion

julienne

1/4

cup

beets

julienne, from a can

1/2

cup

cherry tomatoes

halved, I used different colored tomatoes

3

radishes

thinly sliced

1/2

small avocado

thinly sliced strips
For the Sauce
2

Tbsp

butter

1/2

cup

extra virgin olive oil

1/2

cup

sun-dried tomatoes

julienne

1/4

cup

fresh basil

finely chopped

7

leaves

mint

finely chopped

1/2

cup

curly parsley

finely chopped

4

cloves

garlic

finely chopped

cooking spray
For Garnish
2

Tbsp

capers

cilantro

optional

panko bread crumbs

optional
Instructions
To Cook the Pasta
Bring water to a boil


Add salt and pasta


Cook for 9 minutes and then drain, set aside

To Grill the Veggies
Heat your stove top grill for about 3 min on medium heat


Spray it with cooking spray


Add the veggies to the grill and grill each side


You can grill one veggie at a time or cook them all together


Place grilled veggies in a bowl


Add the cooked pasta to the bowl

For the sauce
Heat a medium saucepan and add the vegan butter


When it melts, add the garlic and let it brown for 30 sec


Add the oil, fresh herbs and sun-dried tomatoes


Mix well and cook for about 2 minutes on medium heat


Drizzle sauce over the bowl of pasta and grilled veggies


Mix well and set aside for 30 minutes


Serve with garlic bread or by itself

Notes
Nutrition info is approximate.
Update Notes: this post was originally published in January 2019 and updated in April 2021.