The BEST Vegan Alfredo Sauce Recipe – Perfect for Any Spaghetti or Pasta Recipe. Vegan Meals Have Never Been Simpler or More Delicious. This is a A Low Carb Recipe Made in 30 Minute
This was my first attempt at vegan Alfredo sauce and I have to say that it turned out to be delicious.
There is nothing wrong with regular Alfredo sauce. In fact, I have used Ragu's Alfredo sauce in a pasta recipe and it was yummy!
It was gooood and it makes pasta taste very comforting!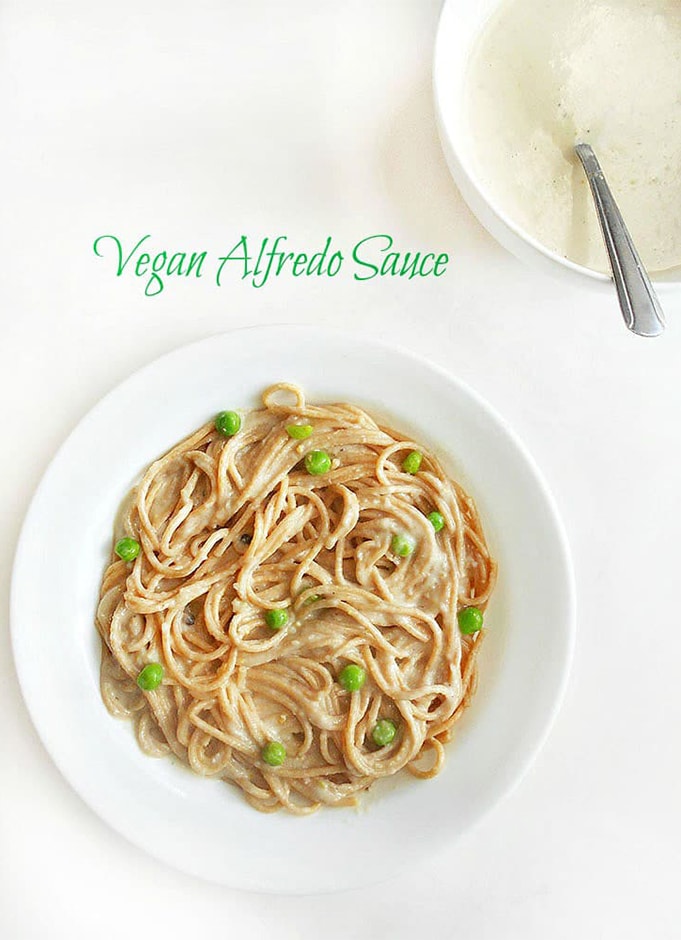 The reason I decided to try a vegan version was purely to challenge myself. As you know, I am always struggling to become fully vegan and I always look for recipes that I can turn into Vegan.
Speaking of which, have you tried vegan feta cheese?
If given the choice, I always gravitate towards red sauce on any pasta meals. I am sure you can guess that it may have something to do with the tomatoes in it?
When it comes to tomatoes, I am happy to be called predictable.
I used to be a huge fan of Fettucine Alfredo Recipes. I think I have sampled that recipe in most of the restaurants in NYC's Little Italy.
If I hadn't cut down on consuming too much heavy cream in my diet, I would make it ever day that I walk on this planet!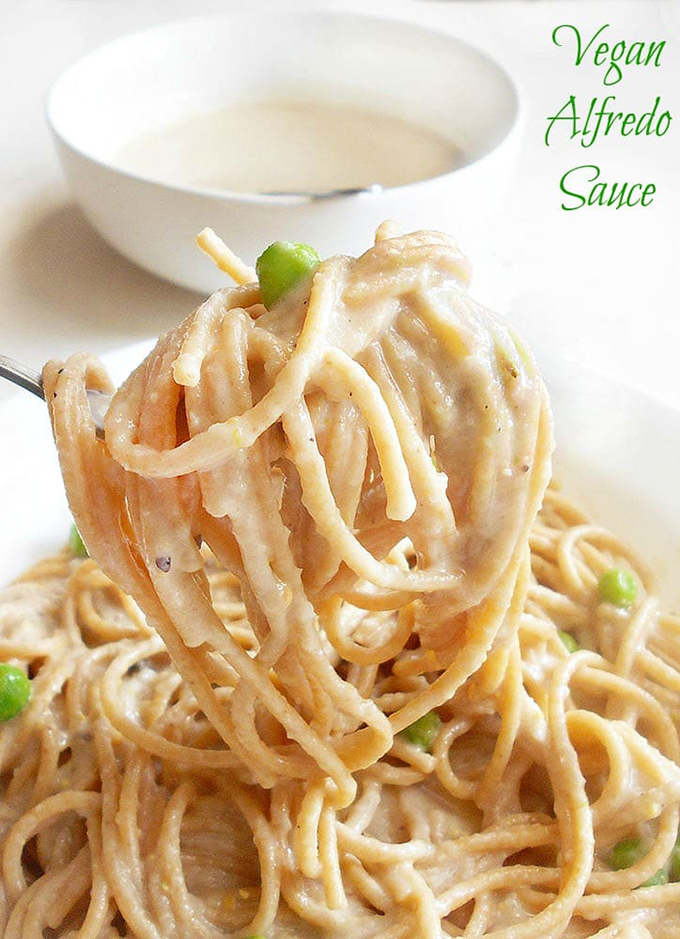 This recipe, inadvertently, turned out to be Gluten free and low carb. That surprised me and delighted me at the same time. I love when recipes turn out to be healthy.
In this recipe, I make use of (affiliate link) nutritional yeast for the first time on this blog. It is so good for vegans because it is a significant source of B-Complex vitamins. I try to put it in one meal a day and most of the time you can't tell that its in there.
This Creme Fraiche is my favorite way to use nutritional yeast. I find it to be a substitute for heavy cream or whipping cream.
The best thing about this Alfredo recipe is that it goes with any spaghetti recipe. It goes with any vegan food, like ravioli or stuffed shells. I want to try it with my ravioli recipe where I sub ricotta with tofu.
I found these cauliflower crumbles in the fresh vegetables aisle at my local grocery store and instantly purchased it. I don't think I will ever chop to cut cauliflower again. Don't you just love it when companies make your life easier?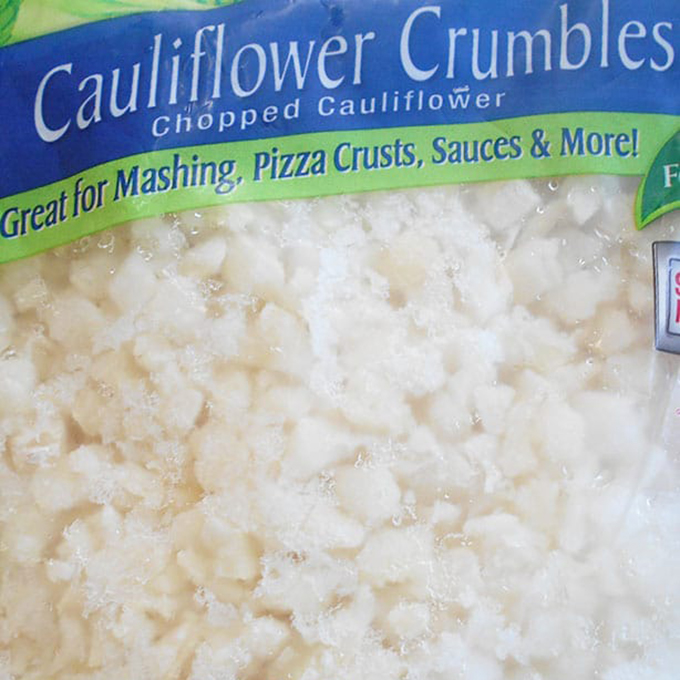 Are you on "Team red pasta sauce" or "Team white pasta sauce"
How to make Vegan Alfredo Sauce
1) On medium heat, put 3 tsp of extra virgin olive oil
2) Add 2 cloves of garlic. I like to cut each clove into 4 pieces
3) Add 1 cup of almond milk and heat on medium heat for 4 minutes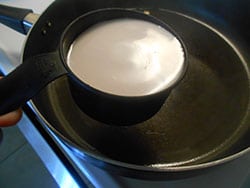 4) Add 1 cup of crumbled cauliflower and stir well. Let it heat until the cauliflower is softened. On medium heat, it should take about 15 minutes
5) Add 1/2 tsp of salt. This is optional
6) Add 1/8 tsp of whole peppercorns and stir well
7) Add 2 tsp of crushed pistachios.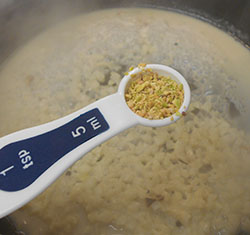 8) Add 1/4 cup of almond milk and stir well. Remove from heat and allow it to cool for about 10 minutes
9) Put the combination into a blender and blend on medium speed for about 30 seconds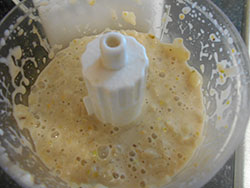 10) Add 1/4 cup of almond milk (optional), 1/2 tsp of nutritional yeast, sugar, flax seed meal, 1/4 tsp of freshly squeezed lemon juice. Blend again until the consistency is smooth.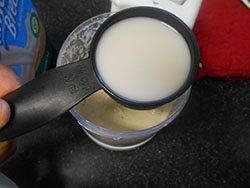 11) Remove from blender and serve with your favorite vegan or vegetarian pasta recipe. I am sure that meat eaters will love this Vegan Alfredo sauce too.
Vegan Alfredo Sauce
Made using Almond milk, cauliflower and nutritional yeast.

Ingredients
3

tsp

extra virgin olive oil

2

cloves

garlic

roughly chopped

1 1/2

cup

almond milk

(Split into 1 cup, 1/4 cup and 1/4 cup)

1

cup

cauliflower

crumbled or cut into pieces

1/2

tsp

salt

1/8

tsp

whole peppercorns

1/2

tsp

flax seed meal

1/2

tsp

sugar

2

tsp

pistachios

crushed ground

1/2

tsp

nutritional yeast

1/4

tsp

lemon juice

freshly squeezed
Instructions
Heat olive oil on medium heat in a strong-bottom pan


Add the garlic


Add and heat on medium heat for 4 minutes

Add crumbled cauliflower and stir well.


Let it heat until the cauliflower is softened (about 15min on medium heat)


Add salt, peppercorns and pistachios then mix well


Add 1/4 cup of almond milk and stir well.


Remove from heat and allow it to cool for about 10 minutes

Put into a blender and blend on medium speed for about 30 seconds

Add 1/4 cup of almond milk (optional), sugar, flax seed meal, nutritional yeast and lemon juice.


Blend again until the consistency is smooth.

Remove from blender and use it in your pasta recipe

Notes
Nutrition Info is approximate
Refrigerate unused portion and it will be good for 7 days