Vegan Pumpkin Smoothie Made with Coconut Milk with Cinnamon and Nutmeg to Make it Festive. Make Blueberry Syrup at Home to Add to the Smoothie
Is it ok to blame the pumpkin smoothie for being so addictive?
I don't care, I am blaming it for being so irresistible.
Its all the nutmeg and cinnamon that just puts me in a happy place and I can't stop drinking it.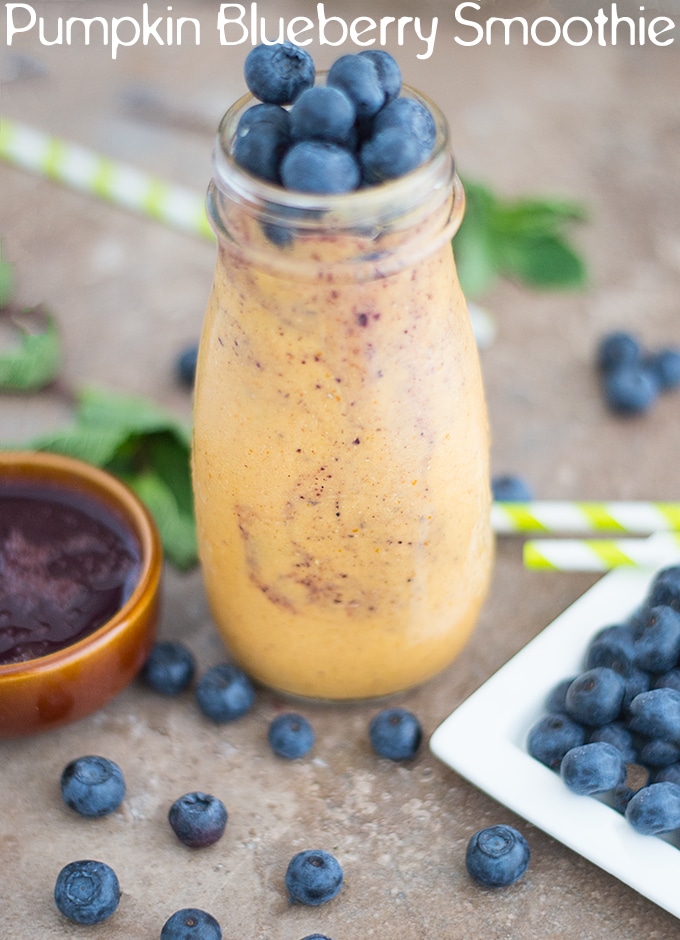 For this recipe, I made my own blueberry syrup, but, you can get store bought ones that are really good. When I made my Tropical Smoothie, I used Torani's syrups. They make DELICIOUS natural syrups like this (affiliate link) blueberry one.
You can also use blueberries to make a super easy blueberry vinaigrette
If I am making pumpkin recipes already, that must mean summer is over, right? I can't believe that it will be Halloween soon.
Before we talk about this pumpkin smoothie, can I take a short diversion?
Reading books by the pool is one of my favorite ways to enjoy a blissful summer. Many are not typical summer reading books, but, they are engrossing page turners. I love reading books that I hadn't read in a long time.
Do you know how many of these fifteen books I managed to read?
Zero, zilch, nada, not a one!!
I honestly don't know where the summer has gone. The reading was always on the back of my mind and I kept telling myself that I will get to the books "later this week".
"Later this week" never came. Something always came up like cleaning the house
….or going to sit by the pool
….or I need to take a nap!
Sigh!
Procrastination is now my middle name!
As the fall season begins and I work on more pumpkin recipes like this vegan pumpkin soup, I wonder how many times I am going to tell myself that I will get to a task, "later this week"?
I think I need to write a book about the art of procrastination! I will get on that right away!!
…..or later this week.
What book was on your must-read list this summer?
Vegan Pumpkin Smoothie
Vegan Pumpkin Smoothie
Pumpkin smoothie made with coconut milk, nutmeg and cinnamon.

Ingredients
2

tsp

Flax Seed Meal

1/4

Nutritional Yeast

1/4

Vanilla Essence

1/2

tsp

Cinnamon Powder

1/4

tsp

Nutmeg Powder

1/4

cup

Agave

1/4

cup

Pumpkin Puree

1/2

cup

Coconut Milk

3/4

cup

Water

Pinch of Salt

4

Ice Cubes
For the Blueberry Simple Syrup
1/2

cup

Blueberries

2

Tbsp

Coconut Palm Sugar

1/2

cup

Water
Instructions
To Make the Blueberry Syrup
Blend all the ingredients together and set aside * See Notes *

To Make the Pumpkin Smoothie * See Notes *
Place all the ingredients in a blender


Blend until very smooth


Transfer to a glass


Slowly add the Blueberry syrup, top with fresh blueberries (if desired) and serve immediately

Notes
* I only used about 3/4 of the syrup I made. Use it according to your liking
* You don't have to make the blueberry syrup separately from the pumpkin smoothie ingredients. I did them separately because I like see the 2 different colors