A quick and easy vegan Tzatziki using vegan yogurt. This tzatziki recipe has a twist on the traditional recipe with the addition of matcha and carrots. Use it in many different recipes.
Tzatziki may be hard to pronounce, but it's a very easy recipe to make.
Gather up a few ingredients and then, you have the perfect recipe for any dish!
Or you could eat it right out of the bowl, like I do!
Jump to:
Ingredients
Here is a quick look at the ingredients. It is to understand why these specific ingredients were chosen. To get the full recipe, go to the bottom of this post.
Cucumber
Carrots
Parsley
Vegan yogurt
Seasonings
Matcha
Matcha is optional and definitely odd to have in tzatziki. But, I love the light green hue it adds to the tzatziki.
Instructions
Squeeze out all the carrots and cucumber shreds. Keep the water because we are going to use it in this recipe.
In a small bowl, add the matcha powder and warm water. Gently mix it until matcha is fully mixed with the water. Set aside
In a separate bowl, add the cucumber & carrot shreds
Add all the dry ingredients.
Finally, add the yogurt, water from step 1 and the matcha water
Gently mix everything and let it sit for about 30 minutes before serving.
👩‍🍳 Substitution tip: You can always use vegan coconut yogurt for that coconut flavor or use regular dairy yogurt. If you use dairy yogurt, make sure you are using the full fat yogurt.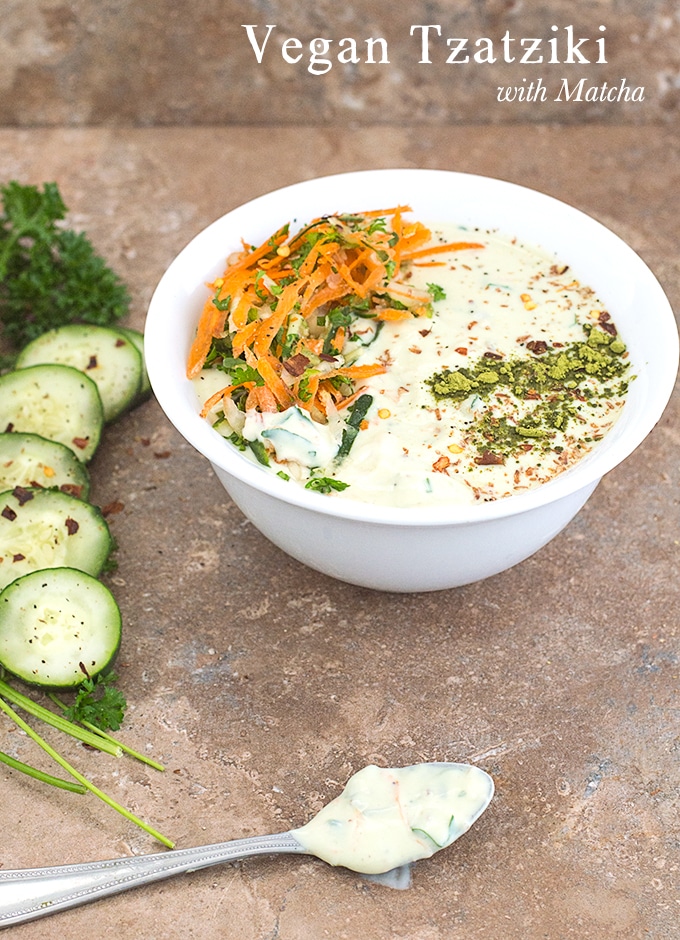 Answering common questions
Can carrots be added to tzatziki?
It's not traditional tzatziki ingredient, but it adds a different flavor to the tzatziki. It's definitely a compliment to the quiet flavors of cucumber
How long does it take to make it?
Tzatziki takes just 8-10 minutes to make. For the best taste experience, let it sit for 30 minutes so that the ingredients can get to know each other well.
How is tzatziki pronounced?
The first z in it is silent. So, it is pronounced as "tut zee key".
Storage and Make Ahead
The best part of tzatziki is that it can be made ahead and it will be good for about 1 week.
I like to make a batch of it once a week and store it in (Affiliate Link) squeeze bottles.
As soon as you make it, refrigerate it. With vegan yogurt, it's important to not keep outside for too long. Once refrigerated, it will be good for 1-2 weeks.
What do you eat tzatziki with?
It works best with souvlaki and gyros. It even works in a falafal recipe, so, try it for yourself. Flavor your Lebanese potatoes with it or drizzle it over cauliflower steaks. Even green beans can taste really good with vegan tzatziki flavored with it.
Other cucumber recipes to try
What will you use this Tzatziki Vegan in?dfd
Sharing is caring
Don't be shy, chime in below in the comments. Let me hear your opinion on this recipe. If you enjoyed this, please give it 5 stars and share it on Facebook, Pinterest, Twitter and Instagram.
The BEST Vegan Tzatziki
A revamped version of the traditional Greek Tzatziki

Ingredients
½

Cucumber

shredded

1

tsp

Black pepper

freshly ground

½

cup

Parsley

freshly chopped

¼

cup

Carrots

shredded

1

Tbsp

Nutritional Yeast

1

Tbsp

Flax Seed Meal

1.5

tsp

Red pepper flakes

1

Tbsp

Agave

½

tsp

Salt

Optional

1.5

Tbsp

Matcha powder

1

Tbsp

Warm water

3

cups

Vegan Yogurt

I used Soy Yogurt
Instructions
Squeeze all the water out of the carrots and cucumber. Do not discard it


In a small bowl, mix the water from the carrots and cucumber with Matcha and the warm water. Mix well


In a large bowl, add the cucumber and black pepper


Add the parsley


Add the carrots


Add the Nutritional Yeast and Red Pepper Flakes


Add the Agave and Flax Seed Meal

Add the Salt


Add the yogurt


Add the Matcha water mixture


Mix Well and refrigerate for 2 hours before using

Notes
* Since I used a soy-based vegan yogurt, this vegan tzatziki has a very short shelf life. Don't use it after 3 days.