A revamped version of the traditional Greek Tzatziki

A quick and easy vegan Tzatziki recipe using soy based yogurt, carrots and matcha! I took the traditional Greek Tzatziki recipe and turned it up a notch! I would love to hear your opinion on it
Can you tell that I am obsessed with Matcha?
Matcha is very versatile, so, I am not afraid to experiment with it.  I made pancakes, sparkling water and now a Tzatziki!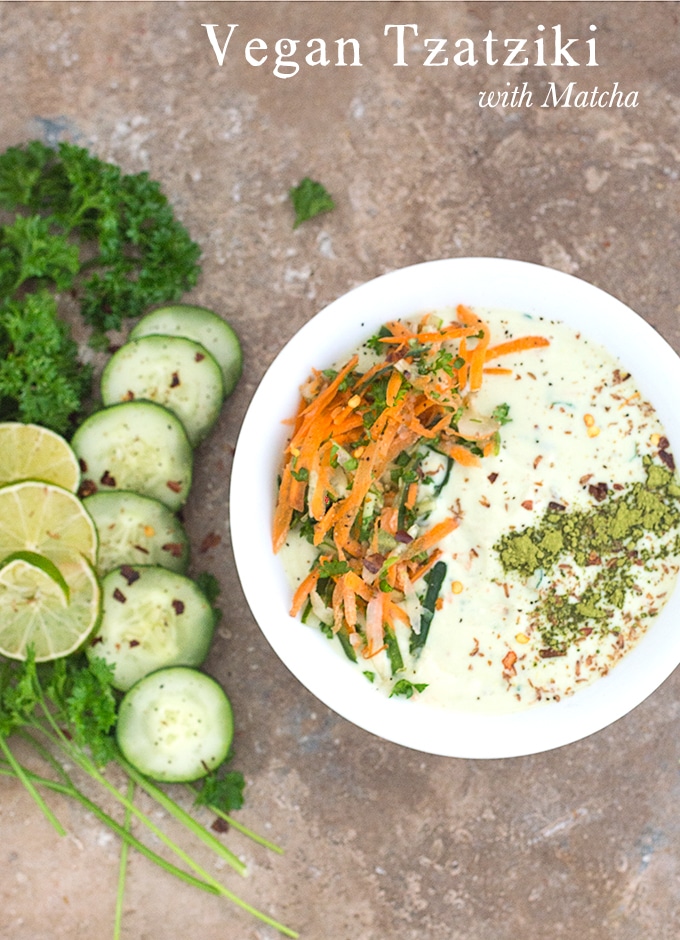 The traditional tzatziki is so easy to make because it has less than 5 ingredients and all you have to do is mix them. In less than five minutes, the tzatziki comes together and can be topped on any recipe.
It works best with souvlaki and any wrap recipes.  It even works in a falafal recipe, so, try it for yourself.
I wanted to post a tzatziki recipe for a while, but, I wanted it to have my own twist.  After countless experimenting and sky-high piles of dishes, I finally have a version that I like.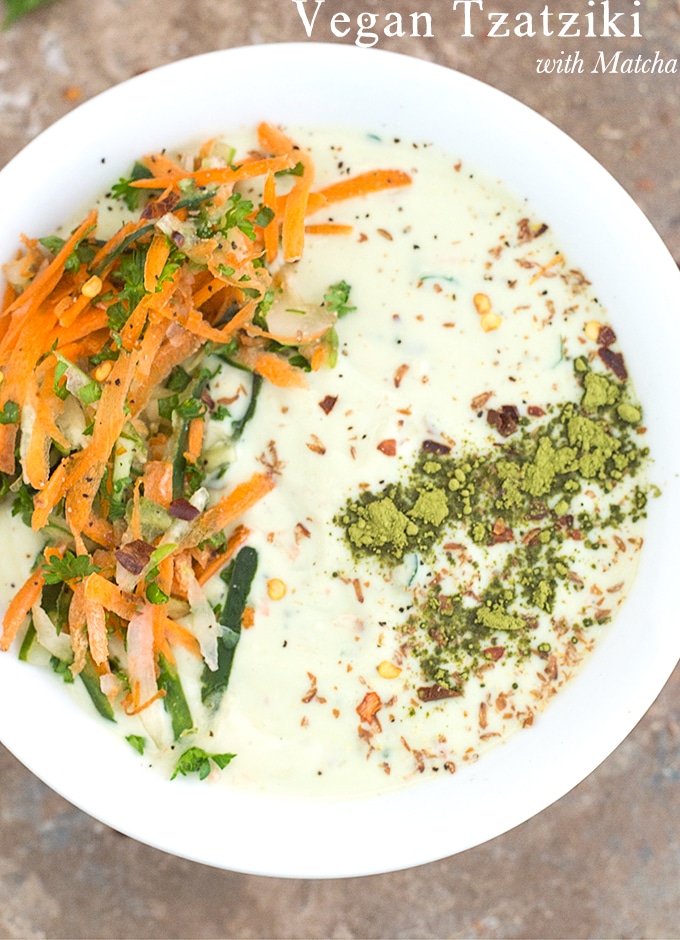 So, why matcha?
I was working on a recipe and rummaging through my fridge to see what else I could add in it.  I pulled out mustard, spicy sauce, pickles, olives and even capers.  Just as I was about to close the fridge, my eye caught the attention of the matcha package.
That was it! I knew that Matcha had to be in this recipe and I was going to make it work one way or another!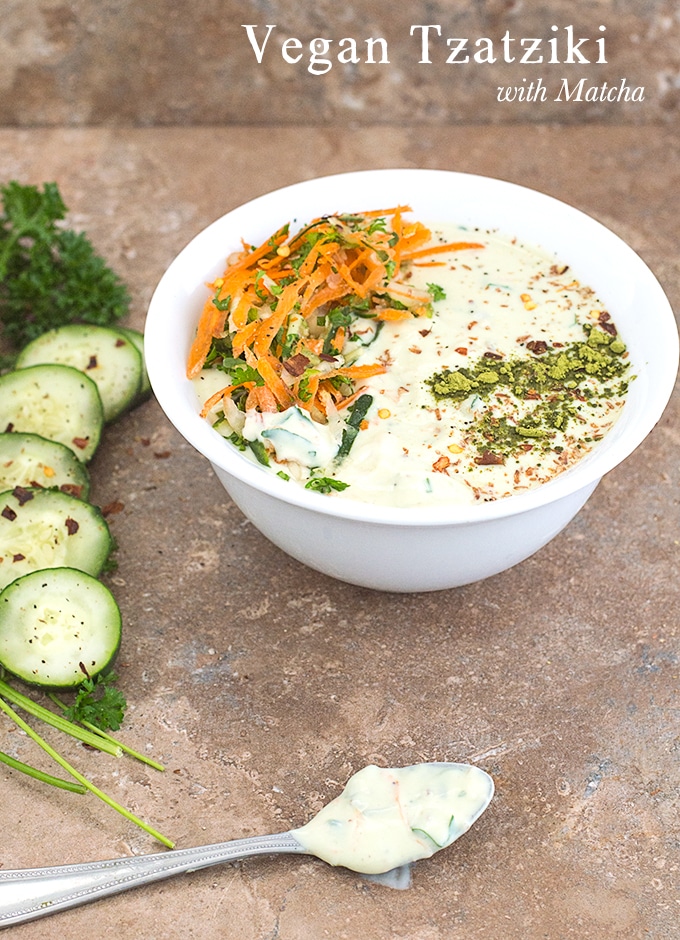 Other than carrots and matcha, I added cucumber, parsley and spices.  The yogurt I used is actually a soy-based vegan yogurt.  It was a great use, but, I realized that it reduces the shelf life of this vegan tzatziki.
So, when you make it, use it within 3 days.  I tried to freeze it and use it at a later date, but, that didn't work well. If you want to make a vegetarian version, use regular Greek yogurt instead of flavored yogurt.
This super easy vegan tzatziki will be part of an updated version of my vegetarian gyros recipe.  It's going to be out of this world!
What will you use this Tzatziki Vegan in?
Vegan Tzatziki with Matcha
Vegan Tzatziki With Matcha
A revamped version of the traditional Greek Tzatziki

Print
Pin
Rate
Instructions
Squeeze all the water out of the carrots and cucumber. Do not discard it


In a small bowl, mix the water from the carrots and cucumber with Matcha and the warm water. Mix well


In a large bowl, add the cucumber and black pepper


Add the parsley


Add the carrots


Add the Nutritional Yeast and Red Pepper Flakes


Add the Agave and Flax Seed Meal

Add the Salt


Add the yogurt


Add the Matcha water mixture


Mix Well and refrigerate for 2 hours before using

Notes
* Since I used a soy-based vegan yogurt, this vegan tzatziki has a very short shelf life.  Don't use it after 3 days.
Nutrition
Serving:
1
cup
|
Calories:
230
kcal
|
Carbohydrates:
24
g
|
Protein:
16
g
|
Fat:
6
g
|
Saturated Fat:
1
g
|
Sodium:
514
mg
|
Potassium:
254
mg
|
Fiber:
6
g
|
Sugar:
13
g
|
Vitamin A:
3330
IU
|
Vitamin C:
15.5
mg
|
Calcium:
383
mg
|
Iron:
4.1
mg