Sweet and Sour Vegetables is a very hearty meal that is vegan friendly. The Cauliflower and Broccoli are roasted, giving this meal a smokey flavor.
Before I begin, I just want to share a little anecdote about this recipe. It is one of my strangest, yet, bravest moments of my life.
There was a Chinese fast-food restaurant in Queens, NYC. They had many good vegetarian recipes on their menu, but, no sweet and sour recipe for vegetarians.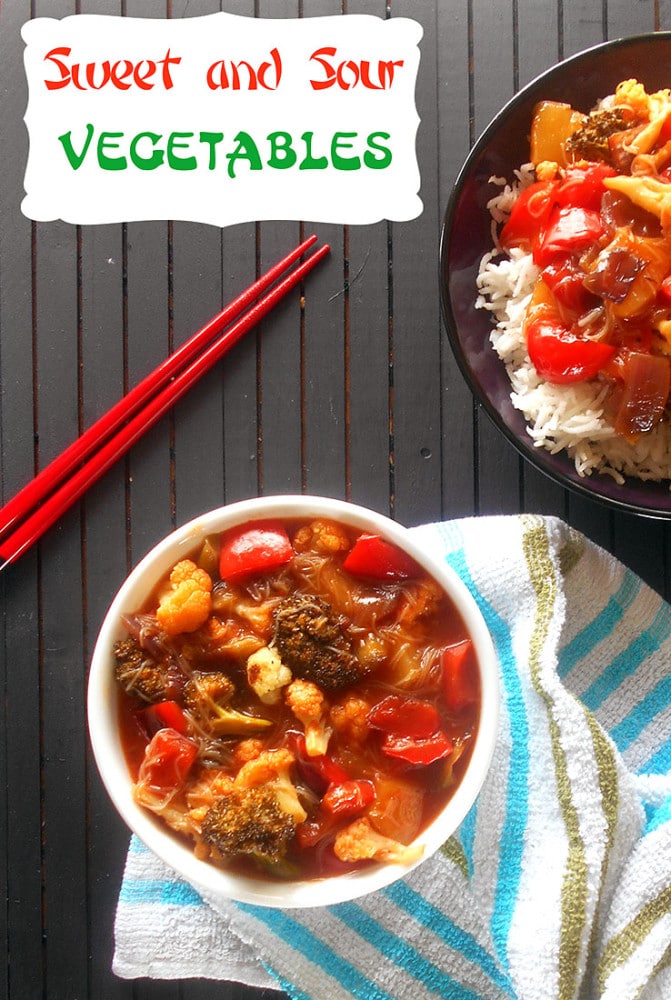 So, when I felt that I had "perfected" my sweet and sour vegetables recipe, I walked into that Chinese restaurant in Queens. With my chin held high, I offered to sell my sweet and sour recipe to them for a "reasonable" 4-figure sum.
In those days, I was really trying hard to get out of my shell, so, I took this opportunity to better my selling skills. For me to walk into that restaurant, it took every bit of courage and strength I could muster.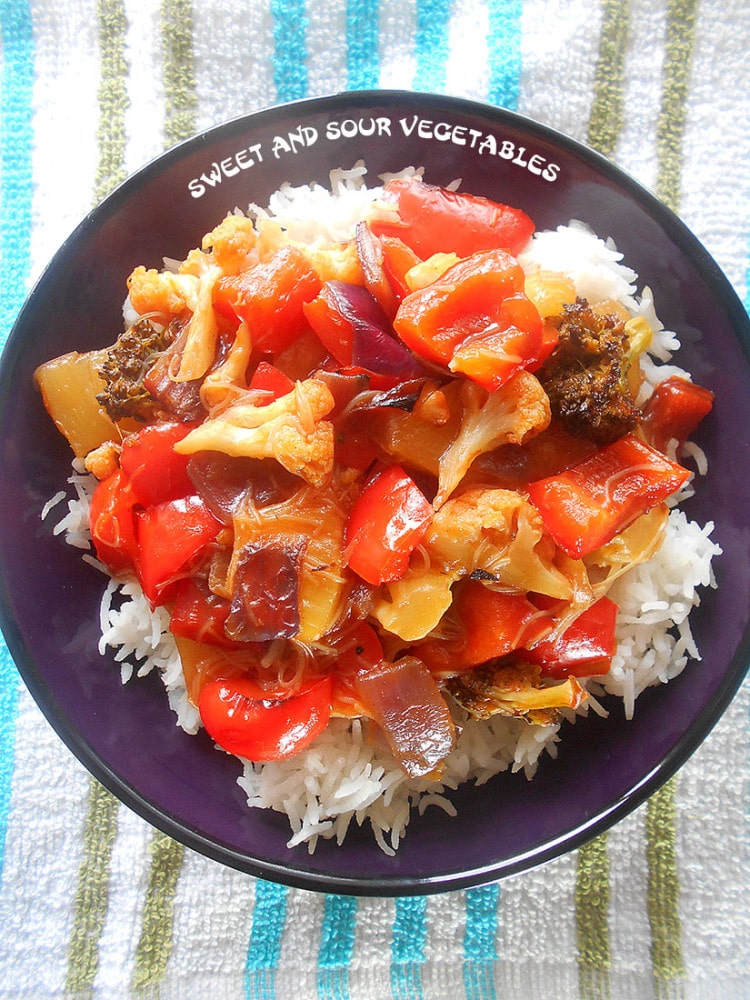 I think I must have changed my mind several times before finally marching into that restaurant and make my offer.
Needless to say, they laughed me out of the restaurant. Since I couldn't understand Chinese I, thankfully, walked away without understanding any of their insults.
I am sure you have already figured out that what happened next……
A couple months after that humbling experience, I noticed a sweet and sour vegetarian Lo Mein recipe on their menu! At first, I was angry that they stole my idea without giving me credit for it.
Eventually, I was kind of proud of my tiny accomplishment and even flattered beyond words that they choose to add a sweet and sour recipe on their menu.
Ultimately, I want to believe that it was their most popular vegetarian recipe.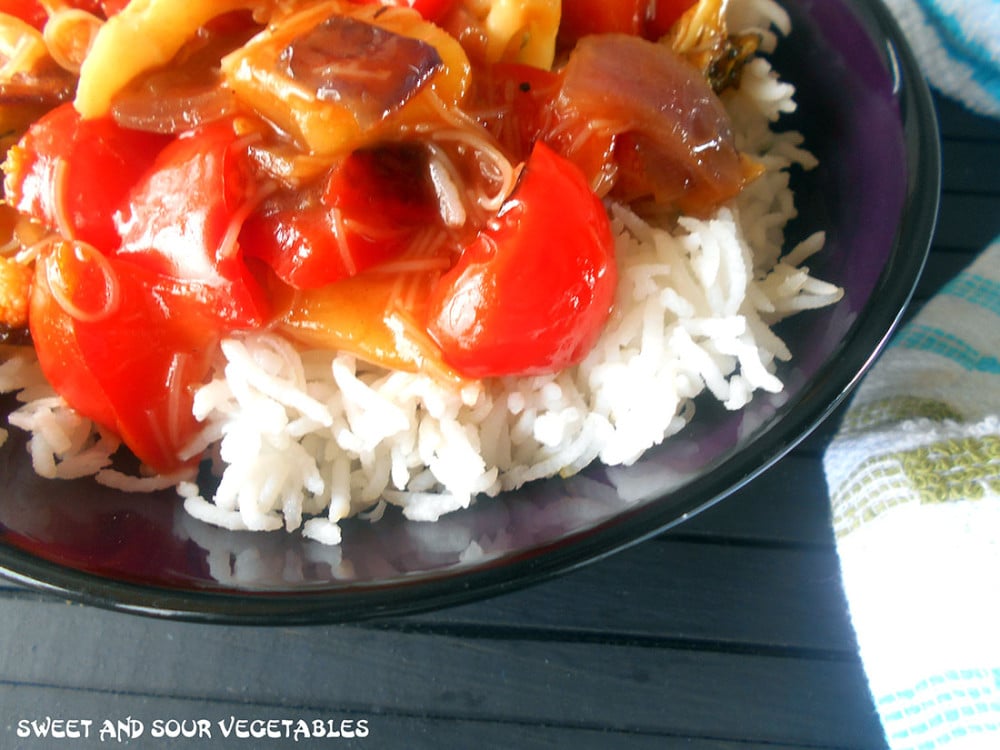 I found that the trick to a good sweet and sour sauce is the pineapple. More specifically, it was pineapple juice that gave the sauce the right amount of sweetness.
Also, I roasted pineapple chunks and then mixed them with other roasted vegetables. This makes for a smokey flavored vegetables.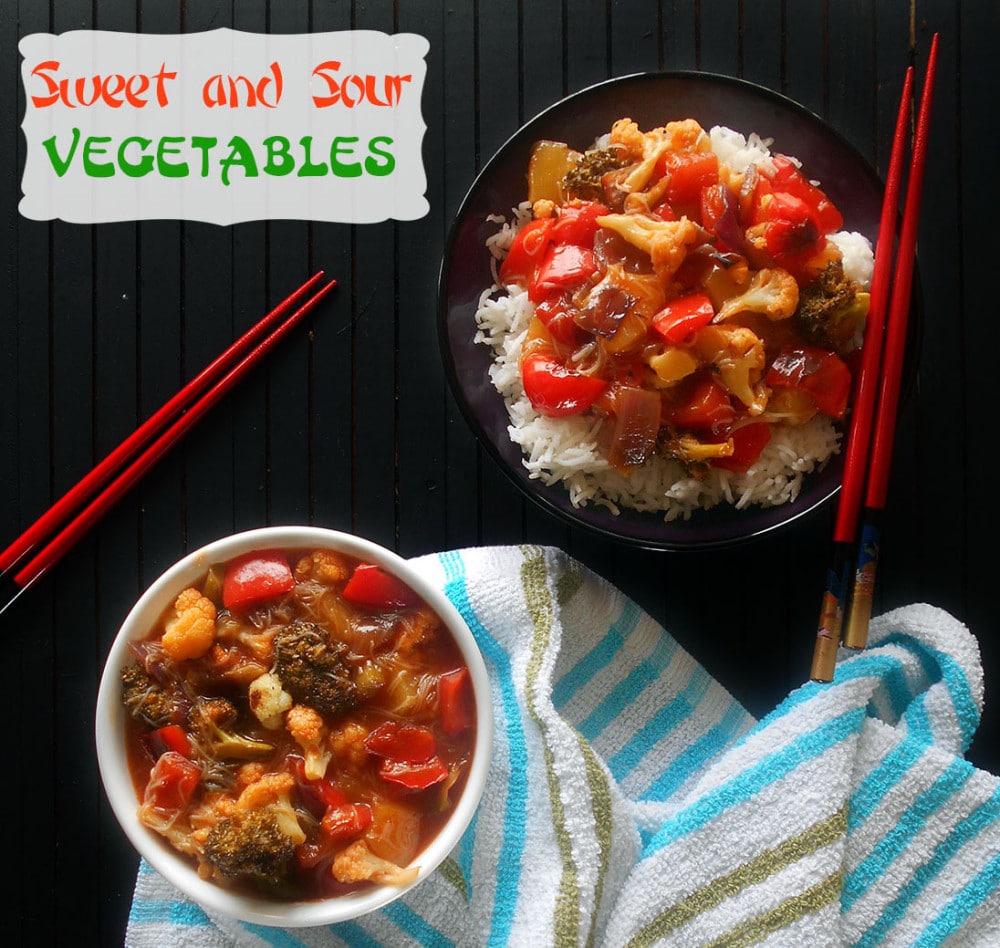 The end results were nothing short of delicious comfort food heaven! This sweet and sour vegetables recipe is my favorite go-to dinner recipe.
I like to eat the noodles with rice noodles, but, my family likes eating them with basmati rice. You can serve it with brown rice or lo mein noodles
What is your favorite Chinese vegetarian meal?


Recipe for Sweet and Sour Vegetables
Sweet and Sour Vegetables
Sweet and Sour Vegetables made with Pineapple Juice, Cauliflower, Broccoli and Red Peppers. Simple dish that comes together in 30 minutes. Serve with Lo mein noodles, rice noodles or plain rice
Ingredients
For the Sweet and Sour Sauce
Instructions
Preheat oven to 400 degrees

In a mixing bowl, add the cauliflower and broccoli

Add the EVOO, salt and black pepper. Mix well

Place the cauliflower and broccoli on a baking sheet

Roast for about 20 minutes

In a separate bowl, mix the pineapple chunks and agave


Place the pineapple in a baking tray and roast them for 10 minutes

Set the vegetables aside

In a bowl, mix all the sauce ingredients together. Mix well and make sure there are no lumps

In a stir fry pan, add the EVOO and heat on low for about 20 seconds

Add the onions and stir fry them until they are slightly caramelized

Add the red bell pepper and fry them for a few minutes, until the skin crinkles

Add the sweet and sour sauce.

Let the sauce thicken a little, but, stir frequently (about 5 minutes)

Add the cauliflower, broccoli and pineapple to the mixture

Stir well and let it cook for about 5-7 minutes. Keep stirring so that it doesn't stick at the bottom

Remove and serve over glass noodles or lo mein noodles
Notes
Other ingredients you can add:
- Mini Corn
- Chestnuts
- Snap peas
- French beans
- Green Peppers
- Red Pepper Flakes
Nutrition
Calories:
447
kcal
Carbohydrates:
87
g
Protein:
6
g
Fat:
10
g
Saturated Fat:
1
g
Sodium:
3025
mg
Potassium:
1030
mg
Fiber:
7
g
Sugar:
69
g
Vitamin A:
2535
IU
Vitamin C:
183.9
mg
Calcium:
88
mg
Iron:
2.4
mg