How do You Make Tofu Delicious? Marinate Them in Indian Spices and Oven Roast Them! This Delicious Tandoori Tofu Appetizers are a Great Starter Recipe to Any Indian Feast.
I bet there have been many times you have stared at a Tofu slab and wondered, "How to cook with tofu?"
Or, my favorite question:
"How do I make tofu taste delicious?"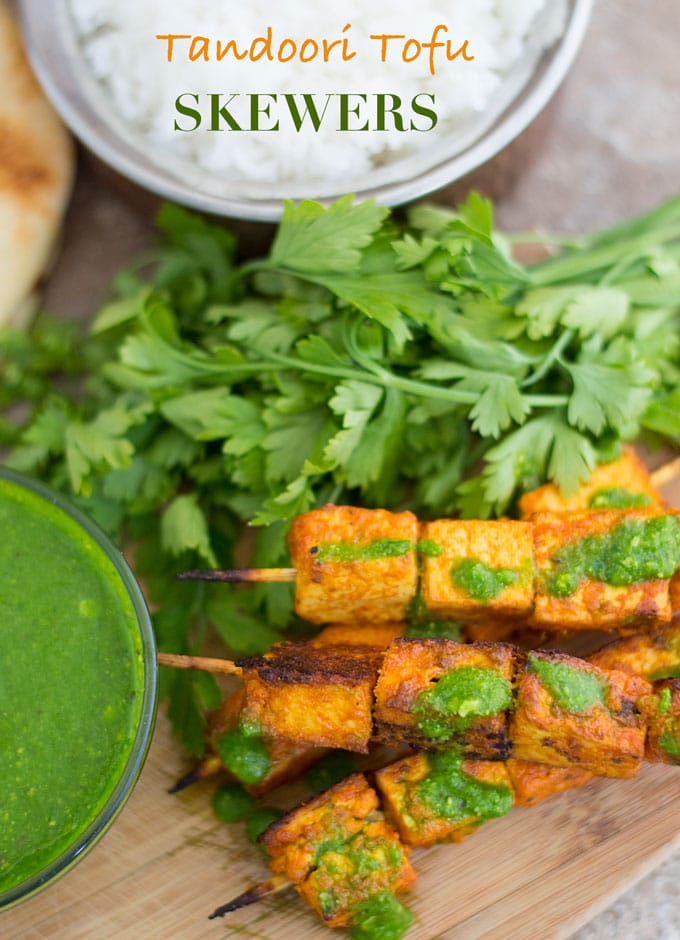 Well, if you like anything Tandoori, you will LOOOOVE this recipe.
The recipe is easy to make and the spices can easily be found at your local Indian Grocery Store. Also, Amazon sells the spices online, so, you have no excuse!
I am one of those people who love Tandoori food.
Actually, let me be a little more descriptive!
I LOVE LOVE LOVE tandoori food.
That shouldn't surprise anyone. I am Indian which makes me genetically predisposed to liking tandoori food.
If you are in the mood for some curry, I have a sweet potato curry recipe that you have to try. There is also a corn on the cob curry and a Watermelon curry! Which one is your favorite?
Use this grilled tofu in a wrap recipe, like my tofu wrap. Grilled tofu tastes soooo very good when dipped in a white grape chutney.
You can choose to mix any vegetables with the tofu. Cauliflower, tomatoes, zucchini, squash, mushrooms, even small cabbage cubes will work great with this recipe. The sky is your limit!
I don't have a tandoori oven, so, I had to make do with my regular oven. If you have a tandoori oven, use that and know that I am very jealous of you!
So, do you have a favorite way to make tofu?

Version 1 of this recipe
Did you do a double take?
Occasionally, I will revisit previous recipes and do a makeover on them. You probably came to this page based on this photo. It was made with vegan mayo. However, I decided to revamp the recipe and bring you the new version you see above. I think you will like.
Need a side dish to go with your Tandoor Tofu? Serve up these easy Roasted Chick Peas for a great Indian side dish!
How To Make Tandoori Tofu Skewers
Tandoori Tofu Skewers (Spicy)
Tandoori Tofu Skewers made by marinating tofu in a yogurt + cream mixture with Indian Spices

Instructions
Preheat oven to 400 degrees


Soak 6 bamboo skewers in warm water for 10 minutes

Prepare the tofu
Remove the tofu from the water and shake off all the extra water

Weigh it down for 15 minutes to remove all the water


Discard any water and cut tofu into 1″ cubes

Make The Marinade
In a mixing bowl, add the yogurt, pureed tomato and water. Mix well

Add all the spices for the marinade and set aside


Add the tofu to the marinade and mix gently

Allow the tofu to marinade at least 30min. Marinate it overnight, if possible

Making the Tandoori Tofu Skewers
Take one skewer and spray with veggie spray (optional)


Skewer each bamboo stick with 4 tofu cubes.


Lightly spray a baking tray with veggie oil


Place the tofu skewers on the tray. Keep about ½" distance between each

Brush some of the marinade on the skewers and place the baking sheet in the oven


After 10 minutes, flip the skewers and baste. Bake for 10 minutes or until brown


Remove from the oven and allow the skewers to cool for 5 minutes

Notes
– If you can marinate the tofu overnight, do so.
– You will only use about ½ of the marinade. You can freeze the remaining yogurt + cream mixture for future use
Vegan Option: Vegan Coconut Yogurt

and Coconut cream to be subbed for heavy cream. Many vegan yogurts are not keto friendly. If you use it, then this recipe is NO LONGER keto friendly.
Nutrition
Calories:
155
kcal
Carbohydrates:
19
g
Protein:
24
g
Fat:
35
g
Saturated Fat:
18
g
Cholesterol:
105
mg
Sodium:
1516
mg
Potassium:
948
mg
Fiber:
2
g
Sugar:
12
g
Vitamin A:
1955
IU
Vitamin C:
3.8
mg
Calcium:
344
mg
Iron:
3.9
mg