This air fryer roasted vegetables with sriracha and miso are a mix of all your fall favorite vegetables in a spicy, tangy sauce. These roasted vegetables are a perfect 25 minute side dish for the holiday season.
Eat the rainbow!
I found veggies of all colors to make this easy air fryer vegetables!
It's eye candy and happens to be good for the body too.
I nicknamed this a "Win-win recipe"!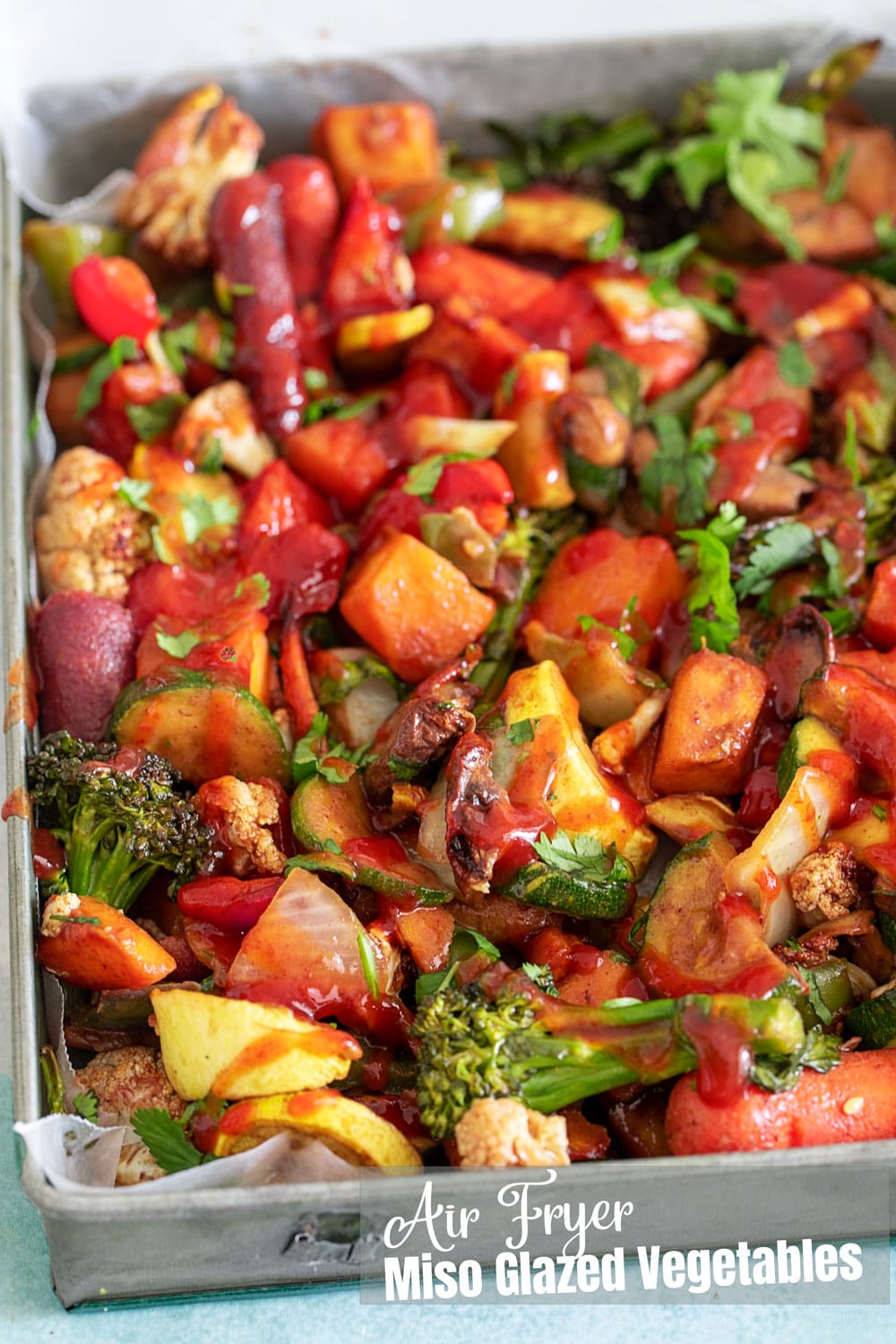 Ingredients
Here is a quick look at the ingredients. It is to understand why these specific ingredients were chosen. To get the full recipe, go to the bottom of this post.
Vegetables – Use any vegetables in season. All vegetables have a tons of nutrition and they will blend well with the sauce.
Miso – Miso is such an underused ingredient. It's fermented soy beans paste that has unbelivable gut healing properties. Even just one tsp of miso in any recipe can go a long way.
Ginger powder – The healing powers of ginger are legendary. They have a strong taste and can alter a recipe flavor for the better. It's so good for the gut, especially if you find it hard to eat broccoli.
Japanese seven spices – these amazing spice is made of 7 healthy ingredients. Nori leaves and sesame seeds provide a powerhouse of nutrition.
Sriracha Sauce – The pepper in sriracha can help lower blood pressure and help lower sugars in the blood. It's all because of the capsaicin in it – Source: TheSpicyShark.com.
Mirin – This traditional Japanese vinegar is heavy with amino acids. Want to know why amino acids are important? Check out my deep dive into complete proteins.
💛 Miso Tip: Yellow miso is the goldilocks of misos. It's not to sweet and not to salty. It's just perfect enough to flavor vegetables.
Tips for making these veggies
Use any veggies you have on hand. The miso sauce will work with all vegetables.
I used broccolini in this recipe, but regular broccoli will work too.
The first time I made these carrots, I kept them whole. That was a mistake because they require a long time to cook. So, I halved them lengthwise and they cooked at the same time with the rest of the veggies.
Once you have added the sauce to the veggies, let it marinate the veggies for about 10 minutes.
Don't like or don't have an air fryer? Use this guide on how to grill vegetables.
🔪 Handy Tip: Buy pre-cut veggies because they will make your life easier. Who wants to chop all these veggies right?
Making this keto recipe and low carb friendly
Everything about this recipe is keto-friendly….
…..except the SRIRACHA!
I know, it saddens me deeply to know and to have to tell you that sriracha is not keto friendly.
What makes sriracha not keto?
Sriracha has added sugars. These sugars are the regular sugars which are highly processed.
So, what can you do instead? The people who make sriracha also make a chili garlic sauce that is very keto friendly. It's the chili garlic sauce and easily found in all grocery stores and even (Affiliate Link) Amazon.
To sweeten this sauce, I used (Affiliate Link) NuNaturals Stevia Alcohol Free Liquid drops. It's a natural sweetener with no artificial flavors in it.
👩‍🍳 Substitution tip: Don't have mirin? You can use white wine vinegar or apple cider vinegar (with Mother).
A cornucopia of veggies
What veggies can you use in the miso glazed vegetables?
Broccoli
Cauliflower
Snap peas
Mushrooms
Asparagus
Bell peppers
Carrots (I used rainbow carrots in this recipe)
Shallots
Butternut squash and squashes of all kinds
Zucchini
Green beans
The sky is the limit with these roasted vegetables recipe. The good news is that you can also roast frozen vegetables in the oven or air fryer.
Cauliflower is optional in this recipe. It works well in this recipe, but, I think cauliflower prefers being the center of a recipe. It shines as a whole cauliflower main course meal or as cauliflower rice.
If you like cauliflower as much as I do, then you are exactly the person who will bookmark this collection of all my favorite cauliflower rice recipes
🥦 Substitution tip: Use vegetables that are in season. This way, you will get the most nutritious veggies.
Red, white and yellow, what's in a color?
You can find miso in 3 different colors. The rule is that the darker the color, the more pungent the taste.
1) White miso
White is the least fermented miso and it's on the sweeter side. If you are new to miso, this is where I would recommend you start. It's milder taste get your taste buds adjusted to the taste.
2) Yellow miso
This is most commonly used miso. It is still on the mild side, but, has a little bite to it. The color says yellow, but they range from light yellow to light brown.
It's the miso I use all the time, like in flavoring eggplant or when making a butternut squash pie. It's the perfect level of fermentation and sweetness for these air fryer miso glazed vegetables. I use the (Affiliate Link) light brown variety
3) Red miso
This miso color packs quite a punch! It's the longest fermented miso and more on the saltier side. When you first open an package with this miso, you will have to take a step back!
The aromas in the red miso are very strong. This miso is generally used to flavor tough meats and sometimes, fish too. It's flavors penetrate the deepest layers of flesh.
Red miso is generally to strong for my taste and I think it's over kill for flavoring vegetables. But, its awesome for the gut bacteria, if you can stomach it! (you see what I did there!?)
Source: Japan Center's Blog, Cookinglight and Bonappetit
🌜 Handy Tip: Make the sauce and let it marinate. I like to make it at about 5 in the evening and then refrigerate it overnight.
How to make roasted vegetables in the air fryer
Start by making the sauce first. If you can make it and keep it overnight, do so. To make the sauce, add 2 Tbsp of yellow miso, 3 Tbsp of coconut aminos, 1 tsp of NuNaturals Stevia drops, 1 tsp of mirin (or rice vinegar), 1 tsp of ginger powder and 1 Tbsp Sriracha or Chili Garlic Sauce. Mix well
In a bowl, assemble the veggies. I use 1.5 cups cauliflower, 7 pieces of broccolini, 1 cup sliced baby mushrooms, 1/2 of a red and green bell pepper, 1 cup of rainbow carrots (halved lengthwise), 1/4 of a sweet onion, 1 cup butternut squash.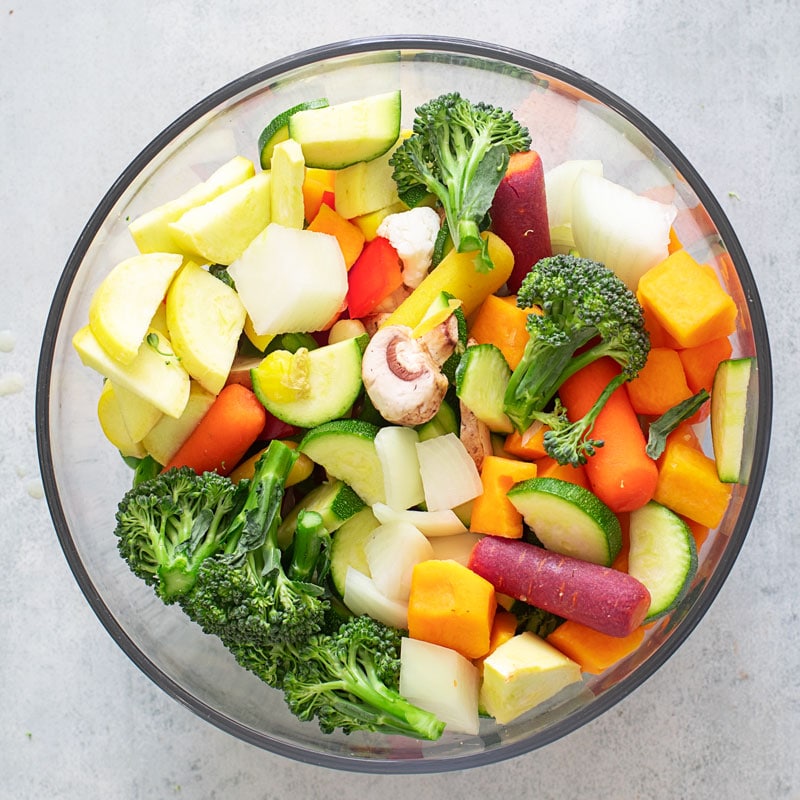 Drizzle the sauce over the vegetables.
Mix well and set it aside for 10 minutes, if you can.
Line just the bottom of the air fryer basket with wax paper. Don't let any of the edges of wax paper be raised. Place the vegetables in it and put the basket back in the air fryer.
Set the air fryer to 300°F and choose the veggie option, if you have it. Set the time to 25 Minutes. The reason I choose the veggie option is because it alerts me at the half way mark to mix the veggies.
At the halfway mark, pause the air fryer and remove the basket. Remember, it's hot so handle with care. Give the veggies a quick mix and place the basket in the air fryer again. Resume the frying process.
Once complete, let it cool for a few minutes before serving. I like to drizzle a little sriracha or chili garlic sauce on top of the veggies before serving. Purely optional step.
I think you are going to like my collection of the easiest healthy recipes!
Answering Common Questions
What is miso?
Miso comes in paste form. It is made by fermenting soy and then, a mold called Koji (Aspergillus oryzae) is injected into it. It can be fermented for months to years.
Are there different types of miso?
Miso comes in 3 different colors. The darker the color of the miso, the stronger the flavor of that miso
– White Miso
– Yellow Miso (most commonly used)
– Red Miso (it's very strong)
At what temperature should I air fry vegetables
Most vegetables can be cooked in the air fryer at 300°F to 148°C. Depending on how many vegetables you have in it, it should take about 10-20minutes to cook.
Storing leftovers and reheating
Place leftovers roasted vegetables in a glass container that has a lid.
Refrigerate the container and use it up within one week.
To reheat, you can put the leftovers in the air fryer and set it to 200. Cook for about 5-10 minutes and serve
Please, do not microwave the veggies because it will loose all/most of its nutrition.
Reheat leftovers only one time. They tend to loose their nutrition power with every reheat.
Try these vegetable recipes
Sharing is caring!
Don't be shy, chime in below in the comments. Let me hear your opinion on this air fryer roasted vegetables recipe. If you tried and enjoyed these air fryer roasted vegetables, please rate it 5 stars! Share it on Facebook, Pinterest, Twitter and Instagram.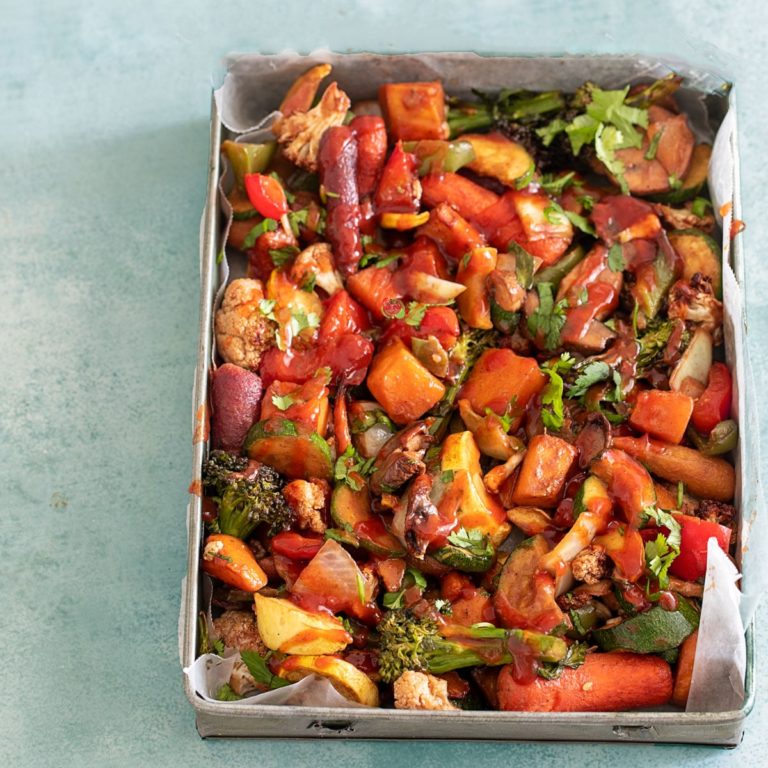 Air Fryer Roasted Vegetables with miso
Quick and easy miso glazed vegetables with sriracha made in the air fryer. With Keto options.
Ingredients
For the vegetables
1½

cups

cauliflower florets

about 10 florets, small or medium sized

7

pieces

broccolini florets

1

cup

baby mushrooms

sliced

½

red bell pepper

½

green bell pepper

1

cup

rainbow carrots

halved lengthwise

¼

sweet onion

bite-size pieces

1

cup

butternut squash

cubed
Instructions
Start by making the sauce first. Keep overnight, if possible

In a bowl, assemble the veggies.

Drizzle the sauce over the vegetables

Mix well and set it aside for 10 minutes, if you have the time.

Line just the bottom of the air fryer basket with wax paper and place the veggies in it.

Set the air fryer to 300°F and choose the veggie option. Set it to 25 minutes

At the halfway mark, pause the air fryer and carefully remove the basket. Give the veggies a quick stir and put the basket back. Resume the air frying

Once complete, let it cool for a few minutes before serving. Optional: You can drizzle some sriracha or chili garlic sauce before serving.
Notes
**** CALORIES INFORMATION IS APPROXIMATE. CONSULT A HEALTHCARE PROFESSIONAL FOR MORE DETAILED INFORMATION.
Nutrition