How to steam broccoli in a pressure cooker? Pressure Cooker Steamed Broccoli is really quick and easy to make. Don't be surprised if you make it everyday! Broccoli cooks in under 10 minutes with very little effort on your part! Now you don't have any excuse to not eat broccoli.
This post contains affiliate links
Do you drool over broccoli like I do?
If you answered yes, you and I going to get along just great!
Broccoli and cheese has always been my favorite combination. I made this broccoli cheese casserole that is so good! I make it about 2-3 times a month!
For most people, broccoli is not appetizing at all. I can't tell you how many times I have heard "yuk" or "get it away from my face!" when I put broccoli in front of them.
Why does this superfood get so much negative reaction is beyond my understanding!
One of the main things I hear is that it takes too much time to cook it and most people don't have the time for it. So, I decided to find a speedy way of cooking it.
Nothing cooks quickly and easily quite like my pressure cooker. I have fallen in love with ever since I made my very first recipe (Vegan Cuban Picadillo).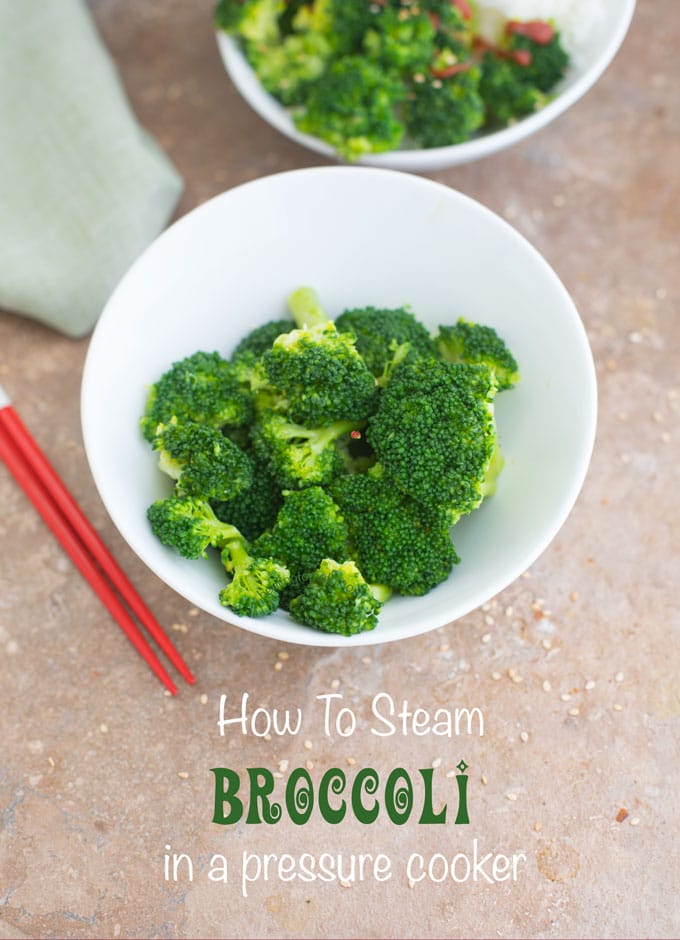 Steaming broccoli in the pressure cooker took less than 10 minutes to make. I got broccoli crowns from my local grocer and then put them in a pressure cooker safe plate. After adding garlic and (affiliate link) Himalyan pink salt, I closed it and went with the "Nutritional Cooking" option.
In about 5 minutes, the broccoli was ready and I dug in with my fork. I had eaten up half of it before I realized that I hadn't photographed it!
So, off I went to the grocery store again and got more broccoli for round 2!
Once pressure cooker steamed broccoli was done, I added a little soy sauce, sesame seeds and sriracha sauce. I put that on basmati rice and devoured it in less than 10 minutes! You can also drizzle the sticky Asian sauce on this broccoli. I used the sauce to mix with sweet potato fries.
Or puree them with other ingredients to make broccoli veggie dippers. There are so many fun recipes to make steamed broccoli, right?
It was that good!
If you want, you can put it in meal prep bowls and save it for lunch during the week. Add things like carrots and bell peppers with the broccoli for additional nutrition.
So, that's how easy it is to make pressure cooker steamed broccoli! Easiest thing ever, right?
What's your favorite broccoli recipe?
Pressure Cooker Steamed Broccoli

How To Steam Broccoli in a Pressure Cooker
Steam broccoli quickly and easily in a pressure cooker using these simple steps

Ingredients
2

cup

Water

To add to the base of the pressure cooker

3

cup

Broccoli Crowns

2

cloves

Garlic

Cut Into Thin Strips

2

Tbsp

Water

For the broccoli

½

tsp

Himalayan Pink Salt
Optional Ingredients
1

tsp

Soy Sauce

Optional

1

tsp

Sriracha Sauce

Optional

¼

tsp

Lime Juice

Optional

1

cup

Basmati Rice

Cooked, Optional

½

tsp

Sesame Seeds

Optional
Instructions
In a pressure cooker, add the water


Place the metal stand that came with the pressure cooker


Place the plate with broccoli on top of the metal stand


Sprinkle the garlic cloves over the broccoli


Sprinkle the salt over the broccoli


Sprinkle the 2 Tbsp of water over the broccoli


Optional: Cover the broccoli with another pressure cooker friendly dish. See notes


Close the pressure cooker with its lid and set the valve to "Sealed"


Power the pressure cooker and choose the "Nutritional Cooking" option


It will take about 5-6 minutes for it to steam the broccoli


Once done, wait for about a minute and then set the valve to "Release". Make sure you face away from the nozzle.


Open the lid and remove the cooked broccoli from the pressure cooker


Optional: Add the soy sauce, sriracha and lime juice to the broccoli and serve over rice

Notes
If you don't cover the broccoli with a second plate, the broccoli will be soft. If you cover it, the broccoli will be slightly crunchy. Choose cover option based on your preference.