Coffee Caramelized Apples in a mason jar with angel food cake, lemon curd and whipped cream! This apple pie Trifle Travels really well, so, take it to picnics or even the beach.
Disclaimer – This post was originally sponsored by Maxwell House. All opinions are my own
Do you love Mason jar recipes as much as I do?
I bet you are just like me and can't get enough of these convenient way to carry breakfast, lunch, dinner and dessert recipes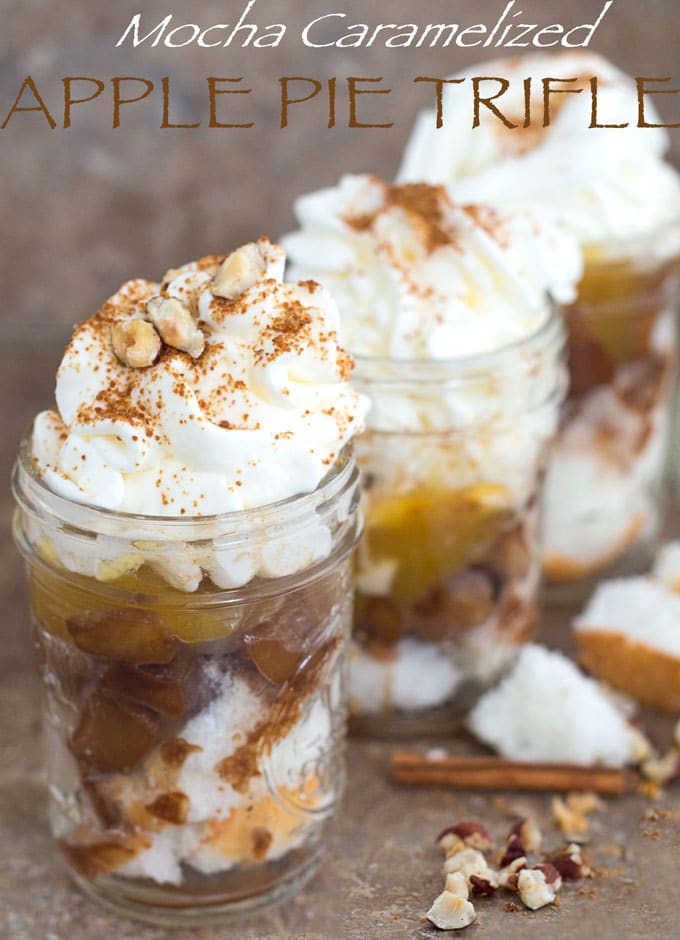 With July in full swing, I figured I needed a "Christmas In July" recipe! This recipe has all the essentials of a holiday recipe. I added cinnamon, nutmeg, apples and lemon curd…
Unlike the holidays though, I wanted to make sure that you didn't have to work really hard to make this dessert. There are so many things to explore and celebrate, so, why spend more time in the kitchen??
Lucky for me (and you), I found the perfect product that fits all the criteria I mentioned above.
Last month, I discovered the new instant coffee that just blew my mind! It is the easiest coffee to make and the flavors are pure Indulgence
The product is MAX Indulge which is an instant mix which is soluble and like nothing I have ever seen before. When you pull that silver tab on the top of the coffee, you are struck by 2 amazing experiences
First, your nose is presented with the most intoxicating aroma of coffee + mocha + chocolate + salted caramel! It is an aroma that is hard to describe! You just have to experience it for yourself to understand what I mean. I felt like I was by a Campfire by the beach with a cup of this coffee in hand!
The second thing that will strike you is the texture. It is a light brown mixture with speckles of white (salt). It almost looks like hot chocolate, but, your sense of smell tells you that it's coffee.
It is a cafe style coffee that is affordable, quick and a super time-saver way of making it at home. All you do is add hot water to it!
The end!
You will have a cup of coffee in your hand in 2 minutes! Isn't that easiest way to make coffee? I feel like you and I have earned this indulgence!
For this Apple Pie Trifle, I went with the Mocha + Salted Caramel flavored coffee. This doesn't surprise anyone because you know how much love i have for anything that is salted caramel! If you are a S'Mores lover (I don't think there is anyone who isn't!), they also have a Mocha + S'Mores flavor which is just as delicious
If I need a quick afternoon perk up, this will become my new go-to coffee drink!
Select WalMart's are carrying this product and I found it in the Tea / Coffee Aisle. Look at how affordable it is! This one can will last me a whole month which is perfect!
You can learn more about this coffee and even get some recipes from their site. Click here to go to their website.
For my recipe, I made a cup of this delicious coffee and used it to marinade apples. To it, I also added cinnamon sticks, freshly ground nutmeg and coconut palm sugar. While it was marinating, I put my feet up and took a power nap!
Nod, if you agree that it's the best way to spend 30 minutes!
Once that was done, I just heated up the apples until they caramelized. Then, I filled up about 4 mason jars (8oz) that I took to a friend's house.
If you are asking yourself why there are only 3 mason jars in all the photos and not 4, the answer is that I couldn't wait until I got to my friend's house!
You can also put pears instead of apples in this trifle. Whenever I have left over pears after making my pear tart, I turn them into a delicious trifle recipe.
I have zero willpower!
How are you going to spend the 30 minutes while the apples are marinating?

Apple Pie Trifle
Mocha Caramelized Apple PIe Trifle
Coffee Caramelized Apples in a mason jar with Angel Food Cake, Lemon Curd and Whipped Cream!

Ingredients
2

Tbsp

MAX Indulge Mocha + Salted Caramel Instant Coffee Mix

1

cup

hot water

2

Green Apples

skinned and cubed

2

stickes

Cinnamon

½

tsp

Nutmeg

1-2

Tbsp

Coconut Palm Sugar

1

tsp

coconut oil

¼

cup

Hazelnut

chopped

1

cup

lemon curd

Whipped Cream

for garnish

1

tsp

Coconut Palm Sugar

for garnish, optional
Instructions
In a cup, add the MAX Indulge Instant Mix

Add the hot water on top of it and mix well

In a large bowl, add the chopped green apples

Add the coffee, coconut sugar, cinnamon and nutmeg

Mix well and let it marinate for 30 minutes

After 30 minutes, heat a heavy bottom sauce pan

Add the coconut oil

Gently, add the apple and the liquid

Bring it to a boil

While the Mixture is boiling, chop about ½ of an angel food cake into cubes

In a piping bag, place a 1" tip at the bottom of the bag

Fill it up with the lemon curd and remove all air bubbles

Turn off the heat when 98% of the liquid has dissipated.

In an 8oz Mason jar (half pint), start by layering with the angel cake cubes

Top with about 1 Tbsp of the caramelized apples

Pipe about 1 Tbsp of the lemon curd into the jar

Top with whipped cream

Drizzle about ⅛ tsp of coconut sugar on top

Finally, add the hazelnut and serve
Notes
– For the best taste experience, this apple pie trifle should be consumed within 30 minutes of being assembled. You can make all the contents ahead of time, but, assemble when ready to serve.
– The prep time includes the time to marinate the apples in the coffee