A hearty, Make-Ahead and freezer friendly Vegan Chili recipe with Corkscrew pasta, kidney beans, veggies and homemade refried beans
Disclaimer: I made this recipe last month to appear as a guest post for Juggling Act Mama's Blog. You can get the full recipe on her blog
We all love chili, am I right? It could be a vegan chili, vegetarian chili or meat chili.
It doesn't matter, we love our chili!
Even readers of Juggling Act Mama love a good chili recipe. And, she has given them so many great chili recipes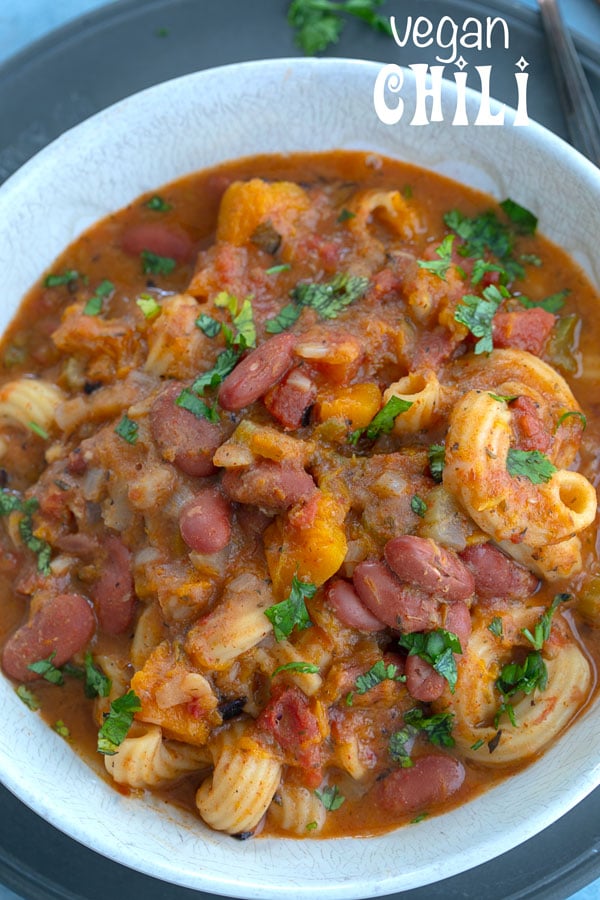 Today's vegan chili recipe is very special because I made it for the Ang's Blog whose name is just the epic representation of women and mothers everywhere
Juggling Act Mama!!
Get the full Dutch oven chili recipe
Ang is an uber talented blogger, cook, mother, crafting genius and all around sweet person. She is an amazing talent and always ready to aid other bloggers
Recently, she put out a call for guest bloggers to bring their expertise to her readers. I knew immediately that I have to accept the challenge.
She told me that her readers love a make-ahead recipe that they can refrigerate and use it later in the week. That concept appealed to me instantly!
My mind went to a vegan chili recipe which was hearty, spicy and delicious!!! I think chili is the best make-ahead, freezer friendly that tastes just as good on day 7! Ang loved the idea and so, I went to work testing it immediately
For this recipe, I did 2 very unique things. One has to do with the addition of pasta and the other has to do with the use of a Dutch Oven to make it.
The Dutch oven is the PERFECT device for making this vegan chili recipe. This is because it slowly simmers and melds all the flavors together.
If you are not following me on Instagram, you are missing out on all the teasers I send out about upcoming recipes. See this recipe and all the my past + upcoming recipe teaser under the "Coming Soon" Highlight
Go to her blog now and get recipe, plus, all my tips and tricks on how to make the perfect vegan chili recipe. I also made this delicious raspberry mojito for her blog.
If you want even more chili recipes, try my beet chili or my vegetarian 3 bean chili.
The Dutch oven is also perfect for a vegan paella recipe.