A hearty, Make-Ahead and freezer friendly Vegan Chili recipe with Corkscrew pasta, kidney beans, veggies and homemade refried beans
Disclaimer: I made this recipe as a guest post for Juggling Act Mama's Blog. Reprinted here with permission.
We all love chili, am I right? It could be a vegan chili, vegetarian chili or meat chili.
It doesn't matter, we love our chili!
Today's vegan chili recipe is very special because I made it in the Dutch oven and it came out so good! Best part is that I had to put in very little effort!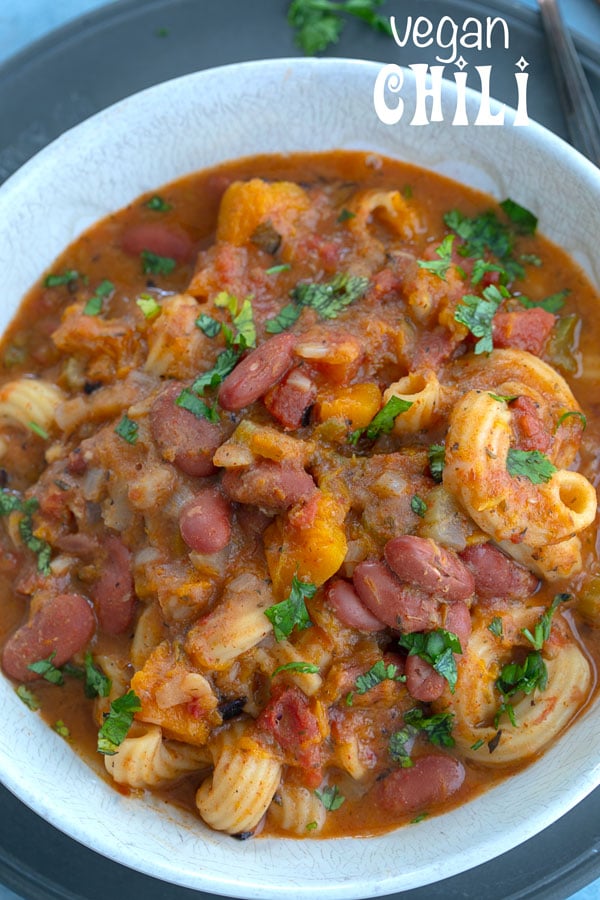 Tips for making this vegan chili in the Dutch oven
For this recipe, I used a large Dutch oven (6.5Qt) to make the chili. This will fit all the ingredients easily and not crowd the Dutch oven.
Make your life easier by buying pre-cut vegetables like celery and butternut squash. Why spend an hour cutting these veggies when you can easily get them from your local supermarket! Spend that hour watching your favorite streaming show.
I always use low salt in my recipes. This is an endless complaint from my family members, lol. So, I recommend you do a taste test at the end to make sure that the salt is just right for you.
Be sure to rinse the kidney beans thoroughly before adding to the chili. When they come out of the can, they are salty and slimy. That salty slime ruins the taste of chili.
Don't refrigerate the chili until you have cooled it completely. Let it cool to room temperature before transferring to freezer-friendly containers.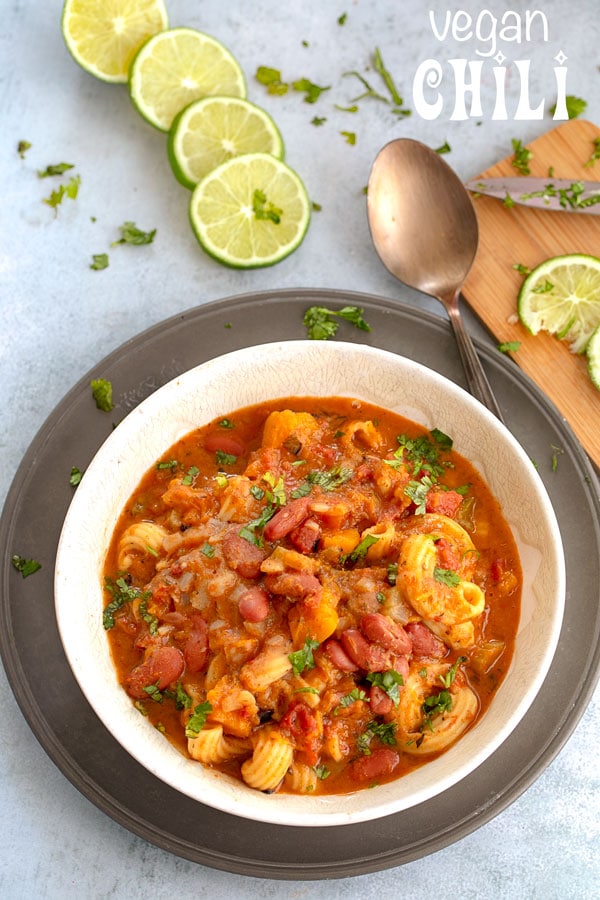 What are the best beans to use in this chili recipe?
Red Kidney Beans (My favorite!)
Pinto beans
Black beans
Red beans
Lentils
Chick peas
Black Eyed Peas
Can I freeze this vegan chili?
Yes! This is the best part of the vegan chili. It tastes good the next day and the day after and 6 months later.
The thing you need to make sure is that you put it in freezer friendly containers. I make sure I use glass containers because they are the best way to freeze and later, thaw the chili.
If you have leftovers, you can put them into tacos.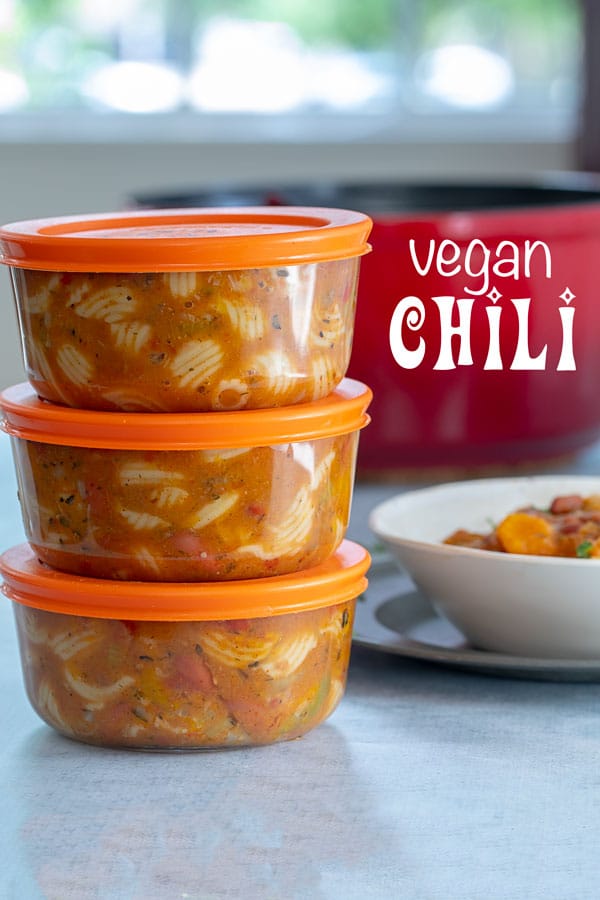 I also make sure I freeze the chili in individual sized containers because they are easy to thaw out. So, if I need to feed only 2 people, I don't have to thaw out 6 servings of it, just to get 2 servings. Does that make sense?
I have saved chili for 4 months and it tasted so good at the 121st day mark. It tasted just like the day it was made. I would kiss whoever invented the refrigerator because they have made my life so much easier!
The other thing I like to make sure is that I have put the date on the container. This chili was made on 3-25-19 for Ang's blog, so, that's why it is dated almost 8 months ago.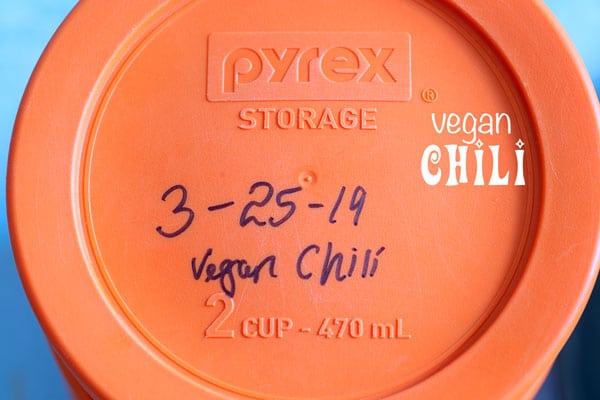 Why do you use refried beans in this chili recipe?
Refried beans thicken this chili and gives it that "meaty" texture. Trusts me, the refried beans are the best part of this chili.
If you can find vegan refried beans in the grocery store, go for it. But, I haven't found vegan refried beans in a long time. Around my area, I have seen vegetarian but not vegan refried beans.
I can get refried beans (affiliate link) from Amazon, but, its much easier to make them at home. I made my own refried beans in the pressure cooker which is super easy to make. The best part is that I got to add some unconventional ingredients.
If you are not sure about what ingredients are vegan friendly, check out my complete guide on what vegans eat and don't eat.
What should I use to cook this chili?
Vegan chili can be cooked in:
Dutch oven (my favorite option because its so easy and tastes delicious)
Pressure cooker / Instant pot
Stove top (this is an easy way to make it, but, it needs lots of attention)
Cast iron put into the oven
Which device is your favorite to cook the vegan chili?
How to make vegan chili
– Preheat oven to 400 degrees
– Place dutch oven on stove and heat on medium heat. I always makes sure the dutch oven is warm before I add any ingredients
– Add the oil and onions, cook for about 4 minutes on medium until they are translucent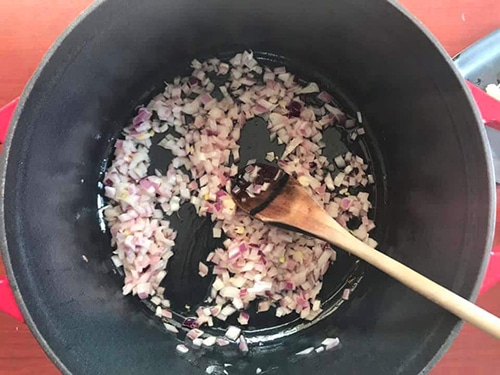 – Add grated garlic to the Dutch oven
Add chopped celery to the onions in the Dutch oven
– Next, add green Bell Peppers, julienned
– Add 1lb (16oz) cubed butternut squash
– Add red kidney beans into the Dutch oven (cooked, from a can, drained)
– Open one can of Fire-roasted tomatoes and put them into the Dutch oven
– Add the dried spices (Thyme, dill, marjoram, cumin-coriander powder and chili powder)
– Add uncooked corkscrew pasta (or any thick pasta) and water. Mix well
– Add 2 Bay Leaves and close the lid
– Place the Dutch Oven in the oven and cook for 90 Min. Turn off the oven
– After 90 min, open the Dutch oven just enough so that you can remove the bay leaves
– Add refried beans, lemon pepper and lemon juice to the Dutch oven. Mix well
– Place it back into the oven. The oven will still be hot, so, no need to turn it on
– Remove after 10 Min, mix it and this vegan chili is ready to serve
How this recipe came to be
Ang is an uber talented blogger, cook, mother, crafting genius and all around sweet person. She is an amazing talent and always ready to aid other bloggers
Recently, she put out a call for guest bloggers to bring their expertise to her readers. I knew immediately that I have to accept the challenge.
She told me that her readers love a make-ahead recipe that they can refrigerate and use it later in the week. That concept appealed to me instantly!
My mind went to a vegan chili recipe which was hearty, spicy and delicious!!! I think chili is the best make-ahead, freezer friendly that tastes just as good on day 7! Ang loved the idea and so, I went to work testing it immediately
For this recipe, I did 2 very unique things. One has to do with the addition of pasta and the other has to do with the use of a Dutch Oven to make it.
The Dutch oven is the PERFECT device for making this vegan chili recipe. This is because it slowly simmers and melds all the flavors together.
If you are not following me on Instagram, you are missing out on all the teasers I send out about upcoming recipes. See this recipe and all the my past + upcoming recipe teaser under the "Coming Soon" Highlight
---
More chili recipes
I have 2 vegetarian chili recipes that can easily be made vegan. Just remove the dairy products from it.
Vegetarian Chili Made With Beets
This hearty vegetarian chili is made with roasted beets and beans
Check out this recipe
Hearty 3 Bean Chili
Make a hearty vegan 3 bean chili using cargamanto beans, black beans and small red beans. It's the ideal chili for your cookouts, tailgating parties or game day parties.
Check out this recipe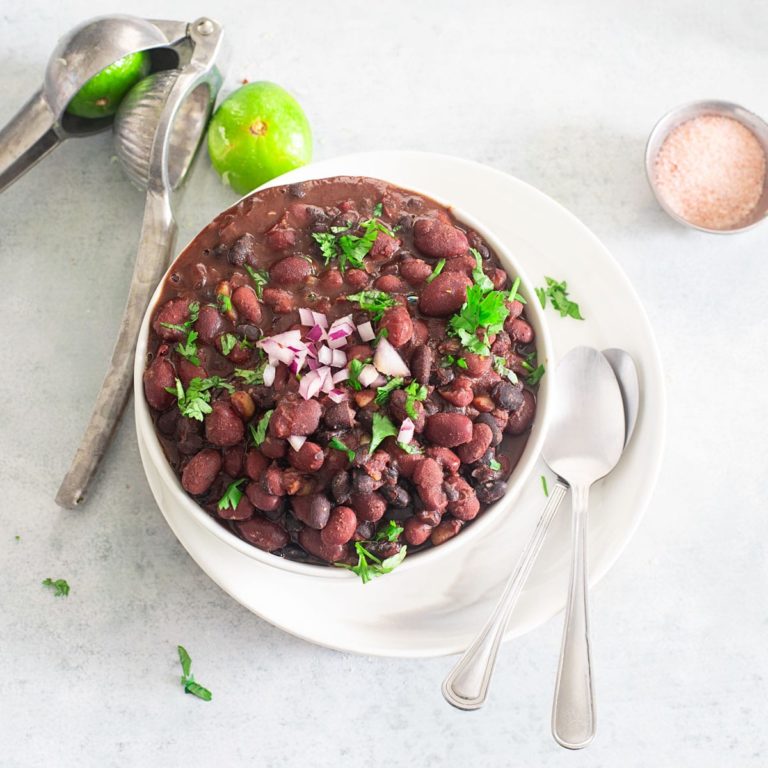 ---
Easy Dutch oven recipes
If you are in love with your Dutch oven like me, here are a couple other recipes you can try. Send me your favorite Dutch oven recipes.
Vegan Sausage Stew
A creamy and hearty vegan sausage stew made with vegan sausage, sweet potatoes, leeks and red kidney beans. This stew is the perfect vegan comfort food.
Check out this recipe
How To Make Vegan Paella
A simple vegan paella recipe made using paella and cooked in a dutch oven

Check out this recipe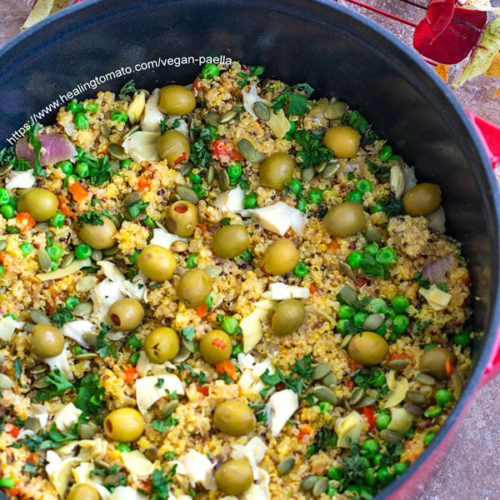 Creole Potatoes and Peas
Creole potatoes and peas with a sinful amount of creole seasoning. These potatoes are cooked in the Dutch Oven and require almost no effort
Check out this recipe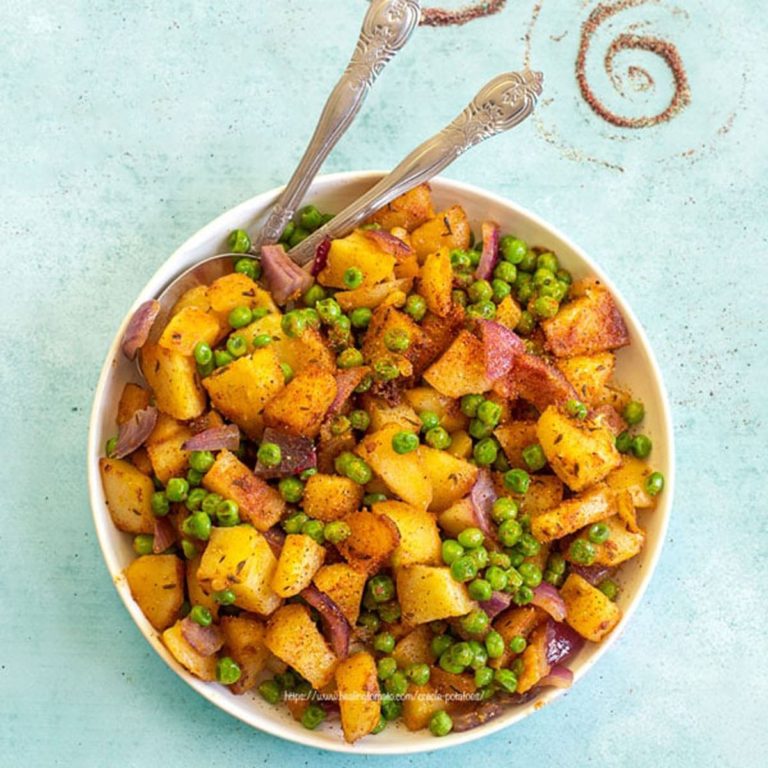 ---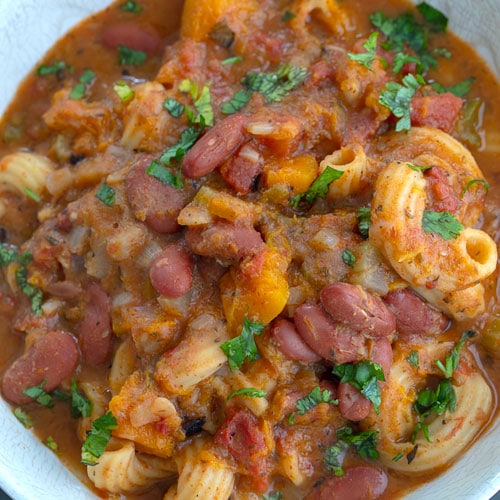 Vegan Chili
How to make a hearty vegan chili using pasta, red beans and refried beans. This vegan chili is made in the Dutch oven
Equipment
6 Quart Dutch Oven

Soup Ladle
Ingredients
2

Tbsp

extra virgin olive oil

1/4

onion

finely diced

5

cloves

garlic

4

stalks

celery

chopped, I used small celery stalks

16

oz

Butternut Squash

cubed

15

oz

fire roasted tomatoes

1

Bell Pepper

julienned

3

tsp

salt

1

tsp

thyme

1

tsp

dill

1

tsp

marjoram

2

tsp

cumin-coriander powder

2

tsp

chili powder

adjust to taste

1

Thai chili

optional

2

cup

corkscrew pasta

uncooked

8

cup

water

1/2

cup

vegetable stock

optional

2

bay leaf

1/2

cup

refried beans

1/2

tsp

lemon pepper
Instructions
Preheat oven to 400 degrees

Place dutch oven on stove and heat on medium heat. I always makes sure the dutch oven is warm before I add any ingredients

Add the oil and onions, cook for about 4 minutes on medium until they are translucent

Add grated garlic to the Dutch oven

Add chopped celery to the onions in the Dutch oven

Next, add green Bell Peppers, julienned

Add 1lb (16oz) cubed butternut squash

Add red kidney beans into the Dutch oven (cooked, from a can, drained)

Open one can of Fire-roasted tomatoes and put them into the Dutch oven

Add the dried spices (Thyme, dill, marjoram, cumin-coriander powder and chili powder)

Add uncooked corkscrew pasta (or any thick pasta) and water. Mix well

Add 2 Bay Leaves and close the lid

Place the Dutch Oven in the oven and cook for 90 Min. Turn off the oven

After 90 min, open the Dutch oven just enough so that you can remove the bay leaves

Add refried beans, lemon pepper and lemon juice to the Dutch oven. Mix well

Place it back into the oven. The oven will still be hot, so, no need to turn it on

Remove after 10 Min, mix it and this vegan chili is ready to serve
Notes
Nutrition info is approximate