Homemade Kale Vegan Waffles for two are so easy to make and they are super delicious. I made a whole stack of these waffles for Sunday brunch and they were no leftovers! Yes, you can taste the kale in it, so, there won't be any leftovers!
Do you own a waffle maker?
I have never owned a waffle maker before!
This is my first waffle maker and I went crazy with it.
These waffles are 100% vegan which was also my first attempt at vegan waffles. I have to say that they turned out so much better than I thought.
They were really fluffy and soft. But, as it happens with a lot of my meals, it got cold while I was photographing them! I placed them in the oven after that to warm them up, but, they weren't the same.
All this is to say that they are best when consumed immediately. Don't wait to photograph them like I did!
This recipe is yet another example of a recipe where I hid Kale. Remember my spicy kale hummus and my cauliflower rice biryani? I believe that kale is one of those veggies that should not be seen or tasted.
But, that is not the case this time. The kale can be seen and tasted in this recipe. If you don't like kale, adjust it to your taste. I used 1 cup of loosely packed kale. You can change it to ½ cup or ¾ cup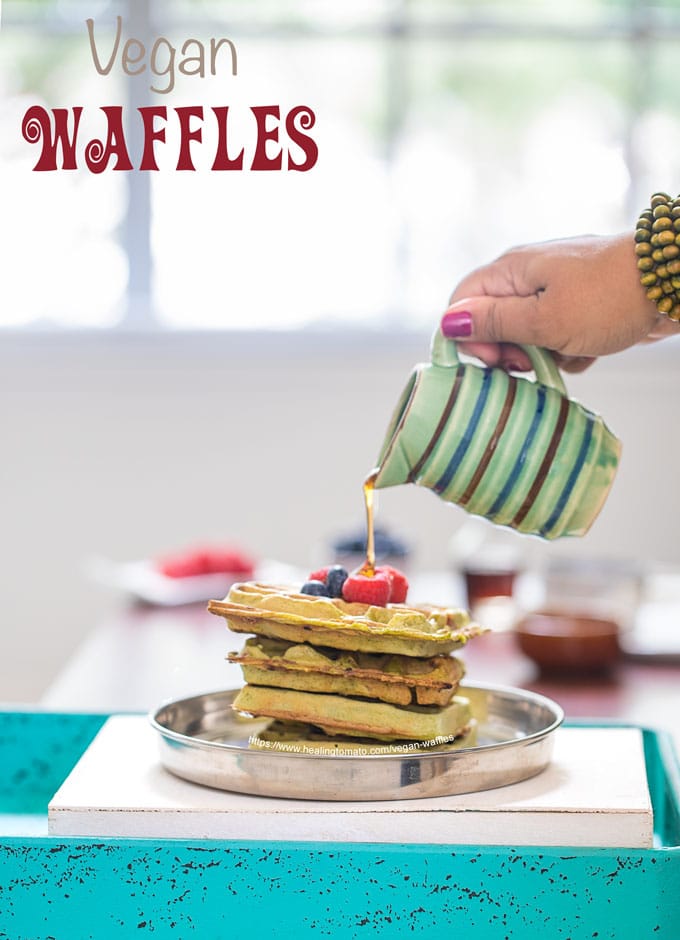 Can vegans eat waffles?
Most waffles have eggs in them which is why vegans can't eat them. However, my recipe is an egg-less waffle recipe, so, feel free to polish off about 3 stacks of these vegan waffles.
Can you eat kale for breakfast?
Kale has so man nutrients that can help you and me start our day right. I say we should try eating kale for breakfast everyday.
Its definitely a challenge, but, I think we can do it. What do you say to that?
Can you freeze these waffles?
Sadly, this waffle recipe is not freezer-friendly. I really wish it was!
If you want, you can freeze the ingredients and freeze them. When you are ready to make them, prepare without thawing the liquid kale ingredients.
Also, these kale waffles only take 15 minutes to make, so, it won't take too much time to make them.
Try chocolate chip waffles with pecans! They are so easy and delicious.
You can overnight freeze any leftover bananas you have and put them into a chocolate peanut butter smoothie bowl. Its perfect for Sunday Brunch along with these waffles!
If you like this kale recipe, try my other fan favorites.
1) Kale curried red lentils (with video)
2) Sweet kale salad (copy cat Whole Foods recipe)
3) Vegan Turmeric Smoothie Bowl
4) Kale Salad with Peaches and Coconut
Vegan Waffles with Kale
15 minute Kale Vegan Waffles with Raspberries

Ingredients
For The Kale Mixture
1.5

cups

almond milk

1

cup

kale

loosely packed, stems removed

½

tsp

pink salt

3

drop

vanilla essence

2

tsp

apple cider vinegar

with "Mother"

2

Tbsp

extra virgin olive oil

¼

cup

fresh raspberries

1

Tbsp

brown sugar

Or coconut palm sugar
For The Batter
1 ¼

cup

all purpose flour

Unbleached

2

tsp

baking soda

¼

cup

almond milk

extra, just in case
Instructions
Preheat your waffle iron


In a blender, add all the ingredients for the kale mixture


Blend on low until all the ingredients have blended


Place a sieve over a glass bowl


Add the all purpose flour


Add the baking powder and sieve gently


Once sieved, gently add the Kale mixture a little at a time


Whisk the batter gently until there are no lumps


If the batter seems to thick, add the extra almond milk


Lightly brush the waffle iron with vegan butter


Add the batter to the waffle iron and cook according to the waffle instructions


Remove and serve immediately


Top with fresh fruits and maple syrup

Other things you can add to it


nutritional yeast

apple sauce

banana

chia seeds

hemp seeds

Flax seed meal

Video
Notes
– These waffles are best when consumed immediately. They will get a little hard
– You can absolutely taste the kale, so, feel free to adjust it to your liking
Additional Ingredients you can add:
nutritional yeast
apple sauce
banana
chia seeds
hemp seeds
flax seed meal