Make this cilantro lime cauliflower rice quickly in your instant pot because it's a great way of subbing white rice or brown rice. It's a low carb and keto recipe to serve to the whole family on busy weeknights.
Want to make cauliflower rice quickly and easily?
Do what I like to do!
Cook the entire cauliflower in the instant pot or pressure cooker.
This is the perfect recipe to make for busy nights. It will be the perfect side dish or main dish.
Tips for making this Instant Pot cauliflower rice
For the perfect cauliflower, use smaller 2Lb ORGANIC cauliflower. Get a fresh cauliflower that weighs less than 3lb. Use the scale that grocery stores provide.
Remove as many of the green stalks as you can. The base may remain raw, if you keep too many stalks.
I set my Instant Pot setting to "steam" for 1 minute. Also, moved it from "high pressure" to low pressure. If you have a cauliflower that is larger than 2.5 lbs, set it to 2 minutes.
To cook it evenly, place the whole fresh cauliflower in a container or (Affiliate Link) steamer basket before putting it in the inner container.
Instead of using hot oil in this recipe, I went with grass-fed butter over olive oil because the butter melts the cauliflower in your mouth. For the vegan option, you can try coconut oil.
Be sure to make it cool the cauliflower before chopping it into cauliflower florets.
Don't make it too mushy in the food processor. I didn't press the chop button for more than 3 times. The big chunks might need more processing.
Cauliflower rice is the new Basmati rice
For a long time, I have LOVED my Basmati rice! Most of the rice recipes on my blog have been made using basmati rice.
It's the rice I grew up on and it's the only rice in existence, as far as I am concerned!
But, a good thing happened last year. I went away from eating too much rice for health reasons. Even though it was good for my body, it was very very very hard to do! Rice runs in my blood!
Just like everyone else, I turned to cauliflower to help satisfy that intense rice craving! It was an easy shift to make because I was able to make most of my usual rice recipes using this wonderful vegetable.
Now, every time I have a rice craving, this perfect cauliflower rice takes the place of traditional rice. Trust me, it's a great alternative.
The health benefits of cauliflower
Low on the glycemic index.
Has Antioxidant fighting nutrients like Vitamin C, Vitamin K, and Manganese (Source: Live Science)
Packed with so many nutrients like Vitamin B6, Magnesium and so much more. (Source: USDA)
It's a cruciferous vegetable that helps fight cancer and gives you better heart health.
Cauliflower is high in choline which is a huge helper for keeping the liver healthy.
Studies have shown that it helps support hormonal balance
Source: Live Science, USDA, BBC Good Food.
Answering Common Questions
Can I use the quick release to open the Instant Pot?
Ideally, you want to let the natural pressure release happen because the Instant Pot is still cooking the contents after the end of the cooking time. If you can't wait, use the pressure valve to release the steam.
Can I use cauliflower florets instead of the whole cauliflower
My first try was using florets and it was a giant mushy cauliflower mess. So, I prefer cooking it whole.
Will my cauliflower get soggy?
If you are making it for the first time, it's because you may have used too much water. Don't add more than 1 cup water to the bottom of the Instant Pot.
What ingredients can be added to this cauliflower recipe?
– Asparagus or Green beans.
– Broccoli which it's great for low-carb diet
– Red bell pepper and chopped onions
– Tofu and tempeh crumbles for a little protein
– Black beans
– Jalapeno or chili powder to add a little kick.
– Soy sauce
What can I use if I don't have a food processor?
You can use a potato masher but be gentle with it. Or, grate big chunks on a box grater. For the processor, use the grater blade.
Freezing cauliflower rice
You can easily make frozen cauliflower rice for meal prep. Follow the recipe as described, but only cook the cauliflower rice. DO NOT add the grass-fed butter mixture.
Let the riced cauliflower cool down after you have food processed it. Then, put it in an airtight container and refrigerate. To freeze the rice, place it in ziploc or freezer-friendly containers. Label the date and use up within a short period of time.
To reheat, place the rice in a 30-second heated wok or skillet (stove top). Add the compound butter mixture and stir using a wooden spoon. Cook for 5 minutes or until all the ingredients are mixed well. This healthy meal is now ready to serve.
Alternatively, you can select sauté option on the Instant Pot and heat it that way.
Try these cauliflower recipes
Looking for easy meals or side dishes? Cauliflower is a very versatile vegetable.
I have roasted a whole cauliflower in the air fryer and it turned out so delicious. Or, make this cauliflower orzo dinner where the sauce is the hero of the recipe.
Want a more "meatier" cauliflower recipe? Use vegan sausage! Or, go the "fishy" route to make this vegan cauliflower sushi bowl.
I have collected a few of my favorite cauliflower recipes and cilantro lime recipes in one place. Which one is your favorite?
Don't like cauliflower? You can use fresh herbs like basil or make scallion butter.
Want to make more Instant Pot recipes? Try these and let me know your favorite vegetable recipes!
A creamy, chunky potato soup is exactly what you need on a cold winter night! So easy to make in the Instant Pot!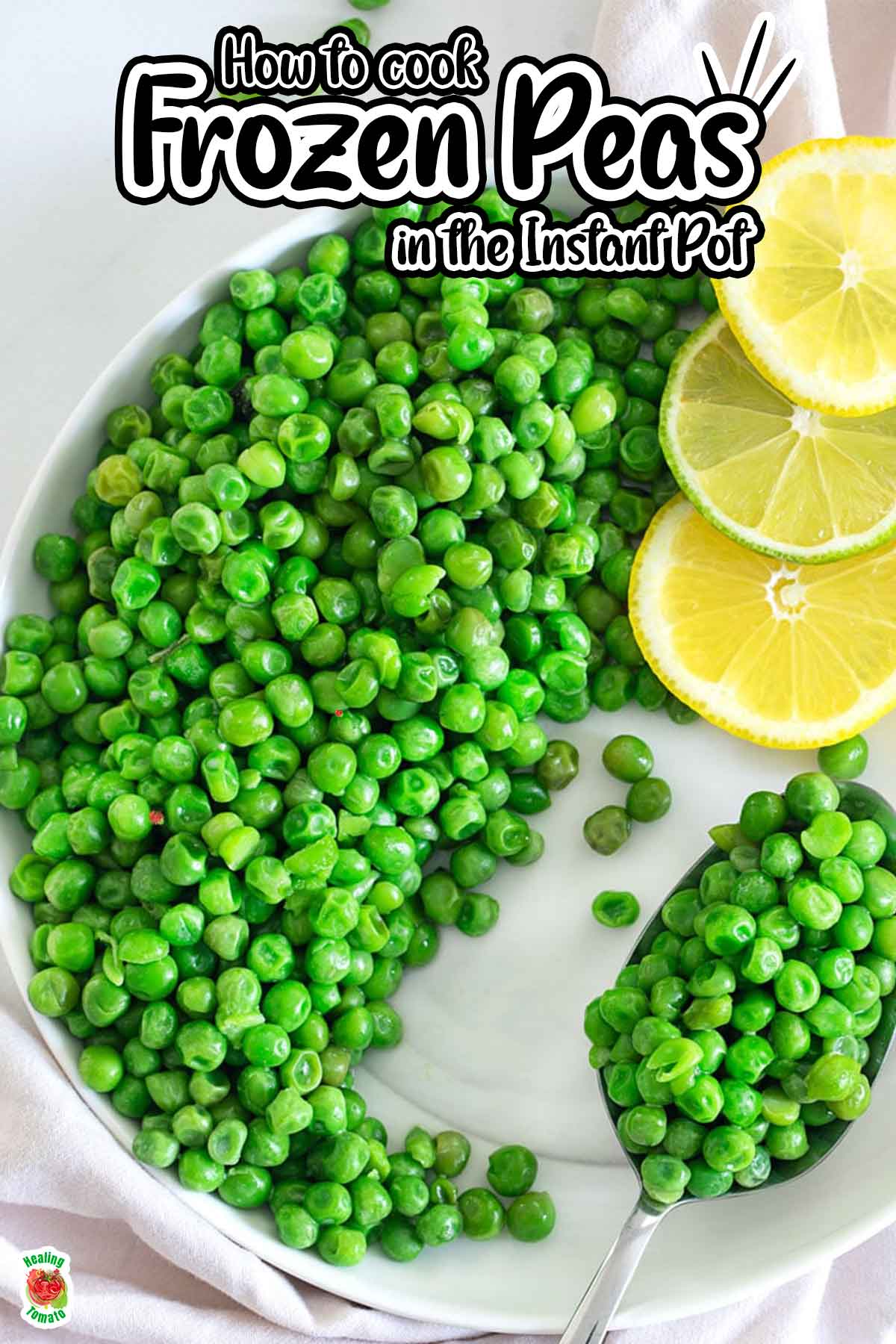 P/S: The Instant Pot I use in this recipe is the (Affiliate Link) Duo Nova Mini 3 Quart version.
Sharing is caring
Don't be shy, chime in the comments below (under the recipe card). Let me hear your opinion on this cilantro lime cauliflower rice recipe. If you enjoyed this, please give it a 5 star rating and share it on Social Media – Facebook, Pinterest, Twitter, Instagram, and even YouTube.
Equipment needed to make it
Instant Pot (6qt)
Instant Pot safe container
Food processor
Knife to cut the cauliflower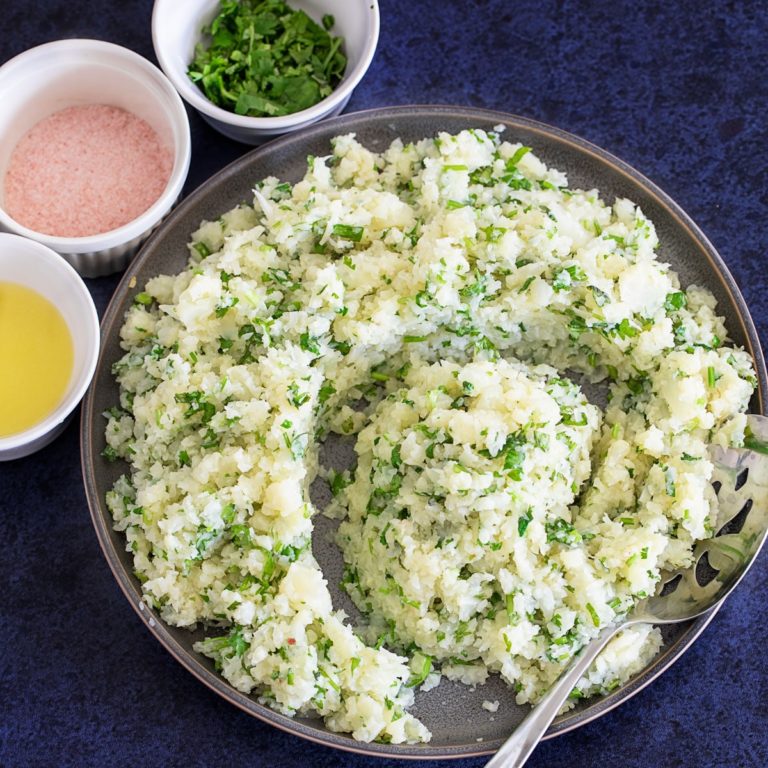 Instant Pot Cilantro Lime Cauliflower Rice Recipe
Quickly make cauliflower rice in your instant pot and add cilantro lime flavors to make the perfect keto dinner recipe. Can be made vegan friendly too.
Equipment
Instant Pot (6qt)

Instant Pot safe container

Food Processor

Knife to cut the cauliflower
Ingredients
1

cauliflower

about 2 to 2.5lbs, 1 head

4

Tbsp

butter

half a stick of grass-fed butter

3

cloves

garlic

2.5

Tbsp

lime juice

about 3/4 of a lime

1.5

tsp

pink salt

adjust to taste

1.5

cup

cilantro

chopped, about 1/2 a bunch of cilantro
Instructions
Cut the green stalks from the bottom of the cauliflower

Place the cauliflower head in an Instant Pot safe container

Put 1 cup of water in the inner container of the instant pot

Place the cauliflower container on top of the water

Close the lid of the Instant Pot

Set the following settings on your instant pot: Choose the steam option, Set the time to 1 minute, Turn off "Keep Warm", Set the pressure to "Low"

Once the instant pot is done cooking, wait for the valve to drop.

Open the lid and remove the cauliflower.

Cut pieces of the steamed cauliflower so that they will fit in your food processor

Chop the cauliflower until the cauliflower is chopped but not mushed.

Wash your instant pot container, dry it and place it in the instant pot

Set the instant pot saute and then add the butter in it.

Gently transfer the cauliflower rice to the container

Add the garlic, lime juice and cilantro.

Mix well and cook for 2 minutes or until all the butter has completely melted

Now, it's ready to serve.
Notes
** CALORIE INFORMATION IS APPROXIMATE. PLEASE CONSULT YOUR HEALTH CARE CONSULTANT FOR MORE ACCURATE INFORMATION
I like working with smaller size of cauliflower. My cauliflower was about 2lbs. Try to keep your Cauliflower under 3 pounds.
Remove as many of the green stalks as you can. The base remains uncooked, if you keep to many stalks.
I set my Instant Pot setting to "steam" for 1 minute and put it on low pressure. If you have a cauliflower that is larger than 2.5lbs, set it to 2 minutes.
Use a container to place the cauliflower in before putting it in the Instant pot. It will cook the cauliflower more evenly.
Instead of using oil in this recipe, I went with grass fed butter and that made ALL the difference. Butter is so much better because it made the cauliflower practically melt in your mouth.
You can u se vegan butter too, but, I preferred using regular butter in this recipe because it doesn't have any additional seed oils.
Once you have cooked your whole cauliflower, use your food processor to turn it into rice. It's faster and easier than trying to cut it by hand.
Be sure to make it cool down first before chopping the cauliflower. It's better for your food processor.
Don't make it too mushy in the food processor. I didn't press the chop button for more than 3 times. Eyeball it and see if it looks mushy or not. It will depend on your food processor.
You may have to put some of the large pieces back in the food processor to make them smaller.
Use as many organic ingredients as you can in this recipe.
Nutrition