Take plain old butter and turn it into a compound butter by adding basil to it. Herb butter gives butter a bold flavor and you can put it in almost any dish.
This recipe serves two purposes: It helps preserve fresh basil and makes butter taste really good!
Basil always go bad and then I kick myself for not doing something about it.
When butter, basil and garlic come together, I know my taste buds are in for a treat!
What is meant by compound butter?
Compound butter is when regular butter is "compounded" or mixed with other ingredients to enhance it's flavor.
These butters are made by using regular store bought butters that are softened first to make it easier to mix other ingredients. Even melting the butter until it's liquid is acceptable way to mix other ingredients.
Herbs are a favorite way to enhance butter in my home. I have tried rosemary, mint, thyme, parsley and even sage.
What is your favorite herb butter to make?
How to use compound butter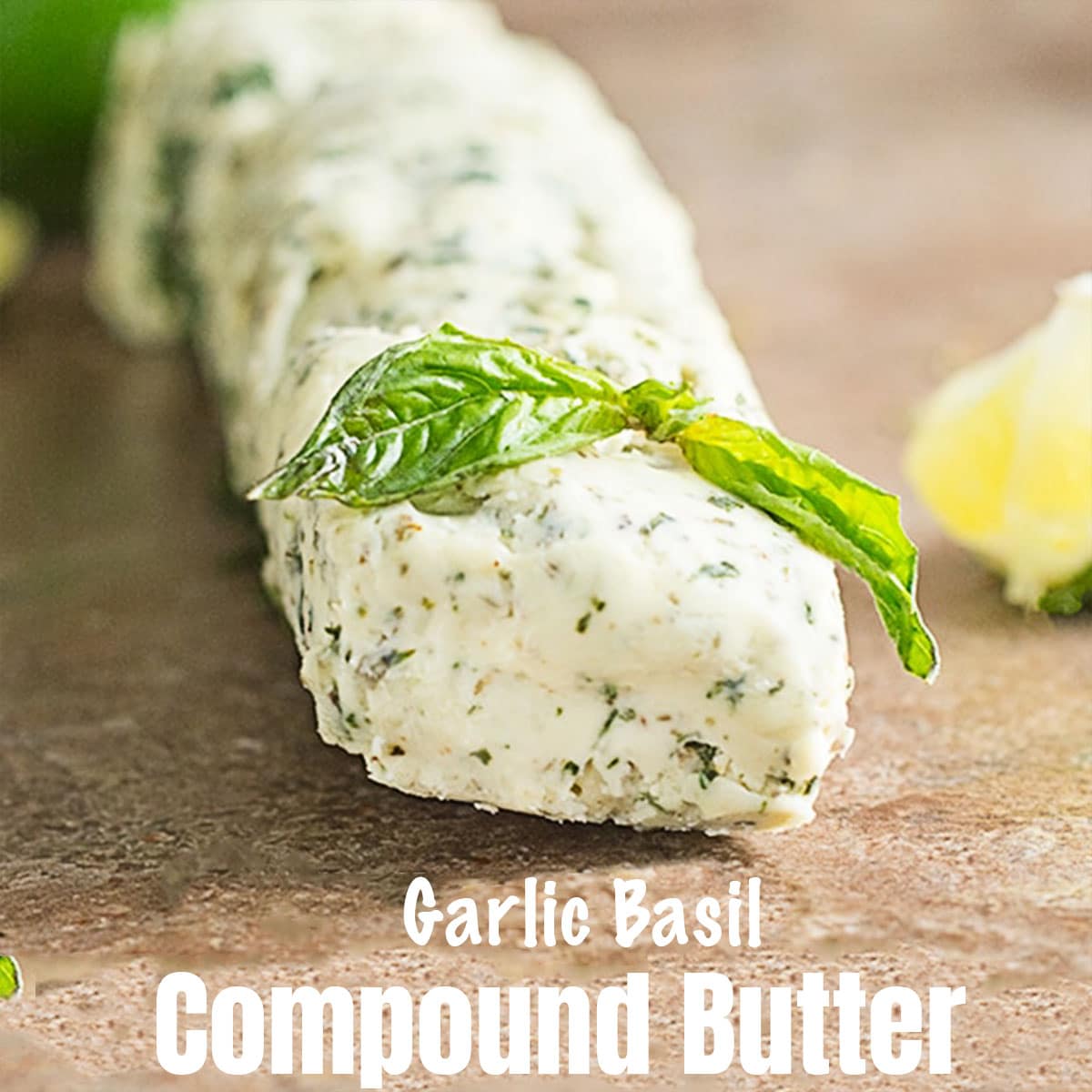 More ways to preserve fresh basil
Make pesto out of it
Puree them and put them in ice cubes (like I did with pumpkin puree)
Freeze the basil leaves in a freezer friendly bag and then add them to soups, stews and pasta sauces.
Put it into a pickle veggies recipe like tomato pickles or veggie pickles.
Put them into a compost pile (if they are starting to go bad)
How to make garlic herb butter
Prepare: remove 1 + 1/2 grass-fed butter sticks from the fridge and let it warm up to room temperature
1) Take 2 cloves of garlic and slice them thinly
2) Add 1/4 tsp of coconut oil to these garlic and mix well. Coconut oil is better for roasting garlic in this recipe because it freezes better than olive oil
3) Place the garlic on a baking tray and roast in your mini oven. Roast until they are light brown. Mini ovens are different for everyone, so, choose a lower temperature like 200°. Should be ready in just 2 minutes
4) While the garlic is roasting, cut the stalks off from 8 leaves of basil. Chop the basil as finely as you can
5) Take half of a lime and juice it. Set aside
6) In a mini processor, add the chopped basil, roasted garlic, lime juice, 1 Tbsp of dried oregano, 1 Tbsp of parsley and the vegan butter. You can slice the butter into smaller pieces to make it easier to add into the processor
7) Blend on low speed until everything is blended. It will have a creamy consistency and that's ok.
8) Cut a long piece of parchment paper. Transfer the basil infused butter to the parchment. Make a log shape, but, it doesn't have to be a perfect log shape
9) If the butter is too creamy to roll, put the parchment paper and butter into the freezer for a few minutes
10) Remove it and roll it into a log and place it in the freezer for about two hours
Personally, I like leaving it in the parchment paper and in the freezer. It is very easy to melt pieces of it when I need it.
Note: Do not add salt to the butter because the recipe it will be used in will have its own salt requirement
I am a huge fan of blending butters. Recently, I made a lemon balm butter that is simply heavenly!
I have a collection of even more compound butters and a huge guide to why butters are good for you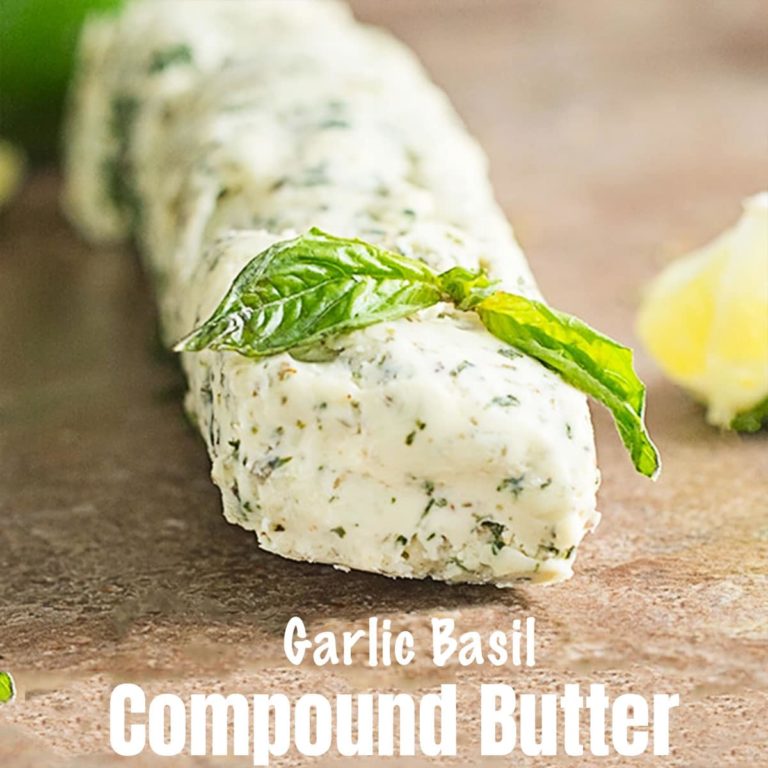 Garlic Basil Compound Butter
How to make compound butter using garlic, basil and lime. Easy grass-fed compound butter recipe that can be used in so many recipes.
Ingredients
1.5

sticks

butter

Use grass-fed butter, Room temperature.

2

cloves

garlic

thinly sliced

1/4

tsp

coconut oil

8

leaves

basil

fresh

1/2

lime

juiced

1

tsp

lime zest

1

Tbsp

oregano

dried

1

Tbsp

parsley

dried
Instructions
Preheat mini oven to 200°F

Mix coconut oil and garlic

Place the garlic on a baking tray and roast until light brown

While the garlic is roasting, chop the basil as finely as possible

In a mini processor, add all the ingredients

Blend on low speed until everything is blended. It will have a creamy consistency and that's ok

Cut a small piece of parchment paper

If the butter is too creamy to roll, put the parchment paper and butter into the freezer for a few minutes

Remove it and roll it into a log and place it in the freezer for about two hours

Keep the butter in the freezer in a parchment paper
Notes
Do not add salt to the butter because the recipe it will be used in will have its own salt requirement
Nutrition info is approximate