Vegetarian Lasagna made with fresh vegetables baked with al dente lasagna noodles and layered with cheese, tofu ricotta and a rich tomato sauce. This is also a freezer-friendly vegetable lasagna, so, it can be made ahead and served during the week. Trust me, you won't miss the meat in this lasagna recipe.
This post is brought to you by Bertolli. All opinions are mine.
It is that time of the year again. The time when spring arrives and a bunch of vegetarian foodies get together to show off our latest creations. Last year, I took my broccoli pasta recipe and it was a huge hit.
This year, I am taking this hearty homemade lasagna that is packed with spring veggies and layered with cheese sauce. Instead of using ricotta cheese, I opted for silken tofu. It turned out to be a much more delicious and healthy option.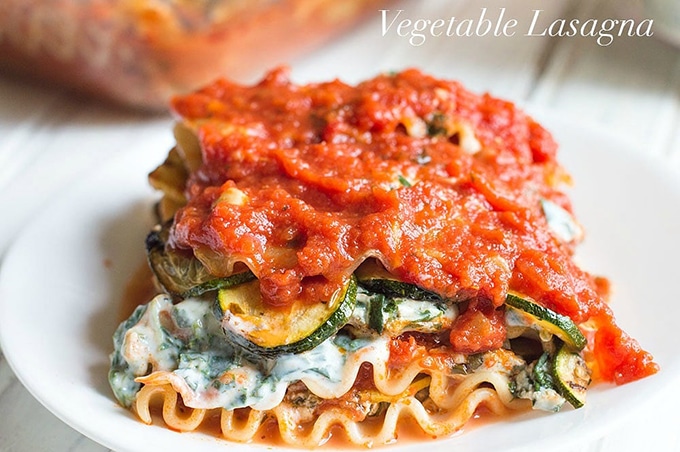 I have always wanted a hearty lasagna recipe that everyone can eat and not feel like they are missing out on the meat. The key is to include "meaty" vegetables like mushrooms and squash so that they are filling.
In my version of a vegetarian lasagna recipe I put zucchini, spinach, squash and silken tofu. I cannot tell you the wonderful aroma that was coming out of my kitchen when I made the lasagna this morning.
It filled my home with the aroma of Tuscany in the spring.
The best part of this recipe is that its freezer friendly! That means you can make it and freeze it for one week. Personally, I like to freeze it right after I layer everything.
Then, I wrap it in aluminum foil, including the bottom of the casserole dish. This way, the whole dish freezes evenly which is exactly how I like it.
When ready to use, I remove the foil and put it into a 475° preheated oven. I am not a fan of thawing most freezer friendly recipes because I don't like to give the ice a chance to melt. This recipe will cook and thaw at the same time, meaning the ice will not have a chance to turn into water. It will take about 30-35 minutes to fully cook this frozen lasagna
The other option is to freeze the fully cooked vegetarian lasagna. Once its cooked, you can let it cool to room temperature. Then, wrap it in foil and freeze it. For me, I try not to freeze it beyond a week. But, it should be good for about 2 weeks. When you are ready to use it, place it in the oven for 20-25 minutes in a 475° preheated oven.
You can put ricotta instead of the silken tofu, but, I preferred using silken tofu to make vegan ricotta. When I experimented with the vegetarian ricotta, I found it too rich for my taste.
If you are a fan of Italian recipes, try my Gnocchi recipe with Asparagus , Orecchiette Pasta with Basil Pesto or my Angel Hair Pomodoro. We are huge fans of Bertolli sauce in our home because I can make recipes like a stuffed shells recipe.
Now, I am off to entertain a whole bunch of hungry vegetarians. They are going to devour this vegetarian lasagna, casserole dish and all!
Share your favorite pasta dinner idea below.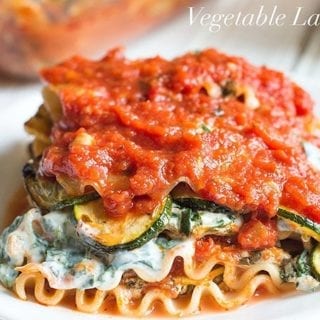 Homemade Vegetarian Lasagna Recipe
A simple homemade vegetarian lasagna recipe made using veggies and soft tofu

Ingredients
2

bottles

Bertolli Five Cheese Sauce

1/2

box

lasagna noodles

3

yellow squashes

medium sized, cut into rounds

3

zucchinis

medium sized, cut into rounds

2

tsp

dried oregano

2

tsp

dried basil

2

tsp

dried parsley

2

tsp

dried rosemary

1

tsp

salt

2

Tbsp

extra virgin olive oil

4

cups

silken tofu

3

tsp

salt or to taste

for the tofu

2

tsp

whole peppercorns

for the tofu

3

cups

spinach

thawed and drained

1

tsp

lemon zest

2

cup

mushrooms

white button, thinly sliced

1/4

red onion

julienned

3

tsp

extra virgin olive oil

for sauteing the mushrooms and onions

1

tsp

salt

for sauteing the mushrooms and onions

1

tsp

oregano

for sauteing the mushrooms and onions

water

to boil the lasagna
Instructions
Preheat the oven to 475 degrees.


Boil the water and add the lasagna noodles. Cook until they are soft. Drain and set aside


In a bowl, add the sliced zucchini and squash.


Add dried spices, salt and extra virgin olive oil. Mix well


Spread the vegetable mixture on a baking tray and place in the oven.

Let them roast for about 20 minutes or until the edges start to brown. Remove and allow them to cool

While the veggies are roasting, add silken tofu to a food processor

Add salt for the tofu and whole peppercorns to the silken tofu

Add the spinach, lemon zest to it and blend on low speed until everything is blended


Place the tofu mixture in a separate bowl and refrigerate for 30 min

Heat a pan on medium heat and add extra virgin olive oil after 30 seconds


Add salt and oregano. Saute on medium heat until the mushrooms are browned and water has evaporated


In a casserole dish, start by adding the sauce at the bottom of the pan (about 2 tsp)

Lay down 3 cooked lasagna noodles on top of the sauce (or enough to line the whole bottom)


Spread the tofu mixture on top of the lasagna noodles. Be generous.

Top with the zucchini and squash mixture.

Top with Bertolli 5 Cheese Sauce.

Repeat from the lasagna layer and continue until you are on the last layer.


On the last layer, layer with the mushroom and onion mixture.

Close with one last layer of noodles and spread any remaining tofu mixture on top. If you have any veggies left, layer them too

Add one last layer of Bertolli sauce and place in the oven.


Optional: layer with cheese of your choice, if desired


Cook for about 25 minutes or until the noodles start to brown.

Remove the lasagna from the oven and let it cool for about 5 minutes before serving.
Notes
This lasagna will taste great next day also.