Simple vegan green beans and potatoes recipe made with simple spices. Side dish or perfect lunch meal for vegans, vegetarians and omnivores. Takes 30 min or less
Green beans and potatoes are a match made in heaven!
These green beans and potatoes have corn + red kidney beans.
After a long, hard day at work, I want delicious comfort food that has nutritional value too.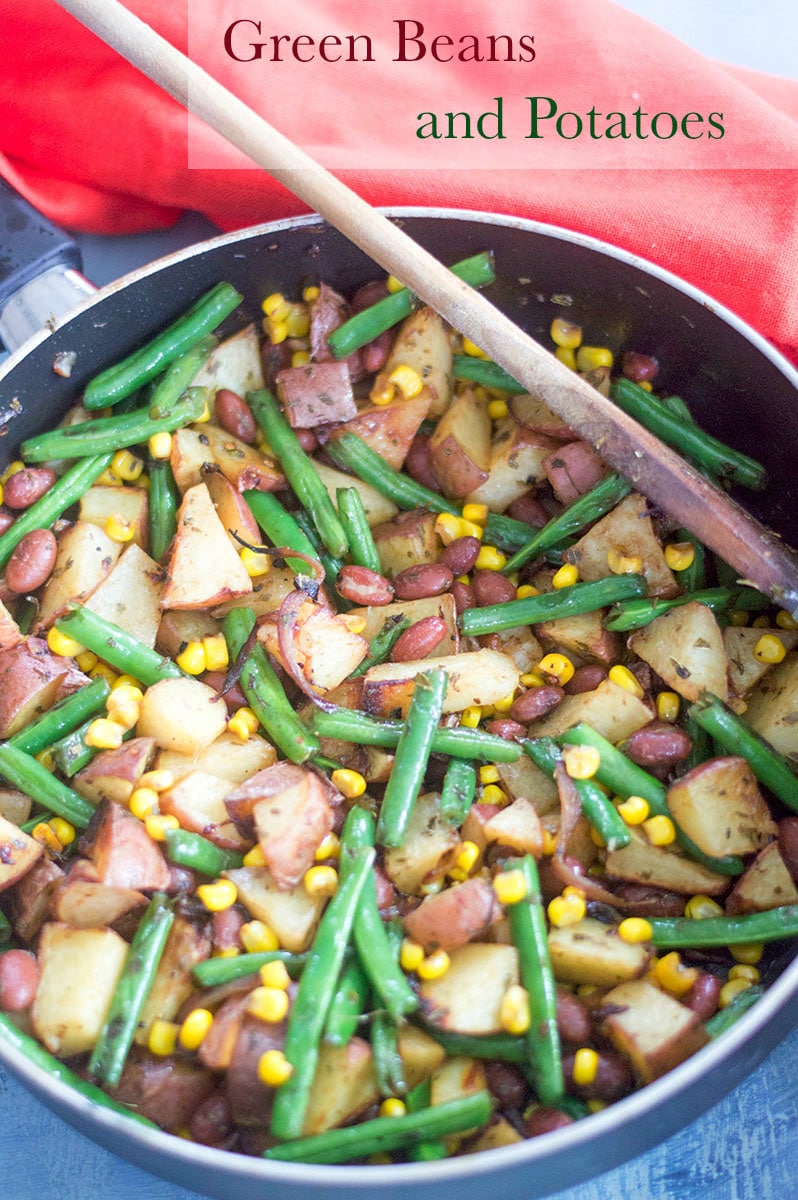 This is one of those meals I like having after a long and productive day. It replenishes all the energy that spent during the day and also tastes scrumptious.
This dish makes vegetarians and omnivores drool equally which is always my ultimate goal when I make food.
I think there is a feeling to being content after having a bowl of this green beans and potatoes.
Green beans are perfect in casseroles, but, I prefer seeing my green beans as this vibrant green color. Last year, I made a tangy green bean salad where I paired it with apples.
Green beans and apples were meant to go together. They both have a wonderful crunch to them and they also compliment each other's flavors.
Today's recipe is an homage to all those who labor day in and day out to keep our cities running. Kick your shoes off, put your feet up and enjoy a huge bowl of this recipe!
Vegan Green Beans and Potatoes
1) Preheat oven to 400 degrees
2) Thoroughly wash 3 medium sized potatoes and dry them. Cut them into small wedges and place them in a bowl. Add 2 tsp of olive oil and 1 tsp of salt. Mix well and then place them on a baking tray. Put in the oven and bake until they turn brown but not mushy. It should be about 10 minutes or less
3) While the potatoes are cooking, thoroughly wash about 20 green beans and dry them. Cut the ends off and then snap each into two pieces. Set aside
4) Take a medium pan and add 3 tsp of olive oil. Heat at medium heat and then add 4 cloves of garlic that are thinly slices
5) Add 1/4 of a red onion, julienne
6) Mix well until the onions are caramelized. Should be about 5 minutes on medium heat. Make sure the onions don't burn
7) Add the cut green beans, 1 tsp of salt and mix well. Keep the heat at medium but stir occasionally to cook them evenly.
8) Add 1/4 cup of red kidney beans and 1/2 cup of corn. If using frozen corn, thaw it for 30 seconds in the microwave. Wash canned kidney beans thoroughly before adding to the pan
9) Add 1 tsp of freshly ground black pepper, 1/2 tsp of dried parsley, 1/2 dried thyme and 1 tsp of dried oregano. Mix well
10) Let them cook for a few minutes and then add the potatoes. Adjust for salt and pepper, if needed
11) Add 2 Tbsp of red wine vinegar and mix one more time.
Remove from heat and serve. These green beans and potatoes are perfect by themselves or work great as a side dish

Vegan Green Beans and Potatoes with Corn
Simple vegan green beans and potatoes recipe made with simple spices. Side dish or perfect lunch meal for vegans, vegetarians and omnivores. Takes 30 min or less
Instructions
Preheat oven to 400 degrees

Place potatoes in a bowl and add oil and salt

Mix well and then place them on a baking tray


Put in the oven and bake until they turn brown but not mushy (about 10 minutes)


While the potatoes are cooking, thoroughly wash green beans and dry them.


Cut the ends off and then snap each into two pieces. Set aside

Add olive oil to a heated pan and add garlic

Add 1/4 of a red onion, julienned

Mix well until the onions are caramelized, not burnt (about 5 minutes)

Add the cut green beans, and salt, mix well


Keep the heat at medium but stir occasionally in order to cook them evenly.

Add red kidney beans and corn

Add black pepper, parsley, thyme and oregano. Mix well

Let them cook for a few minutes and then add the potatoes


Adjust for salt and pepper, if needed

Add red wine vinegar and mix one more time.

Remove from heat and serve

Nutrition
Calories:
259
kcal
Carbohydrates:
40
g
Protein:
8
g
Fat:
8
g
Saturated Fat:
1
g
Sodium:
1577
mg
Potassium:
1101
mg
Fiber:
8
g
Sugar:
2
g
Vitamin A:
320
IU
Vitamin C:
32.1
mg
Calcium:
94
mg
Iron:
8.3
mg