Easy Aloo Bhindi fry is an Indian style recipe that is perfect dinner meal or side dish. They are pan fried okra and potatoes ready in 30 minutes
Do you know that Okra is often referred to as "Ladies Fingers"
Growing up, we always called it Ladies Finger when referring to it in English. In Indian, we call it "Bhindi" or "Bhinda"
No matter the name, this vegetable is delicious when prepared correctly. Do you agree?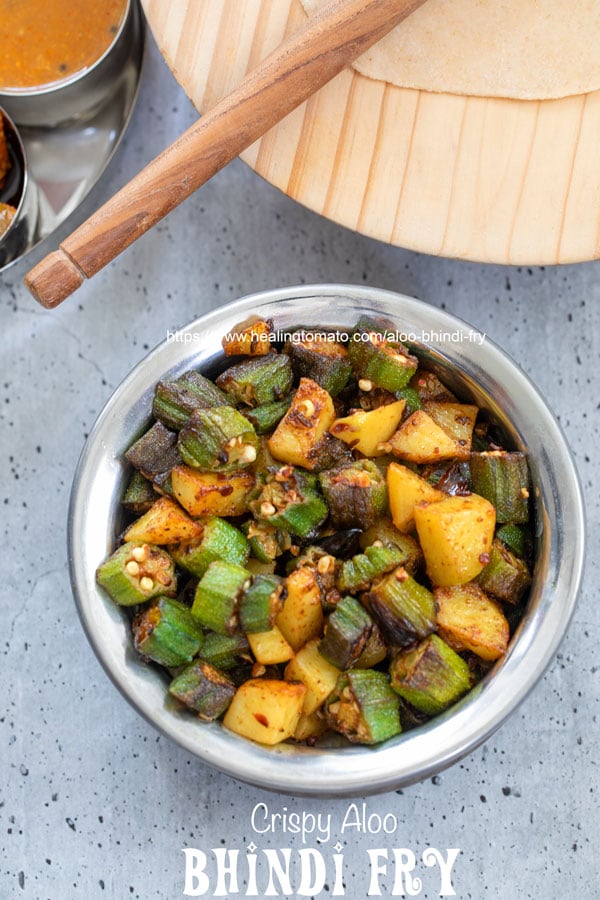 Tips for making this recipe
Cook the bhindi first. When it is partially cooked, add the potatoes
Do not cover the pan. The condensation and steam can make the bhindi slimy
The potatoes are optional, but, I highly recommend them
Use the pan-tossing method over stirring with a spoon. Les slime that way
Bhindi 101 – The seeds in the bhindi are edible. I know this is obvious, but, when I was a kid, I used to remove the seeds thinking that they were not edible. 🙂 You live and learn, right?
Use a wok or a wide pan. Give the bhindi plenty of room to cook by itself
Want to know how to cook okra perfectly each time? I created a how-to guide for working with okra.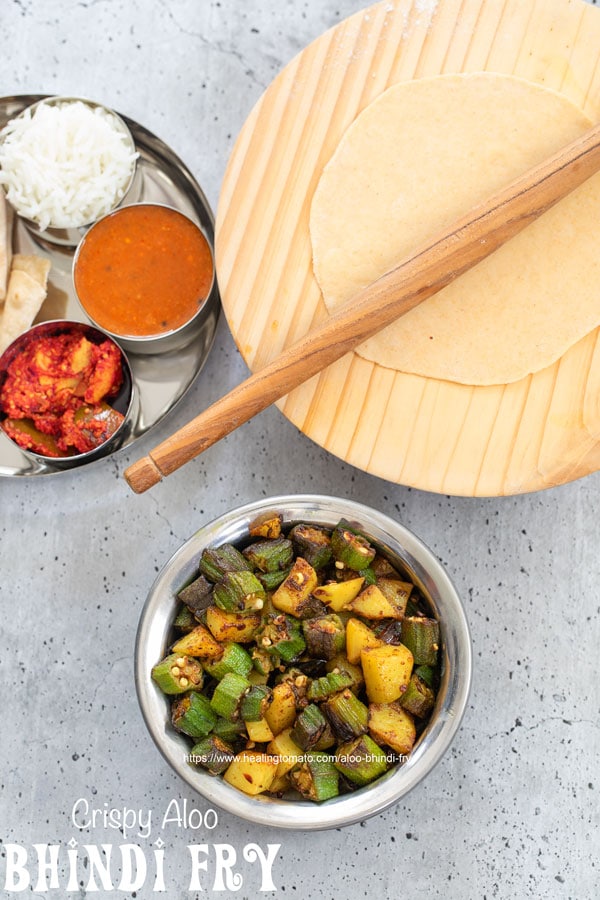 Dry vs. stuffed bhindi
Dry bhindi fry is rarely made in Indian cuisine. Its more common to stuff the bhindi with a chickpea flour base.
Growing up, we ate both kinds and both are my favorite. Its hard to choose between the two, if you ask me. Both recipes bring out the best in okra.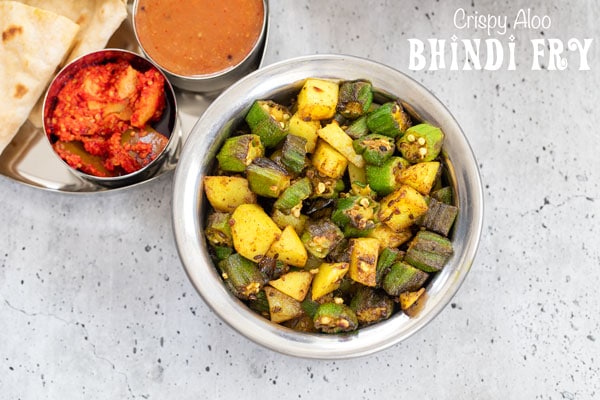 For this post, I decided to go with dry bhindi fry because I don't see too many people making it. It makes me sad that the dry bhindi doesn't get as much love.
With the stuffed bhindi recipe, you can skip potatoes. With the dry bhindi, I prefer having the potatoes in it.
Do you love dry bhindi and stuffed bhindi?
What to serve with it?
Bhindi fry is usually served with a side of rice. My favorite rice to use is basmati rice, so, I always serve bhindi with flavored rice. Here are my favorite rice recipes to serve with bhindi fry.
A few Indian rice recipes to serve with it
How to make bhindi and aloo fry
Cut the okra into large pieces. The photo image below makes the okra look small, but, its not. Cut 1 okra into 3-4 pieces.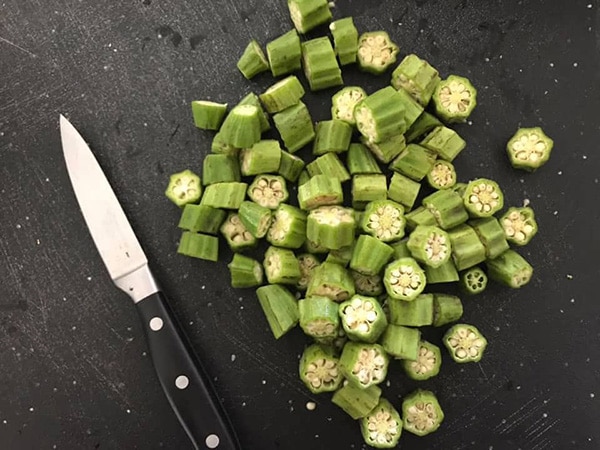 Peel and cut the baby potatoes in the same size as the okra
Heat a pan on high heat for 30 sec. Keep the heat on medium high throughout the cooking process for this bhindi fry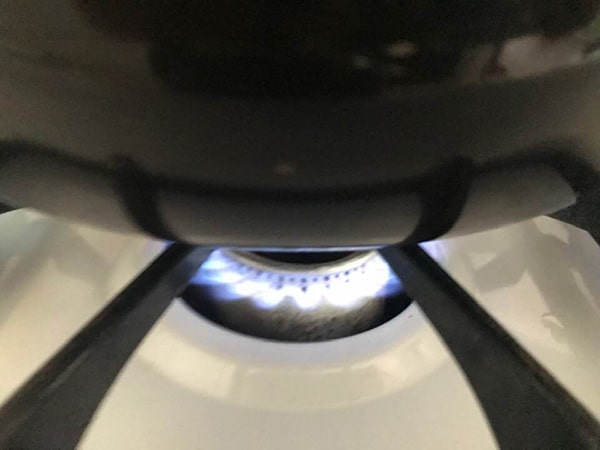 Add oil and cumin seeds to the oil
(Optional) Add dried chili. I like to roughly tear it up and add to the oil. Cook until cumin has browned slightly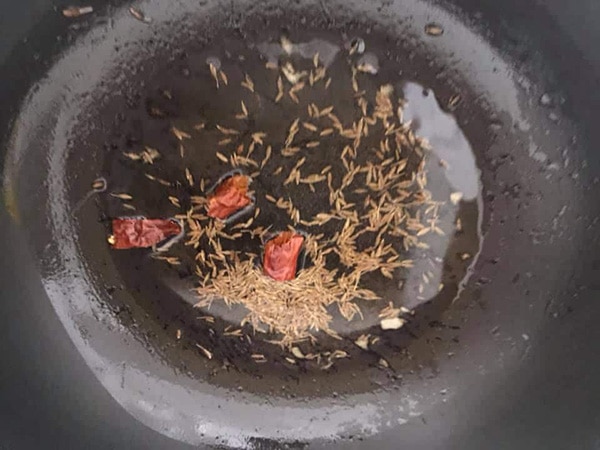 Add 3 cloves of garlic (thinly sliced). Cook it for 30 seconds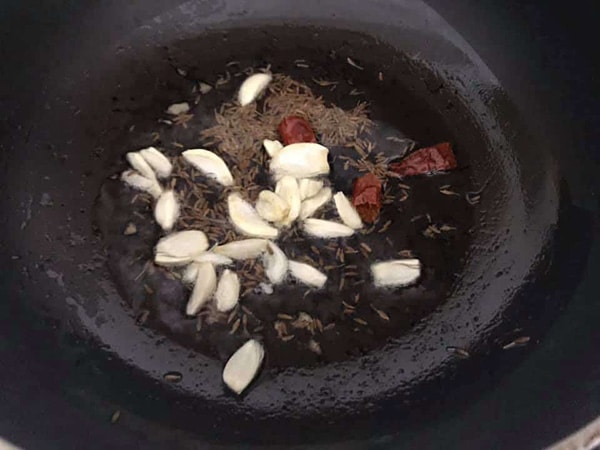 Add 1/2 tsp of red chili powder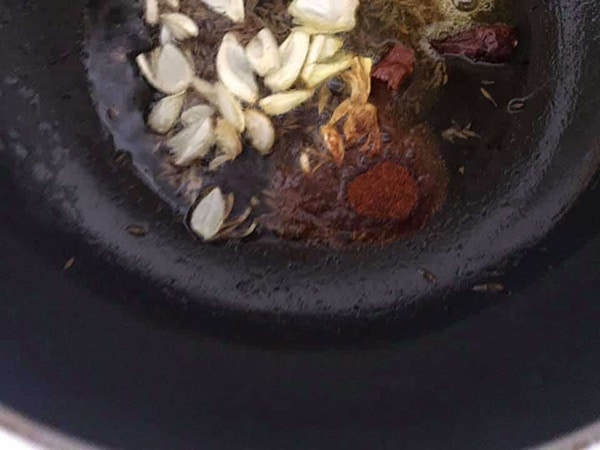 Add 1/2 tsp of turmeric powder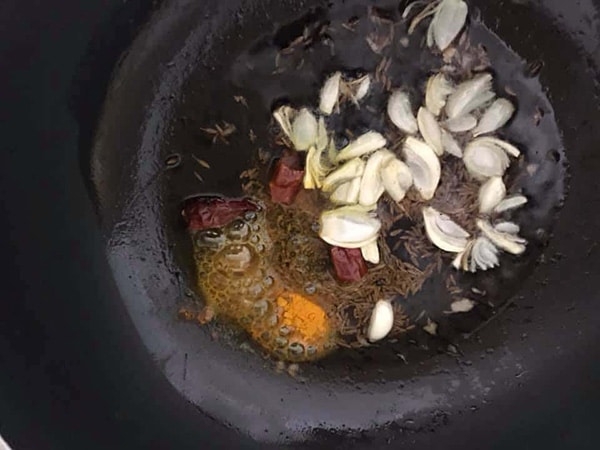 Add the cut okra to the pan. Do not stir immediately. After 30 sec, use the toss method to mix it not a stirring spoon. This will prevent the slimy situation
Cook the bhindi for 3 minutes by themselves and tossing them only once. Add the cubed potatoes to the pan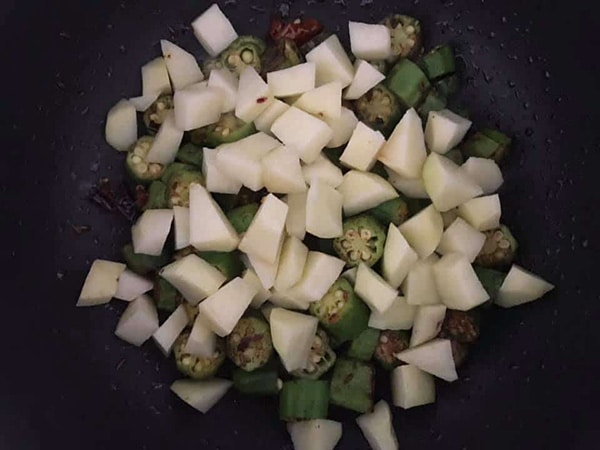 Add cumin powder, salt and a little more of the red chili powder. The red chili powder is optional and its for those who like it spicy
Add amchur powder (dried mango powder). It adds a little tang to the bhindi fry recipe without altering the flavor
Add 1-2 tsp of tomato sauce. This is optional and I add it because it won't dry the bhindi fry. Toss everything to mix the ingredients
Cook the bhindi fry for another 5 minutes or until the potatoes are fully cooked. If you have the urge to stir, resist it. 🙂 Always use the tossing method to mix the ingredients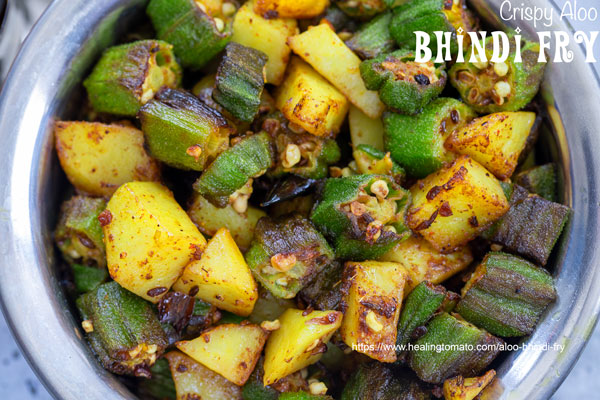 Bhindi Fry with Aloo
Quick, easy dry bhindi fry with aloo
Ingredients
2

tsp

vegetable oil

1

tsp

cumin seeds

1

dried chili

3

cloves

garlic

thinly sliced

½

tsp

red chili powder

add more red chili powder later in the cooking process if you like it spicy

½

tsp

turmeric

8

oz

okra

about 8-10 pieces of okra

2

baby potatoes

1

tsp

salt

adjust to taste

1½

tsp

cumin powder

1

tsp

amchur powder

2

tsp

tomato sauce

optional
Instructions
Cut the okra into large pieces (3-4 pieces per okra)

Peel and cut the baby potatoes in the same size as the okra

Heat a pan on high heat for 30 sec and keep it on that level for the whole cooking process

Add oil and cumin seeds to the pan

(Optional) Add dried whole chili. I like to roughly tear it up and add to the oil.

Cook until cumin has browned slightly

Add 3 cloves of garlic (thinly sliced) and cook it for 30 seconds

Add 1/2 tsp of red chili powder

Add 1/2 tsp of turmeric powder

Add the cut okra to the pan but do not stir immediately

After 30 sec, use the toss method to mix it not a stirring spoon to prevent slime

Cook the bhindi for 3 minutes by themselves and tossing them only once

Add the cubed potatoes to the pan

Add cumin powder, salt and a little more of the red chili powder (chili powder is optional)

Add amchur powder (dried mango powder)

Add 1-2 tsp of tomato sauce. This is optional and helps prevent drying of the bhindi fry

Cook the bhindi fry for another 5 minutes or until the potatoes are fully cooked
If you have the urge to stir, resist it. 🙂 Always use the tossing method to mix the ingredients