An Easy Green Bean Salad with Quinoa (Version 2) – A quick and easy green bean salad recipe with Quinoa, chick peas and onions. Drizzle with an easy Greek salad dressing.
I am one of those people who loves raw green beans!
If you put a bowl of raw green beans in front of me with no seasoning, no oil, no flavoring, I would eat the whole bowl.
Do you eat raw green beans?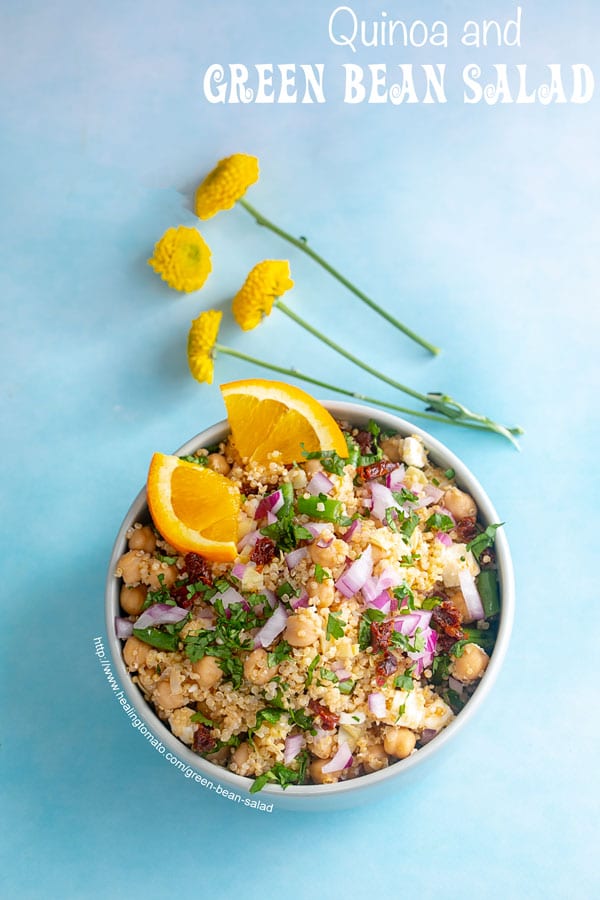 Why eat raw green beans?
– Green beans are packed with nutrition like Vitamins C, A and Magnesium
– Just like most vegetables, cooking green beans tends to make them loose some of their nutrition
– Green beans are very rich in fiber which makes them very useful for the digestion process. It looses some of its fiber nutrients when you cook them
– Raw green beans have about 30 calories (in 1 Cup)
– Green beans have a natural fluoride in them that helps fight tooth decay
Source: LiveStrong.com
Tips for raw green beans
– Always, always wash them thoroughly before eating raw
– Store them in a cool, dry place.
– In the refrigerator, put them in the vegetable rack
– I wrap them in paper towel and place in a Ziploc bag
– To freeze them, place them in the ziploc bag (without washing). Thaw and wash before using them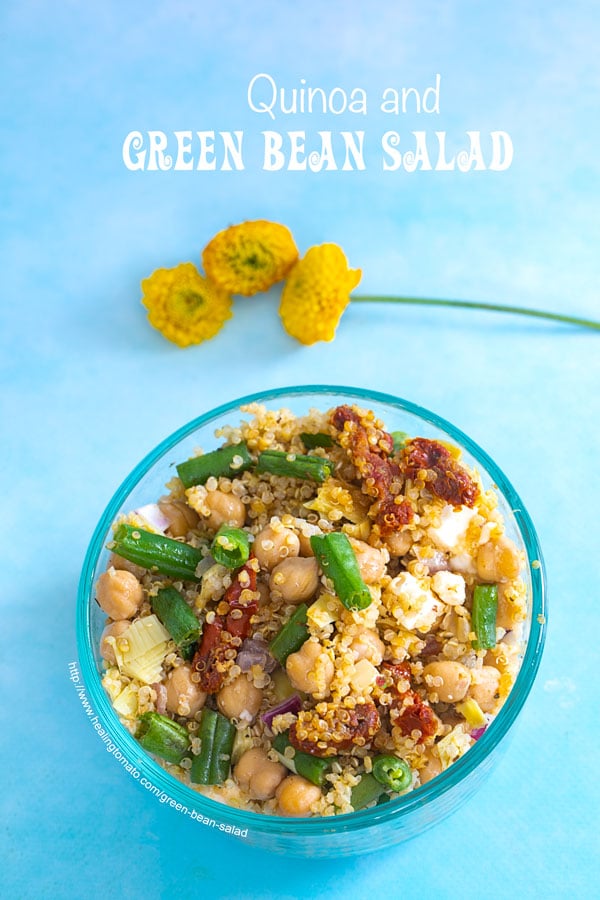 Why I love this Green Bean Salad
My favorite reason is that this green bean salad recipe is super easy to prepare. I normally have quinoa cooked and ready to go into any recipe.
So, I just have to mix in the other ingredients and I have a delicious quinoa salad recipe in 10 minutes
Quinoa also takes minutes to prepare. All I have to do is add about 3 cups of water and quinoa into a pan. Boil for about 12 minutes on high heat and its ready!
I also like this salad because its the perfect meal prep recipe. I can make one big batch and enjoy it all week. This way, I don't laze out and end up ordering pizza!
The salad is packed with so much nutrients that I feel so good after I eat it. I am more energetic and content. Its filling enough that I don't feel hungry again until dinner time
Green Bean Salad Dressing
In the past, I have used my orange salad dressing in this recipe. However, this time, I made a slightly different version of the dressing.
– I added juice from 1/2 of an orange and kept the pulp in it.
– To the juice, I added extra virgin olive oil that I used in my pumpkin olive oil bread
– For the seasoning, I put in homemade Greek seasoning which I made a couple weeks ago. This seasoning is so easy to make and you can store it for months
– You can also use my dijon lemon vinaigrette instead which is just as easy to make.
Or, get creative and make your own dressing. I would love to see what you made, so, feel free to tell me how you made the dressing
Green Bean Salad as a Meal Prep option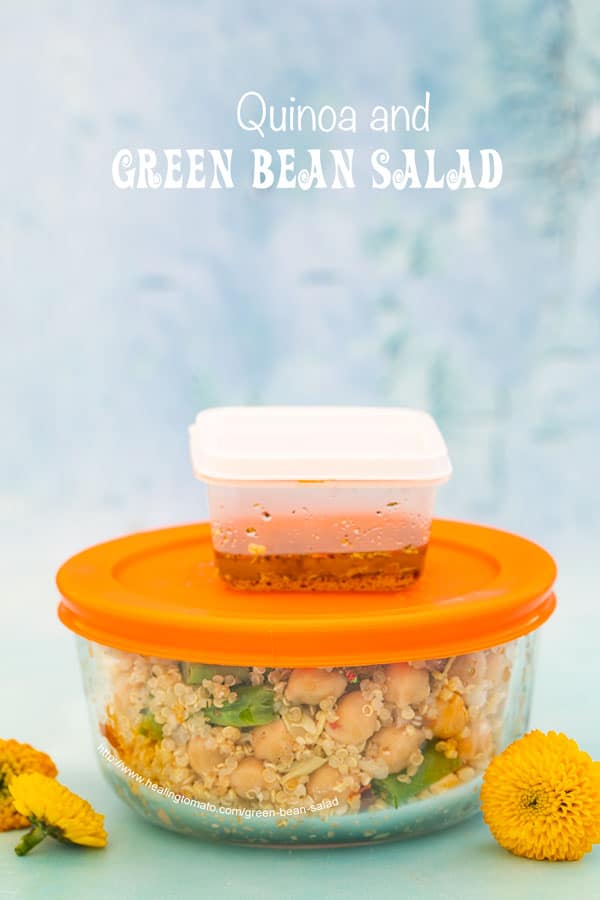 I made this green bean salad solely for the purpose of using it as a meal prep option. If you follow me on Facebook, you will have seen me make this recipe live.
If you don't follow me on Facebook, you are missing out! I will be posting short live cooking videos of simple recipes that you can make in minutes with very little effort.
I keep the dressing in a small container inside the meal prep bowl. This way, the salad doesn't get soggy.
Use up this salad within a week of making it. I don't recommend freezing it because the recipe will be watery when you thaw it out.
Serve it with pita bread or whole wheat bread
Other Ingredients to add to this Green Bean Salad
– You can add greens like spinach, kale or arugula
– Use cherry tomatoes instead of sun-dried tomatoes
– Cucumber
– Use amaranth instead of quinoa
– Capers
– Banana peppers
– Pomegranate
– Carrots
Version 1 of this recipe
The version of this recipe was posted on November 15th, 2015 on my blog. I had used apples, roasted green beans, walnuts and yogurt in it.
I have changed that recipe slowly over time and it has evolved into a completely different recipe. I haven't made the Version 1 again, so, I figured its time to update the recipe.
My photography skills have also evolved a little since then. I loved the recipe, but, I can't say the same about the image.
Watch me make this recipe
Fair warning: This was my very first Facebook live video. The setup is very crude, but, I think its effective. I will work on making a better video for it. 🙂
Making this green bean salad
Green Bean Salad Recipe
Quick, easy green bean salad recipe made with quinoa and a simple orange dressing

Ingredients
For the Quinoa
1

cup

quinoa

uncooked

3

cup

water
Instructions
For the quinoa
Add the quinoa and water to a pan


Cook for about 15 minutes


Drain any excess water and set the quinoa aside

For the salad dressing
In a small mason jar, add the Greek seasoning and other ingredients for the dressing


Close the lid and shake it well


Transfer to smaller containers (for meal prep) and set aside

Assemble the salad
In a large bowl, add the cooked quinoa


Add all the ingredients for the salad


Only add the dressing if you are going to consume it immediately


Transfer the salad to meal-prep containers and add one small container of the dressing


Refrigerate the meal prep containers and consume within a week

Recipe Notes
Nutrition info is approximate
Nutrition Facts
Green Bean Salad Recipe
Amount Per Serving
Calories 542
Calories from Fat 180
% Daily Value*
Total Fat 20g 31%
Cholesterol 16mg 5%
Sodium 866mg 36%
Potassium 1213mg 35%
Total Carbohydrates 74g 25%
Protein 18g 36%
* Percent Daily Values are based on a 2000 calorie diet.