Buttered Radishes are the perfect keto snack recipe. Made with just 5 ingredients and takes just 30 minutes to make. You won't miss potato chips!
Do you love radishes as much as I do?
Of course you do!
I have been obsessed with these radishes for a long time. I have used them to top my Collard Greens Stew and put them inside zucchini rolls!
Tips for making these radishes
Slice them lengthwise because they will roast evenly
Use thick, bulgy radishes for this recipe
Make sure the radishes are hard and maybe even a little unripe
Refrigerate the roasted radishes after making them, if you don't use them up right away
They won't last more than 2-3 days after you have made them, so, eat them quickly
Why I love these radishes
They are packed with so much nutrition and they have so many holistic properties. Their strong flavor makes them just right to be a side dish.
Baking them in the oven makes them juicy and tender. It also takes away some of that strong flavor.
Do you know how delicious basil and radishes taste? It is like a little bit of heavenly flavor in your mouth. The basil flavor lingers for a while which makes them so delicious.
I put these buttered radishes into a zucchini roll and it was delicious.
You can always use lemon balm butter or Garlic Herb Butter to roast these radishes. They will taste amazing. Or, you can choose from a medley of compound butters to flavor your radish chips.
As you may have worked it out by now, I am a huge fan of making veggie chips. See my eggplant chips obsession and beet chips obsession.
Did you know that butter is good for you?
What's your favorite way to eat radishes?
Buttered Radishes
Buttered Radishes are the perfect snack recipe for any time. Using garlic herb butter, these radishes can be used for salad toppings or as a snack
Ingredients
2

cups

radishes

See notes #1

2

tsp

butter

See notes #2

5

leaves

Fresh Basil

1

tsp

Fresh Rosemary

optional

¼

tsp

salt
Instructions
Preheat oven to 350°


In a bowl, mix all the ingredients.

Spread them out on a baking tray


Bake them in the oven for about 15 minutes or until they are slightly brown.


Remove from the oven and let them cool for a few minutes.

Notes
#1 –

The radishes were cut lengthwise and I cut about 3 pieces of each radish
#2 – To make it keto-friendly, use grass fed butter like Kerrygold. If you use vegan butters, these radishes will NOT be keto approved.
Version 1 of this recipe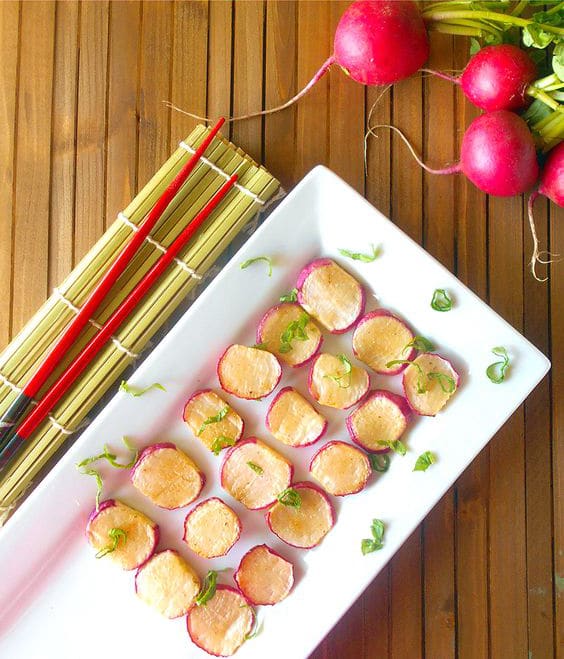 Occasionally, I will revisit previous recipes and do a makeover on them. You probably came to this page based on this photo. The Buttered radishes are made with Asian flavors. However, I decided to re-vamp the recipe and bring you the new version you see above. I think you will like it.