Broccoli Pasta With Roasted Tomatoes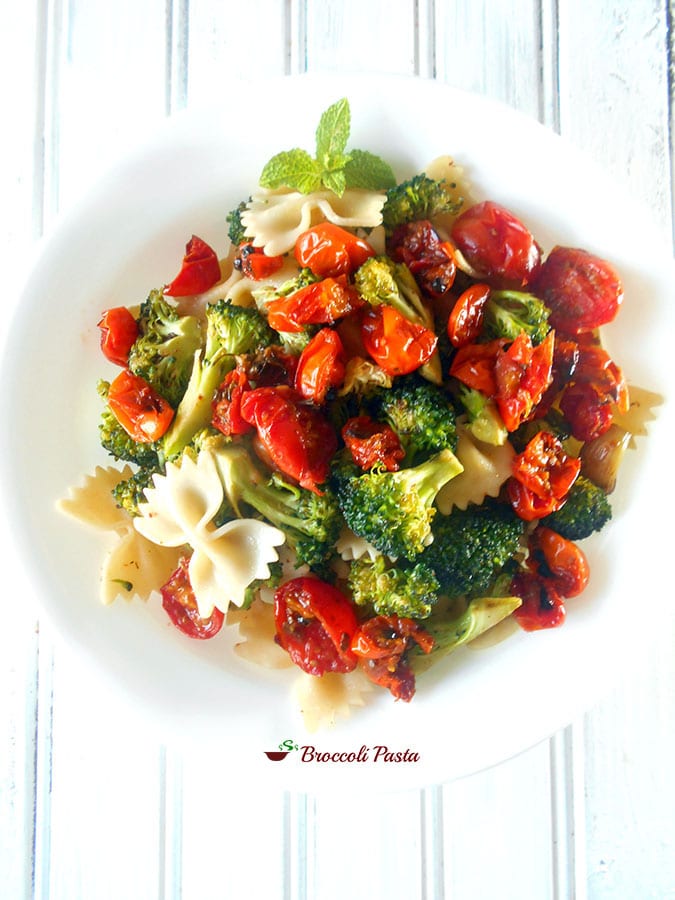 Broccoli pasta is a delicious combination, especially if you add some cayenne pepper.
MY LATEST VIDEOS
In this recipe, I decided to roast both the broccoli and tomatoes because it really brings out the flavors of the 2 veggies.
Roasting them brought out their rich flavors and also preserved their nutrition.  Also, I love the aroma of fresh vegetables roasting in the oven. The combination of mint, balsamic and vegetables roasting is very intoxicating.
I used bowtie pasta for this recipe.  However, spagetti or penne pasta will also go great with the fresh vegetables.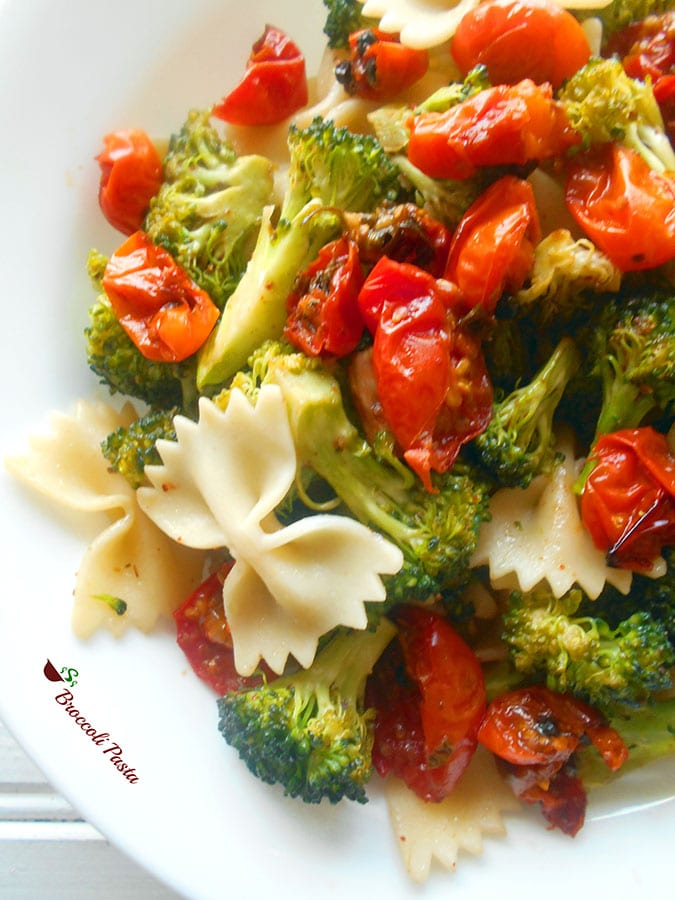 It doesn't take too much effort to put this meal together.  Last week, because I scheduled too many tasks, I didn't really have time to eat right.  Instead of surviving on junk food all week, I quickly put this broccoli pasta together.  It was nice to get some veggies in my diet.
First, I took the broccoli florets and mix them with olive oil, cayenne pepper, dried oregano and salt.  That was all I put into it.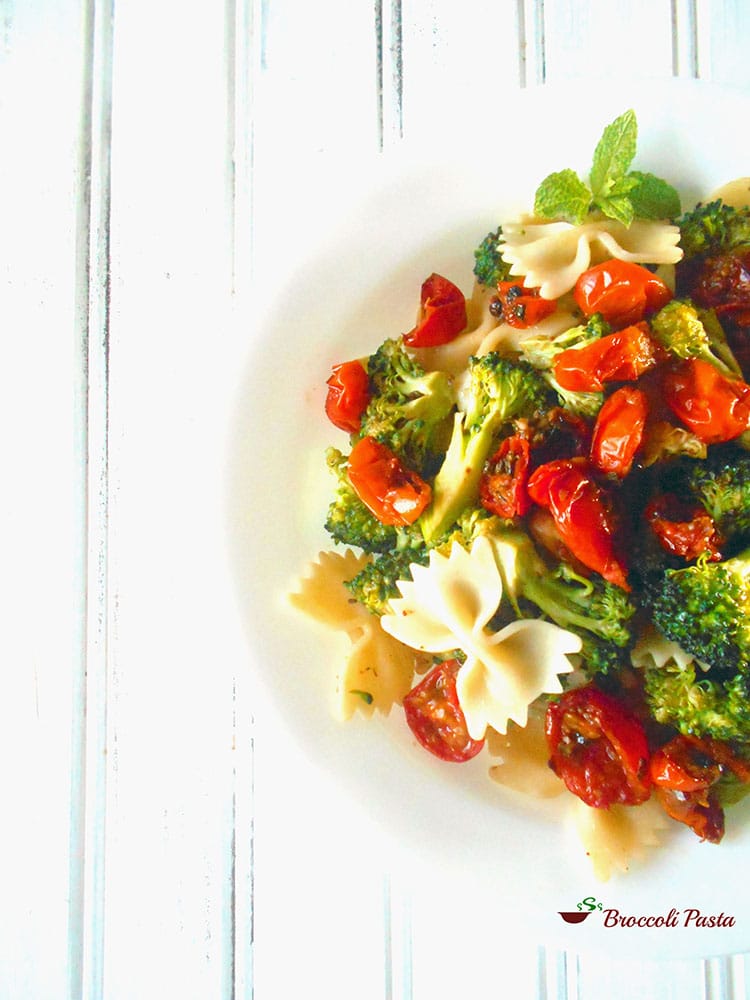 The roasted tomatoes had a few spices in it because I love adding everything I can to them.  You can choose to add more or less ingredients to it.  Experiment on your own and tell me what worked for you.
I would recommend not skipping the fresh mint.  It is definitely the star of this recipe.  Mint is good for those with respiratory issues.  It is very helpful for those who have congestion issues in the nose, lungs, bronchi and throat.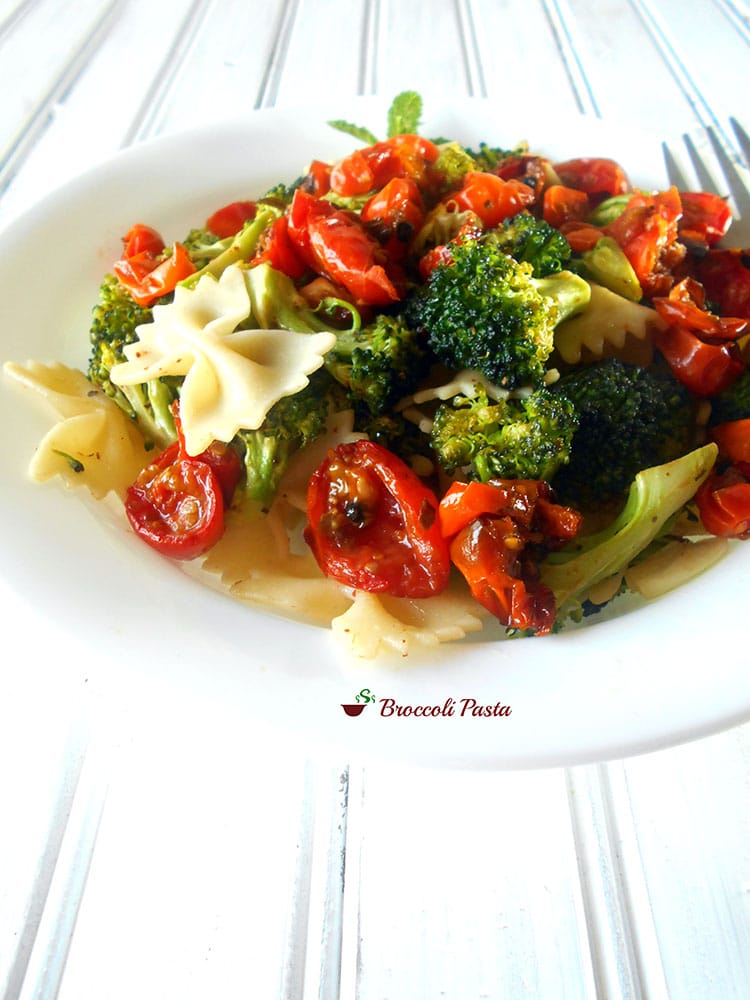 Summer is just around the corner.  This broccoli pasta is going to be my go-to dinner for those sweltering nights. It is also the perfect vegan dinner recipe for the whole family to enjoy any day of the week.
What is your favorite summer Pasta?
How to make Broccoli Pasta with Freshly Roasted Cherry Tomatoes
Broccoli Pasta With Roasted Tomatoes
Broccoli pasta makes for a healthy dinner idea and also has freshly roasted tomatoes with mint. Make it with any kind of pasta.
Ingredients
For the Tomatoes
- 1 cup of red cherry tomatoes

- 1 cup of yellow cherry tomatoes

- 4 cloves of garlic

- 1/4 cup of balsamic vinaigrette

- 2 tsp of brown sugar

- 5 fresh mint leaves

- 2 Tbsp of Extra Virgin Olive Oil

- 1 tsp of salt

(optional)

- 1 tsp of whole peppercorns

(optional, but, HIGHLY recommended)
For the Broccoli
- 1 cup of fresh broccoli florets

- 1 tsp of cayenne pepper

- 1/2 tsp of salt

- 1/4 tsp of Oregano

- 2 Tbsp of Extra Virgin Olive Oil
For the Pasta
- 2 cups of cooked pasta. I choose bow tie pasta.

- 1 tsp of fresh lemon juice
Instructions
Making the Tomatoes
Pre-heat the oven to 300 degrees

Cut each cherry tomato into half at the equator

In a medium bowl, add all the ingredients and gently mix with your hands

Spread out the tomato mixture onto a baking dish. Make sure that the tomatoes are cut side up.

Place the baking dish in the middle of the oven and on the bottom layer
Making the Broccoli
In a mixing bowl, add all the ingredients for the broccoli

Place the ingredients in a baking sheet. Be sure to space out the broccoli.

Place both the Broccoli and Tomato trays into the oven in the middle rack.

Roast them for about 20-30 minutes
Bringing Everything Together
In a bowl, add the cooked pasta

Add the broccoli and tomatoes to the pasta

Add the lemon juice

Using two wooden spoons, mix everything together. Be gentle

Serve Immediately