Coconut rice recipe made with easy ingredients that can be made in 25 minutes. Rinse the rice, add cooked peas, coconut milk. Garnish with lime and cilantro. Updated Version

How do you make coconut rice? It takes only a few ingredients to make this aromatic basmati rice recipe. Add some peas and lime zest which made it taste even better
Even the most cooking challenged person can make this and devour it!
You don't need any special ingredients. Everything you need for this recipe will be in your pantry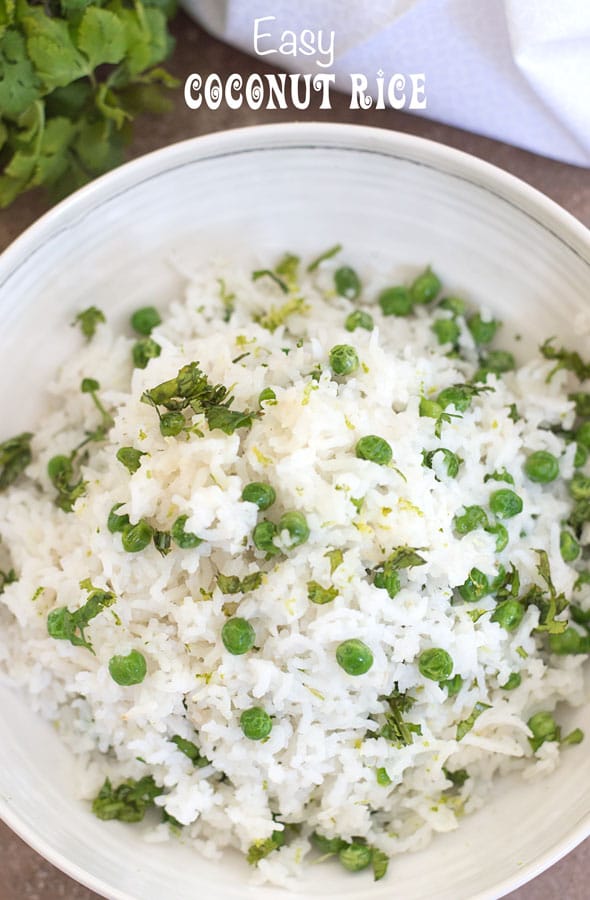 Tips for making it
1) Always rinse the rice. Even if you use a different type of rice, rinsing it can make a huge difference (read more about it at the end of this post)
2) Cook the rice first before adding any of the ingredients
3) Skim the starch that rises to the top of the cooking rice
4) Keep the heat level constant when boiling the rice. I always boil basmati rice on medium heat
5) Thaw and remove excess moisture when using green peas. I always use baby sweet peas when making this coconut rice recipe
6) Immediately drain any excess water after cooking the rice. If you let the rice stay in the pot, it will make the rice soggy
7) Serve the rice immediately after adding the coconut milk and zest. This rice tastes the best when served hot.
8) Always use full fat coconut milk to make coconut rice. Lite coconut milk makes it soggy and tasteless.
Sweet vs savory?
Coconut rice can be on the sweet side, if you add desecrated sweet coconut. I have seen a few Thai restaurants serve it that way. It's common practice in Singapore cuisine too.
However, savory coconut is more to my liking. I will add spices like turmeric, coriander powder, red chili powder.
Sometimes, I like to change up the cuisine and add some homemade Greek seasoning or homemade Cuban seasoning.
I took this coconut rice and made a delicious vegan quesadilla recipe! With melted cheese, this coconut rice is the best comfort food ever!
If you prefer a plain coconut rice recipe, feel free to skip the peas and cilantro garnish.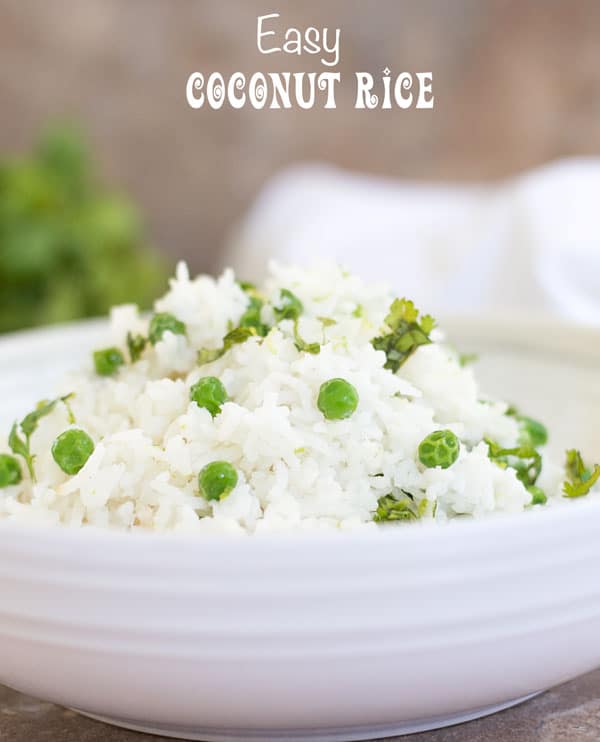 Other ingredients to add
– Roasted tofu
– Sweet corn
– Black beans
– Mixed Vegetables
– Butternut Squash
– Cashews, Almonds, Pine nuts or sunflower seeds
– (Affiliate Link) Golden Raisins
– Red Onions
My version has only 5 main ingredients: rice, peas, cilantro, lime juice, salt and oil. Its the bare essentials of an easy coconut rice recipe that you can build upon.
If you want to cook frozen peas separately, I have a very easy way of cooking them in the Instant Pot.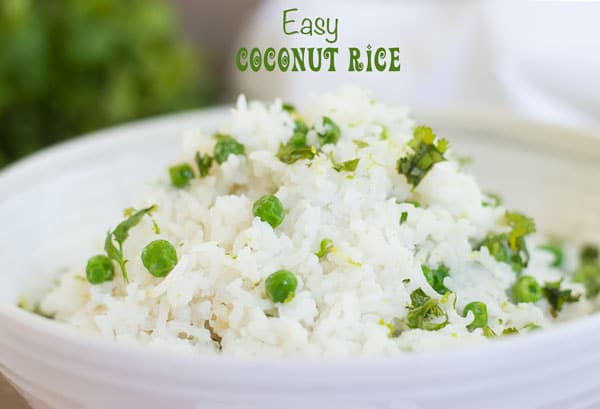 Coconut milk or coconut cream?
Make coconut rice with coconut milk because it doesn't add any strong flavors to the rice.
If using coconut cream, it will add an additional sweetness to the rice and even overpower the flavors.
Sweet coconut rice is not a bad idea for a meal where the other ingredients are sweet too. Things like raisins will enhance the flavors. Add nuts to even out the taste
What does it taste like?
Coconut milk adds a mild flavor to this rice recipe. Some people are a little skirmish to try it because they assume that coconut flavor is overwhelming
However, that is not the case at all. Coconut milk has a light flavor and it never overpowers any recipe. Its a great substitute for the heavy creams and whipping creams that are common in Asian cooking
So, go ahead and fill a heaping bowl of this coconut rice and enjoy its light flavors, yet, a very hearty meal
Rinsing rice
The most important secret to cooking the perfect basmati is….
….rinsing the rice!
Basmati rice and any rice in general SHOULD be rinsed before cooking.
"WHY", you ask?
When rice is packed, they have husk dust or some rice might have been crushed in the process of transporting it. This makes a powder out of them and gets incorporated into recipes.
All of these junk additions will take away from the taste of its delicious flavor.
1) Mexican Fried Rice – This is a huge fan favorite recipe and its just as popular in my home
5) Wild Rice with Mushrooms – Ok, technically, I made this with wild rice, but, its good with both wild rice and basmati.
6) Peanut rice
** This is an Updated version of the recipe post. It was originally posted on Apr 21, 2017 at 10:30pm. The new version has the same images (scaled to fit the blog) and the same recipe. The original text has been updated with the current text to be more informative for you. Also, video was added to the updated version.
Coconut Rice
Coconut rice recipe made with easy ingredients that can be made in 25 minutes. Rinse the rice, add cooked peas, coconut milk. Garnish with lime and cilantro
Ingredients
1.5

cup

Basmati rice

uncooked

1

cup

Sweet Peas

thawed, drained

1

cup

coconut milk

1

Tbsp

extra virgin olive oil

1

tsp

salt

1

tsp

lime juice

optional

1

tsp

lime zest

Cilantro

for garnish
Instructions
In a medium sauce pan, add rice. Place the pan under a tap and fill it up half way.

Using your fingers, stir the rice until you see the water start to turn cloudy


Drain most of the water without straining the rice.


Repeat the above 3 steps two more times


Fill the rice with water. I tend to fill up the pan about 3/4 of the way.


Place the pan on the stove top and set it to boil on medium heat


Stir it frequently using a fork


When the rice has fluffed to about 3 times its size (about 20 min), turn off the heat.


Use a sieve to drain all the water.


Using a fork, stir the rice. This will aerate it and make them fluffy. Set it aside

While the rice is cooking, prepare the peas.


In a medium pan, warm the extra virgin olive oil on medium heat


Add peas and salt to the oil


Cook for 5 minutes (do not brown them)


Turn off the heat and let it stay on the stove.

When the rice is done, gently add it to the peas


Add coconut milk and mix well


Transfer to a serving bowl


Garnish with cilantro and lime zest before serving