Mexican Corn on the cob recipe is oven-roasted and topped with Cotija Cheese and cayenne pepper.  It is a mix of smokey and tangy flavors.
I don't have access to a grill, so, I cheated (a little).
A cast iron and the oven will work (almost) like a grill.
No one could tell the difference (I think)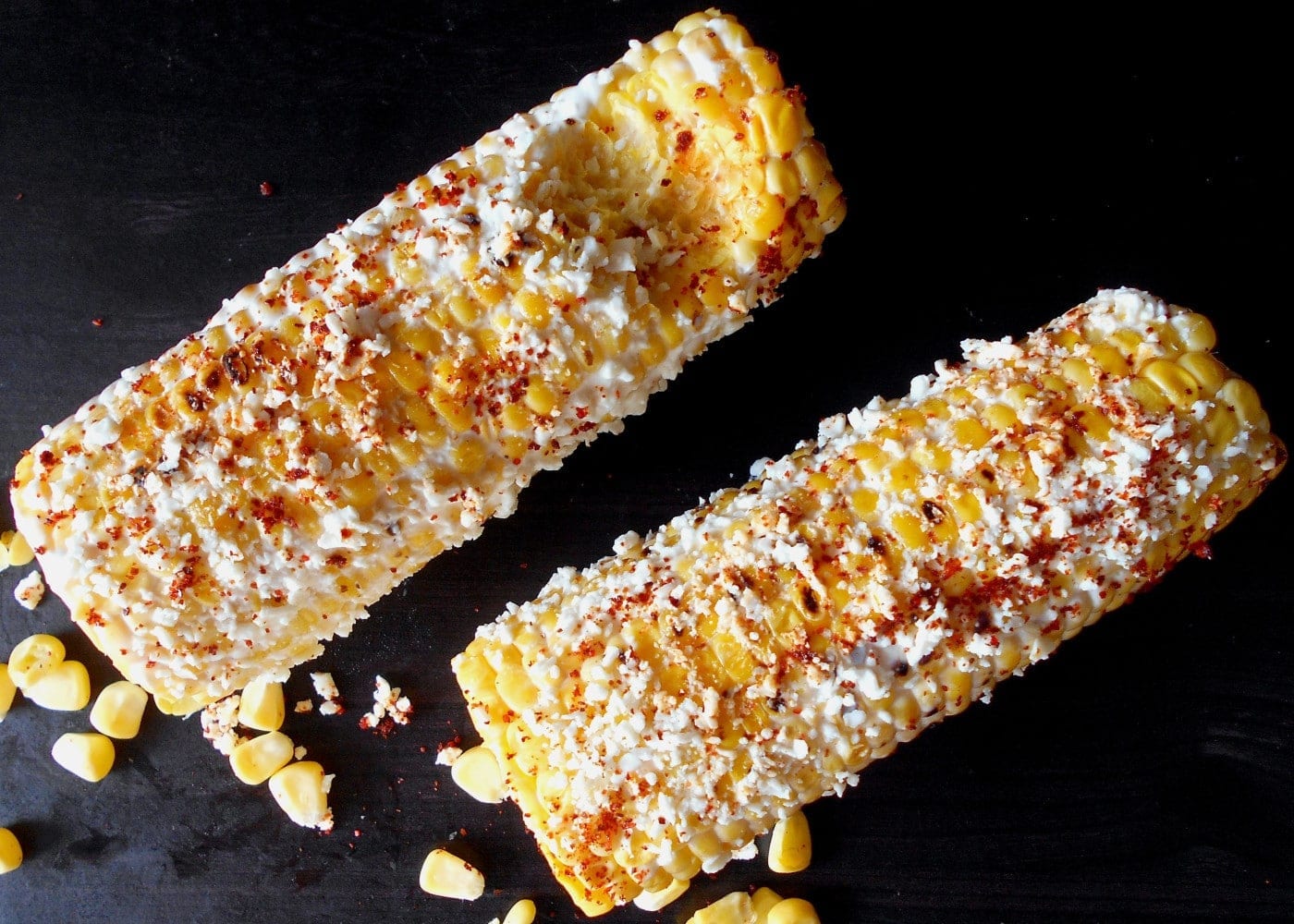 If you are not the type of person who likes Mexican food, you may need to go into hibernation until Tuesday!
It is Cinco de Mayo time and that means one thing!
Delicious, yummy Mexican food!
Everywhere you and I look this weekend, there will be all kinds of Mexican food recipes.  There will be classics, twist on classics and very creative recipes that will leave both our jaws on the floor.
Mexican food is my first favorite food after Indian food! Both of these culinary cultures are known to be very accommodating to vegetarians.  I love how Mexican and Indian cuisines have an extensive cornucopia of choices to vegetarians. You should see me when I am at a buffet for either of these cultures.  A Kid in a candy store doesn't come close to my excitement level.
Speaking of extensive cuisines…..
Corn on the cob is a favorite in every culture that I have come across.
Take the American Deep South, for example. They eat it for Sunday dinner and during summer picnics. It is always the designated side dish in Soul Food and barbecues. I am drooling just writing about it.
In Indian cooking, the corn on the cob is cut into smaller pieces and put into a tomato sauce.  Then it is devoured with naan or other leveled breads
In Eastern Africa, vendors have an outside grill with charcoal.  They will grill the corn, lace it with Lime juice then sprinkle it with salt and cayenne pepper.  It is then sold to eager bystanders for a few pennies.
Recently, I have seen the Japanese version of corn on the cob.  It is grilled and boiled, then grilled again.  It is laced with mirin and served immediately.  There is a recipe that I would love to try soon.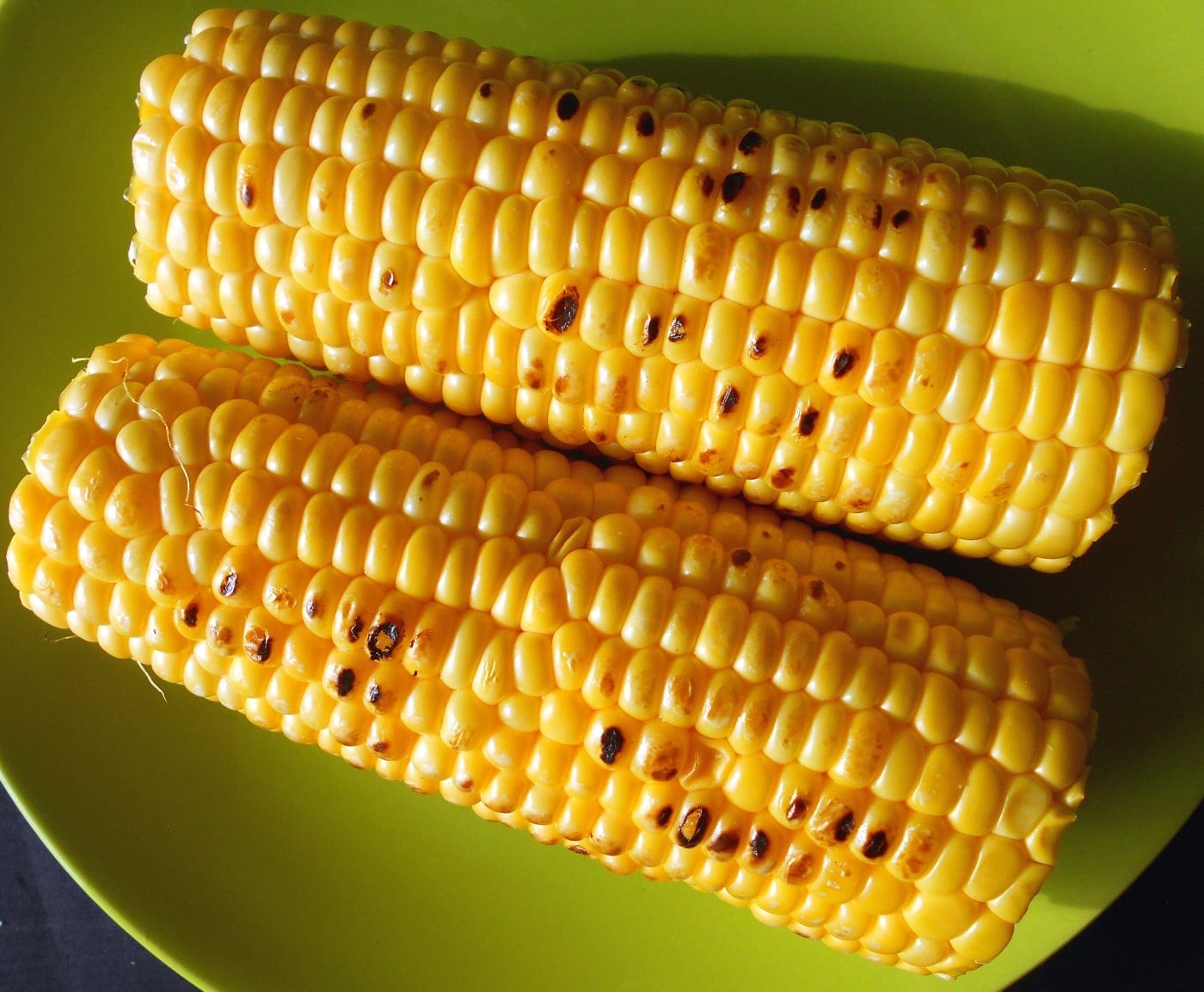 Mexican Corn on the Cob
The Mexicans really know how to do corn on the cob.  So often they will use mayo, sour cream, Mexican Parmesan cheese, Cayenne pepper, Lime, Coriander, peppercorns and the list goes on and on.
It is safe to assume that I have never had Mexican Corn on the Cob the same way more than once.  Foodies love seeing and eating many varieties of Mexican Corn on the Cob.
That is because we get bored easily.
I feel like I should apologize for our short attention span….?
In my version of Mexican Corn on the cob, I use sour cream and Mexican Parmesan cheese. Personally, I am not a fan of Mayo because it contains eggs.  Vegetarian Mayo still has a long way to go before it can be called Mayo.
Just butter the corn on the cob and place in a heated cast iron pan.  Place the cast iron into the oven and let the magic happen!
If you like this Mexican corn on the cob recipe, how about trying my Mexican street corn in a taco bowl recipe?
What is your favorite way to make Mexican Corn on the Cob?


Mexican Corn on the Cob
Mexican Corn on the cob recipe is oven-roasted and topped with Cotija Cheese and cayenne pepper.

Print
Pin
Rate
Instructions
Preheat Oven to 375°


Place Cast Iron in the oven while you remove the silk and husks from the corn


Lightly butter the corn on the cobs and place them in the cast iron


Place the cast iron in the oven


Rotate the corn after about 3-5 minutes until all sides of the corn are lightly roasted


While the corn is in the oven, mix the sour cream, salt and black pepper.

Remove the corn from the oven and let it cool to touch


Using the lime, lace the corn with its juice

Generously coat the corn on the cob with the sour cream mixture

Sprinkle with the Parmesan cheese

Finally, sprinkle with cayenne pepper

Serve the Mexican Corn on the Cob immediately
Nutrition
Serving:
2
Cobs
|
Calories:
321
kcal
|
Carbohydrates:
38
g
|
Protein:
9
g
|
Fat:
18
g
|
Saturated Fat:
10
g
|
Cholesterol:
46
mg
|
Sodium:
1473
mg
|
Potassium:
544
mg
|
Fiber:
4
g
|
Sugar:
13
g
|
Vitamin A:
1145
IU
|
Vitamin C:
17.8
mg
|
Calcium:
130
mg
|
Iron:
1.3
mg