Vegan Mexican Grilled Corn on the cob or Vegan Elote is very easy to make using the stove top grill and a creamy tofu sauce. Top with red hot chili powder
As promised, here is the vegan version of Mexican corn on the cob.
It is just as easy to make as the vegetarian Mexican corn on the cob and I also cooked it stove top.
If you have a grill, it will make it much easier to Grill these corn, but, it can be done stove top too.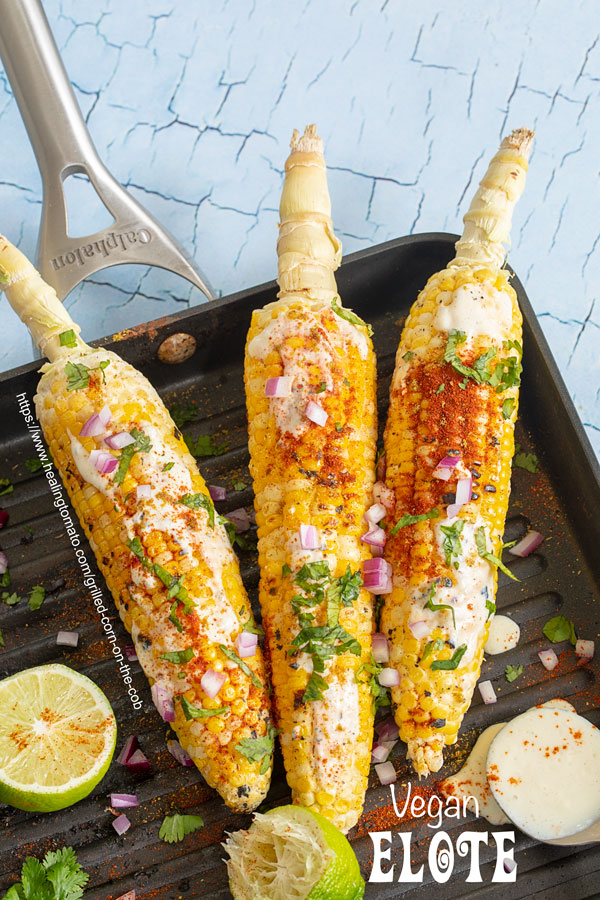 Tips for making this corn
Keep the ends of the corn on the cob because it is very useful when you are grilling the corn
If you have an actual grill, use it instead of grilling stove top because its much easier
You can put all the spices in the tofu grilling sauce instead of putting it on top. I did it that way because it photographs better
Put 2-3 corns at one time on the stove-top grill because it will be faster
Use a stove top grill for this grilled corn on the cob recipe. The grill heats evenly, so, the corn will grill faster. I used my trusted (affiliate link) Calaphalon square grill that I have used for 2 years.
Use sweet corn on the cob because the sweet corn is the perfect taste offset to the spice in this grilled corn on the cob recipe
What is vegan elote?
Elote is a spicy corn recipe common in Mexico. Its made by grilling or steaming whole corn.
The corn is usually cooked in a creamy type of sauce with spices on top or in the sauce. Since it is so portable after being grilled, the corn is often sold as street food.
Traditionally, vegan ingredients are not used in grilling corn. However, you can easily make vegan elote with vegan ingredients.
Have you had grilled on the cob while in Mexico? I haven't had the opportunity to do that, but, I hope to try it one day
Common questions
Can I make this Grilled Corn in advance?
This corn is best served hot and right out of the grill. The flavors don't do well when refrigerated. Also, the corn will turn mushy and loose all its texture.
Can I grill this corn on the cob in foil
Yes, you can absolutely grill it in foil. Place the corn in the foil, drizzle with 1 tsp melted vegan butter and the tofu sauce. Seal tightly and grill it on a grill or place it in 400°. Let it cook in the oven for about 20 minutes
Can I cook this grilled corn in the oven?
Yes, you can grill it in the oven easily. Find a cast iron griddle that is oven safe. Place it in a 400° oven and let it heat by itself. Douse the corn on the cob with the sauce and place it on the hot griddle. Roast in the oven until it has browned
Not just for Cinco De Mayo!
The beauty of corn on the cob is that it's available all year round! So, why just make this vegan elote on Cinco De Mayo only?
It's perfect for BBQ parties, picnics, Memorial day cookouts and any outdoor party.
More corn on the cob recipes
If you like this grilled corn on the cob recipe, I have a few others you might like to try
How to make this corn
Prepare the grilling sauce
In a blender, add 1/2 a box of silken tofu, 1tsp of nutritional yeast, 1/2 tsp of salt 1/4 cup almond milk and juice of 1/2 a lime. Blend until its a sauce consistency
2. Heat a stove top grill on high heat
Make sure you use a sturdy stove-top grill that distributes the heat evenly
3. Lightly spray the grill with oil and place corn on it
I use light cooking spray on the grill and then place the corn on it. Grill on its side for 5 minutes
4. Pour grilling sauce on top of the corn
After 5 minutes, spoon about 1 Tbsp of the sauce on top of the corn and rotate it. Grill it for 5 minutes or until you have the desired grill color
5. Repeat until the corn is grilled
Repeat the pouring and grilling until all of the corn has been grilled
6. Remove the "burnt" sauce
The sauce will burn on the sides of the corn. This is normal and it easily peels off with a wooden spoon while the corn is grilling. Remove the burnt sauce and discard it.
7. Drizzle with a little vegan butter (optional)
Once the corn has been grilled, drizzle about 1/2 tsp of melted vegan butter on each corn. This is optional, but, it adds a little shine to the corn and also keeps the spices from flying into your nose when you try to bite into the corn
8. Add the spices
Top the grilled corn on the cob with hot red chili powder and cumin-coriander powder. You can use as much or as little of both. I personally like to use about 1/2 tsp of both
9. Garnish with cilantro and red onions
Ok, I admit that red onions are an odd choice for this vegan elote, but, I loved them on the grilled corn. You can skip them if you want
10. Serve immediately
These grilled corn on the cob work best when they are served hot, right off the grill.
Some corn-off-the-cob recipes!
If you find corn on the cob to be too messy, then, you will love eating it with a spoon!
This is a really quick way to make corn. Made using just a few ingredients, take this corn to picnics, summer parties and so much more.
Cilantro Lime Corn
Make this quick and easy cilantro lime corn using just 5 ingredients. The grilled corn brings out all the best flavors in this vegan corn salad.
Check out this recipe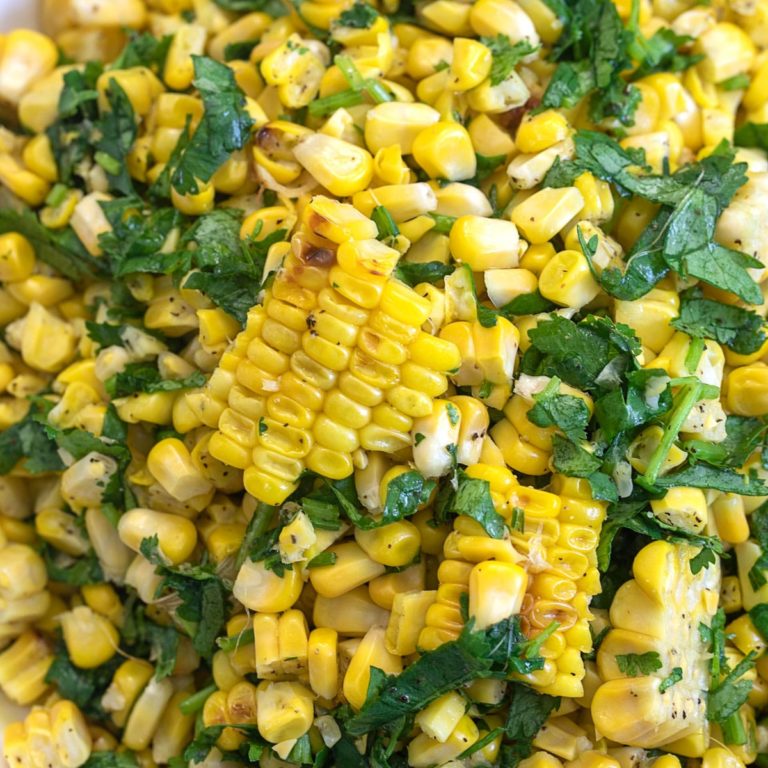 Enjoy a big bowl of this corn on the cob!
Mexican Street Corn In Taco Bowl
This Vegetarian Mexican Street Corn is made with sweet corn and mixed with roasted cherry tomatoes.

Check out this recipe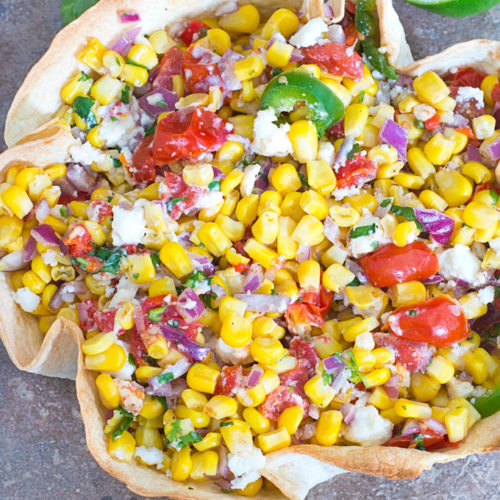 Vegan Grilled Corn on the Cob
Vegan Mexican Grilled Corn on the cob or Vegan Elote is very easy to make using the stove top grill and a creamy tofu sauce
Ingredients
For the grilling suace
1/2

block

silken tofu

1

tsp

nutritional yeast

1/2

tsp

salt

1/2

lime

juice it and remove seeds

1/4

cup

almond milk
For the corn
4

Corn on the Cob

Remove the husks, but, keep the stick at the end

2

tsp

vegan butter

Melted, and divided into 4 parts

2

tsp

red chili powder

divided into 4 parts

2

tsp

cumin-coriander powder

ivided into 4 parts

cilantro

for garnish

1/4

cup

red onions

Diced and used for garnish
Instructions
Prepare the grilling sauce
Blend all the ingredients of the sauce in a blender and set aside

Grilling the corn on the cob
Heat a stove top grill on high heat

Lightly spray the grill with oil and place corn on it

Grill on its side for 5 minutes

Pour grilling sauce on top of the corn and turn that side to the bottom where it can be grilled


Repeat the pouring and grilling until all of the corn has been grilled

Remove the "burnt" sauce (See Notes)


Drizzle with a little vegan butter (optional), See notes


Top each grilled corn with hot red chili powder and cumin-coriander powder

Garnish with cilantro and red onions. Serve immediately

Notes
– I used extra hot red chili powder for this recipe. It is very spicy, so, adjust it to your taste
– The sauce will burn on the sides of the corn. This is normal and it easily peels off with a wooden spoon while the corn is grilling. Remove the burnt sauce and discard it
– Once the corn has been grilled, drizzle about 1/2 tsp of melted vegan butter on each corn. This is optional, but, it adds a little shine to the corn and also keeps the spices from flying into your nose when you try to bite into the corn