How to buy, wash, trim, chop, cook and flavor Brussels sprouts? A complete guide on everything you wanted to know about them
How can anyone hate Brussels Sprouts?
When cooked and flavored just right, these green cuties can put a smile on your face!
I dare you not to fall in love with Brussels sprouts after following tips and tricks in this guideline.
Follow this guide and Brussels sprouts will become your favorite vegetable.
What are Brussels sprouts?
Brussels Sprouts are tiny, green cruciferous vegetables that are made of nested leaves. Cruciferous vegetables are known to reduce oxidative stress and protect against cancer with sulforaphane.
A single sprout weighs only about 10g. They are one of the tiniest vegetables on the planet.
It's nested leaves attribute makes them part of the cabbage family. They are also part of the cruciferous vegetable family known for their cancer-fighting powers
They typically grow in a huge bunch, kind of like bananas. Brussels sprouts are also harvested by the bunch. Once they are brought to the factory, they are separated and packaged.
The bulk of the sprouts are grown in California since they like warm weather. However, anyone can grow them in the backyard.
Choosing the right sprouts
I like choose sprouts that are stored in a mesh bag. They can be seen through, so, I can see if they are all good sprouts. This is a personal preference.
If you can get your Brussels sprouts from a farmer's market, do that. They are generally cheaper than store bought (in most cases)
First, look for darker green Brussels sprouts. The darker the green, the fresher they are.
Choose smaller Brussels sprouts because they are sweeter than the larger one. Also, they have more flavor than the larger one.
Smaller Brussels sprouts will caramelize more when roasted.
Choose Brussels sprouts that have tightly packed leaves. Loosely packed leaves are "older". As the Brussels sprout ages, it starts to lose to gravity. 🙂
Check the bottom stem or ends of the Brussels sprout. It should be sturdy and not soft or caved in. It should take a little bit of effort to cut off the stem
Look for the Brussels sprout leaves that don't have holes in it. This seems obvious, I know. However, I have sometimes picked up a sprout just because it was small and green. The holes in the leaf means the sprout is old.
How to wash them
Place the sprouts in a colander and run them under cold water. Make sure the water pressure is low because you don't want more leaves to fall out
Shake off as much water as you can and gently transfer the Brussels sprouts to a clean tea towel or paper towel.
Dry them off completely because you don't want soggy sprouts. After drying them, they are ready to be cooked or stored for future recipes.
How to store them
Sprouts can be refrigerated after washing them.
The best way to store them is to first put them in reusable produce bags. I like the mesh bags because they are breathable for vegetables.
Pull the string and close the top of the bag. Make sure it's closed tightly because the sprouts might fall out of the bag
Place the bag in the vegetable section at the bottom of your fridge
Stored this way in the refrigerator, they will be good for about 10 days. Personally, I like to use them up as soon as possible.
Their nutritional value
For such a tiny vegetable, Brussels sprouts pack quite a nutrition punch! These are the essential nutrients found in Brussels Sprouts
Vitamin C
Vitamin A
Vitamin B-6
Magnesium
Selenium
Choline
Iron
Calcium
Zinc
Always consult a dietician, nutrition specialists and your doctor to get more accurate information. I am not a registered medical professional, so, be sure to do your own research.
This is the nutrition information I have found from registered dieticians and reading information from USDA's website.
Answering Common Questions
Are sprouts keto friendly?
Yes, they are keto friendly. Cruciferous vegetables are the most recommended vegetable on a Keto Diet.
1 cup of Brussels sprouts have 8g of carbs with 3.3g of fiber which means that 1 cup has 4.7g of net carbs.
Always consult a nutritionist or dietician for nutrition information
Can they be frozen?
Yes, they can be frozen. But, should you freeze them?
No, I don't recommend freezing them. Brussels sprouts lose their crispiness and become a little soggy when cooked.
Brussels sprouts are so abundant and easy to find, even in winter months. So, get them fresh when you need them.
Is it "Brussels Sprout" or "Brussel Sprout"
The correct way to say them are "Brussels Sprouts"!
I have no idea how "brussel sprouts" originated, but, it seems that many people use it.
When in doubt, consult wikipedia, lol.
Or, check USDA's website for accurate pronunciation.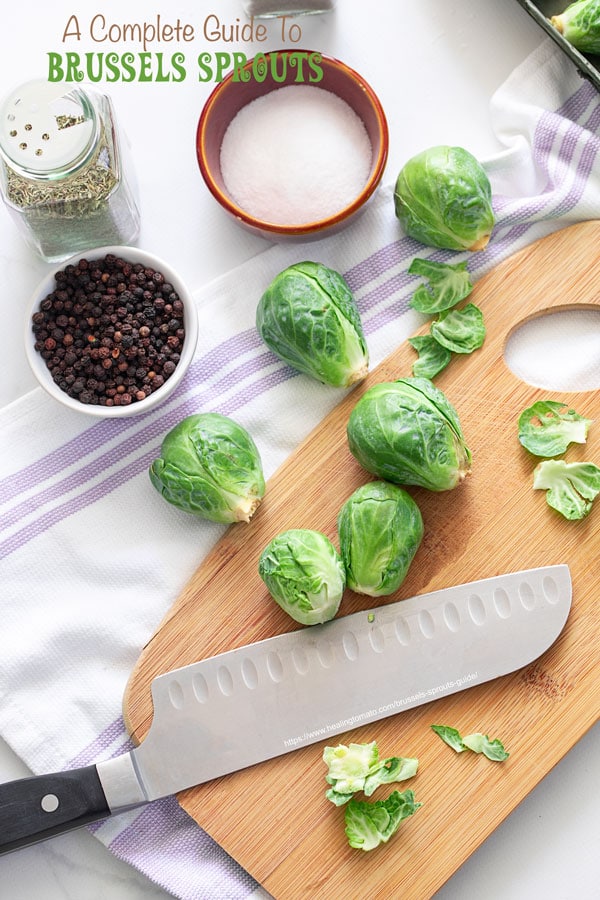 How to cook them
Oven roast
Saute
Slow cook
Grilled
I like to keep the simple philosophy when it comes to cooking sprouts
KISS!
Keep it simple, stupid!
(Yes, I called myself stupid 🙂 )
Brussels sprouts are very low maintenance type of vegetable. They produce big flavors when cooked simply.
My favorite way is to oven roast them with salt, pepper and sometimes, a little seasoning.
How do you like your Brussels sprouts?
Best Brussels sprouts recipes
No one can resist these oven roasted Brussels sprouts because they are made with a very aromatic spice. I put Za'atar spice in it and the flavor is completely out of this world.
This recipe takes just 20 minutes. It happens to be Keto and vegan friendly, but a great side dish any recipe.
This is a very simple way to make delicious roasted brussels sprouts. Just mix with simple ingredients.
They are very easy to make and you can make them all year round. They are the perfect side dish or a light lunch idea.
Finely chop sprouts and cook them stove top. Mix in a few complementary ingredients and you have the BEST pilaf recipe ever made!
I grantee you that this recipe will make you a fan of Brussels sprouts
Ok, this is not your everyday corn on the cob. I know it may be a little difficult, but, it tastes soooo very good.
So, try it and let me know what you think
Yes, this is another odd recipe. But, when ginger brings together sprouts and sweet potatoes, you CANNOT resist the flavors!
This is my all-time favorite spring rolls recipe. Try it and let me know what you think.
Get to know even more ingredients. Love Lemon Balm? Or how about sweet potatoes? Heard of Amaranth?