Garlic Mushrooms are so easy to roast stove top. These button mushrooms are bursting with flavors and are always a huge hit at any holiday dinner table.
Are you in love with button mushrooms as much as I am?
They are so tiny and so cute! Their biggest appeal is that they are a no-fuss, easy-to-prepare type of ingredient
I had so many button mushrooms left over after my vegan mushroom gravy that I made 2 different recipes with it. They were perfect stuffing for my persimmons recipe because they work so well with lentils.
I really wanted a button mushroom centered recipe and that's how these roasted mushrooms with garlic came about.
Traditionally, this recipe is drenched in butter and delegated to the side dish section. There is nothing wrong with that and I would devour a plateful of them, if they were sitting in front of me right now.
Instead of making them buttery, I decided to make them a little salty and give them an Asian flare. By salty, I don't mean that I doused the mushrooms in salt, lol! The saltiness of this recipe comes from soy sauce and sriracha.
I am so glad I experimented in this way. All the turned out really delicious, especially the caramelized onions. In the end, this recipe was delicious beyond my wildest dreams.
In the past, I have made a mushrooms bruschetta recipe, so, this time I put these roasted garlic mushrooms in a pita bread. It was the right light lunch recipe that I ate while sitting at my desk.
There is nothing better than that.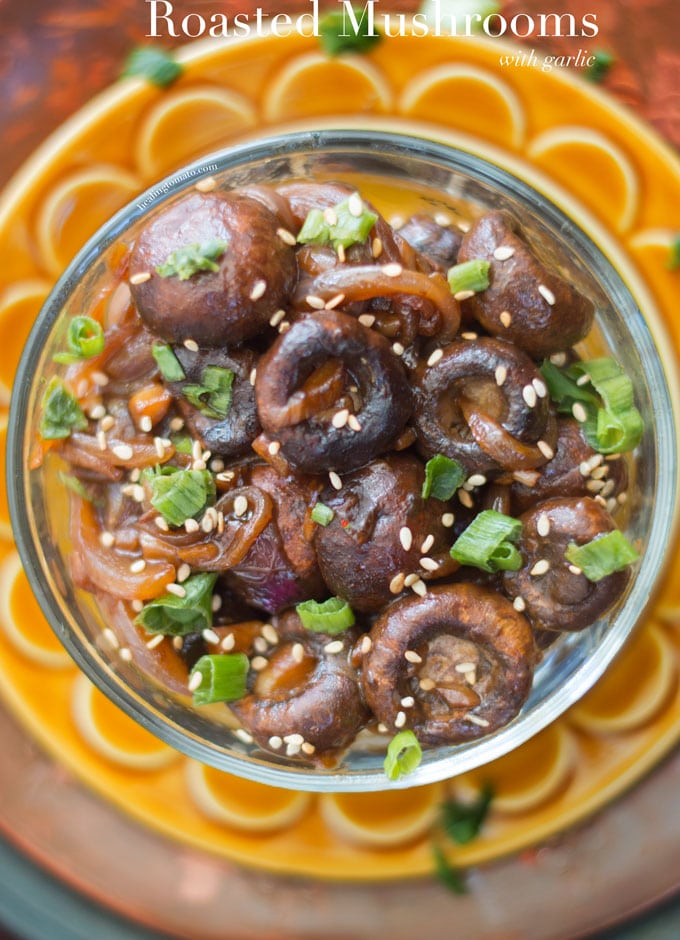 I also use button mushrooms to make a mean vegan mushroom escargot recipe. Its crunchy top is made with panko breadcrumbs.
You can also go the other route and puree them into a pate type recipe and use them in a vegan sausage rolls or vegan crunch wraps.
So, what are your thoughts on button mushrooms? On caramelized onions? On Asian Flavored Mushrooms? On buttery mushrooms?
Garlic Mushrooms Recipe
Simple garlic roasted mushrooms with soy sauce and sriracha is a must-make side dish recipe.
Ingredients
For the Garnish (Optional)
Instructions
Use a stainless steel or a strong bottom pan. Heat on medium heat for 30 seconds


Add 1.5 tsp oil and wait 30 seconds before adding the red onions and garlic. Set heat at medium-to-low.


Saute on low heat until the onions have caramelized. (About 4-6 minutes)


Add the mushrooms and the remaining oil


Cook on medium heat for 20 minutes or until the mushrooms have cooked well.


Taste one just to be sure that it has cooked all the way through. If it feels dry, add up to 1 tsp of oil.


Transfer the mushroom mixture to a bowl (leaving most of the liquid in the pan) and put the pan back on the heat


Add the soy sauce, flour and sriracha. Mix well and get as much of the food stuck on the pan


Add the mushroom mixture to the pan and mix everything


Transfer to a serving bowl and garnish with the sesame seeds + green onions

Nutrition
Serving:
2
cups
Calories:
108
kcal
Carbohydrates:
9
g
Protein:
5
g
Fat:
6
g
Sodium:
1184
mg
Potassium:
387
mg
Fiber:
1
g
Sugar:
3
g
Vitamin A:
30
IU
Vitamin C:
10.3
mg
Calcium:
21
mg
Iron:
1.2
mg