A creamy, nut-free vegan mac and cheese made with roasted vegetables and baked in the oven. This mac and cheese tastes just like the real thing!
This mac and cheese recipe has been 3 years in the making!
Over the last 3 years, I have tweaked it, changed it, dumped it, trashed it, cried over it, burnt it, but, finally….
…. I have the BEST vegan mac and cheese recipe ever!
It has no artificial ingredients, no nuts were harmed in the making of this recipe and it needs just a few ingredients.
So, get your ovens ready to make this vegan mac and cheese!
Tips for making this recipe
I outlined how I choose the perfect sweet potato when baking. Getting the right sweet potato is important because it will bake perfectly in the oven
Use carrot sticks and not baby carrots to roast. Baby carrots will be a little sweet and they might affect the taste.
The vegan cheese sauce I made for this recipe is a huge batch. You won't need all of it, so, you can freeze half and use the rest.
For baking the vegan mac and cheese, I used a stoneware baking dish. 8in in length 5.75in wide and 2in for height. If you have a bigger dish, use that.
This is one recipe where I will not recommend any substitutions for the vegan cheese sauce! Every ingredient mentioned in the recipe is an absolute necessity and the taste will not be the same with a different ingredient
I love using large elbow macaroni for this recipe. If you can't find it, use smaller elbow macaroni
The panko bread crumbs add a nice crunch to this recipe, so, use them over regular bread crumbs.
The cheese sauce, by itself, will be a little salty. However, when added to the pasta, it will be taste perfect
Why this is the best vegan mac and cheese recipe
This is the best mac and cheese recipe because it's made with all natural ingredients.
The sauce is made with freshly roasted veggies: Sweet potatoes, red bell pepper and carrots. Together, these 3 veggies pack quite a nutritional punch.
Additionally, I add nutritional yeast to the sauce. It's a vegan's best way to get B1 vitamin. It also has tons of other B vitamins and has protein too. You will also get a few trace minerals in nutritional yeast**
** Source – Healthline and Livestrong
The sauce I made for this recipe tastes just like the real thing! This vegan "cheese" sauce looks like the real thing and tastes like it too.
But, don't take my word for it. Make it yourself and see why it's the best.
Common questions about making this recipe
While making this recipe, you are bound to have questions. So, I am answering some of your questions below.
Send me your questions and I will be happy to answer them.
Can I make this macaroni and cheese without nutritional yeast?
No, you can't. It sounds blunt, but, it's true. Nutritional yeast adds the tangy flavor to this recipe that you can't get from any other ingredient.
Nutritional yeast is very cheap and easily available in any grocery store, box store or online stores.
Please don't skip it in this recipe.
Can I freeze this vegan mac and cheese?
Yes, you can freeze it. However, I suggest just freezing the 'cheese' sauce. Don't freeze the recipe after you bake it.
I found that freezing it after baking it makes it soggy when thawed. It also lightens the flavors which means that I have to re-add some seasonings.
How do I freeze the 'cheese' sauce
I like to freeze the 'cheese' sauce in Ziploc freezer bags. First, I write the date I made the sauce on the bag itself.
Then, I gently pour the sauce into the Ziploc bag and seal it. I make sure there are no air bubbles in the bag.
Freeze the sauce for up to 6 months. It can be used as a cheese sauce in many recipes.
At what temperature should I bake it?
I baked the vegetables at 400° first. They were chopped, so, they roasted quickly.
Once you have put the pasta and sauce in the baking tray, place the baking tray in a 300° pre-heated oven.
Can I just use store bought vegan cheese?
Yes, you can, but, I haven't found a vegan cheese that will melt perfectly.
Believe me, I have tried them all! There are so many vegan cheeses on the market and I have tried all that I can get my hands on.
Not one of them melted completely Most of them will melt partially or no melt at all.
Some of these cheese would work in a grilled cheese sandwich, but, not in a mac and cheese.
If you know of a vegan cheese that will completely melt into a sauce consistency, use it. Be sure to send me the name of that cheese and I will try it too.
So, the question is, "does vegan mac and cheese taste good". The answer is a huge YES from me and those friends of mine that have tried it.
How to make vegan mac and cheese
Preheat oven to 400°
Spray a baking tray with oil and set aside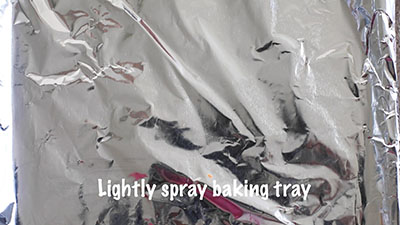 While oven is heating, start by peeling 2 sweet potatoes.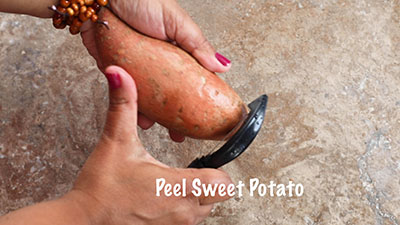 Chop them into cubes. They don't have to be perfect because they will be blended in the end
Place the chopped sweet potatoes on the oiled tray
Take a medium red bell pepper and cut into to half. Save one half for future recipes. Place the other half on the baking tray (cut side down)
Take 5 carrot sticks and place it on the baking tray too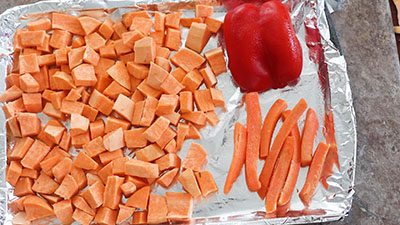 Use a cooking spray to lightly spray the veggies on the baking tray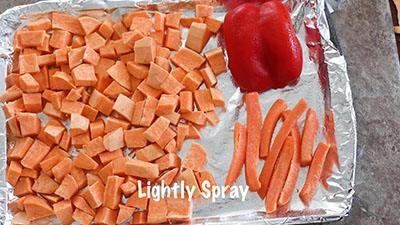 Place the baking tray in the oven and bake for 40 min or until the sweet potato pieces can be mashed easily with the back of a spoon
While the veggies are cooking, you can cook 1 cup of large, uncooked elbow pasta according to the instructions on the box. If you are using the smaller elbow pasta, use 1.5 cup
Remove the baking tray from the oven and let it cool for a few minutes. Set the oven temperature to 300°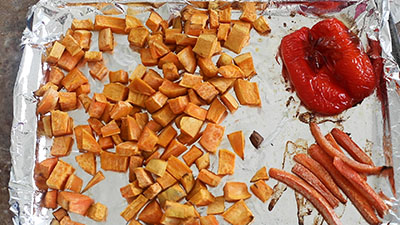 Remove the skin of the roasted red bell pepper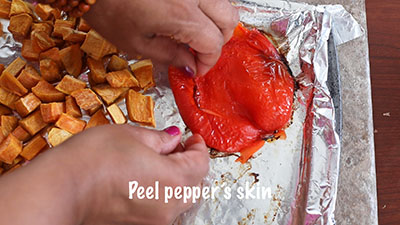 Place the 3 roasted veggies in a blender and add 1.5 tsp red pepper flakes. You can adjust this according to your taste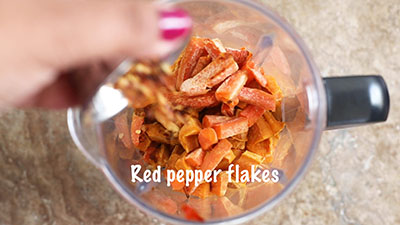 Add 1 Tbsp of salt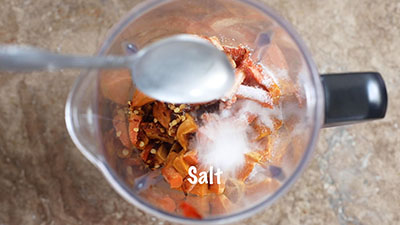 Add 1 Tbsp of oregano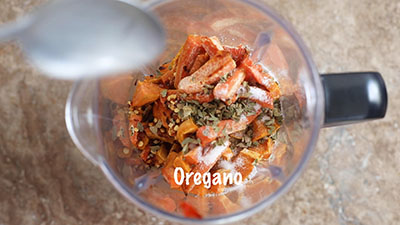 Add 1 Tbsp of nutritional yeast
Add 1 Tbsp of yellow mustard
Finally, add 1 can of coconut milk. I also ended up adding about 2 tbsp more of coconut milk, but, it's not necessary
Blend the ingredients until you have a sauce consistency (about 2 minutes)
Drain the pasta, but, save about 1/4 cup of the water to be added to the baking dish
In the baking dish, add the cooked pasta, 1/4 cup of the pasta water
Add half of the sauce we blended earlier. You can add more if you want a creamier mac and cheese
Mix well and add more sauce, if needed
Top with a 1/4 cup of panko bread crumbs (I added dried parsley, dill and 3Tbsp of extra virgin olive oil to the bread crumbs)
Cover the baking dish with foil
Place the baking dish in the oven and bake for 18-20 minutes
Remove and serve immediately
Vegan Mac and Cheese
A creamy, nut-free vegan mac and cheese made with roasted vegetables and baked in the oven. This mac and cheese tastes just like the real thing!
Equipment
8″ rectangle baking dish (Stoneware)

13X9 Baking tray

Blender
Ingredients
For the vegan 'cheese' sauce
2

sweet potato

1/2

red bell pepper

8

carrot sticks

1.5

tsp

red pepper flakes

1.5

Tbsp

salt

1

Tbsp

oregano

1

Tbsp

nutritional yeast

1

Tbsp

yellow mustard

1

can

coconut milk

2 tbsp more of coconut milk, but, it's not necessary

5

carrot sticks
For the pasta
1

cup

large elbow pasta

3

cups

water

1

tsp

salt

1

Tbsp

extra virgin olive oil
For the topping
1/4

cup

panko bread crumbs

1

tsp

parsley

1

tsp

dill

2

Tbsp

extra virgin olive oil
Instructions
Preheat oven to 400°

Spray a baking tray with oil and set aside

While oven is heating, peel and roughly chop the sweet potatoes into cubes

Place the chopped sweet potatoes, bell pepper (cut side down) and carrots on the oiled tray

Use a cooking spray to lightly spray the veggies on the baking tray

Place the baking tray in the oven and bake for 40 min, See notes

While the veggies are cooking, make the pasta

Drain the cooked pasta, but, save 1/4 cup of the water

Remove the baking tray from the oven and let it cool for a few minutes

Set the oven temperature to 300°

Remove the skin of the roasted red bell pepper

Place the roasted veggies in a blender the red pepper flakes, salt, oregano, nutritional yeast, yellow mustard and coconut milk

Blend the ingredients until you have a sauce consistency (about 2 minutes)

In the baking dish, add the cooked pasta, pasta water and half of the sauce we blended earlier

Mix well and add more sauce, if needed

Mix the panko ingredients and top it on the mac and cheese

Cover the baking dish with foil

Place the baking dish in the oven and bake for 18-20 minutes

Remove and serve immediately
Notes
– You don't have chop the sweet potatoes perfectly because they will be blended in the end
– Bake the veggies until the sweet potato pieces can be mashed easily with the back of a spoon
– The cheese sauce, by itself, will be a little salty. However, when added to the pasta, it will be taste perfect
– My baking dish's dimensions are – 8in in length 5.75in wide and 2in for height. My baking tray's dimensions are 13×9