5 tips on how to bake the perfect sweet potato. It is easy to bake the perfect sweet potato by using these quick and essential tips. You will never have a badly baked sweet potato again.

Over the years of eating out at restaurants, friends' homes and even making my own sweet potato recipes, I have discovered that there is such a thing as a badly baked potato.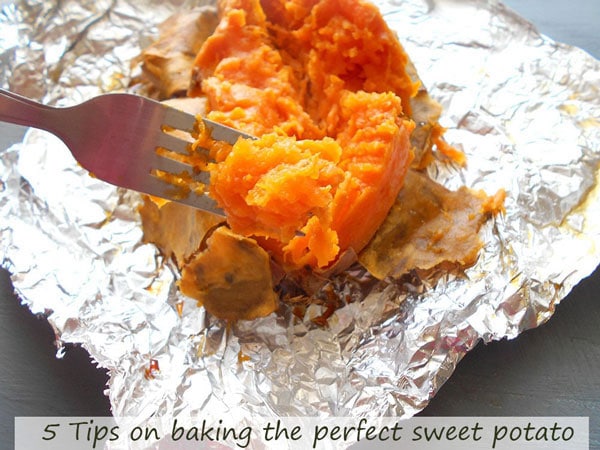 After trial and errors (emphasis on errors), I have developed 5 tips that are essential in getting the perfect baked sweet potato. If you have more questions, feel free to ask in the comment section.

What makes sweet potatoes distinctive?
Sweet potatoes are a highly nutritious root vegetable, providing you with various essential ingredients, including potassium, fiber, vitamin A, and more.
What's the difference between them and yams?
Yams are much starchier than sweet potatoes
Yams have a darker skin color
Yams are not as sweet as sweet potoates
Sweet potatoes have a more orange colored flesh while yams have lighter color
What's the best way to eat them
Baked and topped with sour cream
Lightly roasted and seasoned with simple spices
Steamed and then seasoned
My favorite way to eat this baked sweet potato is to add sour cream, finely chopped red onions, salt and pepper with just a little bit of butter. I mix it all up and devour it!
So, How do you bake a sweet potato?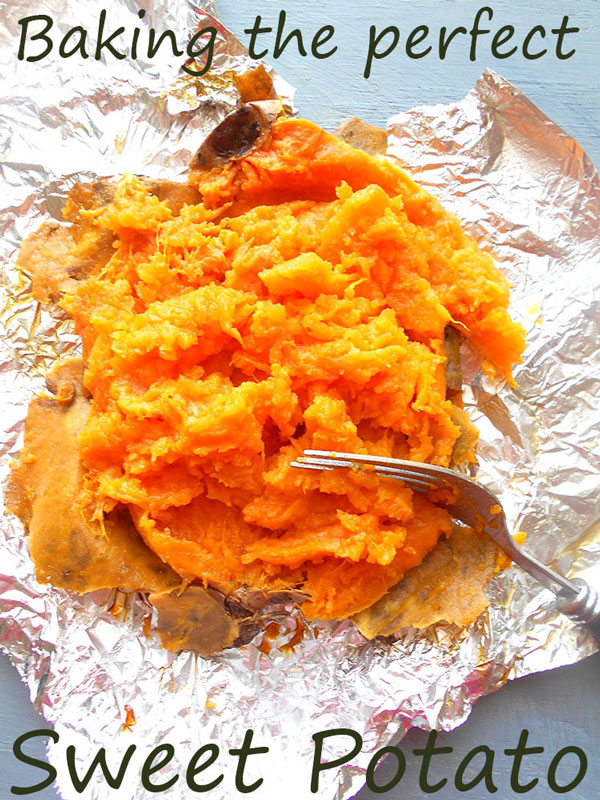 Choosing the right sweet potato to bake
Baking sweet potato is an art! Before you start using my 5 tips, you need to find the right sweet potato. No sweet potato will be perfect if you choose the wrong shaped sweet potato.
Here are a few things to look for in your sweet potato
Make sure it's long
Sweet potatoes come in many shapes and sizes. There are long ones, small ones, fat ones, skinny ones and thick ones. It's hard to decide which one to choose.
If you are going to be loading a baked sweet potato, it HAS TO BE LONG. This way you will be able to load the ingredients evenly and make it look like its really loaded!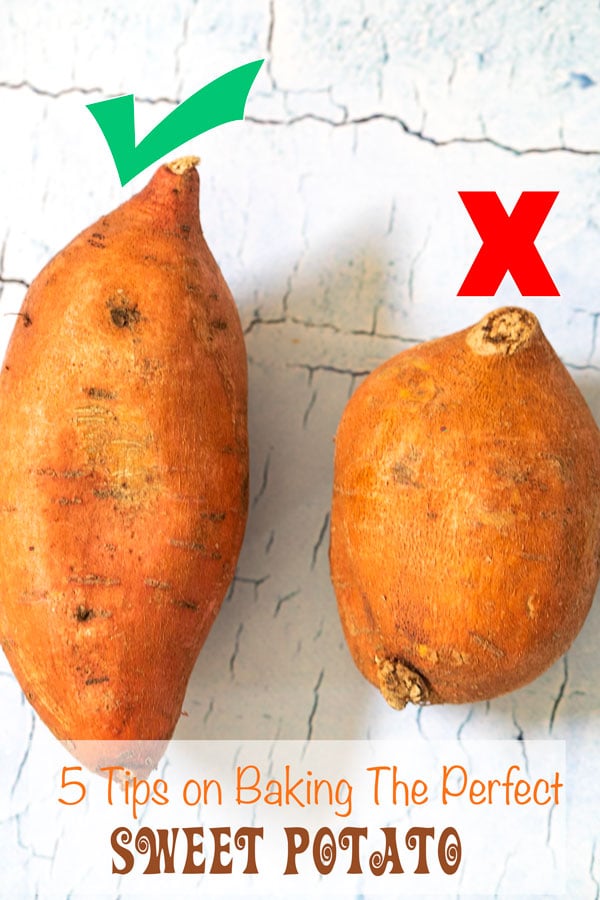 There is nothing wrong with the short, stubby sweet potato. It is perfect in a sweet potato curry or even mashing them. But, to load them or to use the pulp, the long one is sweeter and "meatier"
Avoid those with "rot"
Some parts of the sweet potato can dry up and start rotting. Use them in curries or soups (cut out the bad part first).
But, don't use them in a baked sweet potato recipe!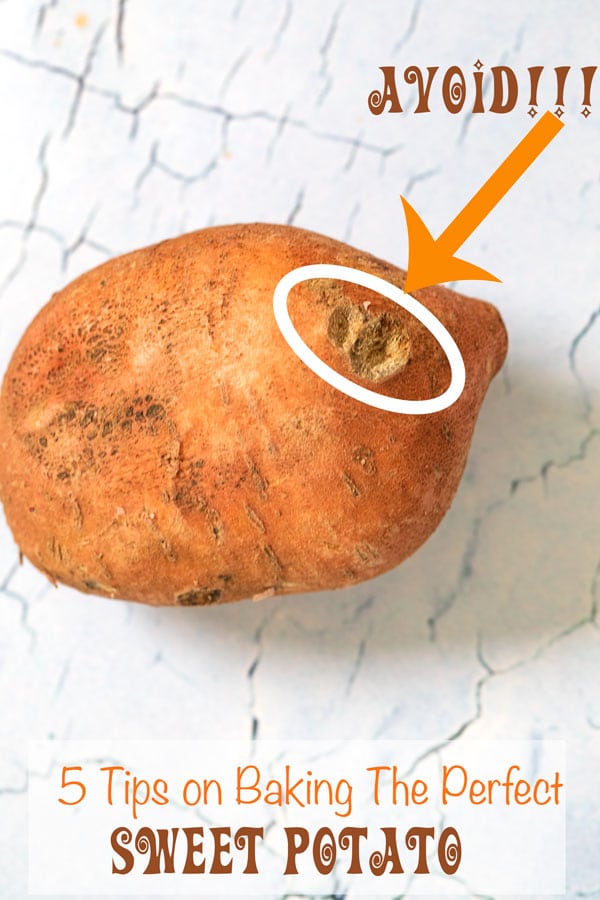 Look for symmetry
A sweet potato with symmetry is going to bake evenly and have an even flavor. You won't get parts of the sweet potato that are dry while other parts are watery.
Draw an imaginary line from the top of the sweet potato to the bottom and right in the middle. Then, check to see that there is an almost equal amount of potato on both sides.
Check out these two cuties! They have amazing symmetry! Talk about the perfect sweet potato!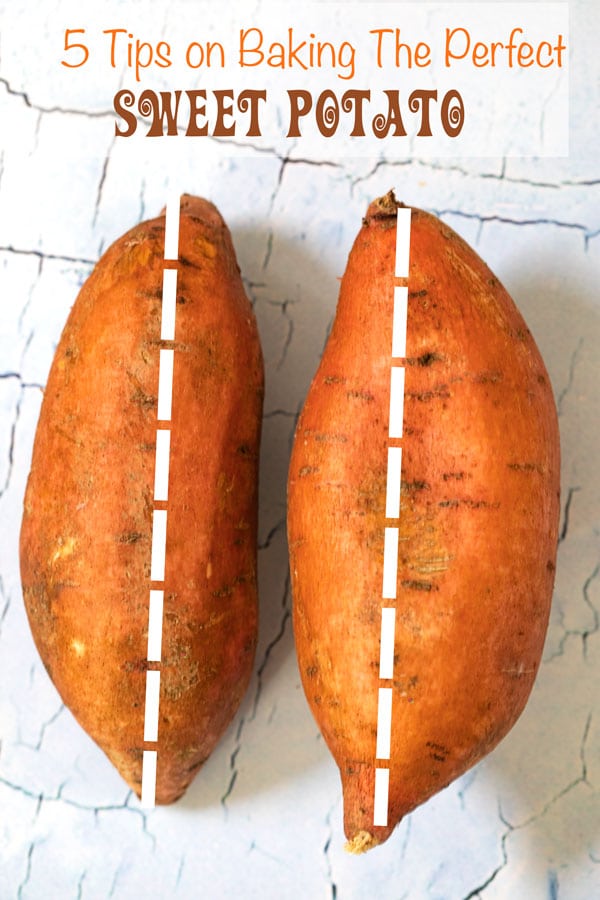 5 quick tips on baking the perfect sweet potato
Follow these quick tips to get the perfect baked sweet potato
Tip #1: WASH, WASH, WASH! Then wash some more
Nothing ruins a good sweet potato casserole or sweet potato pie like dirt! Yes, I have actually experienced that.
I was invited to a Thanksgiving dinner at a friends house a few years ago and they made mashed sweet potato pie. The cook washed the potato quickly and microwaved it.
The result was a gritty and dirty potato pie.
So, I use the fingers that humans are lucky to have and get into that sweet potato. I clean every nook and cranny and even use a vegetable brush to get through it all.
Once it is clean, I dry it using a paper napkin and let it sit for about 10 minutes. I want to make sure that there is no water left on the skin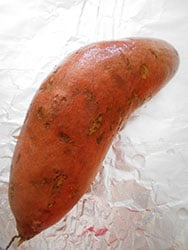 Tip #2: poke holes into it
Poking holes works! The end.
I have had potatoes where no holes were poked. They turned out to be too mushy and almost inedible, while the outside remained dry and uncooked.
So, I poke holes in my potato with a fork and avoid that problem. The holes are not deep, just superficial enough to allow an escape route for the steam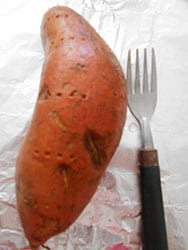 Tip #3: lightly oil the outside
I cannot stress the importance of this tip. When I oil the outside of the potato, the skin doesn't become a dry and crinkled mess. The skin remains smooth and easy to peel once the sweet potato is baked.
It sounds strange, I know, but I don't like my sweet potato to look like a giant shriveled raisin when it is done baking.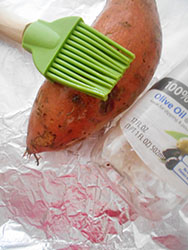 Tip #4: cover up with it's best friend
There are 2 types of people in this world. Those who wrap the sweet potato and those that don't!
Of the 5 tips, this one is the most controversial one. Those who think that it shouldn't be wrapped are against it because they want to let the steam escape out of the potato and never to come back.
Personally, I prefer to keep the steam contained.
Now, I know what you are saying: "Rini, this tip completely contradicts tip #2!"
My (passive-aggressive?) answer: Yes and no….
When I wrap my sweet potato in foil, I wrap it loosely. So, some of the steam still escapes out of the ends of the foil. Most of the heat is contained within the sweet potato and it also cooks the outsides of the potato.
This bakes the potato from the inside and the outside. Therefore, you will notice that sweet potato is baked evenly.
When the potato is not wrapped, I find that the outside gets cooked more than the inside. Also, it gives my oven a lingering sweet potato aroma for days.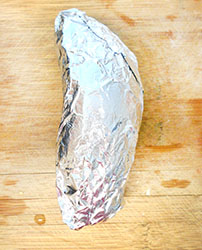 Tip #5: leave it in the oven
The last of the 5 tips is leaving the potato in the oven after you turn it off. Bake the potato in the oven at 400 degrees for 65 minutes.
Depending on your oven, the bake temperature and time may vary. At about the 45-minute mark, I take a knife to it and see if it is easy to pierce the skin of the potato.
If the knife goes through easily, then I turn off the oven and let the sweet potato sit in the rack.
I leave it in the oven for about 10 to 15 minutes and then remove it from the oven. Quick tip: Learn from my burn scars and don't use your bare hands to remove it.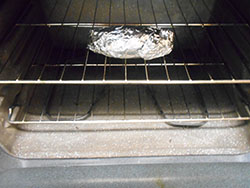 After removing it from the oven, I wait for it to be cool enough to touch. Then, I open it and split it lengthwise. Using a fork, I begin pulling the meat of the sweet potato away from the skin. Then, put the pulp into a bowl and season it. Discard the skin.
This particular sweet potato is going to be used for a sweet potato soup. Stay tuned.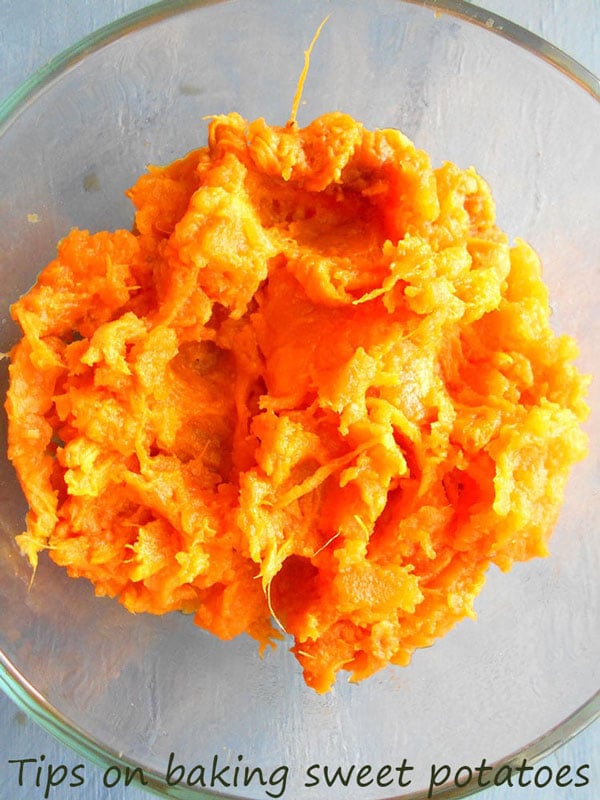 March 2018 Update:
Over the years, I have been asked several questions about the baked sweet potatoes. Here are the answers to some of the FAQ about baking sweet potatoes:
Sweet Potato FAQs
Are baked sweet potatoes healthy?
Yes! sweet potatoes are healthy in general because they have a heavy dose of Vitamin A. According to Wikipedia, 100g of sweet potato has about 89% of the RDA.
Baking the sweet potato brings out all its flavors and nutrition.
Can you eat the skin?
Yes, the skin is edible after baking the sweet potato. However, some people don't like the taste and tend to discard it. Personally, I am a fan of the skin, so, I keep it.
If I use the pulp, then, I will make appetizers from the skin.
Can you bake them in the microwave?
This is a tough question to answer for me. From what I have read, it's not a good idea to microwave a sweet potato. The waves tend to zap away some of the nutrition.
What I will say is that I find that a microwaved sweet potato tends to be unevenly cooked. In fact, I have found that some parts of the sweet potato are burnt and some areas are under cooked.
It also looses some of its wonderful luster in the microwave. For me, the oven is the best place to roast sweet potato.
Do baked sweet potatoes need to be refrigerated?
This is the most common question I get asked. The answer is Yes! But, it also depends on when you want to eat it. If you are eating it within hours of baking it, then, you can get away with not refrigerating it.
If you are going to use it up the next day or a week after baking it, then, it definitely needs to be in the refrigerator.
You can also put it in the freezer. Wrap it in foil and place it in a Ziploc bag. Put the baking date on it and refrigerate. I try to use it up within a month of baking it.
What's the perfect temperature for baking a sweet potato?
You can choose 425° and bake for 65 minutes.
I have always baked sweet potato at 400° for about 55 minutes. However, some people have found that they might have to bake it longer at that temperature.
You are recommending the use of Aluminum foil. Aren't you aware of the link with Alzheimer's?
I have read studies where that theory is disputed and I have seen studies where that theory is proved. The bottom line is that there is no firm study that prove the link.
If you are making this perfect sweet potato every day, then maybe using an aluminum foil might be problematic. Using aluminum foil once in a while is ok.
Truth is, Alzheimers is very complicated and there is no one source.
I like using foil because it circulates the heat evenly. At the end of the day, you have to do what you think is right for you. No judgments here!
So, now you know my 5 tips for baking a sweet potato. What is/are your tip(s) for a perfect oven-baked sweet potato recipe?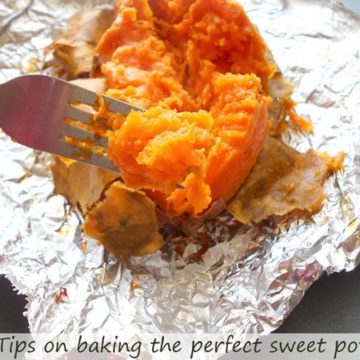 5 Tips For Baking The Perfect Sweet Potato
5 tips on how to bake the perfect sweet potato. It is easy to bake the perfect sweet potato by using these quick and essential tips.
Ingredients
1

Sweet potato

2

tsp

Extra virgin olive oil
Instructions
Preheat oven to 425 degrees
Wash and dry the sweet potato thoroughly. Use a vegetable scrubbing brush if you have to.

Poke holes in the potato using a fork. I poke the potato in about 5 different locations

Lightly oil the sweet potato

Using aluminum foil, wrap the potato. Don't wrap it too tightly.

Bake for 65 minutes. Turn off the oven and leave the potato in the oven.

Remove from the oven and allow it to cool to touch

Open the foil and split the sweet potato lengthwise.


Using a fork, pull the pulp away from the skin and place the pulp in a bowl

You can discard the skin or use it in a loaded sweet potato recipe