Quick and Easy Rustic Quinoa Bowl made with Tricolor Sprouted Quinoa. Made it for lunch and put it into a pita bread. A Delicious Vegan and Vegetarian meal
This post was originally sponsored by TruRoots. All opinions are my own.
I love sprouted anything!
How about you?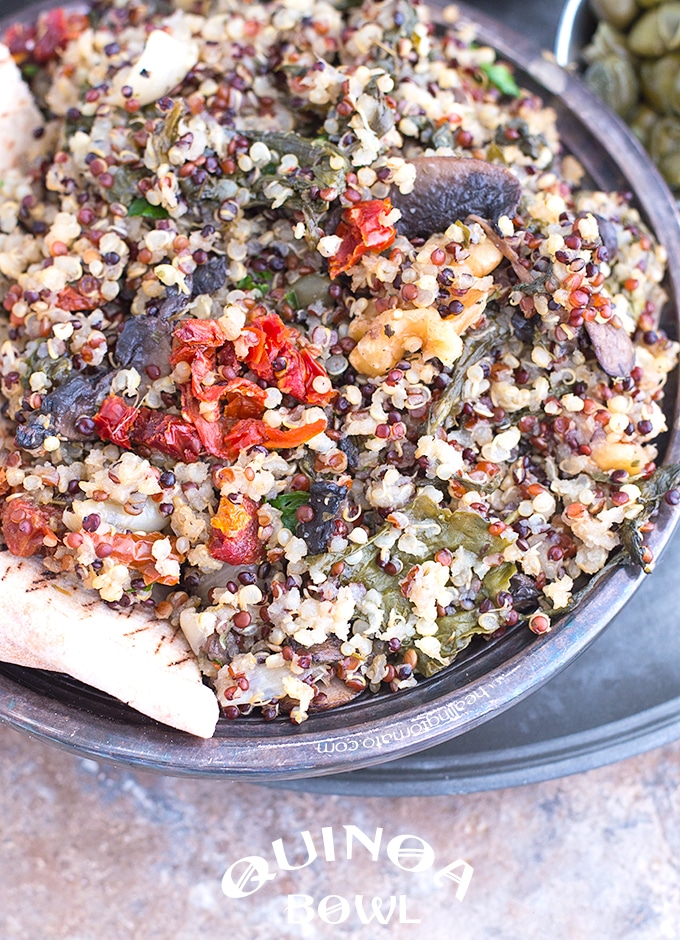 That includes sprouted mung, sprouted chick peas, sprouted lentils and sprouted bean sprouts.
Now, I have discovered sprouted quinoa and its on top of my favorite sprouted food list.
Before, I would spend hours and days sprouting ingredients.  The process of just sprouting mung beans is about 3 days which is a lot of work.
Lucky for me, I have discovered a wonderful product on the market called truRoots!
This product, quite literally, changed my life.
I am no longer waiting around for lentils or mung beans to sprout.  That's 3 days of time I saved.  All I have to do is buy the sprouted product and make a recipe in less than one day!
Sprouted mung beans are huge in Indian cooking, so, all that time saved is totally worth it.
truRoots sprouted products taste just like the ones I make at home, so, all recipes taste just like I sprouted them myself.
I am more than happy to take ALL the credit without doing ANY of the work!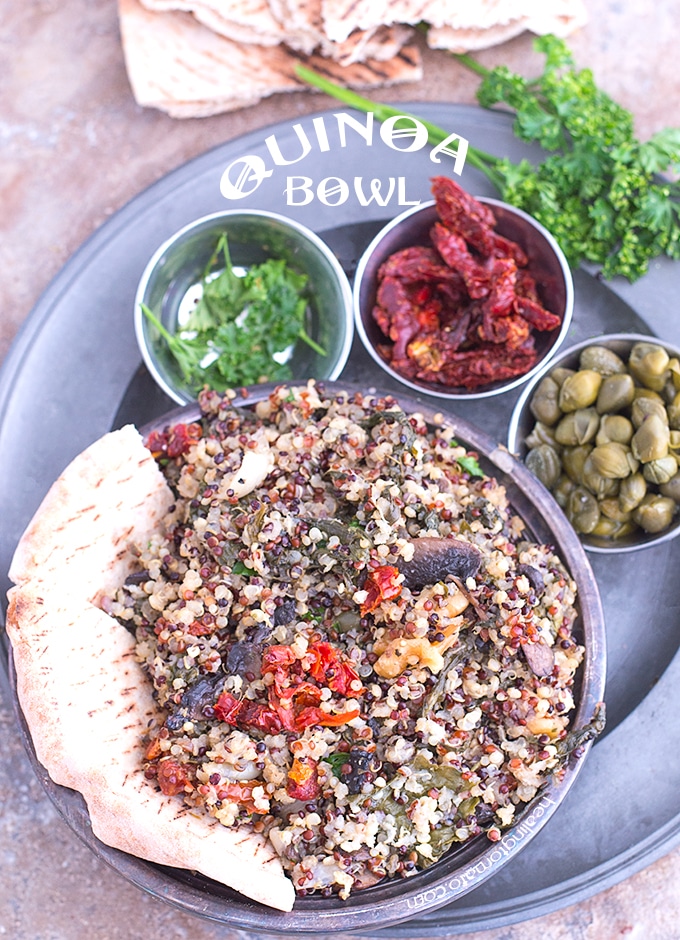 For this post, I choose truRoot's sprouted trio quinoa because I wanted to make a quinoa bowl recipe that works for lunch at home or to take to work.
I don't think eating healthy is hard to do because companies like truRoots make it easy for all of us to eat right.  They have organic, whole grain and sprouted products that taste so good that I forget they are good for me.
I went with a rustic feel to this bowl because it feels more appetizing.  That bowl looks so inviting just looking at it! There is a feel of eating it out in a barn in the company of friends and family.
I really want to try these quinoa in my Quinoa Rollups or my spicy quinoa bowl
Tell me about your favorite sprouted ingredient and what you like to make with it.
Rustic Quinoa Recipe Video
Rustic Quinoa Bowl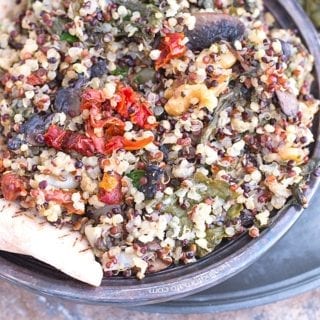 Rustic Quinoa Bowl - Vegan
Quinoa bowl made with sprouted tri-colored quinoa and fresh veggies.

Instructions
In a pan, add the oil and heat it for 30 seconds on medium heat


Add the onions and garlic. Let them soften


Add the mushrooms and cook until they are soft about 5-7 minutes


Add the TruRoots Sprouted Quinoa trio and the water


Add all the other ingredients except the walnut, lime juice and fresh parsley


Cover the lid and cook for 12 minutes until all the water has dissipated


Remove the lid and add the lime juice, walnuts and parsley


Serve immediately with Pita bread or put it into meal prep bowls to eat later in the week

Nutrition Facts
Rustic Quinoa Bowl - Vegan
Amount Per Serving (3 cups)
Calories 393
Calories from Fat 135
% Daily Value*
Total Fat 15g 23%
Sodium 1384mg 58%
Potassium 1184mg 34%
Total Carbohydrates 52g 17%
Protein 16g 32%
* Percent Daily Values are based on a 2000 calorie diet.